The Best Track Spikes of 2023
We put this spring's super spikes to the test on the oval to sort the top models for each distance and the best-value options on the market
Heading out the door? Read this article on the new Outside+ app available now on iOS devices for members! Download the app.
Whether you're getting ready for a race or a hard workout, the process of spiking up stirs a familiar excitement and anxiety for what's to come: your body instinctively knows it's time to perform.
If you want to compete at your best in track and field, spikes are essential—and today's are better than ever. Here's what you need to know about choosing a track spike, our top picks from this spring's options, and the technology behind today's super spikes.
How to Choose a Track Spike
Given the vast differences in how each spike feels and performs—even in various models from the same brand—you have to try a spike on and run in it to evaluate whether it works for you.
First, determine which type of spike you need for your preferred events. Track spikes are divided into three categories: sprint (optimized for 60 to 400 meters), middle distance (400 to 3,000 meters), and long distance (3,000 to 10,000 meters). These distinctions are not absolute, and some runners may find a spike works well for them outside their intended event category.
Paul Lang, senior manager of footwear merchandising at ASICS, explains that the distinction is based primarily on how they move with the foot. Sprint spikes, Lang says, "are built with a stiff spike plate, usually running the length of the shoe, to provide rigidity underfoot and promote power transfer and propulsion." These stiff plates feature an aggressive forward-leaning geometry that helps sprinters stay on their toes. Sprinting spikes will also have a more structured upper than distance models. Lang explains that this locks down the foot to harness the incredible amount of power created by the sprinter's explosive moments.
"A middle-distance spike," Lang says, "maintains an aggressive geometry that helps the runner get to their midfoot for an efficient, powerful gait, but typically the plate will only run one-half to three-quarters of the length of the shoe, to allow slightly more flex and comfort over the multi-lap races." The uppers tend to be light and flexible, prioritizing comfort and efficiency over power. Long-distance spikes tend to offer even more flexibility than middle-distance spikes and typically have more cushioning through the midsole for increased comfort during long track races.
After sorting out what type of spike you need, the choice comes down to fit and personal preferences on cushioning, stiffness, and geometry. Of these, sole rigidity seems to vary the most between spikes. Knowing whether you prefer a stiff sole or a more flexible one will go a long way in helping you find the ideal track spike. Typically, more experienced runners who stay up on their toes and push off powerfully will favor a stiffer and more curved spike.
"If you've never worn spikes before, find something that fits the foot comfortably and allows the feeling of natural movement," Lang says. "If you're not yet decided on an event group, a middle-distance spike is the most versatile and can be used across sprints, hurdles, jumps, and distance."
How We Tested Spikes
To test this spring's spike collection, we recruited a group of eight experienced male and female track runners, including sprint, middle-distance, and long-distance specialists. They tested the leading models from each major running brand in both track workouts and races ranging from 60 to 10,000 meters. Each runner then ranked each spike on a scale of one to ten and submitted a final report based on performance, fit, ride quality, and overall impression. We compiled the reports to tease out the best models in each category and gathered additional feedback on these models from other athletes to broaden the following reviews.
The Best Distance Spikes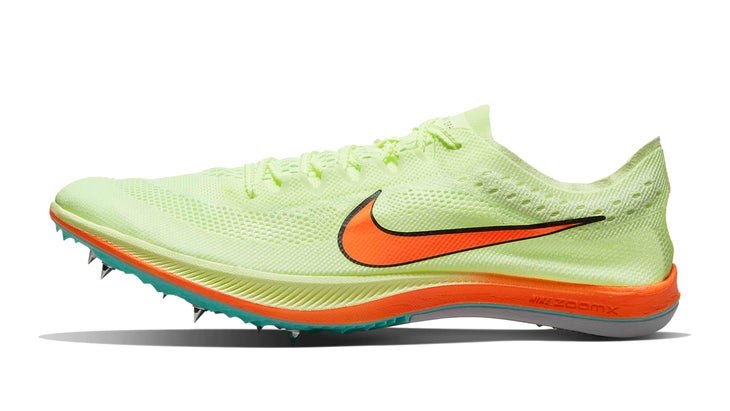 Nike ZoomX Dragonfly ($150)
Still the best all-around, elite-level spike for distance runners, the Nike ZoomX Dragonfly is suitable for all track events 800 meters and longer. The Dragonfly's stiff sole and moderately aggressive forefoot rocker promote smooth and efficient transitions, making the spike the unanimous favorite among our middle- and long-distance testers. A thick layer of Nike's highest-energy-returning foam, ZoomX, embedded with a full-length, curved, slightly-flexible Pebax plate, delivers cushioning and rebound. "No other spike provides a ride that feels as smooth and effortless rounding corners and sprinting straightaways as the Dragonfly," one tester noted. "It's worth every penny."
Ideal Events: 800 to 10,000 meters
Weight: 4.4 ounces
Spike Pins: 6
---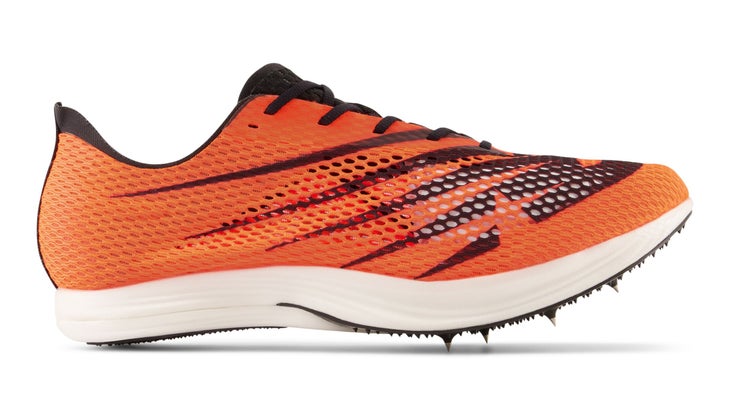 New Balance FuelCell SuperComp LD X ($160)
A strong contender for the best overall long-distance spike, the New Balance LD X impressed us with its liveliness and bounce. Instead of sandwiching the curved carbon fiber plate completely in the midsole, the plate is exposed under the forefoot and doubles as the spike plate. This places more cushioning above the plate and directly underneath your forefoot. The result is a second-to-none spike experience more attuned to the bouncy ride of road super shoes. The built-in spikes received mixed reviews: Some applauded that they didn't need to screw in spikes, while others questioned their longevity. Up top is a one-piece, ultra-lightweight engineered mesh upper that one tester described as "secure and comfy—wrapping the foot in a sleek design without unnecessary added material that might cause friction or rubbing." Its water-shedding ability makes it also ideal for the steeplechase.
Ideal Events: 3,000 to 10,000 meters
Weight: 5.2 ounces
Spike Pins: 4 non-removable
---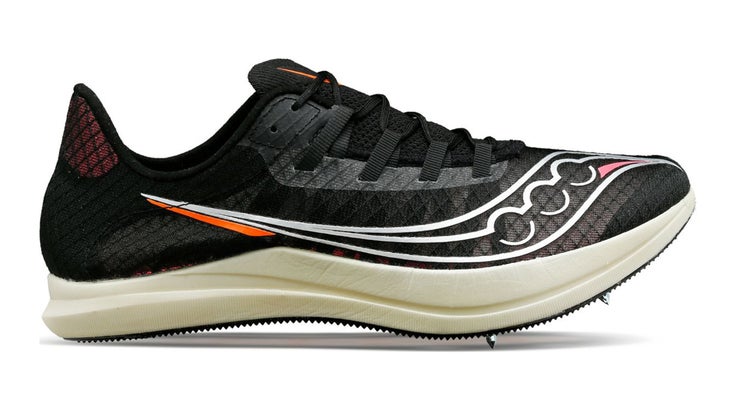 Saucony Terminal VT ($150)
At sub 4 ounces, the Saucony Terminal VT came in as the lightest spike we tested. It is also, surprisingly, the most cushioned. Best suited for longer-distance events, the Terminal VT relies on an embedded, slightly flexible Pebax spike plate (instead of a rigid carbon fiber one) for structure and stiffness. "It doesn't force you up on your toes, but there's enough flexibility and midfoot to forefoot roll to help promote an efficient stride," said one tester. The light, bouncy PEBA-based midsole foam underfoot felt more protective and cushioned than most spikes we tested, reminding us somewhat of a road racing flat. Testers noted the comfort of the thin see-through mesh upper, but said it fit on the smaller side. If you prefer an ultra-lightweight track spike that runs more like a thinly cushioned road racing flat (in contrast to the forward sling-shot action of carbon fiber-plated spikes), these are for you.
Ideal Events: 5,000 to 10,000 meters
Weight: 3.7 ounces
Spike Pins: 4
---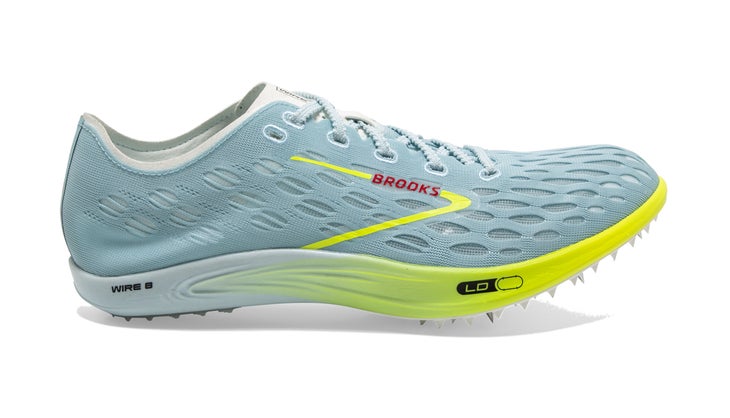 Brooks Wire 8 ($150)
Those who find carbon-fiber-plated spikes like the Dragonfly too stiff and aggressive will enjoy a slightly softer flex and more moderate forefoot curve of the Brooks Wire 8. It features a semi-stiff full-length spike plate with Brooks' most responsive nitrogen-infused, lightweight DNA midsole for a balanced ride that's suitable for a wide array of paces. One long-time Brooks Wire fan noted the Wire 8 is a vast improvement over the 6 and 7—dropping nearly an ounce in overall weight and getting a more comfortable upper. He admitted, however, that "It lacks the stiffness and pop of other spikes that I might use for the 1500m/mile and the bounciness of spikes that I prefer for 3K and 5K." If you're looking for one spike to use over a range of distances, however, testers found the Wire 8 one of the best all-around track spikes for novice to intermediate runners. "It's perfect for anyone who needs a comfortable, light, and race-worthy spike for distance track events," said a tester.
Ideal Events: 3,000 to 10,000 meters
Weight: 4.6 ounces
Spike Pins: 5 non-removable
---
The Best Middle-Distance Spikes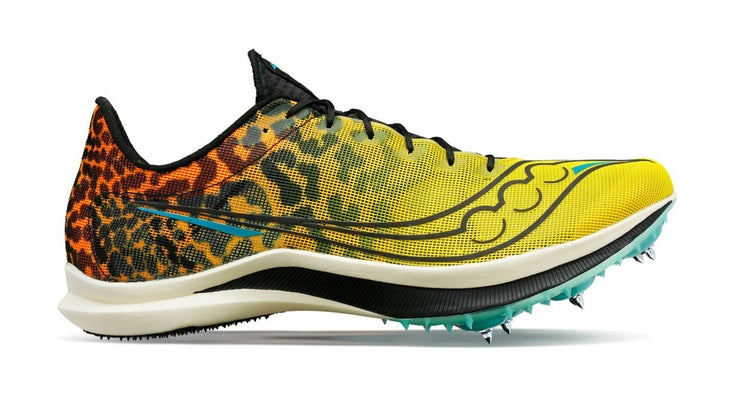 Saucony Endorphin Cheetah ($180)
The Saucony Endorphin Cheetah impressed our testing team more than any other spike we've seen in the last two years with its combo of comfort, power, and light weight. "Over short distances, I could maintain significantly higher velocity in this spike compared to others I tested," raved one tester. An embedded, stiff carbon-fiber plate and a six-pin Pebax spike plate work harmoniously with a generous layer of extra-springy, PEBA-based, PWRRUN HG foam. "Every step was firm and powerful, with exceptional stiffness that maximized performance," said another tester. These spikes, however, keep you on your toes, losing their magic if you can't maintain a powerful, forward-balanced, forefoot stride. But those strong enough to handle its aggressive geometry could feel, as one tester reported, "like I was running on clouds," and find that the Saucony Endorphin Cheetah is, as another tester claimed, "the fastest middle-distance spike on the market."
Ideal Events: 400 to 3000 meters
Weight: 4.2 ounces
Spike Pins: 6
---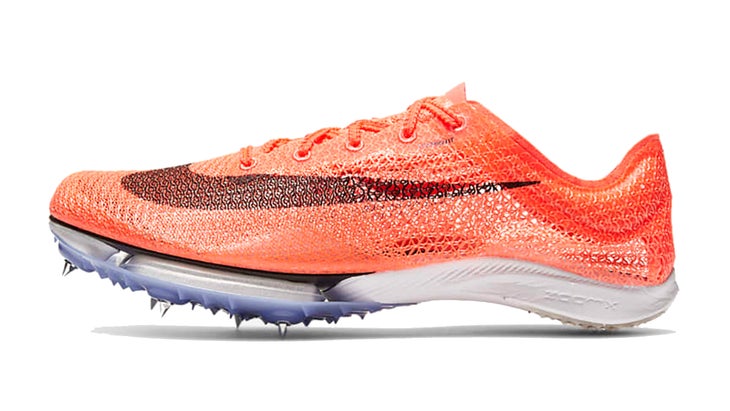 Nike Air Zoom Victory ($180)
If you're a strong forefoot runner, the Nike Air Zoom Victory is one of the best choices to propel your next middle-distance PR. Nike packed this shoe with high-end tech, including a full-length carbon-fiber plate embedded in ZoomX foam and a large, forefoot Zoom Air unit that combines pressurized air and tightly stretched fibers to create an explosive ground response. "Every stride feels powerful and full of spring, lifting your confidence and vaulting you forward," reported one tester. Best for the advanced runner, the aggressively tuned spike is a sharp, precise tool requiring a strong, forward-focused stride. Those who can handle the stiff rocker profile will be rewarded with a "springy, lightning-fast tour of lane one."
Ideal Events: 400 to 3,000 meters (and maybe 5,000 meters for some)
Weight: 4.6 ounces
Spike Pins: 6
---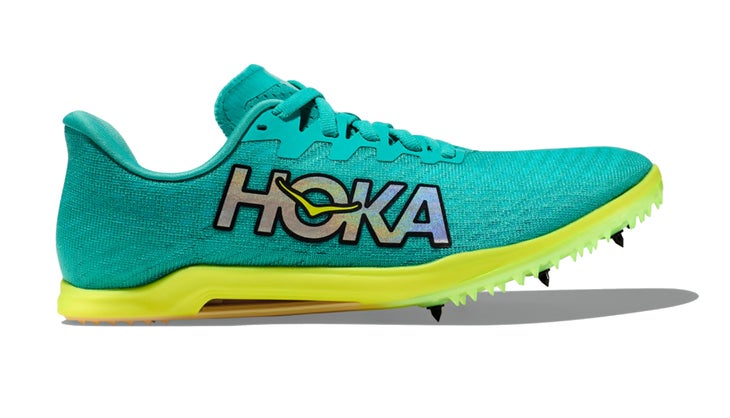 Hoka Cielo X 2 MD ($160)
Although it has a full-length carbon-fiber plate embedded in the midsole and a slightly stiffer PEBEX spike plate than the original, the Hoka Cielo X 2 MD is nowhere nearly as aggressively forward-leaning and stiff as the Nike Air Zoom Victory or Saucony Endorphin Cheetah—making it much more forgiving and suitable for all levels of runners. The midsole resembles more of a traditional track spike with its razor-thin stack height, just enough to offer mild cushioning yet still provide a sensitive and connected ride. The lace knit upper embodies everything we like to see in a track-spike upper—lightweight, airy, and comfortable enough to go sockless. However, we found it to fit long, narrow, and tight. If you're looking for a lightweight, middle-distance spike that doesn't force you up on your toes, these are for you.
Ideal Events: 800 to 5,000 meters
Weight: 4 ounces
Spike Pins: 6
---
The Best Sprint Spikes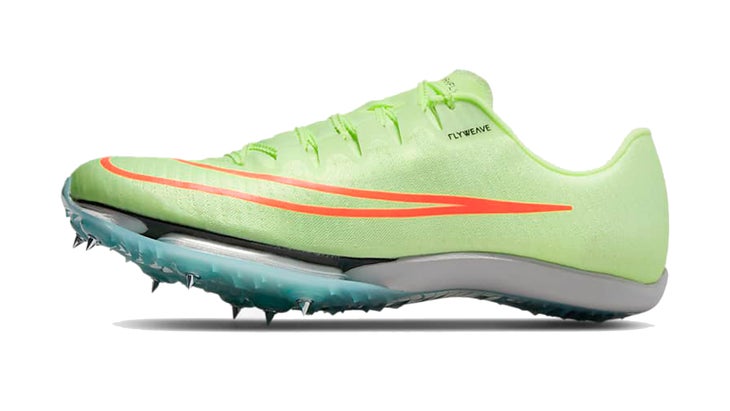 Nike Maxfly ($180)
Coming in as the preferred spike for all sprint events, the Nike Maxfly is every bit a super spike. A two-chambered, pressurized Zoom Air unit in the forefoot sits beneath a full-length carbon-fiber plate, creating a ride that "feels more like you're running on bouncy pillows rather than a thin, stiff spike plate," according to one tester. The responsive foam and pressurized air units in each midsole result in a soft, cushioned ride that "makes sprinting feel less harsh, allowing you to attack the ground more." The downside of all that cushioning? A wobbly feeling out of the starting blocks. But once you get used to how they respond, one tester says, "no spike is more comfortable."
Ideal Events: 60 to 400 meters, hurdles
Weight: 5.7 ounces
Spike Pins: 7
---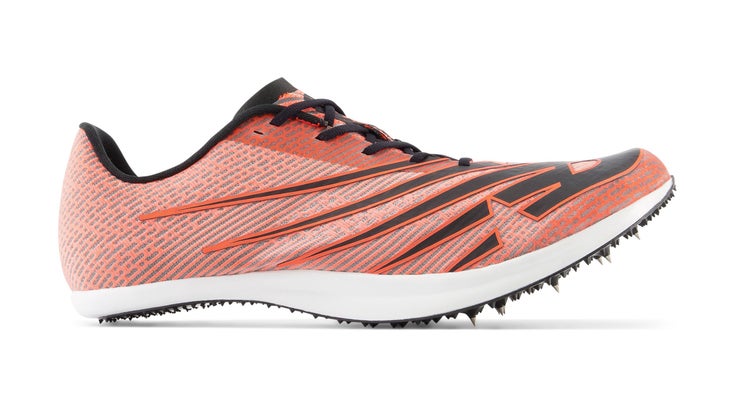 New Balance FuelCell Supercomp SD-X ($160)
A top choice among our sprint testers, the New Balance FuelCell Supercomp SD-X is a propulsive sprint spike that also softens impact with a generous amount of cushioning. A full-length curved carbon fiber plate sits on the bottom of that cushioning—rather than embedded in the middle—and doubles as a spike plate with built-in, permanent spike pins. While the ride is softer and bouncier than most sprint spikes, one tester said the rocker design "makes it feel like the spikes are launching you forward each step." The knit upper with TPU overlays wrapped testers' feet securely, but all noted that the fit was a little snugger and narrower than other sprint spikes. This wasn't an issue for short durations, but they warned that the shoes caused minor irritations during prolonged workouts.
Ideal Events: 60 to 800 meters
Weight: 5.9 ounces
Spike Pins: 6 non-removable
---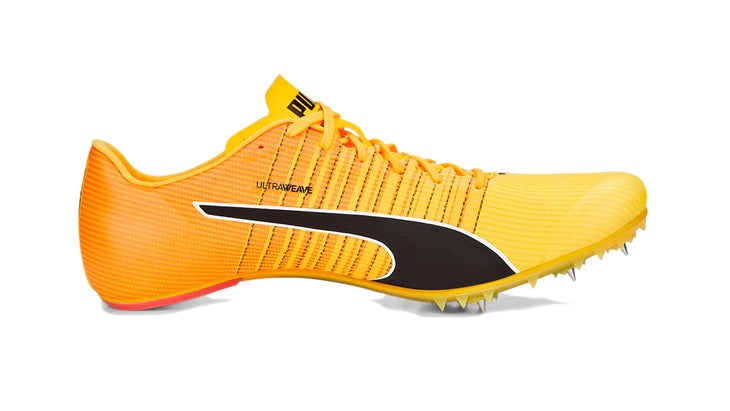 Puma evoSPEED Tokyo Future 4 ($170)
The Puma Tokyo Future 4 is ideal for short-distance (60m to 100m) sprinters who want fast turnover, high energy return, and major spring from each stride. Thanks to an aggressive forward-leaning geometry that forces a forefoot strike pattern, combined with an internal carbon fiber plate that sits close to your foot, testers found the evoSPEED Tokyo Future 4 had phenomenal reaction time off the ground. They also warned, however, that these are best suited for sprinters with very strong feet and calves that can leverage the forces of the rigid plates. Testers praised the 8-pin non-removable spikes for their excellent grip. Look no further if you're seeking a stiff, aggressive sprint spike that excels on a powerful athlete.
Ideal Events: 60 to 100 meters
Weight: 6.0 ounces
Spike Pins: 8 non-removable
---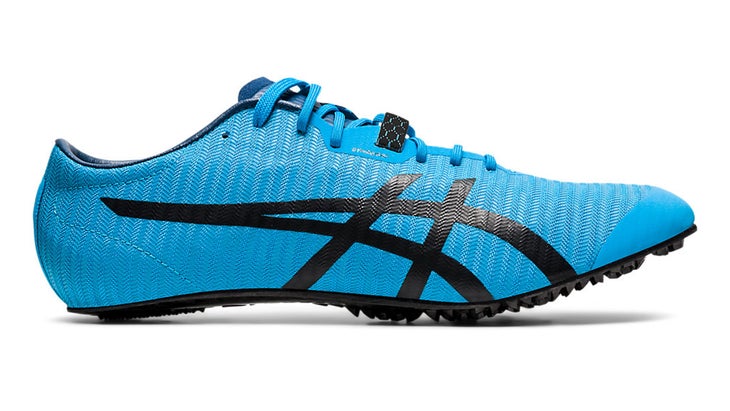 ASICS Metasprint ($180)
The Metasprint quickly emerged as a short-sprint favorite, given a unique design that eliminates screw-in spikes. Instead, a curved, carbon-fiber outsole plate with clusters of protruding honeycomb shapes provides both rigidity and traction. One tester reported that this stiff plate pushed him up onto the front of his foot more than the plate of any other spike, yielding the highest stride frequency of the test. The ride is light and quick off of the ground, and, despite its minimal cushioning, one tester felt the spike performed "equally as well or sometimes better than spikes [with thick midsoles like] the Nike Max Fly." The Metasprint is suitable for intermediate or advanced runners, especially during short, straight sprints and hurdles. In longer events, however, the spike's foothold and traction through turns were only adequate.
Ideal Events: 60 to 100 meters, short hurdles
Weight: 4.9 ounces
Spike Pins: None
---
The Best-Value Spikes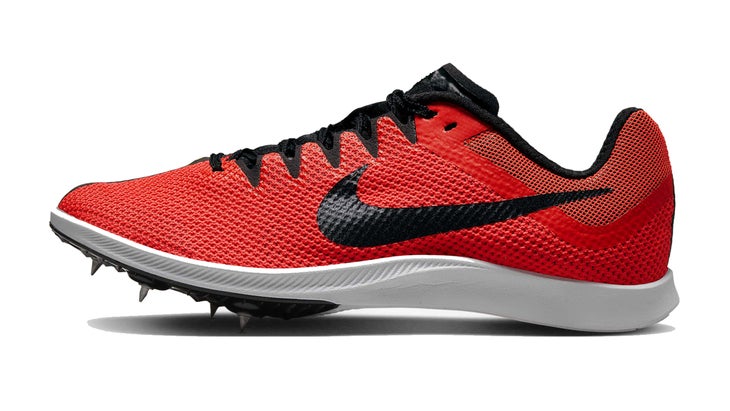 Nike Zoom Rival Distance ($70)
Only some people need—or will even benefit—from pricey super spikes. For runners who want a versatile, reliable, well-made traditional distance spike, the Nike Zoom Rival is one of the best-value picks on the market. Taking learnings from Nike's top-end Dragonfly, the new Zoom Rival features a slightly more aggressive rocker shape to help with toe-offs while also using lighter materials than the previous version to reduce overall weight. An external Pebax spike plate under the forefoot adds a touch of rigidity to maintain performance form, while still allowing a more natural flex than the Dragonfly to accommodate novice, less powerful runners. A full-length, energetic EVA midsole provides just enough cushioning to ensure a comfortable ride. A young high school runner focusing on anything over 400 meters can't go wrong with this time-tested favorite.
Ideal Events: 400 to 5,000 meters
Weight: 7.1 ounces
Spike Pins: 4
---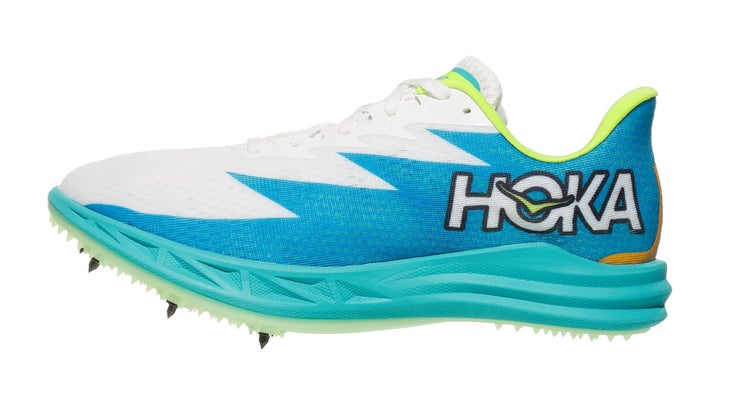 Hoka Crescendo MD ($80)
The Hoka Crescendo MD was, hands down, the most comfortable spike we tested, making it a great option for long track workouts, multiple event meets, and the novice track athlete. This is a spike you can wear all day. With a stiff, rockered Pebax spike plate under a thick stack of compression-molded EVA, the Crescendo MD feels more like a lightly cushioned road racing flat with exceptional stability than a track spike. While it may not have the pop of more expensive super spikes, even our most experienced testers enjoyed the stable, buttery smooth ride it provided. Increasing their versatility, these also could double as a fantastic cross country spike.
Ideal Events: 400 to 10,000 meters and cross country
Weight: 4.9 ounces
Spike Pins: 6
---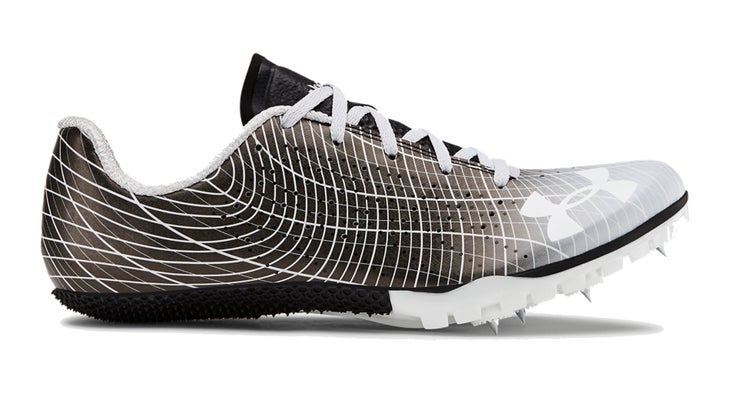 Under Armour Kick Sprint 3 ($65)
At less than half the price of high-end sprinting spikes, the Under Armour Kick Sprint 3 is an absolute bargain for novice and emerging sprinters. The three-quarter-length Pebax cleat plate delivers powerful propulsion without feeling too stiff and harsh like many entry-level spikes can. "In general, these spikes feel well padded, moderately stiff, and fairly durable, making them a good choice for high school athletes in any sprint or hurdling event," said one tester. However, they fit extremely small—so much so that our tester felt a full size up would be more appropriate for most.
Ideal Events: 60 to 400 meters, hurdles
Weight: 6.5 ounces
Spike Pins: 6
What Is a Super Spike?
Many of these options fall into the category of super spikes, new models that are more comfortable than previous options and may enhance performance and reduce recovery times. What makes these shoes different from the minimalist spikes tracksters have worn for decades?
When designing a spike, Elliott Heath, footwear product manager for Nike Running, says that he and his team are always seeking the perfect balance between four main inputs: weight, cushioning, stiffness, and containment, which means how well the shoe holds the foot. Until recently, designers focused on making spikes increasingly minimal while retaining their ability to grip the track and secure the foot. The resulting thinly padded soles "beat up your body at the cost of performance," Heath says. Stiff forefoot plates, incorporated into outsoles, served to generate more power by extending runners' push-off.
In the past four years, however, big changes have happened around cushioning, Heath says. New foams have allowed designers to put more cushioning into track spikes without adding excessive weight. These new foams are not only lighter, they also rebound more effectively than ever before. So although you sink into the soles underfoot, you can still push off powerfully.
Taking cues from road-running super shoes like the Nike Vaporfly 4%, brands have created spike models with highly cushioned midsoles, combining new lightweight, energy-returning foams with embedded, curved plates that act in a novel way to stabilize and optimize the foam's response. Enter the super spike.
Are Super Spikes Worth the Price?
High school, collegiate, national, and world records have all fallen since the advent of the new spikes, suggesting that they enhance performance, like their road-shoe counterparts. That said, scientific evidence on the spikes' effect isn't entirely clear. In a recent paper, researchers from the University of Massachusetts concluded that due to the more complex metabolic demands of track events, designing valid studies to quantify the benefits of spikes is more difficult than measuring the effect of marathon super shoes. Lacking such studies, it's possible that recent fast times might also be due to other factors, like better training during the pandemic.
Even if we can't say scientifically that super spikes will make you faster, they feel like they do. Scott Burns, head track and field coach at Downingtown West High School in Pennsylvania and an elite masters runner, believes that the investment is worthwhile for any experienced runner looking to optimize performance. Other testers unanimously agreed with Burns; all found a marked improvement in perceived performance benefits when wearing the more expensive spikes.
Yet possible benefits have to be balanced with the price tag and a runner's ability. Super-spike technologies magnify imbalances as well as strengths, and they have the potential to negatively alter stride mechanics for those lacking stability, power, and foot strength. Novice or emerging runners, Burns says, may not find the expensive new spikes appropriate. Newer runners may want to race in lightweight training or road-racing shoes or opt for less expensive spike models made to be more accessible and forgiving.
Lead Photo: Patrick Smith/Getty
Trending on Outside Online