Are You Running in the Right Shoes on Race Day?
What you choose for racing shoes depends on the distance, your fitness—and what you like to feel underfoot.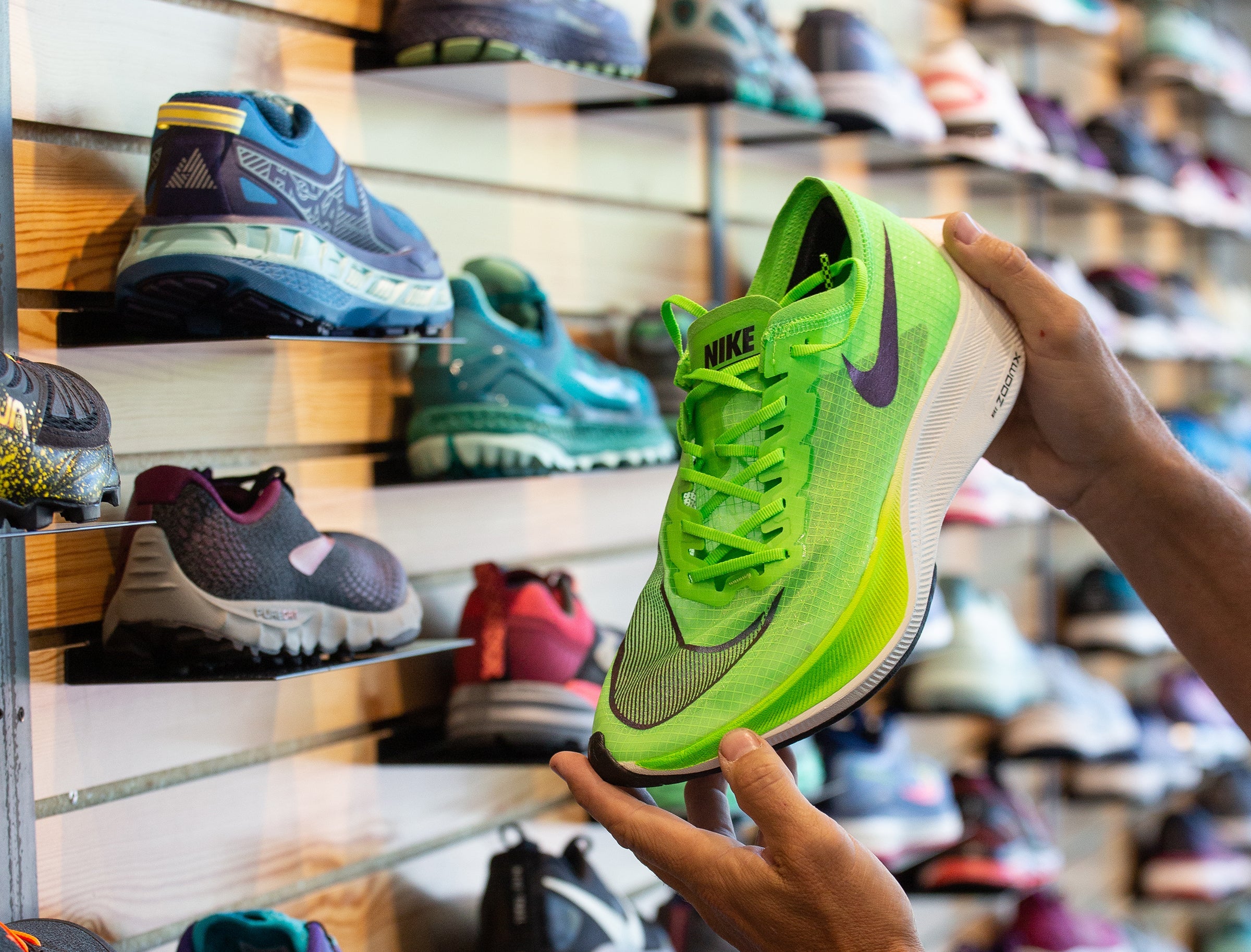 Heading out the door? Read this article on the new Outside+ app available now on iOS devices for members! Download the app.
So you've been training for months for a race, logging long runs, doing faster workouts and fine-tuning your fitness. You've got everything dialed in, long runs, workouts, rest, recovery, and nutrition. But what about your race-day shoes?
You've probably been alternating between a pair of high-mileage, nicely cushioned training shoes and lightweight, performance-oriented trainers. But as your event approaches, you might start wondering if you should wear one of the shoes you've been training in, a pair of light and fast racing flats, or some of the new carbon-fiber maximally-cushioned models on race day. "There are a lot of things to consider, but ultimately it's about understanding what you need and want for your target race distance," says Greg Weich, a shoe-fitting specialist, and head shoe buyer at In Motion Running in Boulder, Colo.
"It's about wearing a shoe that's going to let you run as fast as you can for the distance you're racing," Weich says. "But you also have to consider whether you need a shoe with inherent stability or whether you're OK running in a neutral shoe."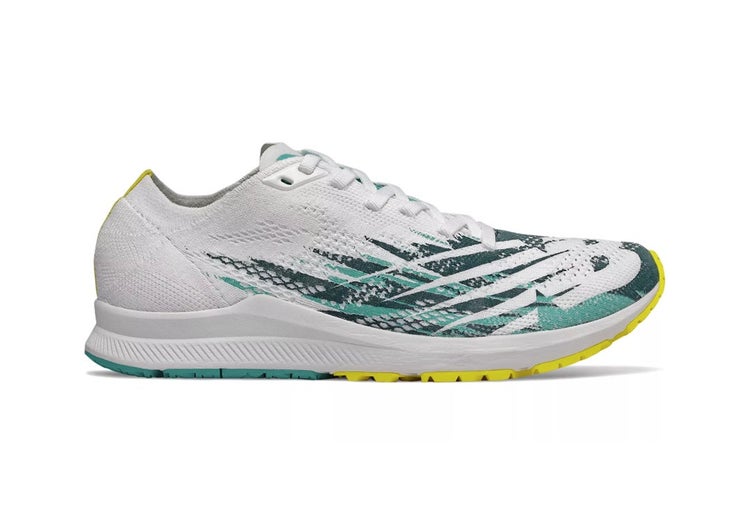 Marathon/ Half Marathon
There are four key factors in choosing a shoe for a marathon that generally also apply to the half marathon: how fast you plan on running, your leg strength and fitness, your cushioning preference and, yes, how much you're willing to spend. Comfort and fit are important, especially because you'll be running for several hours on a hard surface, so erring on the side of a shoe with slightly more cushioning make sense, Weich says. For a half marathon though, a lot of runners can typically race in a shoe with less cushioning and structure than they can for a marathon. But for both distances, you have to also consider stability as a key factor.
Maximally Cushioned Racers
For elite and sub-elite runners the most popular shoes of the season are the Nike ZoomX Vaporfly Next% or the Nike Vaporfly 4%—lightweight, neutral models built around a carbon-fiber plate embedded inside a thickly cushioned midsole. Although both shoes have a soft feeling at impact, they're extremely stiff and don't flex much at all, instead of giving off a firm, rolling sensation from foot strike to toe-off. That unique feeling takes some getting used to, so if you're going to buy a pair make sure you do some faster training in them before race day.
"If you want to run a PR, why wouldn't you want to run in those shoes?" says Dan O'Keefe, a customer experience manager at Naperville Running Co. in suburban Chicago. "With all of the records and victories, it's pretty clear that technology works. It's just a matter of whether you want to spend the money."
Unsponsored elite runners Jake Riley (2:10:36) and Jennifer Bergman (2:34:37) both wore VaporFlys en route to setting massive PRs at this fall's Chicago Marathon, not to mention about two-thirds of the first starting wave of runners. "Yeah, I made the sacrifice and bought a pair, but they seem to work because they're obviously getting results," Riley said.
But what if you're not planning to run 2:50 or faster for the marathon? Could you benefit from one of these "super shoes" if your goal is 3:05 or 3:15 or 3:35? Yes, O'Keefe says, as long as you're an efficient runner, as both shoes perform best with an efficient, high-cadence stride. There's no explicit time cut-off for those high-end shoes, but if you run with a heavy heel-striking gait or running at a more moderate pace, you probably won't get quite as much out of those shoes, he says.
Instead, you might consider the Hoka Carbon X, Skechers GoRun Razor 3 Hyper, ASICS Glideride or Reebok Floatride Run Fast Pro, which are also well-cushioned, stiff and light—but much more inherently stable—shoes that can benefit a much greater range of running gait styles and race paces. Again, it takes some getting used to before you find a rhythm with these shoes, so make sure you try them on and run workouts in them before race day.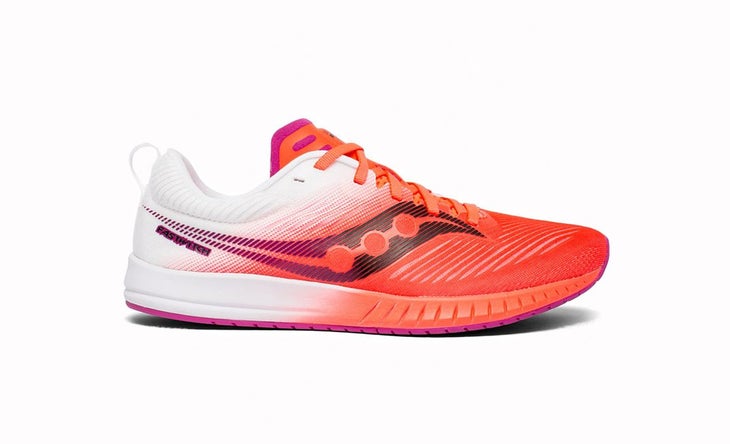 Traditional Racing Flats
When it comes to traditional racing flats, which are very lightweight, very flexible and very low to the ground, you have to consider the tradeoff of having less cushioning underfoot and whether or not you need a bit of built-in stability. The benefit of wearing neutral flats is that they feel very fast, flexible and light—most tip the scales between 5.0 oz. and 7.5 oz.—and they allow your feet to move uninhibitedly.
But that sensation comes at the cost of your feet taking more of a beating over the course of the race, more so in a marathon than a half marathon. If you are light on your feet and run with an efficient gait, though, it could be a sufficient choice for you.
Examples of those types of shoes include the Nike Zoom Streak 7, Saucony Type A9, Altra Vanish R, New Balance 1400v6, Hoka Carbon Rocket, 361 Degrees Feisu, On Cloudflash, ASICS Lyteracer, and Brooks Hyperion.
Opting instead for a stability-enhancing flat is probably a good idea if you're a mild-to-moderate overpronator who is accustomed to wearing stability shoes in training, Weich says. Although they're light and low to the ground like their neutral counterparts, they tend to have a slightly firmer demeanor because of the foam or plastic inserts to combat pronation. They might be a tad heavier than their neutral counterparts, but they provide just enough structure to reduce the detrimental inward rolling of the feet and ankles, as well as the subsequent twisting in the lower legs and knees.
"If you're running in stability trainers like the New Balance 860 for all of your long runs, then it makes sense to wear a stability-oriented racing flat for your half marathon or marathon," Weich says.
But, Weich points out, even if you wear neutral shoes every day while training and don't overpronate, you might benefit from running your marathon in a shoe that has stability features built into the midsole, partially because those shoes are going to feel a bit firmer and snappier.
Examples of stability racing flats include the New Balance 1500v6, Saucony Fastwitch 9 and Adidas Adizero Tempo.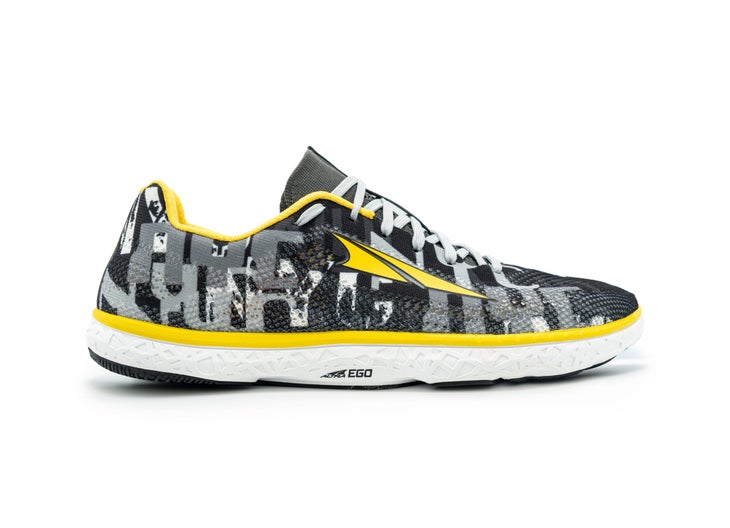 Lightweight Trainers
The other option for racing a marathon or half marathon is a lightweight, performance-oriented trainer. Although not touted as race day shoes, they offer a good blend of cushioning, protection and sleek geometry in fairly lightweight models. It might seem like splitting hairs to differentiate between racing flats and lightweight trainers; these shoes are light, soft, modestly cushioned and comfortable, and sometimes as light as racers. But they're typically not as energetic, flexible or low-to-the-ground as racing flats. Generally, they're a notch below—in weight and support—the cushioned trainers that many runners do most of their training in.
Examples of neutral lightweight performance trainers include the Altra Escalante Racer, Saucony Kinvara 10, Adidas Adizero Boston 8, Under Armour Velociti 2, ASICS Tartheredge, Mizuno Wave Shadow 3, Nike Pegasus Turbo and Hoka Rincon. Lightweight stability trainers include the ASICS DS Trainer 24, Brooks Asteria and Newton Motion 8.
"Most runners—who training for a new marathon PR but aren't running elite times—will do best with a lightweight trainer," Weich says. "They're light enough and you'll definitely appreciate that extra cushioning, especially late in the race."
1mi/5K/10K/10mi
For shorter distances, there are fewer decisions to make, Weich says, but it still comes down to your personal preference of what feels good on your feet. You might choose a lightweight performance trainer for a 10K or 10-mile run and opt for a pure racing flat for races of 5K or shorter.
"You might want a little more shoe for a 10-mile race or 15K race, but for 5Ks, especially, you can generally go as light and fast as possible," Weich says. "I don't think stability is a factor at all, unless you're prone to overuse injuries and your have a really unique gait pattern that might require it."
Trail Races
For trail races, the best way to pick your shoes is to start by considering the distance of the race, the type of terrain you're running on and how much proprioceptive "feel" for the trail you prefer. Trail running shoes range between minimally, moderately and maximally cushioned models, while traction various from smooth road-to-trail models to aggressively lugged shoes for technical terrain. When it comes to a race, it's best to know the exact type of terrain you'll be running on and narrow down your decision from there.
If the course is made up mostly of smooth dirt trails, bridle trails or gravel roads, you might just consider wearing a light and comfortable road shoe that offers just enough traction and a little stability. But if the course includes patches of technical terrain—big rocks, jagged roots, sloppy mud, loose gravel—you'll want to run in a shoe with a grippy outsole for superior traction, and maybe a rock plate for poke-through protection.
For longer races, starting at about 10 miles and going to 100 miles, you're likely going to want to have more cushioning and to choose either a moderately or maximally cushioned shoe. Although trails generally feature softer surfaces, courses with rolling terrain will mean you'll be running hard downhill a lot of the time and experiencing more impact.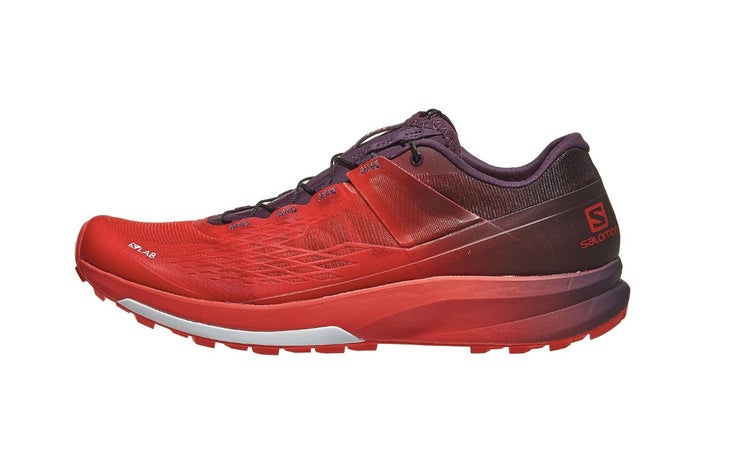 Examples of lighter and lower-profile running shoes for short-distance racing include Hoka Evo Jawz, Altra Vanish-XC, Skechers Go-Run Speed Trail, Nike Zoom Terra Kiger 5, La Sportiva Kaptiva, Brooks PureGrit 8, Altra Superior 4, Merrell Trail Glove 5 and Salomon S-Lab Sense 7, On CloudVenture Peak.
Examples of more thickly cushioned trail running shoes for longer distance racing include Salomon S-Lab Ultra 2, Nike Zoom Wildhorse 5, Altra Timp 1.5, Hoka Torrent, Hoka Evo Speedgoat.
"I don't think there's any hard and fast rule about trail running shoes for races," says pro trail runner Mike Wardian, who's sponsored by Hoka. "I definitely prefer more cushioning when I'm running longer, but that doesn't always mean I want less when I run shorter. And the idea of running shorter is a relative term anyway. I think it really comes down to what feels good on your feet while you're running and how you want to feel and interact with the ground."
Brian Metzler is the author of Kicksology: The Science, Hype, Culture and Cool of Running Shoes. (2019, VeloPress)
From PodiumRunner