How to Undertrain for (and Survive) Your First Marathon
So, you're undertrained and about to run your first marathon, eh? Take it from me: you're not alone—and these tips might help you thrive.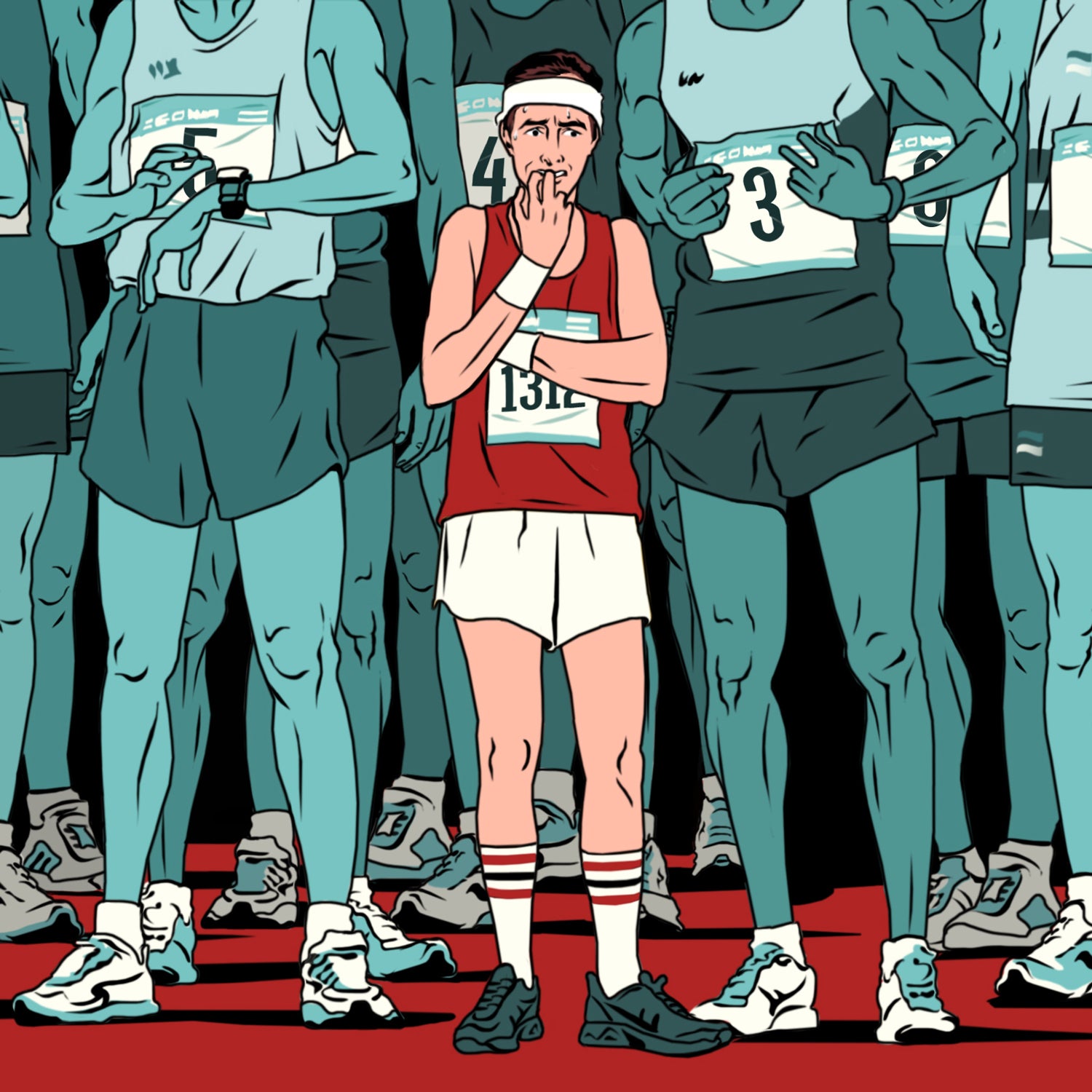 Bill Butcher(Photo)
Heading out the door? Read this article on the new Outside+ app available now on iOS devices for members! Download the app.
What if, as your first marathon draws near, you realize that your training hasn't quite mirrored the intensive schedule you committed to 16 weeks prior? What if the work ethic you foresaw when you signed up for the race gave way to your penchant for procrastination and your intimate relationship with the snooze button?
You're not alone. According to a 2011 piece in the Wall Street Journal, undertraining was a major contributor to the 15,000 no-shows at the New York City Marathon. Humans by their nature are compromised, and while some have unbridled focus and discipline, many of us fall just a bit short, prioritizing nachos and football over that Sunday long run.
I should know. Like many average athletes and part-time runners, when I registered for the Austin Marathon four months before the race, I was confident. Of course I'm capable of training hard. Of course I'm strong enough to push through 26.2 miles on race day.
I wasn't new to running. I'd already knocked off a half marathon, a couple 10Ks, and nearly a dozen 5K races. Once upon a time I even ran cross-country. And it's not as though I didn't train when I decided to take on a marathon. I ran a lot—usually four to five days a week, gradually building mileage over four months. But my longest training run was only 17.3 miles, well short of the standard 20-mile goal.
During the course of my training, I moved three times—from Chicago to New Hampshire and, ultimately, to New Mexico. I pounded out runs in three different climates in three different time zones. The holiday season set me back a few thousand calories, too.
As marathon day crept closer, I realized I was wildly undertrained and feared the worst. What if I'm paralyzed by cramps at mile 25? What if I'm carted off the course by medical personnel? In late February, a week before the marathon, I was losing sleep as these questions ran through my mind.
Humans by their nature are compromised, and while some have unbridled focus and discipline, many of us fall just a bit short, prioritizing nachos and football over that Sunday long run.
There is very little reassuring advice on the internet for unprepared first-time marathoners. When I searched for solidarity a few days before the race, I was hoping to read about people who screwed up their training but still finished a marathon with their dignity intact. Instead, I mostly found advice from experts and professional runners. Much of the advice—with few exceptions—was lofty, technical, and a bit unsettling.
After reading such blogs, I was asking questions like: Do I really need to put Vaseline on my nipples? Is there going to be a literal wall at mile 20? And, wait, people actually shit their pants on course?
With these things in mind, I called Steve Magness, exercise scientist, head cross-country coach at the University of Houston, and true voice of reason for every mediocre undertrained runner. According to Magness, most people underestimate the longer races, especially the marathon. "People are really good at talking themselves out of the difficulty they're about to encounter," he says. "They go in thinking they've trained enough or can fake their way through it."
But Magness offered some solid recommendations for the undertrained:
Don't freak out. Magness sees a lot of undertrained runners psyche themselves out. "Psychologically, you have to remind yourself, even if you're undertrained, you still can be okay," he says. "A lot of people ruminate and freak out. Then they have all this nervous energy and are toast during the race." The key is to stay calm and not expend energy worrying about the race.
Don't force a long run. Magness says he often sees panicked undertrained marathoners attempt a 20-mile run the week before the race. "That's not a good idea." Magness says. "You're leaving your race in practice. That superlong run—that was your race right there. It might feel good and give you some confidence, but it just doesn't work well."
Use caffeine. At crucial points in the race, caffeine can almost trick your body into feeling better than it should, Magness says. He told me to get caffeine, carbohydrates, and sugars via caffeinated gels during the race to help maintain energy. And, of course, drinking water or sports drinks before the race and hitting all the hydration stations are also necessary.
Eat well and get lots of sleep. Load up on carbohydrates, potassium, and electrolytes, and maybe even try sleep loading. The goal is to feel fresh on race day. "The better you start off feeling, the lower the rate of decline will be," Magness says. "You want your legs to feel as good as possible on race day, because you haven't done the training to get them to last all 26.2 miles."
Revise your goal. "You have to come to terms with your fitness," Magness says. "Where you're at is where you're at, so you have to think, 'What am I capable of?' and make that the new goal." In short: lose the ego and be honest with yourself.
Keep perspective. Especially with first-time marathoners, "you have to give yourself perspective that your time doesn't matter," Magness says. "Is the world going to end if you run 4 hours and 10 minutes versus 3 hours and 50 minutes? No. No one will give a shit."
For the most part, I followed Magness' advice. I reduced my initial sub-four-hour goal to something more attainable: finish the marathon.
I made the most of taper week: I ran twice and didn't try to squeeze in a long run despite feeling tempted. I ate well—lots of pasta, bananas, avocados, and eggs. I also got plenty of rest and hydrated with water, Gatorade, and a few too many beers. (The race was in Austin, after all.)
Despite my mediocre training, I felt ready to run when I entered the starting corral. My legs felt fresh, the start-line atmosphere was upbeat, and my John Prine playlist calmed the nerves. I felt energized and ready to suffer.
I knew I could probably run 17 miles before I needed to worry—and I did. My runner's high that usually wears off around mile nine stretched beyond the halfway mark. I hit every hydration station and ate caffeinated gels every five miles. To my delight, I never hit the proverbial wall, but each mile grew progressively slower and more painful.
Buoyed by my brother's company—he hopped in at mile 14 and ran nine slow miles with me before grabbing a beer from a spectator and leaving me to finish alone—and inspired by supporters' signs (my favorite: "Alternative fact: the last five miles are the easiest"), I fought through the mental and physical fatigue. By mile 23, I knew I would finish.
I managed to gut out all 26.2 miles, but to say I "ran" them might be an insult to running. I limped and shuffled, too. My calves and my lower back were throbbing. I was lightheaded and felt overdosed on sugar and caffeine. But crossing the finish line was among the most gratifying moments I've experienced as an athlete. It didn't matter that I was slow.
I can't guarantee that undertraining will turn out this well for others. But if you find yourself in the same position, just lower your expectations, abandon your ego, and get plenty of sleep, and you'll have a pretty good shot.
As Steve Magness told me, "It's definitely better to be undertrained than overtrained."
Lead Photo: Bill Butcher
Trending on Outside Online