In Stride
It Ain't Over Till It's Over
An Independence Day victory gone wrong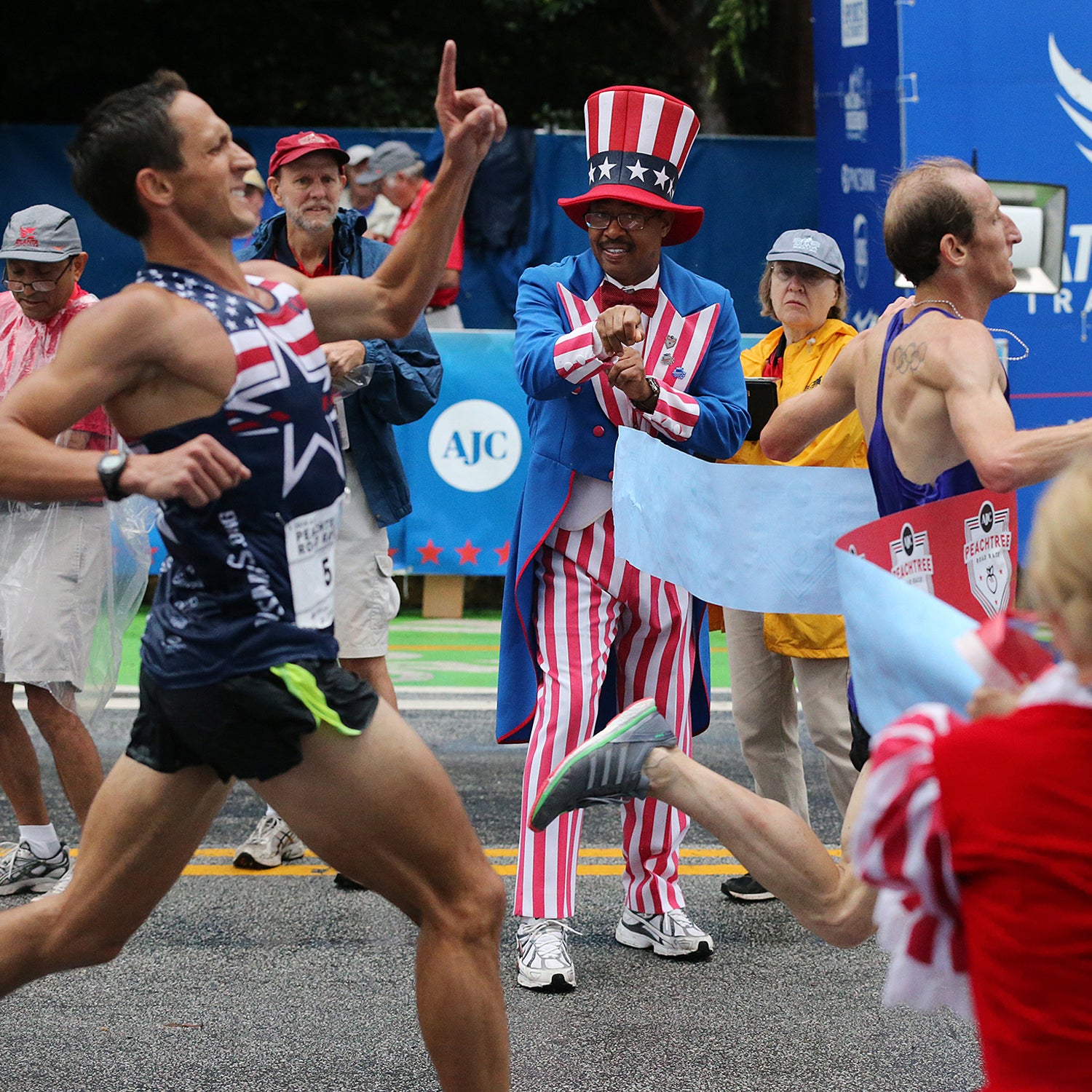 Atlanta Journal-Constitution/AP(Photo)
Heading out the door? Read this article on the new Outside+ app available now on iOS devices for members! Download the app.
This past weekend, at the Peachtree Road Race in Atlanta, Georgia, Great Britain's Scott Overall narrowly defeated American runner Ben Payne by a mere nine one hundredths of a second. Aside from the obvious historical irony, the victory also came with a textbook lesson on how not to finish a race.
With 60,000 entrants, Peachtree is the world's largest 10K and one that annually draws top-caliber running talent. The event takes place on July 4, making for an ostentatiously patriotic affair, replete with Star Spangled Banner shorts, Uncle Sam top hats, and other USA-themed paraphernalia. 
It was against this celebratory backdrop that 33-year-old Ben Payne, an active duty member of the U.S. Air Force from Colorado Springs, found himself well in the lead with only a few feet of pavement between himself and the finish line. Milliseconds before breaking the tape, Payne allowed a quick fist pump and raised a "#1" index finger to celebrate becoming only the second American to win the prestigious race in over 20 years. 
But his celebration proved tragically premature. As Payne was striding to the line, 32-year-old Scott Overall, an elite runner who represented Great Britain in the 2012 London Olympic marathon, rapidly closed the gap on the American. At the exact moment Payne raised his finger in glorious triumph, the Briton gave a furious finishing kick and lunged across the finish line ahead of the oblivious Payne. 
https://youtube.com/watch?v=kCHV0-yeogY
The margin was so close that officials spent two hours analyzing photos of the finish in order to determine which man had actually won. It was the first photo finish in Peachtree's 46-year-history. In the end, Overall was declared the victor.  
"As he put his hand up to celebrate, he sort of eased back and as that happened I went past him," Overall said in a post race interview. 
It is unlikely that Overall would have gotten to the finish first if Payne had waited another second or two to show his enthusiasm. Posting on Twitter later that day, Overall included a bit of racing advice that all runners can benefit from and that Ben Payne will surely never forget. 
"Pleased to take the win today at the Peach tree 10km. Always run through the line! #Peachy"
Lead Photo: Atlanta Journal-Constitution/AP