Jim Walmsley Broke Another Western States Course Record
Walmsley just bested his own time by an impressive 20 minutes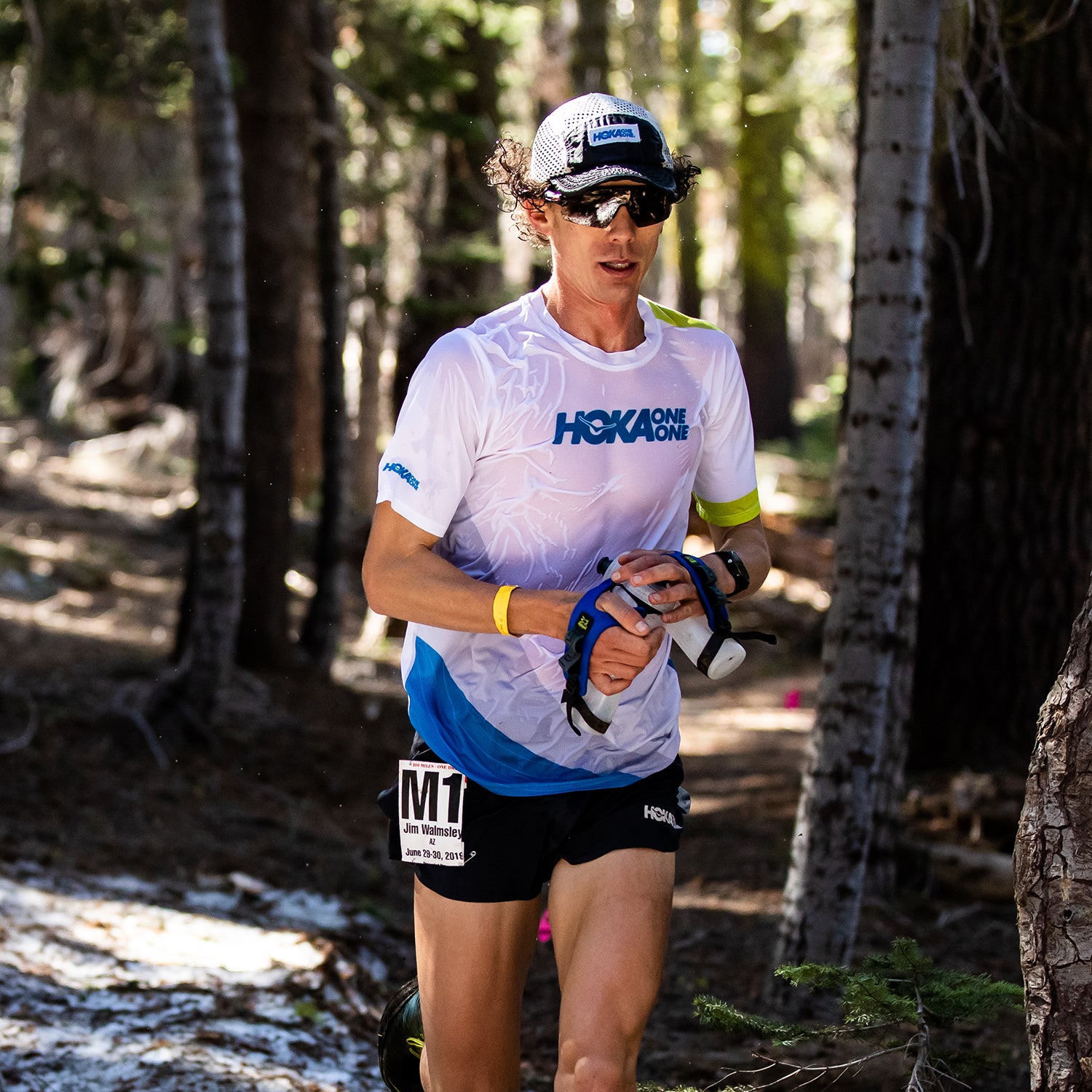 Heading out the door? Read this article on the new Outside+ app available now on iOS devices for members! Download the app.
On Saturday, Jim Walmsley smashed his own course record by over 20 minutes at the Western States Endurance Run, completing the 100-mile course in 14:09:28. Fellow Hoka athlete Jared Hazen finished in 14:26:46, the second-fastest time ever clocked on the famous course through the Sierra and four minutes faster than Walmsley's record-setting 2018 time of 14:30:04. (On the women's side, Clare Gallagher took the win, running 17:23:25, the second fastest time in the race's history.)
Walmsley, 29, and Hazen, 24, who are friends and roommates in Flagstaff, Arizona, ran a similar race: they both set out conservatively, with Walmsley only pulling ahead of the pack around mile 15. They paced similarly from there on out, but Walmsley maintained a steady lead of eight to 10 minutes throughout the race. "Basically all I heard was he's eight minutes back all day," Walmsley told iRunFar in a post-race interview. "There wasn't a let up and he did keep me honest." In the last 20 miles, Walmsley pushed hard and widened his lead.
Though Hazen and Walmsley sometimes train together, Hazen found it helpful to run his own race. "I was definitely doing my own thing," Hazen told iRunFar. "I knew Jim was not going to be running slow or giving up time, so I was staying on the gas, but doing it the way I wanted to do it. I was able to take advantage of the sections I wanted to take advantage of and chop time where I wanted to." Overall, Hazen moved more quickly through aid stations, but Walmsley consistently kept his pace up.
Conditions were close to perfect during this year's race. On a course known for sweltering temperatures—the highs are often in the 90s—a bit of cloud cover kept even the lower elevations below 80 degrees. However, the deep snowpack meant higher sections of the route were still buried in snow. Walmsley noted that the snow cost him about eight minutes through Lyons Ridge, about 12 miles into the course, compared to last year. 
Walmsley's accomplishments in the past two years have redefined what's possible at Western States. Before the 2018 race, the fastest time was just over 14 hours and 46 minutes (run by Timothy Olson in 2012). Now, a sub-14 hour time is a genuine possibility. 
"Especially with Jared running 14:26 and me getting down to 14:09, you are going to have other people dreaming about that," Walmsley said to iRunFar. "Those eight minutes on Lyon Ridge could have been the difference this year."
In post race interviews, Walmsley was equivocal about returning to Western States in 2020. He has his sights set on other famous courses, including South Africa's Comrades Marathon, the world's oldest ultramarathon, and is considering taking a year off from Western States. But he acknowledges that he said the same thing last year, so he isn't going to write it off just yet. After a few hard attempts—including getting lost on the course in 2016 and succumbing to stomach issues in 2017—he's getting better every year.
"I'm worrying less about the smaller details and more getting the mind right," Walmsley told iRunFar. "It's going to get terrible, so show up tough and ready. Mindset-wise, that's probably what's matured the most."
Lead Photo: Bryson Malone