In Stride
The Ultrarunning Hall of Fame
Jim Walmsley's Western States run was remarkable. But how does it stack up against these other extreme distance running feats?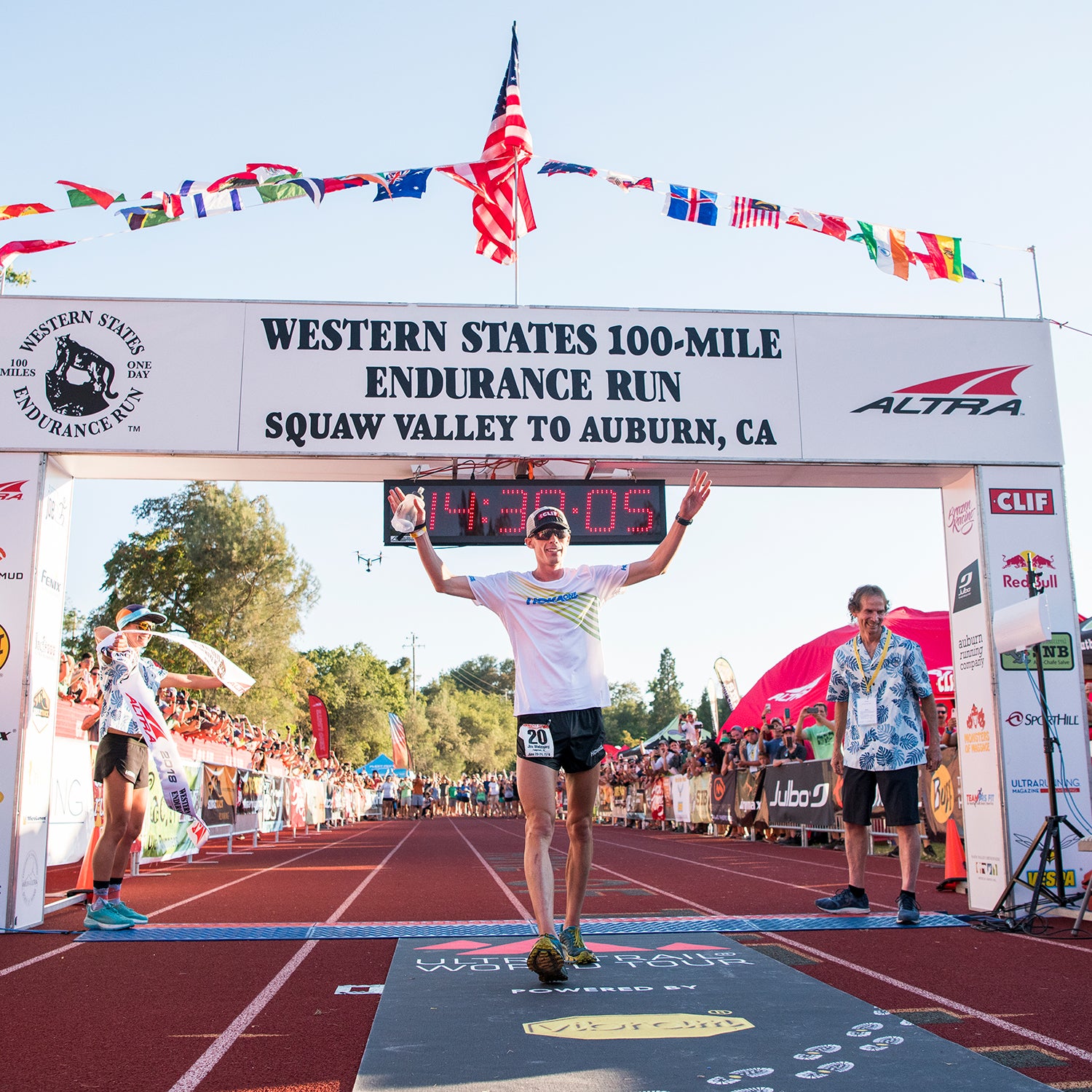 Courtesy HOKA ONE ONE(Photo)
Heading out the door? Read this article on the new Outside+ app available now on iOS devices for members! Download the app.
Ever since his infamous late-race wrong turn at the Western States Endurance Run in 2016, it was clear that Jim Walmsley would eventually have his day. It came last weekend, when the frontrunning Coconino Cowboy destroyed the field to win in a record time of 14 hours, 30 minutes, and 4 seconds. Navigating a course that included over 18,000 feet of elevation gain, a dangerous river crossing, and an ursine surprise, Walmsley somehow managed to average 8 minutes and 40 seconds per mile… over 100 miles. We're in awe. In case you're tempted to call it the most spectacular feat of ultrarunning, here are a few other contenders. 
Cat Bradley and Jim Walmsley, Rim-to-Rim-to-Rim
Western States isn't the only place where Walmsley has made a name for himself. In 2016, he broke one of the most coveted FKT records out there: the Grand Canyon's rim-to-rim-rim crossing. It took Walmsley 5:55:20 to run 42 miles from the South Rim to the North Rim and back, breaking the mark previously held by Rob Krar. Meanwhile, Cat Bradley, who shattered the women's record for the feat by 20 minutes last November, is also a former Western States champion (2017). We would like to hereby suggest that this be adopted as the (un)official double-crown of American ultra running: win Western States, set a R2R2R FKT, and revel in your glory.    
Nao Kazami, Lake Saroma 100K
On the very same weekend when Walmsley charged to Western States victory, Japan's Nao Kazami broke a 40-year-old record for the 100-kilometer distance. He clocked 6:09:14 to take the Lake Saroma Ultramarathon. (This race is in Hokkaido and shouldn't be confused with the Lake Sonoma 50, which Walmsley won this year, seemingly as a warm-up.) Lake Saroma's course may be flat and paved, but maintaining a sub-six-minute mile pace for over 60 miles is formidable enough to make this list.
Camille Herron, Tunnel Hill 100
Among the big names missing from this year's Western States was Camille Herron. The 36-year-old Oklahoman, whose athletic resume includes a 2:48 marathon in a Spiderman costume, was a late scratch due to injury. Fortunately, she has several big wins to fall back on. A few months after triumphing in the 2017 Comrades Marathon, Herron won the Tunnel Hill 100 in Vienna, Illinois. Her time of 12:32:49 stands as a 100-mile record on a USATF-certified course—both for men and women. The mark is all the more impressive considering her atypical fueling strategy around mile 80. As Herron told REI: "I drank a beer and a half. It was magic. It settled my stomach and I had mental clarity."
Lisa Smith-Batchen, Badwater Quad
When weighing the endurance achievements of Lisa Smith-Batchen, it can be difficult to pick just one. This is the woman who, in 1999, became the first American to win the Marathon des Sables, a seven-day stage race through the Sahara Desert. When it comes to sheer mental fortitude, however, Smith-Batchen's greatest triumph might be her successful completion of the "Badwater Quad" in 2014. To earn this distinction, she had to cover the 135-mile stretch from the Badwater Basin, the lowest (and often hottest) point in North America, to the Mount Whitney trailhead, summit California's tallest mountain, and then head all the way back—twice. Also, she did it in July. The feat took her two weeks, during which time she average between 40 to 50 miles a day, while occasionally running in temperatures that exceeded 120 degrees. She experienced animal hallucinations en route. We are not surprised.
Pete Kostelnick, Transamerica Run 
Imagine how many obnoxious Forrest Gump references Pete Kostelnick had to endure when, in 2016, he broke the record for running across the country. For that alone he deserves recognition. Fortunately, Kostelnick received a hero's welcome when he arrived at New York's City Hall 42 days, 6 hours, and 30 minutes after setting off from San Francisco. The previous record holder, Frank Giannino Jr., was on hand to give his congratulations by handing Kostelnick a symbolic golden baton. The journey totaled 3,067 miles, which meant Kostelnick averaged over 70 miles a day. Kale freaks take note: he did it on a steady diet of McDonald's, Mountain Dew, and Ben & Jerry's.
Ashprihanal Aalto, Self-Transcendence 3,100-Mile Race
Running 3,000 miles across the country is one thing. Running 3,100 miles around a single city block is quite another. That is the ordeal of the Self-Transcendence 3,100-Mile Race, which takes place every summer in the New York City borough of Queens. Each year, a dozen or so runners commit to spending their days circling a half-mile loop, continuously, from 6 a.m. to midnight. The goal is to complete the circuit 5,649 times before the 52-day limit. In 2015, Ashprihanal Aalto, a postal service worker from Finland, needed a mere 40 days, nine hours, six minutes, and 21 seconds to complete what is billed as the world's longest footrace. The mark stands as a world record, until someone is disturbed enough to try and break it.
Corrections:
(09/21/2023) This story has been updated to reflect that the Badwater Quad requires summiting Mount Whitney. Outside regrets the error.
Lead Photo: Courtesy HOKA ONE ONE