Know the Lingo: The Unique Jargon of the Ultrarunning Community
Like many fanatical sports, ultrarunning comes with its own set of vocabulary. Though it's nothing compared to baseball, here are a few words and phrases from the ultrarunner's lexicon.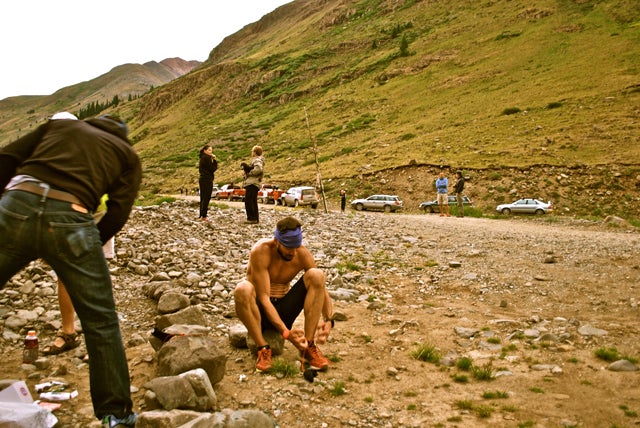 Heading out the door? Read this article on the new Outside+ app available now on iOS devices for members! Download the app.
ACROPHOBIA: An abnormal fear of being in high places. As the Hardrock runner's manual reminds you "if you suffer from this and see it in the course description, you will not enjoy that location on the course."
AID STATION: just what it sounds like. Aid stations are a runner's lifeline in a long race. Beacons of hope that turn 50 or 100 miles into eight-10 mile increments. Think a smorgasbord of M&M's, potato chips, powdered energy drinks, flat soda, bananas, potatoes, gels, and sometimes bacon and beer. If you're feeling terrible, we suggest stopping to talk with volunteers. They're usually the coolest people around.
BELT BUCKLE: The most common finisher's prize for the heavy-hitting hundreds (Leadville, Western States, Bear, etc.). Not much for prize money in the ultra-circuit, but man, those belt buckles sure are nice.
BENCH: A naturally occurring shelf typically found between two higher points.
BONK: Severe fatigue caused by a loss of glycogen stores in the liver and muscles.
CHICKED: You can thank Dusty Olson (Scott Jurek's longtime pacer) for this term. It's a little derogatory, but basically means getting passed by a girl. See iRunFar's full discussion of the debate.
CLIMB: Running uphill. (Here's a little secret: Unless you're in the elite crowd, most ultradistance runners don't actually do a lot of uphill running. This is for two reasons: 1. It's hard, and 2. usually the alternative, power hiking, will get you up the hill faster than attempting to run, while simultaneously helping conserve energy for later.)
COMPRESSION TIGHTS: Form-fitting running tights that help keep muscles warm to regulate strain/fatigue by focusing the direction of the muscle and perhaps reducing the build up of creatine kinase (muscle tissue damage). Generally good things. Plus, they make you look like a superhero.
CONDOM JACKET: A lightweight rain/wind shell.
CREW: Your support team. Typically one or two very patient friends who you've bribed to drive to various aid stations ahead of your arrival. Hopefully they'll be adept at filling water bottles/bladders and offering or not offering whatever encouragement you might need. Veteran crews like to think of their job as an acronym: "Crabby Runner, Endless Waiting."
DARTH VADER: Raspy-voiced runner who hasn't been drinking enough water.
DNF: Did not finish (usually written in big red letters next to your name).
DROP BAG: Something in which to pack your preferential race day items (extra socks, fried sweet potatoes, headlamps, etc.). Volunteers will typically collect this motley assortment of bags on check-in day and drive them to designated aid stations for en-route access.
DOUCHE GRADE: When you're training hard, "douche grade" is considered a bit of a cop out. It's basically the goldilocks of trail grade. Not too flat, and not too steep. A recent trail conference in Italy placed Douche Grade at about 5.63 percent.
TOURIST DOUCHE GRADE: Just enough of an incline that you're moving uphill, but not enough that you'd actually notice.
ELEVATION GAIN: The way runners measure the difficulty of the trail.
EURO-HIKING: A good way to execute a climb. Basically an uphill power walk, except that you keep a hand on each quad and press down a bit with each step.
FUEL: Calories, usually in the form of sugar or some gooey concoction like brown rice syrup and artificial flavoring. Yum.
FKT: Setting a non-race speed record (fastest known) time on some particular route, (e.g. Grand Canyon rim-to-rim, trans-Zion, etc.).
HYPONATREMIA: An electrolyte imbalance that typically occurs when the body's sodium concentration is lower than normal, causing tissues to swell dangerously. While ultrarunners definitely worry about dehydration, overhydration in the case of extreme physical activity is also something to be mindful of.
MICRO-TRASH: The wrappers and other debris often left behind on the trail in the act of fueling.
MINIMALIST SHOES: Shoes designed with little or no support and no stability control. Arguments in favor: They're closer to the natural way humans have been running for centuries (barefoot). Arguments opposed: Running long distances without some support takes its toll on the body. If you're curious, try 'em. You'll probably know right away whether or not they're going to work for you.
PACER: A very good friend who runs with you for part of a 100+ race. The use of pacers is a topic of some contention among ultrarunners (Karl Meltzer is fundamentally opposed, while others rarely race without one). Though the debate could certainly go either way, with some of the more difficult races, having a pacer is more of a security blanket than anything else. Someone to make sure you don't deliriously wander off the trail or freeze to death on some remote section of the course.
QUAD BUSTER: A steep, downhill run, usually executed at a pace so brisk that the runner seems somewhat out of control. A quad buster late in the race can be torture particularly if followed by a section of flat trail (Bear100, we're talking about you).
SKYRUNNING: Any sort of mountain running exceeding 2,000 meters where the incline exceeds 30 percent and the climbing difficulty does not exceed 11 degrees. Born in Mont Blanc and Monte Rosa in the early '90s there's now actually an International Skyrunning Federation with races in the Himalayas, Alps and even on Mount Kenya.
TRAVERSE: To move laterally along the face of a mountain.
UDO'S OIL: A miracle blend of essential fatty acids. Intake by the spoonful.