How Oiselle Is Committing to Anti-Racism 
The women's running apparel company just signed activist Alison Désir and diversity and inclusion consultant Courtney Carter and is creating an advisory group to prioritize diverse voices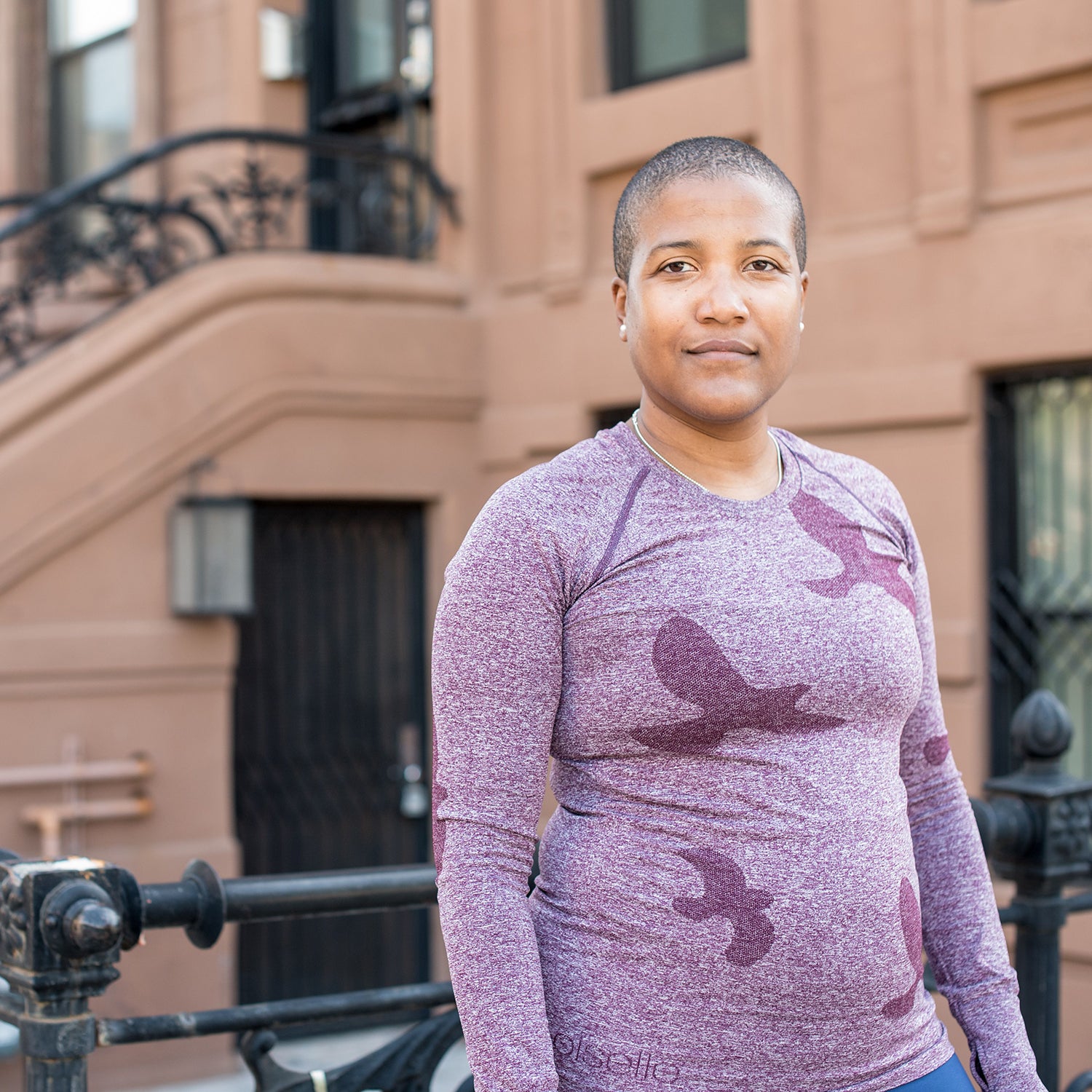 Heading out the door? Read this article on the new Outside+ app available now on iOS devices for members! Download the app.
Women's running-apparel company Oiselle announced today that Alison Désir has joined the company as an athlete-adviser. Désir is the founder of the running group Harlem Run and the running advocacy organizations Run 4 All Women and Global Womxn Run Collective. She recently called out the running community for its racism and lack of coverage following the news of Black runner Ahmaud Arbery's murder—first on Instagram, then in an essay for Outside. Courtney Carter, the director of diversity and inclusion at a Washington, D.C., law firm and a marathoner, has also joined the company as an adviser on diversity, equity, and inclusion.
Désir founded Harlem Run in 2013 to create a space for Black runners to feel welcome in the running community. After the 2016 presidential election, she led a four-women relay run from Harlem to Washington, D.C., to join the Women's March, raising more than $100,000 for Planned Parenthood along the way. Désir is also a mental-health coach, and she's currently leading a series of conversations on the intersection of race, mental health, and fitness.
One component of Désir's role will be brand ambassador: she'll wear Oiselle apparel and represent the brand at events, though Hoka remains her shoe sponsor. Elite runner Kara Goucher and former professional runner Lauren Fleshman have held similar roles at the company for the past several years. (Fleshman also coaches an arm of Oiselle's elite team.) And like Goucher and Fleshman, Désir will help design her own apparel line—she's starting with socks—and receive royalties from purchases. All three women will serve as athlete-advisers, a new title at the company. (Goucher and Fleshman have had input on Oiselle's activities and products since they joined the company in 2013 and 2014, respectively. The new title formalizes their leadership positions.) As a Black woman, Désir says she brings a different lived experience and perspective to the brand than her white teammates.
As part of the hiring process, Désir and Oiselle founder and CEO Sally Bergesen had a frank conversation about her role. "She was clear that I was not the token Black woman and that it was not my responsibility to tell her every time there is a race problem in Oiselle," Désir says. Désir and Bergesen began getting to know each other over social media two years ago and met in person last year during New York City Marathon weekend. At the time, Désir had recently formed the Global Womxn Run Collective, a group whose mission was to "disrupt the status quo of the male-dominated running industry." (The spelling of womxn, used by many feminist groups, is designed to be inclusive of all people who identify as women.) The goal resonated with Bergesen, who leads the brand with a strong, feminist bent. Bergesen went to Désir's meetup before the marathon, and the relationship grew from there into an "organic aligning" on activism, social justice, and inclusive values, Désir says.
Another element of Désir's role will be participating in the new advisory group Bergesen is creating to bring more diverse voices to the top of the brand. In addition to Carter, Goucher, and Fleshman, the 11-person committee will also include: Betty Fujikado, the founder of the ad agency Copacino + Fujikado; Michael Volz, Bergesen's sibling and a member of the LGTBQ+ community; and Oiselle president Atsuko Tamura, who joined the company in 2015.
The group will have input on all aspects of the company, including brand and marketing strategy, the growth of the elite and community teams, and product development. "As a white woman, I've had the growing realization that we need more diverse voices at our table," Bergesen says of the decision to form the committee. "Those voices should be part of shaping business strategy and growth. Otherwise it's just performative allyship."
As members of the new advisory group, Carter and Désir believe the committee is an important step in addressing racism. "Our life experiences inherently limit what we know," Désir says. "The more diversity we have, as it relates to race, gender, and beliefs, the [fewer] blind spots we have." In her role, Carter will advise the brand on inclusive leadership—both broadly among the brand's top executives and specifically to the women who lead Oiselle's community team, known as Volée. Volée is open to anyone and currently includes 4,000 women across the globe as part of an online community that also hosts local meetups and events.
Hiring Désir and Carter in the middle of a national reckoning on race was intentional, but not as reactionary as it might seem. Oiselle began a conscious effort to diversify both its elite and community teams back in 2011, not just around race, but also in terms of class, education, culture, and gender identity. Over the past four years, the brand has signed a number of women of color to its elite team (six out of the 16 current track and field athletes are women of color) and worked to attract more Black and Brown women to the Volée team.
Carter has been at the forefront of the latter effort. When she joined Volée in 2013, she was one of a handful of women of color out of roughly 100 members across the country. In order to attract more women of color to the team, Carter began regularly posting photos of herself and other members of Volée on social media. Women of color reached out to ask about the group, and membership among Black and Brown women gradually grew. "More diversity comes from more diversity," she says. "When you see people who look like you, you think, OK, this is for me."
In 2018, Oiselle began hosting Big Birdcamp, a weekend-long running retreat for Volée members. At a photo shoot, participants were breaking off into subgroups—runners from the same region, runners who trained with the same coach. Carter asked for a shot of all the women of color present. "It was a fairly large group," Carter says, estimating there were around 30 women. "That was cool to see."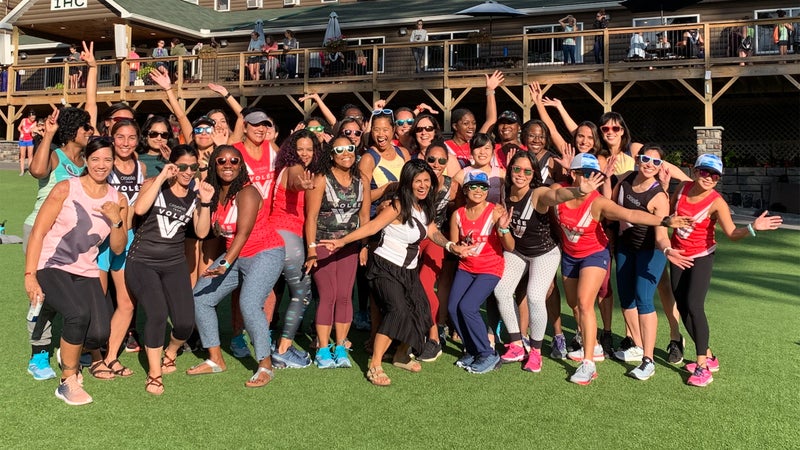 The following year, Carter approached Oiselle about carving out space for women of color to meet separately at camp. Oiselle provided a room and put the meeting on the schedule. It proved an important development. "It gave us space to be frank and honest about shared experiences," Carter says. After that she started a private Facebook group for Volée women of color, a forum she equates to affinity groups at other companies. "For a lot of people, these spaces are a place you can breathe," she says, explaining that individual Black people often feel pressure to represent all Black people, which can affect how they present themselves to others. It's a relief, she says, to have a place where Black people can just be themselves.
She adds that she feels "heard at Oiselle, but not all women of color do." She cites the experience of one Black member who said she joined her white teammates one morning at camp and felt like she wasn't seen, a sentiment that is often expressed by women of color. (Aliphine Tuliamuk, who won the U.S. Olympic Marathon Trials in February, recently shared on Twitter that she felt invisible after winning the trials because much of the press coverage focused on the white women racing. Carter called out this bias in a piece for Women's Running.)
Carter is quick to point out that creating inclusive spaces must be deliberate. She says that the typical model for running and outdoor brands has been: build it and hope everyone comes. But if you want to create a diverse community, you have to begin with the end user in mind, she says. Hats are an example: her afro doesn't fit under most running caps. Black women with natural hair need a visor. Details like these may seem small, but they carry huge emotional weight. "Having these options can signal, Hey, you belong here," Carter says. "Without them, the message is not only do you not belong, but we haven't thought about how you might fit in." (Bergesen says that the visor Oiselle now sells on its site is the result of Carter's feedback.)
Carter will be facilitating a conversation about race and bias among Volée's 4,000 members. She's still in the early planning stages, but she hopes the team's white members will do personal work around their own biases, privilege, and racism. (Oiselle does not currently track the demographics of its 4,000 Volée members. But after conferring with a few women of color on the team, the company plans to do a survey as part of its diversity effort.)
Carter and Désir believe that in order to address racism in the running community, brands must be part of the solution. Désir says that people are, justifiably, turning to companies right now to demand long-term commitment to equity and social change. (As Fleshman puts it: "We all love running and want brands to do more than sell us shit.") Brands help shape culture, and they can either evolve into diverse spaces or continue to perpetuate systemic racism. Oiselle is still predominantly white, Carter says, but the brand is putting the structure and people in place that can lead to change.
Both Carter and Désir hope that the current conversations on race happening in the running space—such as podcasts that have featured both women and panel discussions like one hosted recently by Fleet Feet, on systemic racism in running—move from discussion to action. To effectively address systemic racism, brands need to bring more diverse people into all parts of their organizations, from employees to leadership, Carter says.
"Black womxn are always critical leaders in all spaces," Désir added in an email. "It's important the workplace is ready for diverse leadership. That is, it is welcoming and not hostile, and that Black women are part of the company's transformation and commitment to equity."
Corrections:
(09/14/2021) A previous version of this story misstated that the consulting group Sister would be involved in some of Oiselle's diversity initiatives. Oiselle and Sister do not have a business agreement. Outside regrets the error.
Lead Photo: Terria Clay