Oscar Pistorius Has a Huge Carbon Footprint
And if the South African track sensation makes it to the start line for the 2012 Olympic Games in London, we may never look at disabilities—or competitive sports—the same way again.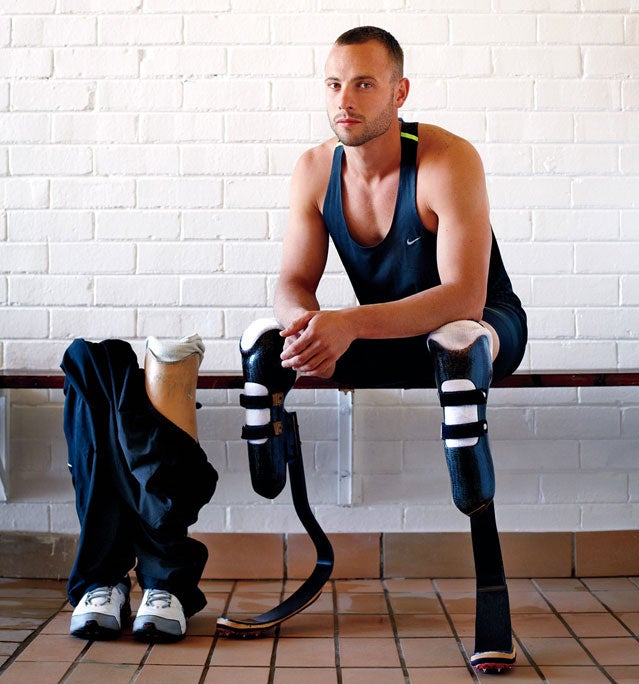 Harry Borden
Heading out the door? Read this article on the new Outside+ app available now on iOS devices for members! Download the app.
BEFORE WE TALK ABOUT THE DEBATE; before we analyze energy cost and stride frequency and calculate net performance advantages; before we discuss ruling bodies, law firms, arbitration hearings, and scientific methods; before we get into advances in high-tech injection-molded prostheses or compare injury rates among Paralympic athletes and their able-bodied counterparts; before we hear from critics who say carbon-fiber pegs are an "unfair advantage"; and before we look at the photo on the opposite page and linger on those two words—before, in other words, we deal entirely in hypotheticals and complex ethical dilemmas—let us first take a moment to shut out all the noise and consider an event that actually happened, even if we all failed to appreciate its significance amid nonstop coverage of Hurricane Irene.
Oscar Pitorius

Cover subject Oscar Pistorius, a 25-year-old sprinter who runs on prosthetic carbon-fiber blades, was backlit when Borden captured him high-stepping around a rugby stadium near Pistorius's home in Pretoria, South Africa. "It was 36 degrees in August, and I was freezing," says Borden, who lives in London. Despite having the flu, Pistorius, who ten days later became the first double amputee to compete in the able-bodied World Cham­pionships, was fine—even with his shirt off. "He has a cast-iron constitution," says Borden. "Oscar's like a shark. He's not built to stand still." THE TOOLS: Canon 5D Mark II, 50mm f/1.2 lens, ISO 200, f/9, 1/640 second
Oscar Pistorius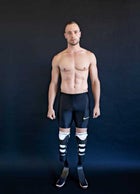 "I'm not going to run slower so I don't pick up critics." —Oscar Pistorius
In August, Oscar Pistorius, a 24-year-old South African whose nonfunctioning lower legs were severed below the knee by doctors when he was 11 months old, raced in the 400 at the Track and Field World Championships in Daegu, South Korea. He not only competed, but he beat 22 of the fastest runners on the planet and reached the semifinals. Pistorius also ran the first leg of the 4×400 relay, helping South Africa advance to the finals. Assuming he runs another qualifying time of 45.25 seconds, he'll be competing at the 2012 Summer Olympic Games in London.
"When I was small," Pistorius has said, "I'd ask my mother why I didn't have any legs. And she'd say, 'You do. In the morning, your brother puts on his shoes and you put on your legs. There's no difference.'"
No difference! It was a perfectly understandable lie told by a parent facing unthinkable circumstances. But here's the most amazing part: she was right. And maybe if we could all block out the distractions swirling around Pistorius, we could be reminded again of sport's infinite ability to blow our minds.
OF COURSE, THAT'S more difficult than it sounds. It was easy to enjoy the success of Jim Abbott, the major league pitcher who thrived with just one good arm. We had to wring our hands a bit during the saga of Casey Martin, the disabled golfer who was denied permission by the PGA to use a cart, but he disappeared quietly after failing to qualify for the tour. Pistorius is different. He and his prosthetic Cheetahs force us to deal with uncomfortable questions we've never had to ponder before. If a man without legs can challenge the best athletes in the world, what does it mean to be disabled? And what will it mean in the coming decades, when technological advances annihilate handicaps and create amputee athletes who can run faster than their able-bodied competition? Is it fair? How will the advantages of one athlete's carbon-fiber shinbones be weighed against another's surgically corrected vision?
These are all questions that the man in question has grown weary of. When I scheduled a call with Pistorius, his manager, Peet van Zyl, asked me to e-mail my interview topics in advance. I declined. "Well, I can tell you right now that if you want to talk about advantages or the science of his Cheetahs, he's done," he said tersely. "He's so done talking about that."
I reached Pistorius on August 16, just a few days before he would fly to Daegu. He was sick with the flu. Even though rigorous testing has cleared Pistorius of having an advantage, a well-known blogger and sports scientist in South Africa had just made headlines by calling the amputee's inclusion at the championships "a farce." As I dialed Pistorius's South African cell-phone number, I pictured him in a defensive crouch. Instead, he came across the way he's always described: humble, easygoing, and incredibly open. When I asked him about the controversy, he didn't flinch.
"It has been tiring in the past," he admitted. "I've tried to educate people about the tests, and there are some people who don't want to accept anything you say. I don't really think it's my job to do that. The scientists have done that already. I'm putting my focus on the running."
Running—and just about every other kind of competitive sport—has been his focus since he was a young boy in Pretoria. Pistorius learned to walk on his first set of prosthetic legs before he turned two. By adolescence he was wrestling and playing water polo and tennis for his high school. In June 2003, Pistorius shattered his knee playing rugby and began rehabilitation at the University of Pretoria shortly afterward. It was there that he met his longtime coach, Ampie Louw, who introduced him to competitive running.
Six months of physical therapy later, in January 2004, Pistorius entered his first 100-meter race for his high school. Later that season, he ran the 100 in 11.72 seconds, shattering the Paralympic world record by nearly half a second.
The next summer, he tried on his first pair of Flex-Foot Cheetahs, the revolutionary carbon-fiber artificial limbs manufactured by Icelandic company Össur that are now worn by an estimated 75 percent of Paralympic runners. Wearing the Cheetahs, Pistorius dominated the 2006 Paralympic Athletics World Championships, winning gold in the 100, 200, and 400. By then, though the sprint events were still competitive, Pistorius was literally running away from the Paralympic field in the 400, consistently coming in five seconds ahead of the second-place finisher. To challenge himself, he started to compete more regularly in the 400 against able-bodied athletes. And he started doing well.
What happened next will be familiar to just about anyone who pays attention during the quadrennial Summer Olympics news cycle. In 2007, the International Association of Athletics Federations (IAAF), which oversees international track-and-field competitions, amended its rules to bar "any technical device … that provides a user with an advantage over another athlete not using such a device." Anything, in other words, that might be attached to Oscar Pistorius and explain his unprecedented times. After testing Pistorius and the Cheetahs, Peter Brüggemann, a professor of biomechanics at the German Sports University in Cologne, concluded that the artificial limbs enabled Pistorius to use 25 percent less energy than able-bodied runners. The IAAF barred the Cheetahs—and Pistorius—from international competition.
RODGER KRAM, a professor of integrative physiology at the University of Colorado, isn't shy when asked about his reaction to Brüggemann's findings, which weren't published in a peer-reviewed journal. "Oh, that's bogus," he remembers thinking. "You can't measure -energy the way they tried to do it." He forwarded the report to Hugh Herr, a friend and associate professor of biomechatronics at MIT. By then, Herr had already been contacted by Dewey and LeBoeuf, the international law firm hired by Pistorius to mount an appeal, about testing the Brüggemann findings. The two scientists, along with a team of seven others, agreed to put Pistorius through a series of their own tests conducted at Rice University in Houston. The team, Kram points out, was not paid by Pistorius or his law firm. "We agreed to examine [Brüggemann's] claims on the condition that we could publish our findings and that we could see if the claims were valid," he says. "It wasn't, 'Can we discredit the claims?' "
Brüggemann had calculated the energy cost of the Cheetahs by measuring Pistorius's oxygen consumption during a simulated 400-meter race, a method Kram and his colleagues felt was absurd. "There's no reliable way to do that," says Kram. "Four hundred meters is over before oxygen intake is up to full speed." The standard for measuring energy cost and efficiency is to put a runner on a treadmill, at a fixed speed, for five to seven minutes. So that's what they did. Their findings, as summed up by Kram: "Do the Cheetahs give him superhuman powers? No." Pistorius's running economy, while better than the average nonamputee runner's, is within the range of elite and sub-elite nonamputee runners.
Critics have also claimed that because Pistorius's limbs are lighter, he can generate faster foot turnover and a longer stride, but subsequent studies have shown that he has a shorter stride than his nonamputee competitors and that his swing time—the duration between each stride—is the same or longer than other elite competitors'.
Still, Pistorius isn't a normal athlete. We can believe in his genetic greatness in the same way we can appreciate Michael Phelps's hered-itary gifts. How do we know this? The Cheetahs have been around since 1997. If they, and not Pistorius's physical gifts, are what enabled him to run 400 meters in 45.07 seconds, then why hasn't any other Paralympic runner consistently broken the 50-second barrier? "Oscar is running so fast because of what he has above the knees," says Kram, who likens the South African's freakish, once-in-a-generation abilities to those of Bob Beamon, the American long jumper whose 1968 world-record leap stood for 23 years.
Faced with the results from the new set of tests, in May 2008 a three-person arbitration panel voted unanimously to overturn the IAAF's ruling, giving Pistorius another shot at reaching the Olympics.
"I thought I'd be jumping up and down when that news came in, but I just put my head in my hands and had a quiet moment," he says. "It was a tiring and tedious -process. But I really don't want to be in a sport in which I'm deemed to be at an advantage. I wanted to know the results and get down to the bottom of what I was facing."
The IAAF reversal hasn't exactly ended the controversy, and Pistorius hasn't exactly tried to fly under the radar, either. In the past couple of years, he's signed a number of high-profile endorsement deals with A-list companies, including Nike, Oakley, and British Telecom. He's now the face of  Thierry Mugler's A-Men fragrance. And he has competed regularly against able-bodied competitors in Europe. "I'm not going to run slower so I don't pick up critics," he says. "But I don't breed controversy just because I'm in a position to."
Pistorius says that 99 percent of the people he encounters support his efforts, a group that includes both his Paralympic and his able-bodied competition. In July, after he ran his qualifying time against a field of able-bodied athletes at a meet in Lignano, Italy, Pistorius was knocked down in a celebratory embrace by fifth-place finisher Talkmore Young Nyongani of Zimbabwe. Shortly afterward, he received an encouraging e-mail from Jerome Singleton, an American amputee sprinter who recently beat Pistorius in the 100.
But the critics are still out there. "It definitely is an inspiration for a lot of people, but at the same time he doesn't have to deal with certain things like we have to," Angelo Taylor, the veteran American 400 and 400-meter-hurdle runner, told The New York Times when asked about Pistorius in Daegu. "You have a calf injury. You have plantar fasciitis or any foot injury … [and] he doesn't have to worry about that." (In fact, studies show that Paralympic sprinters suffer more training injuries than their able-bodied competitors.)
For now, at least, both the science and the fans seem to be overwhelmingly in Pistorius's camp. That could change if he starts being a threat on the podium. In Daegu, Pistorius was excluded from the 4×400 final despite helping his fellow South African sprinters break the national record in the semis. Perhaps the team managers were trying to duck controversy. It's one thing to cheer him on and applaud his "gutsy" effort while he humbly bows out before the finals. It's another thing entirely to embrace the notion that the man leading the relay team to a gold medal has no legs. Will the same calculus be applied in London?
But here we are again, mired in future hypotheticals and ignoring the real-life phenomenon in front of us. Oscar Pistorius, a 24-year-old South African whose lower legs were severed from his body by doctors when he was 11 months old, is going to the Olympics. Isn't that amazing?