In Stride
The Race to Design the World's Fastest Running Shoe
Nike and Adidas are each unveiling a new supershoe. Will they make the world's fastest runners even faster?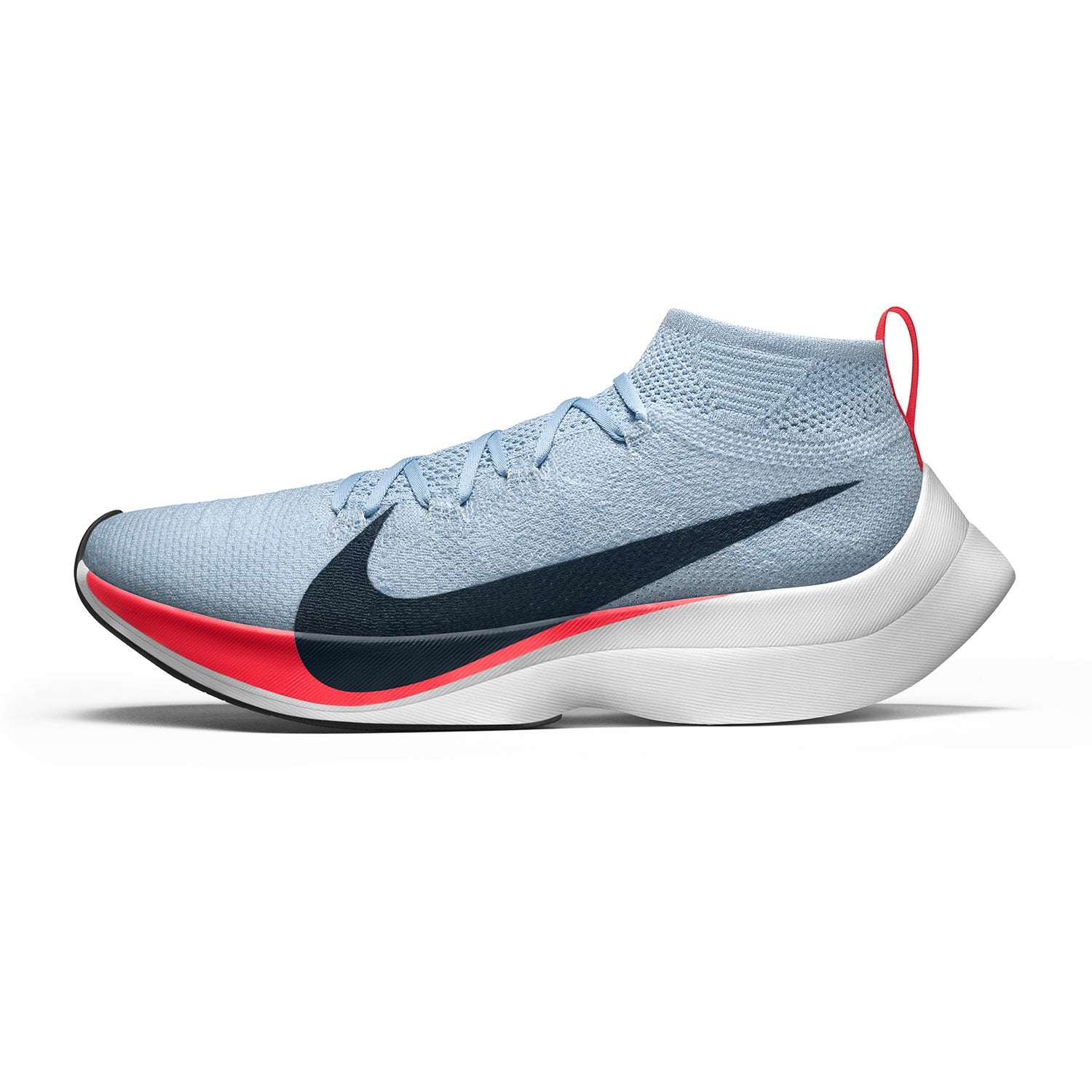 Nike(Photo)
Heading out the door? Read this article on the new Outside+ app available now on iOS devices for members! Download the app.
Call it the Space Race of professional running: rival superpowers Nike and Adidas have each stated their ambitions to put a man under two hours in the marathon. Nike has the Breaking2 project, which by some remarkable sleight of Swoosh was both superhyped and frustratingly opaque until now. Tuesday, however, the company unveiled its mystery rocket shoe, the Zoom VaporFly 4%, along with the revelation that the attempt will be made on a Formula One racetrack in Italy. Adidas meanwhile just debuted the adizero Sub2, which the company is touting as "a revolutionary marathon shoe created to take athletes below the two-hour barrier."
Luckily for Nike and Adidas, they've also got some pretty decent astronauts. Breaking2 has Lelisa Desisa, Zersenay Tadese, and Eliud Kipchoge on board—all of whom have run well under one hour for the half marathon. Adidas has former marathon world record holder Wilson Kipsang, who is still the only man alive to have beaten Kipchoge over 26.2 miles. Late last month, Kipsang won the Tokyo Marathon in 2:03:58 while wearing "the only pair of adizero Sub2 shoes in existence," according to an Adidas press release.
With runners like that, one might wonder: can shoes really make a difference?
Sports brands, of course, want to you to believe that their products play a part in the success of the athletes they sponsor. After Kipsang won in Tokyo, André Maestrini, global general manager for Adidas Running, said that it was a proud moment for the company to see its best racing shoe "successfully paired with Wilson's incredible talent," as if he were some kind of distance-running sommelier. The same press release notes that Adidas "owns four world records," ­a reference to Kipsang's 2013 performance in Berlin and the current world record set by Dennis Kimetto on the same course. Although it's impossible to prove that these men wouldn't have run as fast or faster if they were competing in another brand of racing flat, it's hardly controversial to point out that if a company really wants to "own" a world record, the best way to go about it is to sign the fastest runners.
Or perhaps just get lucky. U.S. marathon star Meb Keflezighi ran in Nike shoes for years with considerable success, but he lost his sponsorship in 2011, likely because the company thought Meb was over the hill. He was eventually signed with Skechers, total newbies to the performance market at the time. A year shy of his 40th birthday, Meb pulled off a major upset by winning the Boston Marathon in a lifetime best 2:08:37—in Skechers.
It's hardly controversial to point out that if a company really wants to "own" a world record, the best way to go about it is to sign the fastest runners.
So what's the scoop on the latest offerings from Adidas and Nike?
The key innovation of the adizero Sub2 is that Adidas has developed a significantly lighter version of its successful Boost foam technology. For the uninitiated, Boost foam is composed of thousands of tightly packed pellets (or "energy capsules," in marketing parlance) that form the shoe's midsole and allegedly make for unparalleled snappiness (that is, "energy return"). Thanks to "Boost Light" foam and an upper made from a single layer of ultralight fabric, the adizero Sub2 is about 100 grams (3.5 ounces) lighter than the previous Adidas racer and weighs in at roughly 150 grams (5.3 ounces). Adidas notes that reducing a racing flat's weight by 100 grams can deliver a "one percent improvement in running economy"—the rate of oxygen uptake at a given speed. (That might not seem like much, but consider that breaking two hours in the marathon requires a runner to run "only" 2.5 percent faster than the current world record, an uptick that recent studies suggest requires increasing running economy by somewhere between 2.3 and 2.8 percent.)
In 1984, E.C. Frederick, then the director of research at Nike, published a famous paper called "Physiological and Ergonomics Factors in Running Shoe Design," which supports the link between shoe weight and running economy. The study found a one percent increase in aerobic demand on the runner for every 100 grams of additional weight per shoe. (For a more detailed explanation of this, see here.) However, the same study also found that when a shoe has too little cushioning (that is, becomes too light), the benefits of weight reduction are canceled out since the runner's muscles are forced to absorb too much of the shock. Hence, the study's main takeaway: "Optimum designs for maximizing running performance should provide sufficient traction, minimal weight, and maximum cushioning."
Maximum cushioning was the first thing that came to mind when I visited the Nike New York office last Thursday to preview the Zoom VaporFly 4%. Rather than the sliver of a racing flat I was expecting to see, the shoe looked like something you could float down the Colorado River.
"The first paradigm shift was to go to a 'more shoe' construction, and the first breakthrough was our ZoomX foam," Bret Schoolmeester, senior director of global running footwear at Nike, told me, explaining that ZoomX is roughly one-third the weight of Nike's standard foams yet offers 13 percent increased bounciness. (Excuse me, "energy return.")
Nike's new shoe weighs in at 195 grams (6.8 ounces). That's roughly the same weight as its previous racer, the Streak 6, despite having a midsole that's nearly twice as thick. (Imagine a Double Stuf Oreo with the same calorie count as the original.) The VaporFly also has a full-length, scoop-shaped plate of compressed carbon fiber built into the midsole that allegedly gives the wearer a sensation of running downhill. Scientific testing has been auspicious: Rodger Kram, a physiology professor at the University of Boulder, found that the VaporFly averaged a 4 percent improvement in aerobic cost vis-à-vis the Streak 6 and another competitor's model shoe—hence the addendum to the name. (Kram's study will be published later this year.)
Taken side by side, the VaporFly and the adizero appear to be adopting different approaches to hitting that elusive sweet spot of maximal cushioning and minimal weight. Nike is betting more heavily on the former, Adidas on the latter.
The two companies have also employed radically different rollout strategies for their latest innovations. While the adizero just celebrated its triumphant debut last month in Tokyo, the VaporFly has been hiding in plain sight for more than a year. Galen Rupp and Amy Cragg were wearing the shoe when they won their respective races at the U.S. Olympic Marathon Trials in February 2016. (Gimlet-eyed members of the LetsRun community noticed that, in the words of our current president, there was "something going on.") Eliud Kipchoge was wearing it when he nearly broke the marathon world record at the 2016 London Marathon—smashing the course record of the world's most competitive marathon by nearly a minute and a half. At last summer's Olympic Games in Rio, all three male medalists were discreetly wearing the shoe.
Which raises a potential conundrum for Nike: If the VaporFly works too well, could it be illegal?
"Up to now, any shoe technology that made a potentially large impact on running performance has been banned," author and University of Houston running coach Steve Magness told Outside last year.
If Nike's VaporFly works too well, could it be illegal?
"Even the highly touted Adidas Boost technology gives only about a one percent improvement in running economy, which translates to fractions of a percentage improvement in actual performance. If Nike or any company develops technology that has a drastic impact on performance, it's likely to be illegal or, at the very least, skirting the bounds of the rules," Magness said.
At the time, Magness was responding to speculation that Nike's supershoe would have a spring plate in the sole, and thus violate IAAF Competition Rules, which state that no footwear can be used that would give an athlete "unfair additional assistance, including by the incorporation of any technology which will give the wearer any unfair advantage."
Nike did indeed file a patent for a spring plate, but that was for an entirely separate project, Schoolmeester told me. That said, the legality of the company's new racing shoe might hinge on what ultimately defines an "unfair advantage." Needless to say, Nike believes it is in the clear.
"We are very confident that this is not illegal, and by the letter and interpretation of the rule, we are not doing anything that we need to hide or feel ashamed about," Schoolmeester said when I brought up the issue in our meeting.
"People have been using foam and plates in shoes for years. We're using better foam. Better plates. And using it more intelligently, which I think is the other breakthrough. The geometry, the way the system works together, is really what's allowed this to work," says Schoolmeester.
Just how well it works probably won't be seen until Nike makes its Breaking2 attempt with Kipchoge and Co. going full-throttle in a hypercontrolled environment sometime later this year. Each runner will be outfitted with a slightly customized version of Nike's new shoe, dubbed the Zoom VaporFly Elite.
At the end of the day, the VaporFly remains only a small piece of the Breaking2 puzzle. This morning, Nike announced that the attempt will take place on a 1.5-mile asphalt loop around the Formula One track near the town of Monza, in northern Italy. The course will be IAAF ratified, but as of this writing, it is still unclear whether Breaking2 will be eligible for an official world record.
Lead Photo: Nike
Trending on Outside Online