The Secrets to Nailing Boston's Downhills
The pros who ran Boston's downhills best take us through the course. Expert advice from Des Linden, Ryan Hall and Bill Rodgers.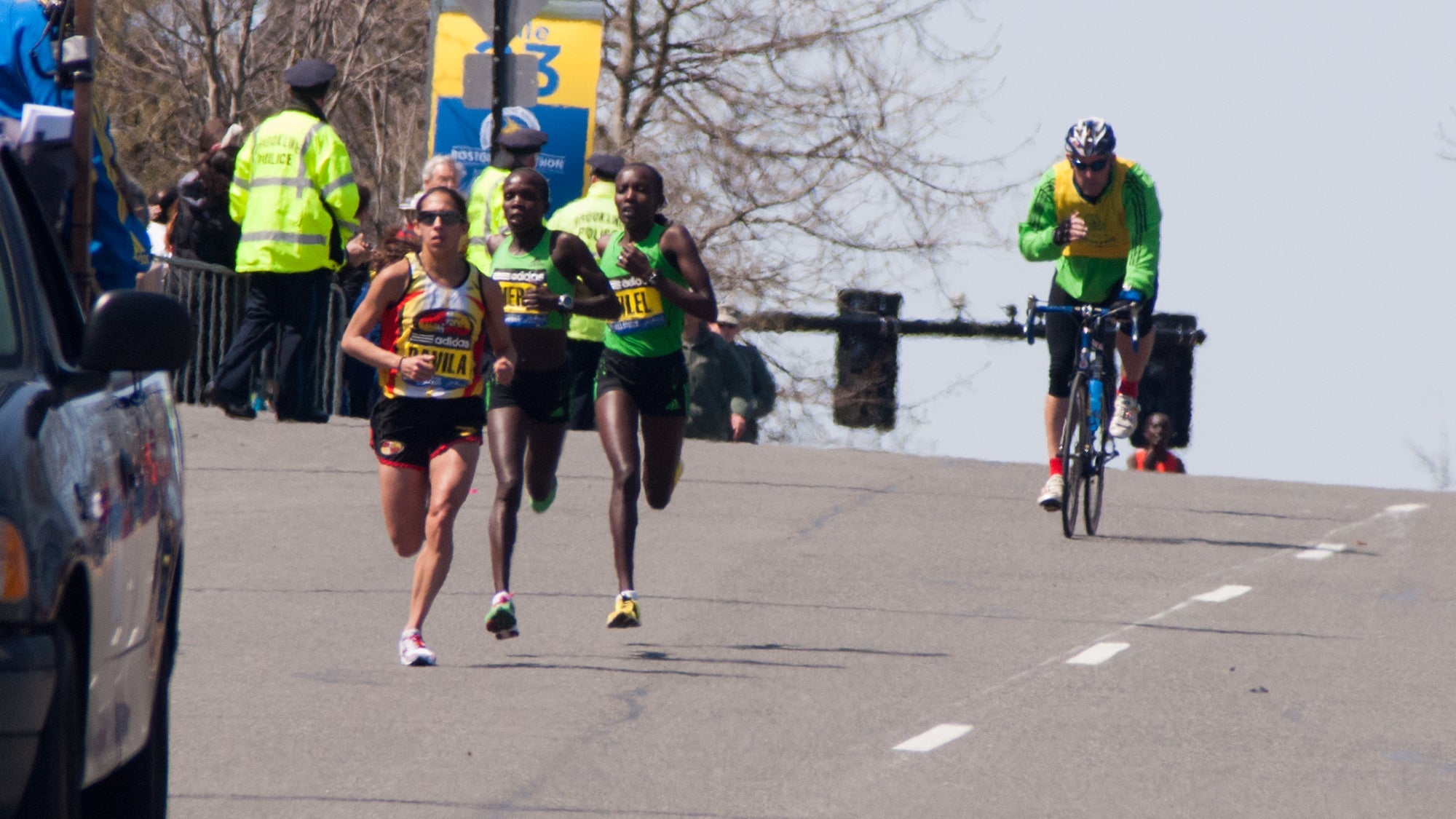 Heading out the door? Read this article on the new Outside+ app available now on iOS devices for members! Download the app.
The pros who ran Boston's downhills best take us through the course. Our guides:
Des Linden
Linden, the 2018 Boston winner, has placed in the top 10 five times: 2nd (2011), 4th (2017, 2015) and 8th (2014). Her 2:22:38 from 2011 is the second-fastest ever run by an American woman on the Boston course.
"I have a blast rolling on the downhills—I haven't ever found that too hard."
Ryan Hall
At the 2011 Boston, Hall ran 2:04:58, the fastest-ever American marathon. He placed 3rd in 2008 and 4th three times: 2009, 2010 and 2011.
"I know many people who run Boston are scared, intimidated and don't look forward to the downhills. I love them, crave them, and embraced them as my friend."
Bill Rodgers
Rodgers won Boston four times between 1975 and 1980, twice setting the American record: 2:09:55 in 1975 and 2:09:27 in 1979. He placed in the top 10 four more times: 3rd (1981), 4th (1982, 1986), 10th (1983) plus 2nd master in 1988 and 5th master in 1990.
"Some people like the downhills, some like the ups. I was better on the downs than the ups."
Early Miles:
Des: I don't believe it's valuable to attack early and bank time in the early parts of the race. The first six miles are a great spot to ease into the run and get warmed up. You can't win the race, or run your PR in the first 6; you can lose it though.
Ryan: I always saw the downhills as free time to be bagged. When I was first studying about the history of Boston and all the different approaches to the course what I ultimately ended up going with was to run even effort throughout the course rather than even splits. So basically I would run it the same way I ran London, Chicago or any flat marathon—it was more that my splits would be all over the place. I would just let my legs go and enjoy the ride on the downhills.
Bill: Boston, with its terrific, downhill, slingshot start—is the most dangerous start in marathoning. The tricky part is that big long downhill, where you should carefully enjoy the easier part of running downhill and position yourself comfortably.  You've got to stay under control, and don't get caught up in races with someone.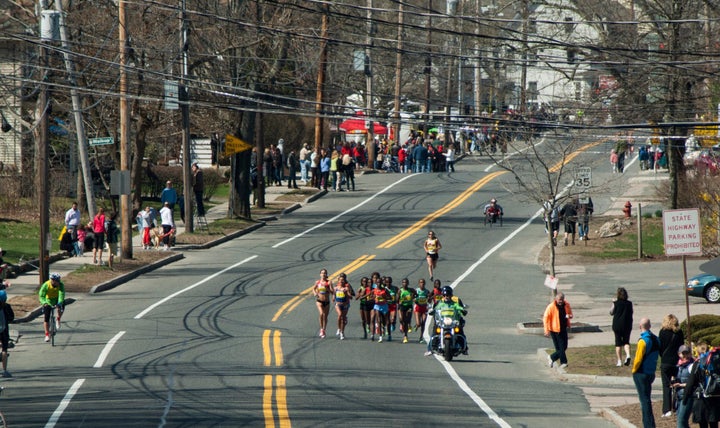 Middle Miles:
Bill: Where I tried to race is where a lot of people try to race… coming out of Wellesley. If you run under control, you really feel pretty good, coming down out of Wellesley, headed to Newton Lower Falls. That's a fantastic downhill. It's a gigantic downhill, there's nothing like it in any other major marathon.
If you do set yourself up good, and have backed off that first half, you can run really good at Boston. And use those downhills later in the course, cause there are a lot of downhills later. All the uphills have a corresponding slip down, where you can really recover. If you run the uphills nice and steady and don't go bezerk, you really run the downs.
Des: In the Newton hills, the downhills are really great to recover and regroup and get yourself mentally ready for the next climb.
Ryan: I always remind myself to lean forward and take advantage of gravity. When running downhill, especially steep downhills, there is always the temptation to over-stride causing the force from your foot to the ground to work against you. It is particularly jarring to the muscles to run downhill this way.
So rather than over-striding and breaking I focused on leaning forward and keeping my first point of contact with the ground to be my mid-foot. Its very difficult to over-stride, if not impossible, if you are contacting the ground mid-foot first.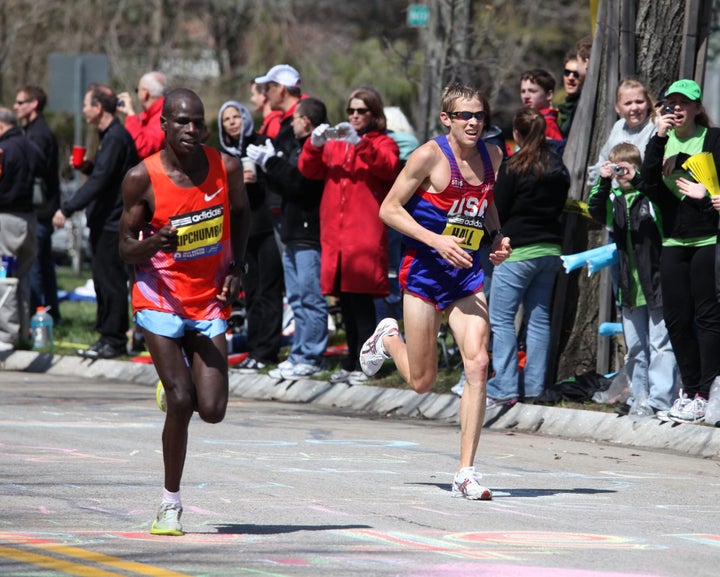 Last Five Miles:
Ryan: If you do it right your heart rate should be the same the entire time so it is no harder going up or coming down. I still looked forward to the downhills even late in the race.  If you trained properly and run downhills correctly you should be fine running downhills with beat up legs—you will just notice being extra sore in the days following the race.
Des: After Heartbreak and heading into Boston, all bets are off. If your body is holding up, and you didn't damage your quads too much in the early sections, you can lean into the downhills and really use them to power home.
Bill: Cresting Heartbreak with its tremendous emotional power, you can practically see the finish line—Hancock tower. And the crowd is gigantic—they will help you. If you've run conservatively and careful on the ups and down, you can really use those final miles because the crowds get bigger and bigger.
I loved it coming off of BC: That's a tremendous amount of downhill, so why not take advantage of it—it's easier running, you know.
It doesn't seem like a hard course, and its not a hard course unless you make it a hard course. It's the previous hills that are so significant. It's your pacing too. It's a complex one, there's no question about it.
Final word:
Bill: These are wonderful hills. They can be a friend, you can really use them well—but be careful of them.
Quotes edited for and condensed for clarity.
From PodiumRunner
Trending on Outside Online