Viola Cheptoo Is Ready to Run Her Own Race
How the Kenyan elite runner prepares for the Boston Marathon, and what fuels her work to end gender-based violence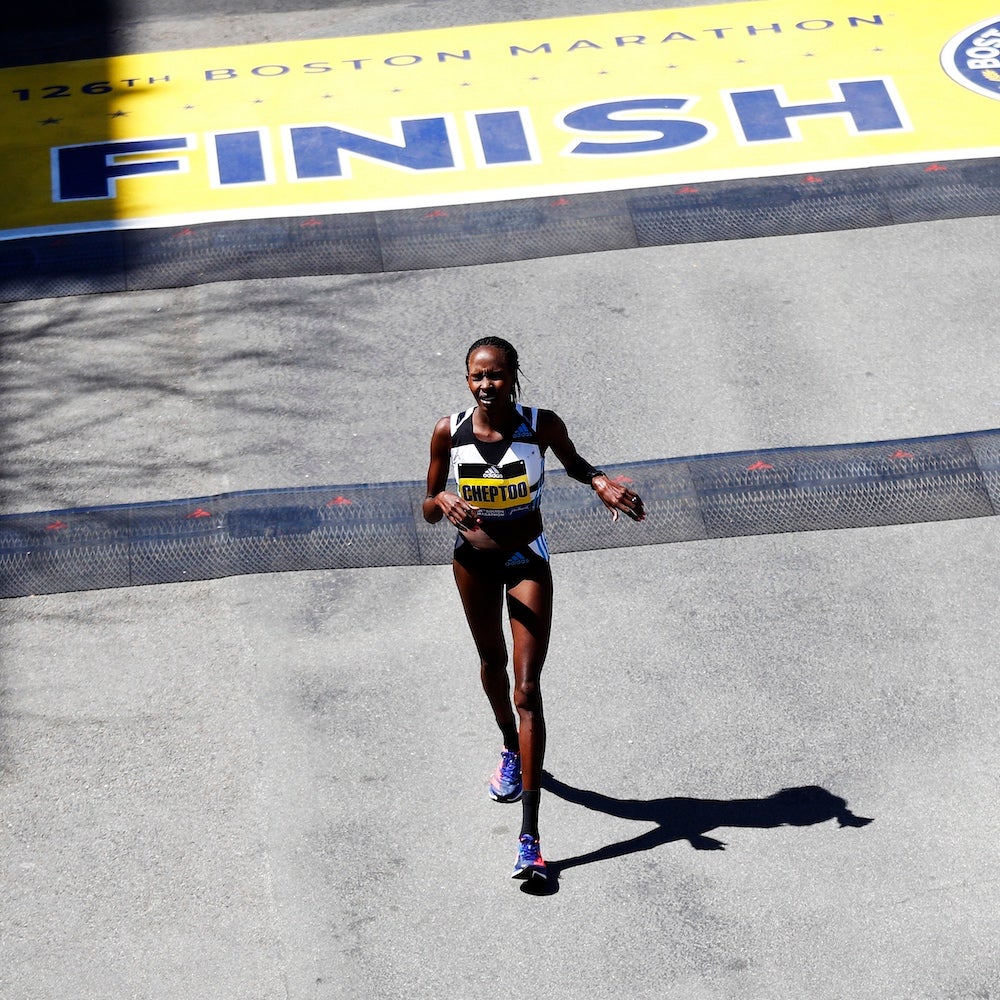 Omar Rawlings/Getty Images
Heading out the door? Read this article on the new Outside+ app available now on iOS devices for members! Download the app.
This article is part of Outside Run's complete 2023 Boston Marathon race coverage.
The 2023 Boston Marathon women's professional field is stacked, to say the least. There are nine women who have run under 2:20. Leading the pack is Ethiopian Amane Beriso, who won the 2022 Valencia Marathon in 2:14:58. Kenya's Joyciline Jepkosgei, winner of 2019 NYC Marathon and 2021 London Marathon, as well as the seemingly ageless 2017 and 2021 Boston Marathon winner Edna Kiplagat, are among the other big-name frontrunners. Then you have the heavy pack of top Americans including Sara Hall (2:20:32), Desiree Linden (​​2:22:38), Emma Bates (2:23:18), Dakotah Lindwurm (2:25:01), Laura Thweatt (2:25:38), Nell Rojas (2:25:57), Sara Vaughn (2:26:23), and Aliphine Tuliamuk (2:26:50).
But Viola Cheptoo, 34, very much plans to be part of the conversation come Marathon Monday.
The Iten, Kenya, native, who went by "Violah Lagat" when she competed as a middle-distance runner for Florida State University from 2011-2012, is the youngest of 10 in a family full of talented runners—including five-time Olympian and two-time Olympic medalist Bernard Lagat. Cheptoo competed in the semifinals of the 1,500-meter run at the 2016 Olympics in Rio de Janeiro, but eventually transitioned to longer distances. This year's Boston Marathon will be her fourth attempt at the distance, but make no mistake: Cheptoo's already made quite an entrance.
Her marathon debut at the 2021 New York City Marathon was explosive—finishing a close second to Olympic marathon champion Peres Jepchirchir. Her time of 2:22:44 was the third-fastest time in the race's history. In 2022, Cheptoo finished sixth (2:23:47) in her debut Boston Marathon and fifth at the NYC Marathon (2:25:34).
Beyond her thrilling performance, the New York City Marathon was a transformative moment for another reason: It marked a newfound motivation behind Cheptoo's running.
On October 13, 2021, just a few weeks before the race, Agnes Jebet Tirop—fellow Kenyan and rising star in the running world—was found stabbed to death in her home. Her husband was later arrested in connection with her killing as he tried to flee to a neighboring country.
According to studies shared by UN Women, 40 percent of Kenyan women report physical and or sexual intimate partner violence in their lifetime. It's an issue that hits close to home for Cheptoo: "We know a lot of athletes are suffering in silence," she told reporters after the race.
In the wake of Tirop's death, Cheptoo and a group of Kenyan female runners—including elite marathoners Mary Keitany and Joan Chelimo—came together to form a new organization called Tirop's Angels. Together, they advocate against gender-based violence, provide resources to victims of gender-based violence, and host education sessions at schools and youth running camps throughout Kenya.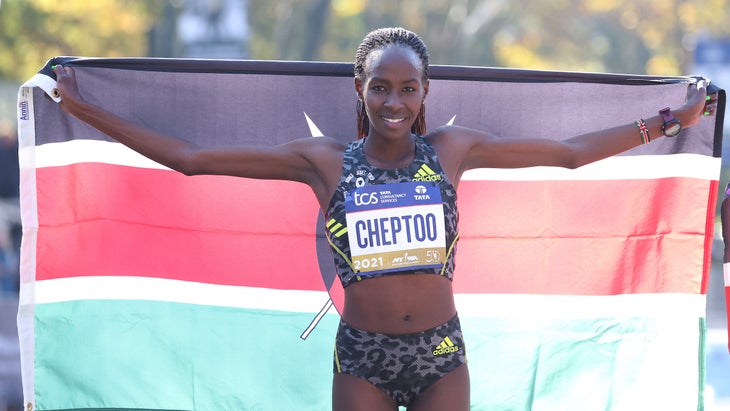 Cheptoo spoke to Outside, ahead of the Boston Marathon, to discuss how she's feeling about the big race, and the important mission she's outside of running.
With less than a week left until Boston, how are you feeling? How has this training block been for you? 
Viola Cheptoo: I'm going into Boston feeling strong. It's always a tough field, but I feel really good about the training I've put in and am excited to see it come to fruition on race day. This training block has gone really well for me and has left me with great confidence going into Boston.
Last year was your first year running Boston. What was your biggest lesson or takeaway from that race? Was there anything that surprised you about the course or the race itself? 
VC: My first Boston Marathon was very exciting but left me wanting more as I came so close to the medals. The experience informed my training for this year, showing me what I needed to work on, and I'm feeling more prepared this time around. It was hard to prepare for the demands of the course on my first time racing it—the downhill and uphill sections really do test your legs and sap your energy! Now I know what's coming, I'll be able to focus much more on my running.
Boston seems like a particularly unpredictable race. And there are so many strong runners in the women's professional field this year! Tactically, how do you prepare for a race like this one? Do you and your coach go in with a firm race plan, or do you have a few different plans depending on what happens during the race?  
VC: Boston is a really challenging course and always attracts a strong field. It can be easy to get caught up in the pressure of it all, but I'm confident in the training block I've completed going into Boston this year and the race plan my coach and I have put together. The weather and course conditions can, of course, be unpredictable, but this is the case with most Spring marathons, and all of my competitors will be facing the same thing. I've prepared myself for the hilly Boston course in my training, working on my strength to deal with the testing route, so I will definitely use the hills to my advantage on race day. I'm ready to run my own race and execute my plan on the day.
You launched Tirop's Angels in November 2021. Can you tell us a little bit about the work you are doing with the organization and some of the impact you've seen from your efforts?  
VC: My work with Tirop's Angels is one of my biggest priorities outside of running. There is so much work to be done to end the culture of gender-based violence across the world, but the work myself and others are doing through Tirop's Angels is helping us make great strides to dramatically improve safety for women in Kenya.
Our goal with Tirop's Angels is to get to the root of the problem and change the societal norms that let gender-based violence fester and to improve the structures in place to respond when women need help. With adidas' support, we have been able to put action behind our intentions and spread the word on such an important cause.
Already we have seen positive changes as a result of our work, as the conversation around gender-based violence in Kenya starting to shift. Since we've been speaking out, we have seen more women coming out to say this is not right. Women are waking up to see that this has been abuse all along, and they are starting to leave relationships that are abusive and put themselves and their safety first.
What is your hope for young women in Kenya today? What do you think will help break this pattern of abuse?
VC: My hope for the women in Kenya is that they are able to freely pursue the things they are passionate about. To do this, we have to empower women who are at risk of or currently experiencing violence, and engage leaders of youth groups, religious groups, and all men and boys to help prevent gender-based violence from happening in the first place. Visiting young men in training camps and schools to educate them on what is the correct way of treating girls and women, giving them tools to call out inappropriate actions among their friends, and setting them up for positive future behavior towards women is crucial to help break the pattern of abuse.
What do you want people around the world to know about the women of Kenya? 
VC: The women of Kenya are so strong and talented, tirelessly providing for their families in the face of adversity. We have a voice and deserve the right to live in peace. We will no longer remain silent on issues of gender-based violence—it's time for change. It is hard for us to make a lasting impact alone, so we need everyone's help to spread the word around the globe to spread awareness and generate support for the cause.
When people learn about Agnes, what is the message or lesson you hope they take away from her story? 
VC: Agnes was an incredible runner but more than that, she was a wonderful person whose life was unfairly cut short. Her story shows there is still much work to be done to rewrite the futures for women like her. Tirop's Angels has already made such a positive impact on women's lives in Kenya, and Agnes' legacy lives on through the work that we are doing. I hope we are making her proud.
Lead Photo: Omar Rawlings/Getty Images
Trending on Outside Online