Snowshoe Running 101
Everything you need to get started in winter's most underrated endurance sport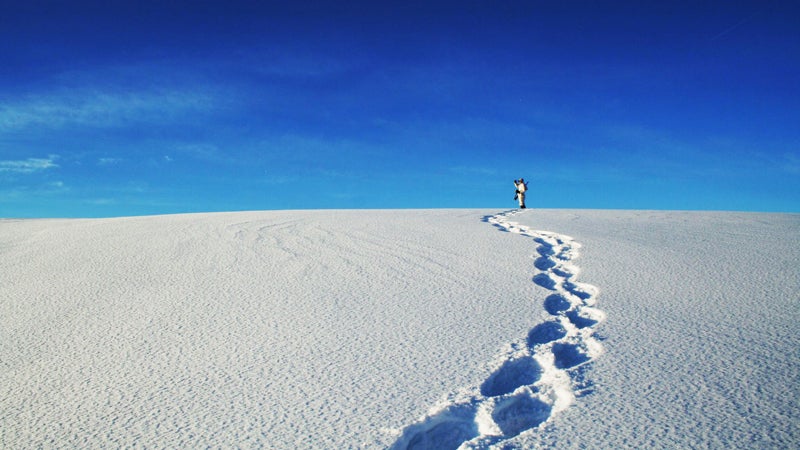 Ryan Johnson/Flickr(Photo)
Heading out the door? Read this article on the new Outside+ app available now on iOS devices for members! Download the app.
"Do you ski?" is the question I've been asked most frequently since moving to New Mexico more than a year ago. I'm always tempted to tell people that hurtling downhill on a pair of skis appeals to me about as much as sticking my finger in an electrical socket, but I usually just mumble something about wanting to learn. I'm a runner, so partaking in any activity that raises my risk of twisting a knee or crashing into a tree, thereby derailing whatever marathon training plans I have, just seems silly.
So I was relieved when Geoff Goins, co-owner of the Enchanted Forest XC Ski and Snowshoe Area (EFXC) in Red River, New Mexico, assured me that I was perfectly normal. "So many people don't like sliding," he says, noting that more than 1,000 folks come to EFXC each winter to snowshoe. "Anyone can do it," Goins says. "You just need stamina."
I decided then and there that snowshoeing was going to be my new weekend activity. After all, the sport provides a great cold-weather endurance workout in the same mountainous settings enjoyed by other winter sports enthusiasts. And I didn't just want to be a recreational snowshoer: I wanted to go fast.
In the months after my initial conversation with Goins, I have become a faster and more efficient snowshoer. I qualified for the United States Snowshoe Association (USSSA) National Championships at the end of February, where I won my age group. Here's how I got there—and how you can, too.
---
Learn From a Pro
Former U.S. national team racer Laurie Lambert schools beginners in the basics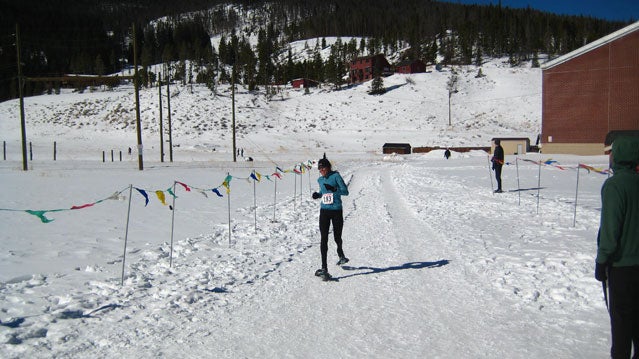 After obtaining a pair of Outside-endorsed Atlas Run snowshoes, I registered for a snowshoe-racing clinic in Red River, hosted by Laurie Lambert, a member of the U.S. national snowshoe team. Lambert has represented the United States at the World Championships three times, and in 2007 she won a bronze medal on the Dachstein Glacier in Austria. "She's a competitive athlete, but for her it's all about the joy," says Ellen Miller-Goins, co-owner of EFXC.
Before the clinic, I had several email exchanges with Lambert, who offered to let me borrow her Dion racing snowshoes and told me to contact her "any ol' time" about my own training and racing. When I encountered Lambert for the first time at the EFXC lodge, she was enveloped in the usual hustle and bustle of people and dogs that frequent such places, but she took the time to meet everyone who had made the trek to Red River. She's a wispy woman—five and a half feet tall and 112 pounds—with striking looks to match her big personality: piercing blue eyes, flyaway auburn hair, a wide smile with perfect teeth. She speaks with a subtle Texas twang, and introduced herself as "Laaaw-rie" to the 20 or so folks who attended the clinic. Then she stuffed us full of homemade breakfast burritos and white-chocolate cranberry cookies and launched into Snowshoeing 101.
Lambert plans to host the clinic again this December, but you don't have to wait 'til then—or travel to New Mexico—to reap the benefits of her expertise. Thankfully Lambert agreed to let me share her words of wisdom with Outside readers. Read on for more about what to expect, how to choose the right shoes, what to wear, and how to get better, faster. 
---
Start Slow
Snowshoe running is harder than regular running, so plan on easing your way in.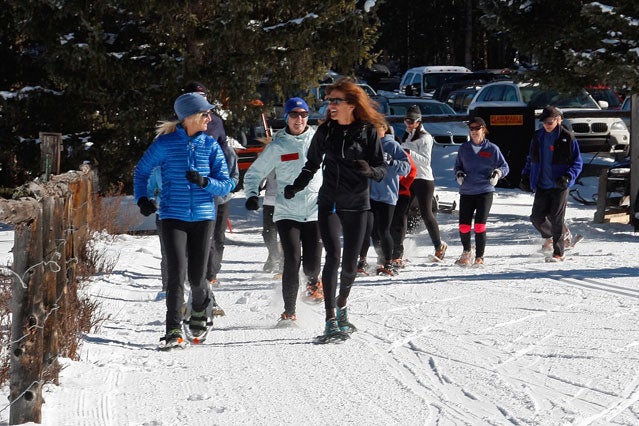 Anybody who can walk can snowshoe, and anyone who can run can race in snowshoes. The enjoyment factor, however, skyrockets if you already have a high aerobic capacity. "Snowshoe running is more difficult than road running or trail running, particularly if it involves deep powder," Lambert says. "Start very slowly and find your rhythm; there's a powerful tendency to start out at your normal running pace, but you just can't expect your running times to translate to snowshoeing." You'll likely be at least a minute per mile slower running on snowshoes, probably more, depending on the conditions. Even the same course can vary from year to year.
If possible, find an open, flat area for your first snowshoe experience (golf courses and athletic fields are always good). Take a slow warm-up lap, and concentrate on maintaining normal running form and breathing. "Because wading through snow with running snowshoes requires some effort, even the most physically fit runner requires some time to adapt to the process," says Mike Bucek of the USSSA. In addition to snow, Bucek notes that other factors, such as snowshoe weight and cold, contribute to the difficulty of snowshoe running.
---
Know the Lingo
Key terms to learn before heading to the store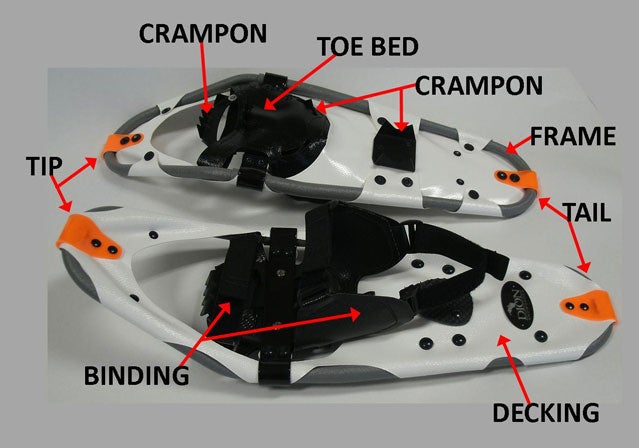 Snowshoes are pretty simple contraptions, but you should know a few terms before heading over to your local sporting goods store or attempting to purchase a pair online.
Binding: The device that attaches your shoe to the snowshoe. Bindings are usually rubber, fabric, or velcro straps, and should be tight for maximum energy transfer. Once you figure out that perfect fit for your bindings, mark them with a sharpie, so you'll know exactly how to lace up.
Crampons: Also referred to as cleats, these are the jagged traction devices found under the toe, ball of the foot, or heel, and are designed to grip steep or slippery slopes.
Decking: The flat surface of the snowshoe that attaches to the frame and provides floatation. Decking allows you to walk on top of the snow by spreading your weight across a greater surface area. Usually made from a plastic or synthetic material, although the original snowshoes used rawhide lacing.

Direct Mount: These step-in bindings allow you to attach your running shoe directly to the snowshoe. Usually this is accomplished by bolting the sole of the running shoe to the toe bed or by inserting special rods into the sole of the running shoe, which allows the shoe to easily clip in and out of the snowshoe. Many racers opt for direct mount bindings to reduce weight.
Frame: The aluminum skeleton of the snowshoe to which the decking attaches.
Tail: The back of the snowshoe behind your heel. A V-tail is a frame design where the tail thins into a V shape and helps with tracking.
---
Buy the Right Shoes
Running snowshoes are fairly similar, but subtle differences mean there is a best shoe for you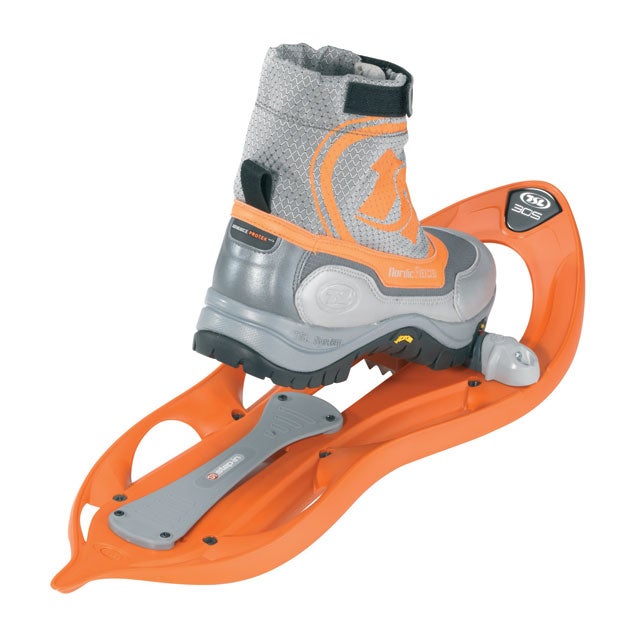 Unlike mountaineering or backcountry snowshoes, which come in various sizes that correspond to your weight and snow conditions, all running snowshoes are fairly similar. Your body type doesn't matter; all that matters is that you're wearing a light, small snowshoe that allows you to maintain speed and normal running form.
Similarly, the type of snow you're running on doesn't really matter either. Snowshoe trails and race courses are typically groomed, or at least broken, so you don't need massive decking to stay afloat or big, toothy crampons to dig into ice. Instead, opt for snowshoes with bindings that you find easy to use and that fit comfortably with the running shoes you'll be wearing.
If possible, try on snowshoes before making a purchase. Many sporting goods stores and recreation parks rent snowshoes, which allows you to romp in the snow without spending hundreds of dollars. That being said, many stores only offer one (if any) type of running snowshoes, so don't succumb to the first pair you see unless you're truly in love with them.
If you're training for a USSSA-sanctioned race, you'll need to find a non-prototype that's at least 120 square inches of functional surface area and no smaller than seven inches wide by 20 inches long. Check out the complete list of all 29 legal racing snowshoes on USSSA's website.
Here are some of our favorites:
Best for Beginners: Atlas
This Seattle-based company was founded in 1990 and was promoting snowshoe running on its 1022 trail snowshoes by 1993. The following year, Atlas produced a running-specific prototype that eventually developed into the popular Run snowshoes available today. At $210 and 2.6 pounds, these are a great, user-friendly introductory pair of racing shoes. Crisscross bindings cinch with one pull, lightweight aluminum crampons provide stability, and a v-tail helps maintain a natural stride. Spring-loaded suspension allows the binding to articulate independently from the frame and slope angle, which helps reduce ankle, knee, and hip fatigue while providing a lively energy return. For an even lighter ride, consider the 2.2-pound Atlas Race snowshoes ($320), which are similar to the Runs, but are decked out with titanium crampons.
Best for Varied Conditions: Dion
Dion's made-in-Vermont racing snowshoes, which debuted in 2001, are now worn by many national-team members. The brand's Model 121 ($130 for frame; bindings and cleats extra) are the narrowest legal snowshoes, as well as the most adjustable. "All snowshoers, from beginner to advanced, prefer the smallest, lightest shoe," founder Bob Dion says. "But if someone is just out for fun, they can choose a less expensive setup and later upgrade—parts can be chosen or changed for personal preference or style." Small crampons, for example, can be changed out for larger ones in particularly icy conditions. The cleats are coated in Teflon to prevent snow and ice from clumping, and the QuickFit bindings are super-simple. The whole setup weighs in at 2.4 pounds per pair.
Most Reliable: Crescent Moon
"The carbon fiber frame on the 2.2-pound Rocket ($449) is frankly the coolest thing on snow," says Crescent Moon co-founder Jake Thamm. "Somehow they feel even lighter when they're on your feet; they might be the 'Bugatti' of the running snowshoes." The single pull loop bindings are sturdy and easy to use, although direct mount is an option, too. The price tag is a little hefty, but the quality is good: certified, organic carbon fiber from wild techno trees that is stronger than steel but still lightweight.
Most Adjustable Bindings: Kahtoola
Lambert races for Flagstaff-based Kahtoola, which makes their snowshoes by hand from the bending of the frames to the stamping of the decks. The 2.81-pound RNR22's ($239) incorporate WingSpan adjustable-width technology, which allows you to customize the fit of the binding for maximum support—perfect for folks who have small or large feet, or who want to train in a variety of footwear. While most other snowshoes are symmetrical, the Kahtoolas have distinct right and left shoes.
Best Maneuverability: Louis Garneau
Louis Garneau has been making snowshoes for ten years, but the Course 721 ($250) is unlike anything else in their line. "Ergonomics and snowshoe racing rules were studied to precisely dial in what runners need," says Marketing Coordinator Heidi Myers. Tapered sides and a bend in the front and rear facilitate running with a natural stride—don't worry about banging up your ankles. And at only 1.6 pounds per pair, you'll hardly know you're wearing them.
Best for Speed: TSL
TSL is the dominant snowshoe company in Europe, and it's quickly catching on in North America. The company specializes in hour-glass-shaped composite shoes like the 305 ($119-179), which are just 0.9 pounds each, even with six replaceable steel crampons. Unlike the other snowshoes mentioned here, these lightweight composite snowshoes use direct mount, which means you just snap your running shoe into the snowshoe, no bindings necessary. For an extra $50, TSL will put the mount in almost any pair of your favorite running shoes. The company also offers Nordic race boots—essentially running shoes encapsulated in a gaiter—which are great if you don't mind a little extra weight or want the hassle of sending the company your own running shoes. With the boots, the whole setup weighs just 2.4 pounds per pair.
---
Layer, Layer, Layer
Essential apparel for epic runs in the snow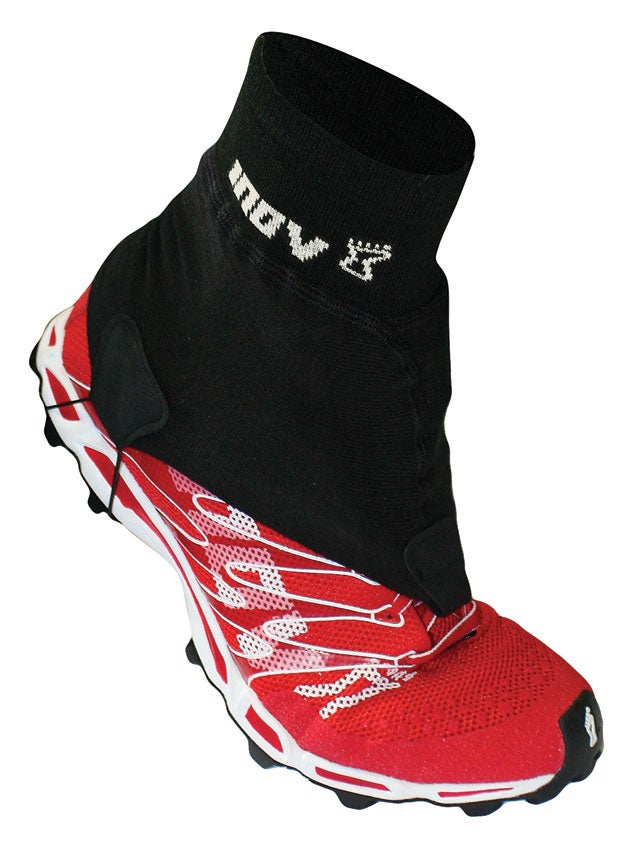 You can wear your normal winter activewear for races, but with one caveat: your body is likely to heat up faster when snowshoeing. "The biggest thing a lot of beginners do is overdress," Goins says. "I encourage people to wear light layers—things they can take off easily."
Here's the short list of our favorite gear, from the head down:
Hat: Saucony's Wascal cap keeps your ears warm while protecting your eyes from the sun. If you start to overheat, simply fold up the earflaps.
Sunglasses: Oakley's Fast Jacket shades make it easy to swap out lenses quickly to deal with different trail conditions. "Be sure to wear yellow, orange, or even rose lenses," Lambert advises. "Your depth-of-field will be greatly improved. Otherwise, everything often starts to look flat and it becomes difficult to determine the subtle changes in the trail."
Lip Balm and Sunblock: Eco Lips offers an organic SPF 30 Face Stick that protects your lips and face, so there's no need to worry about carrying multiple tubes.
Wicking Base Layers: Wool base layers, like Icebreaker's merino Oasis Crewe Razor shirt, are always a good choice. Ladies, check out SnowAngel's soft and sexy Doeskin line.
Gloves: Pick a pair like the Ulti-Mitt II Gold, which can easily convert to mittens if temps drop.
CamelBak: Consider an insulated pack for training, but leave it at home for racing—the extra weight will slow you down. The Camelbak Annadel is a low-profile pack that holds 50 ounces of water and has room for a gel or two.
Wool Socks: Bring an extra pair, as your feet will get wet. Smartwool offers a variety of high-quality merino socks.
Gaiters: You don't need anything too heavy-duty, just a short pair to keep snow out of your boots. The Debrisoc by Innov8—gaiters attached to wool socks—will offer even tighter protection.
Running Shoes: "These don't need to be Gore-tex or waterproof or anything special," Lambert says. "Just your normal running shoes." Trail-running shoes, however, tend to keep out more moisture than road shoes. Consider the lightweight Merrell Lithe Glove or Montrail's Rogue Racer.
Poles: Unlike recreational snowshoers, racers don't use sticks. Leave 'em at home.
---
Good Practice
Twelve tips to keep you healthy and competitive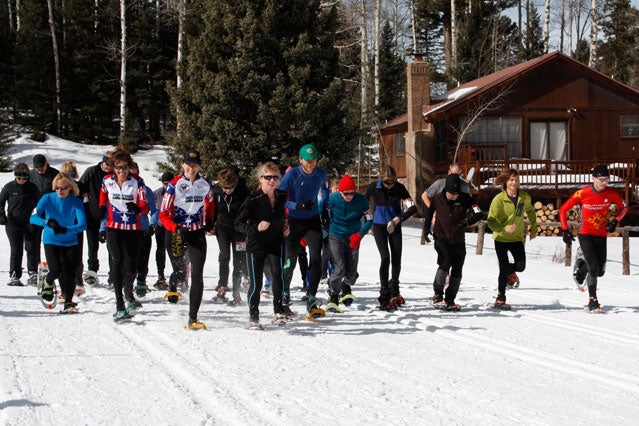 To avoid injury, warm up and stretch. Although this might seem obvious, it is especially important with snowshoeing because your ankles are always off-camber. Take a warm-up lap or two, then stretch. Give special attention to your ankles and hips.
A short workout is better than no workout. Keep in mind that snowshoeing is a tougher workout than regular running, so 30 minutes of snowshoe running will burn more calories than 30 minutes of road running. If you're short on time, opt for hill repeats or a tempo run, which will add some intensity to your workout.
Practice running uphill. Hill repeats will make you stronger, faster. Going uphill requires one of two methods. Number one, point your toe into the hill while keeping your heel raised. This requires extra foot and calf strength, as you need extra power to push off. Number two, strike your whole foot down against the incline at once. Be warned, this may strain your Achilles. Either way, take smaller steps for faster turnover, and keep your arms moving.
Practice running downhill. "Let it go, and trust your feet," Lambert says. Going downhill allows you to make up a lot of time and cover a lot of distance quickly. The more comfortable you feel with forward momentum, the better prepared you'll be in a race. Once you get a feel for how the crampons grasp the snow, you'll feel more confident going downhill fast.
Practice running on both packed singletrack and fresh powder. "The singletrack will help with learning quick foot placement in narrow conditions," Lambert says. "The unbroken powder will help you learn to finesse through the unknown."
Practice running curves and off-camber trails. Find a winding single-track that forces you to think quickly. You will naturally learn to run the tangents, swinging your outside foot around the curves. With narrow, unlevel trails, remember to plant your upper foot well into the trail as flatly as possible to get adequate grip.  Even if your other foot slides off the trail or into sloppy snow, you will likely have enough grip to keep your footing. 
Pre-run the course. You'll want to become familiar with any hills, turns, and snow conditions. Lambert recommends scouting out locations where you'll want to speed up. If you know the finish line is around a bend, for example, you'll be less likely to slow down around that turn. Lambert also recommends finding locations to throw unwanted clothing or gear. "Snow eats things," she says, so when you can't spot your $200 sunglasses on top of drift, at least you'll have an idea where to look.
Hydrate. If you're dehydrated, you'll likely lose two minutes on a 10k and be 25 to 35 percent slower. Water stops are not common during snowshoe races of 10k or less, so start hydrating at least two days before. During winter training, consider an insulated Camelbak. Again, don't wear a water pack during the race—it'll slow you down.
Fuel yourself. Take a Gu—or some type of energy shot—30 minutes prior to racing. "It's unlikely that you will need to refuel during a 5K or 10K snowshoe race, but if you are new to this, it's a good idea to slip a gel packet into your glove or pocket," Lambert says. "Better to be ready than to bonk."
Relax. Relax your face, your shoulders, everything. Don't waste energy by tensing your muscles. Plus, you'll look awkward in photos with your face all twisted up.
Keep warm clothes at the finish. You'll get cold quickly after you stop moving.
Join the United States Snowshoe Association. Do it before you race, especially if you think you might qualify for nationals. Registration is just $30, and includes a subscription to Trail Runner magazine.
Lead Photo: Ryan Johnson/Flickr