Suspension of Disbelief
Most people who lose a leg dream of walking again. For adaptive athlete Jarem Frye, the inventor of a spring-loaded prosthetic knee transforming the lives of amputees, that wasn't nearly enough. He wanted to fly.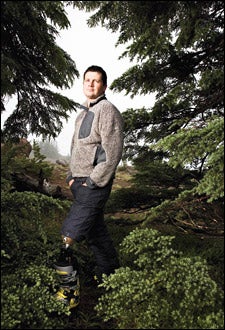 Heading out the door? Read this article on the new Outside+ app available now on iOS devices for members! Download the app.
WHAT WAS SUPPOSED TO BE a military propaganda video showing footage of U.S. Marines on patrol—protecting an Iraqi neighborhood from insurgents—now lives on the Internet, where you can see Garrett Jones's last steps as a whole-bodied man.
Jarem Frye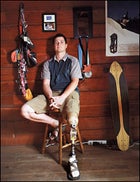 Jarem Frye at his office in Mcminnville, Oregon
Garrett Jones

Jones at Frye's office in Oregon
Garrett Jones

Jones at Timberline
Jarem Frye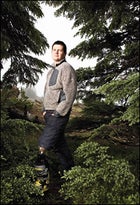 I'm doing this to give people hope.
The 15-second clip, shot in July 2007 in the city of Karmah, is poor in quality; it's grainy, overexposed. But just beneath a line of palm trees shaking in the wind, in front of a roofless house the color of desert sand, you can make out three Marines walking in tactical formation, M-16's gripped at their waists. The lead Marine is just about to step out of the frame when the road erupts—one bomb blast, then another. Roiling plumes of pale dirt obliterate the palms, the blue sky, and Marine number three, Corporal Jones.
What you can't see is what happened afterwards—the graphic scenes of men trying to save one of their own. Often, when a bomb that powerful explodes directly beneath a man, he'll lose consciousness, which, if he survives, mercifully prevents him from reliving the events again and again. But Jones remembers every moment. His body flying through the air and landing in an irrigation ditch full of muddy water. His blood turning the water a dark shade of red. He didn't feel pain so much as heat, as if a raging fire was engulfing him from the inside out, turning his flesh into flame.
How bad am I? Bad, man. It's pretty bad. Am I gonna live? I think so.
I think so.
At which point Jones, a devout Christian who was one of the only men in his platoon who read the Bible every day, remembered that he'd forgotten to pray before he went on patrol.
Third-degree burns and shrapnel wounds on the right leg and left forearm. A golf-ball-size piece of flesh missing from his left triceps. A second chunk missing from the lat. Both eardrums blown out. Massive blood loss, requiring 14 transfusions.
Most of his injuries, while serious, were manageable. There would be scarring, rehab—big deal. His left leg, however, or what was left of it, had been blown to bits—"totally jacked," as Jones puts it. Military surgeons took one look and did the only thing they could: They cut it off. Jones was left with six inches of what amputees call "residual limb," a stump about the size of a large bell pepper. Now the corporal had to face his two biggest fears. Doctors quickly dispelled the first: Yes, absolutely, Jones would still be able to father children. Then the bad news: No, he would never again be able to snowboard, the sport he fell in love with at age nine and spent all his lunch money and allowance on as a teen. Snowboarding requires the support structure of two legs, of musculature and bones and joints that Jones no longer had, the doctors said. It was impossible. Jones spent many months mired in depression.
WHICH MAKES what Jones is doing right now seem not just inspiring but close to miraculous.
It's February 2009, just a year and a half after the blast, and Jones, 24, is ahead of me, as he has been all morning, carving turns down the middle of the run on his Burton Vapor. But mostly he's been sticking to the run's edges, beelining from bump to berm to jump.
We're at Timberline, an old-school resort on the southern face of Oregon's Mount Hood. Jones is currently on a weekend pass from the Marine Corps Air Ground Combat Center, in Twentynine Palms, California, his base until he finishes up his active service. This is where he learned to snowboard as a kid.
Eventually, Jones stops at the top of a hill that he's crested hundreds of times before, then he points to a perfect ten-foot-tall roll­over of snow 30 yards below. "You can fly off that," he says. And then he's gone again. For a moment I can see him in the air, reaching for the nose of his board, as he disappears behind the hill.
In case it's not obvious: One-legged people without knees aren't supposed to be able to do that. Because their quads and knees are intact, many below-knee amputees, or BKs, have been able to ski and snowboard at a relatively high level using prosthetic feet and standard ski equipment. Above-knee amputees, or AKs, are a different story. Sure, they could ski, either using a three-tracker—one alpine ski with a pair of outriggers—or perched in a chair atop a mono-ski, and they could even compete in the Paralympics. But no matter the particulars of their injuries, adaptive athletes—the current, socially accepted term for disabled sportsmen—have long been left on the sidelines of the more acrobatic action-sports culture. This was not, it turns out, for lack of desire to hit boxes, pull switch 360s, or launch off 20-foot cliffs. It was primarily for lack of equipment that allowed them do so.
That's the reality Jarem Frye, 31, the third member of our ski outing, faced when he lost his left leg to bone cancer 16 years ago. A soft-spoken Mormon originally from Spring­ville, Utah, Frye is also an above-knee amputee. But Jones and Frye share more than the automatic empathy of two people who've been through similarly rotten circumstances. Frye is the inventor of the XT9, a groundbreaking artificial knee made for AK amputees, which Jones is wearing under his camo-patterned snowboard pants. (Frye, who recently sold the last knee he had in stock, has no XT9 for himself today, so he's skiing—extremely well, I might add—on a single ski with standard poles.)
There are at least 100 different prosthetic knees available to above-knee amputees, but all of them are designed for walking and, to a lesser extent, running. They're engineered to mimic the smooth, parabolic movement of the human stride.
The XT9 is entirely different. Thanks primarily to an internal, tension-loaded spring, Frye's "knee" allows amputees to do two critical things that most of us take for granted: sink into (and then hold) a semi-crouched posture, and absorb the shock of hard impacts.
The XT9 allows amputees like Jones to pursue sports previously off-limits—snow­boarding, wakeboarding, climbing, surfing, motocross, and even tele-skiing—and to do them at a high level. "Before the XT9, there were no prosthetics that let above-knee amputees really excel in these kinds of athletics," says Kurt Collier, a vice president at a California-based prosthetics company called Freedom Innovations LLC. SymbioTechs USA, the company Frye founded in 2006 to manufacture and sell the XT9, now does a tidy business selling his knees to adaptive athletes all over the world, like competitive skateboarder Danielle Burt and Nicole Roundy, a 23-year-old snowboarder who in April snagged three silvers—in halfpipe, slopestyle, and giant slalom—at the USASA nationals at Copper Mountain.
When Frye and I catch up with Jones at the bottom of the hill, his pants are around his ankles as he adjusts his prosthetic. His right leg is flesh, the inside of his thigh thoroughly scarred. But his left leg is all machine. Sticking out of his boot is a titanium pylon where a shin once was; another pylon, attached to a custom-made carbon-fiber socket, takes the place of the bones in his lower thigh. In between those pylons, standing in for his knee, is the XT9, the coils of its steel shock held in place by a matte-black aluminum housing.
Jones tightens the waist belt that helps keep his residual limb firmly in his socket when he snowboards and finally pulls up his pants. "I didn't have enough speed," he says, irritated. "I need to hit that again."
IN 1993, AT AGE 14, Jarem Frye collapsed in pain while mowing a neighbor's lawn. X-rays revealed an aggressive, 2.5-inch-long malignant tumor—osteogenic sarcoma—lodged below his knee joint. Oncologists put him on a nine-month regimen of chemotherapy. Sometimes he'd start his day by coughing up his own hairballs.
Even after doctors amputated his leg right through the knee joint, Frye remained almost superhumanly optimistic about his ability to enjoy his favorite sports: He visualized himself on his mountain bike a month after surgery, when his new, one-legged self would be dusting all his friends.
His doctors, on the other hand, much like Jones's, were just as determined to lower his expectations.
Can I run? Not likely, but you'll be able to walk. Can I ride a bike? No, probably not. Can I snowboard? Impossible.
Frye refused to accept their assessment. "I had this distinct feeling that if the legs they had didn't work, I'd just build my own," Frye remembers. That was what he had always done. When his parents refused to buy him a pair of Indian moccasins at age nine, he found a photo in an encyclopedia and pulled an all-nighter drawing a pattern, then cutting up and sewing his own out of fuzzy brown fabric. In order to lob walnuts at the heads of passersby, he designed a catapult activated by a tripwire strung across the sidewalk. He built a crossbow. When he was 11, he took apart his and his brother's bikes, drilled holes in the frames, and reattached them to make a tandem bike that both of them could steer. For Christmas one year, his dad bought him a custom-built forge, which Frye used to make 15 swords for a local middle-school production of Romeo and Juliet, among other things.
At the time of Frye's surgery, the most popular prosthetics were ones that made amputees "look normal." In truth, the foam-rubber casings glistened in the sun and were the color of an apricot Crayola. Frye hated his, and besides, his foam-rubber sleeve farted when he walked: lift leg, bellows; step forward, fart. So, one night, Frye cut off all the foam. "I accepted it as a machine that is part of my body," he says. He painted the whole thing black.
A few months after his amputation, Frye went skiing with the Park City, Utah–based National Ability Center. He was very good and was soon invited to train with the national junior team. At 16, in only his third year as a skier, he placed 14th at nationals in slalom.
According to his coaches, he had enormous potential. But he wasn't interested. Being at the top of a podium was not nearly as important, he realized, as proving to a world full of doubters that above-knee amputees could do things like telemark. "My coaches said there was no way—you need quad strength to control the lower leg," Frye says. It was precisely the kind of response that motivated him most.
Initially it seemed that the coaches were right. When Frye tried to telemark on his walking prosthetic, the ski flew backwards and he fell on his face. Eventually, by pushing muscles until they burned and mentally controlling every flicker of body movement, he was able to confidently ski blue runs. But his was a jerky pop-and-rock motion, void of the effortless grace that had attracted him to telemarking in the first place.
Then Frye spent the next two years doing missionary work in Northern England, Wales, and the Isle of Man. His skiing quest was put on hold. When he returned, he took a job as a Park City lift operator and started thinking about his dilemma again. One day he noticed that what held one of the detachable chairlifts to the cable was a pair of massive clamp springs. That was it: What he needed was a shock system that would do the work of his missing quad muscles.
That weekend, Frye, who had been homeschooled all his life and had never taken a college course, made a trip to an auto-repair junkyard. He pulled a valve spring out of a car, bought some cast-iron pipe, bolted and welded everything together, then crammed the crude contraption into the casing of an old walking knee. Prototype No. 1 worked, but the spring was too soft.
A trip to a local bike shop yielded a better solution—a rear RockShox. Within a few weeks of skiing on Prototype No. 2, he was linking turns smoothly. Strangers, not realizing he was an amputee, would seek him out to compliment him on the fluidity of his form.
Prototype No. 3, which Frye had persuaded a Brigham Young University engineering student to help build, was even more impressive. In addition to telemark skiing, Frye had also taken up rock climbing, but his old walking prosthetic would often slip off smaller holds. No. 3, which featured his own housing design—welded from pieces of lightweight aluminum—stuck to even tiny ledges. He went from being able to do 5.9 climbs to scaling 5.11's.
Frye now wanted it to be more visually appealing—and durable—which meant eliminating the weld points. But when the BYU student begged off of building Prototype No. 4, he decided to machine it himself. He talked his way into a job at a local metal shop, where he learned to weld aluminum and operate machines running computer-aided design software. At his second job, a shop that built custom parts for the aerospace industry, he learned metallurgy. Two more shops and nearly four years later, he'd built six XT9's. In 2005, Frye sold the first one off his Web site to a French man, who sent him the money—$2,500—through PayPal. Patent application number 20090037000, for a "Prosthetic Knee and Leg Assembly for use in Athletic Activities in which the Quadriceps are Normally used for Support and Dynamic Function," which he submitted in June 2006, is pending.
SYMBIOTECHS USA is still very much a startup. Up until three months ago, when Frye got an office, his house, a modest single-story ranch in the tiny Willamette Valley farm town of Amity, Oregon (pop. 1,467), served as company headquarters. The living room doubled as the conference room, and when it got too cold to build XT9's out in the garage, the operation moved into the dining room. Frye and his recently hired assistant assemble every knee themselves. During our interview, while his wife, Sara, took a nap, it was his duty to bounce baby Jude on his lap. Once he had to jump up midsentence to corral two-year-old Ari, who had unlatched the back gate and, along with the family's two Staffordshire bull terriers, was making a beeline for the street. Frye launched SymbioTechs USA with a $10,000 inheritance in 2006. At the time, he figured he'd need to sell two of his $7,000-to-$9,000 XT9's per month just to cover his family's living expenses. He knew his biggest challenge would be finding customers.
"The reality is that most amputees are just interested in getting back to daily activities, like going to the grocery store," notes Lane Ferrin, a Provo, Utah–based prosthetist who still builds the custom sockets that Frye uses for his walking leg. Of the estimated two million amputees in the U.S., only around 400,000 are AKs, which meant that, even if he sold his knees in other countries, Frye would be hawking the XT9 to a small subset of an already minuscule market. Plus there was no research indicating the existence of AK amputees so hungry to telemark, rock-climb, or snowboard in the pipe that they'd be willing to plunk down several grand on an artificial knee just to try it.
Turns out there are actually quite a few. Three years on, word about his device has traveled through adaptive-sports competitions, prosthetics conventions, YouTube clips, and amputee blogs. Now Frye is fielding calls from amputees and prosthetists all across Europe and has distributors in Norway, Spain, and the UK. By April he'd sold a grand total of 163 of his inventions—just enough to make a living. Last January, his best month yet, he sold 17 knees, shipping them overseas and to places like the Walter Reed Army Medical Center, in Washington, D.C.
There's reason to believe the trend will continue. Over the past few years, adaptive-sports culture has been undergoing a serious evolution, and many amputees hail the XT9 as both a product of that evolution and a major catalyst for bigger changes to come.
"Frye was that one person who was actually focused on where adaptive sports was going," says Daniel Gale, co-founder of the nonprofit advocacy group Adaptive Action Sports, adding that athletes are no longer limited to biking, slalom skiing, running, and the handful of other sports sanctioned by the Paralympic Committee. Because it doesn't employ computers that can fizzle when wet, the XT9 has helped AK surfers reach top form and has been used by AK athletes in rock-climbing, wakeboarding, and skateboarding events at the Extremity Games, the X Games for adaptive athletes.
Last year the World Snowboard Federation held its first Adaptive Snowboard World Cup, in Whistler-Blackcomb, and this year Jackson Hole held its first Steep and Deep Camp specifically for adaptive athletes. Then there are skiers like E.J. Poplawski, whose leg was amputated above the knee a few days after a freak accident at the 2006 U.S. Freeskiing Telemark Championships, in Crested Butte, Colorado. He can't hit 50-foot drops anymore, but when it's a powder day he can still do 20-footers with the XT9.
Even so, while the business is experiencing moderate growth, Frye isn't exactly rolling in the dough. But that's OK with him. After all, if he were the sort of person to get hung up on dream-killing concepts like market analysis and profitability projections, he would never have gotten into the business in the first place. "I'm doing this to give people hope," he says.
Comments like this usually make me cringe, but Frye is one of those rare people who seems to radiate genuine goodness. Somehow he manages to go on about "hope" and "inspiration" and "the power of belief" without sounding irritatingly earnest, as if he's been watching too many episodes of Oprah and now wants to share these shiny pearls of wisdom with the world.
IT'S IRONIC that what makes the XT9 a "revolution in prosthetics"—as Symbio­Techs USA's slogan proclaims—is not a radical new engineering concept or a new computer system but a return to simplicity. Frye just took the trouble, and had the talent, to solve a problem that other people didn't even recognize.
Which is why it was surprising to Frye, the self-described "ultimate can-do optimist kind of guy," that his style of thinking had some limitations. Frye remembers well the call from a prosthetist at San Diego's Naval Medical Center, who wanted an XT9 for a young Marine, an AK amputee desperate to snowboard. When Frye found out that the guy had only six inches of residual limb, he thought, No way. The Marine wouldn't have enough muscle in his leg to control a snowboard, even with the XT9. Sorry, he told the prosthetist, he just didn't want to get the guy's hopes up.
A few days later, the prosthetist called back. This Marine was particularly stubborn and, it sounded like, a bit of a hothead. Reluctantly, Frye sent him an XT9. A couple of weeks later, the prosthetist rang him up to report that, two days after he got his XT9, the Marine, a corporal named Garrett Jones, had flown to Breckenridge. He was pulling 180s.
Frye now counts Jones as one of his greatest inspirations and also a good friend. (And neighbor—when Jones finishes his active duty, in three months, he'll move back home, which, coincidentally, means Oregon's Willamette Valley.) So Frye has no problem laughing when Jones biffs it badly. He's just crested a evergreen-lined hill when the nose of his board gets wedged in eight inches of chopped-up powder. A person with two legs would easily muscle through the stuff, but in Jones's case an unexpected pile of powder may as well be a rock. His upper body just keeps pitching forward, which breaks the suction that keeps his limb in its socket—and sends him rolling down the hill, a cartoon ball of flying white fluff. When he finally comes to a stop, facedown, his prosthetic leg is detached from his body and lying next to him at a grotesque angle.
Passing skiers freak out. Jones loves it.
"Dude, my leg came off. Dude, my leg. Help me, my leeeeeegggg!"
Then Jones promptly stands up and drops his pants to reveal an empty pocket of space where a leg should have been. Nonchalantly, he pulls his prosthetic back up through his pants, lowers his limb into the socket, and reattaches his waist belt with the proficiency of a triathlete transitioning from the swim to the bike.
And then he's gone. Again. Frye is behind him, skiing on his single ski, his other leg hovering a few inches above the snow.