The Tortoise and the Stair
No mountain? No problem. As our man discovered, racing up a skyscraper provides a challenge as daunting as many high peaks.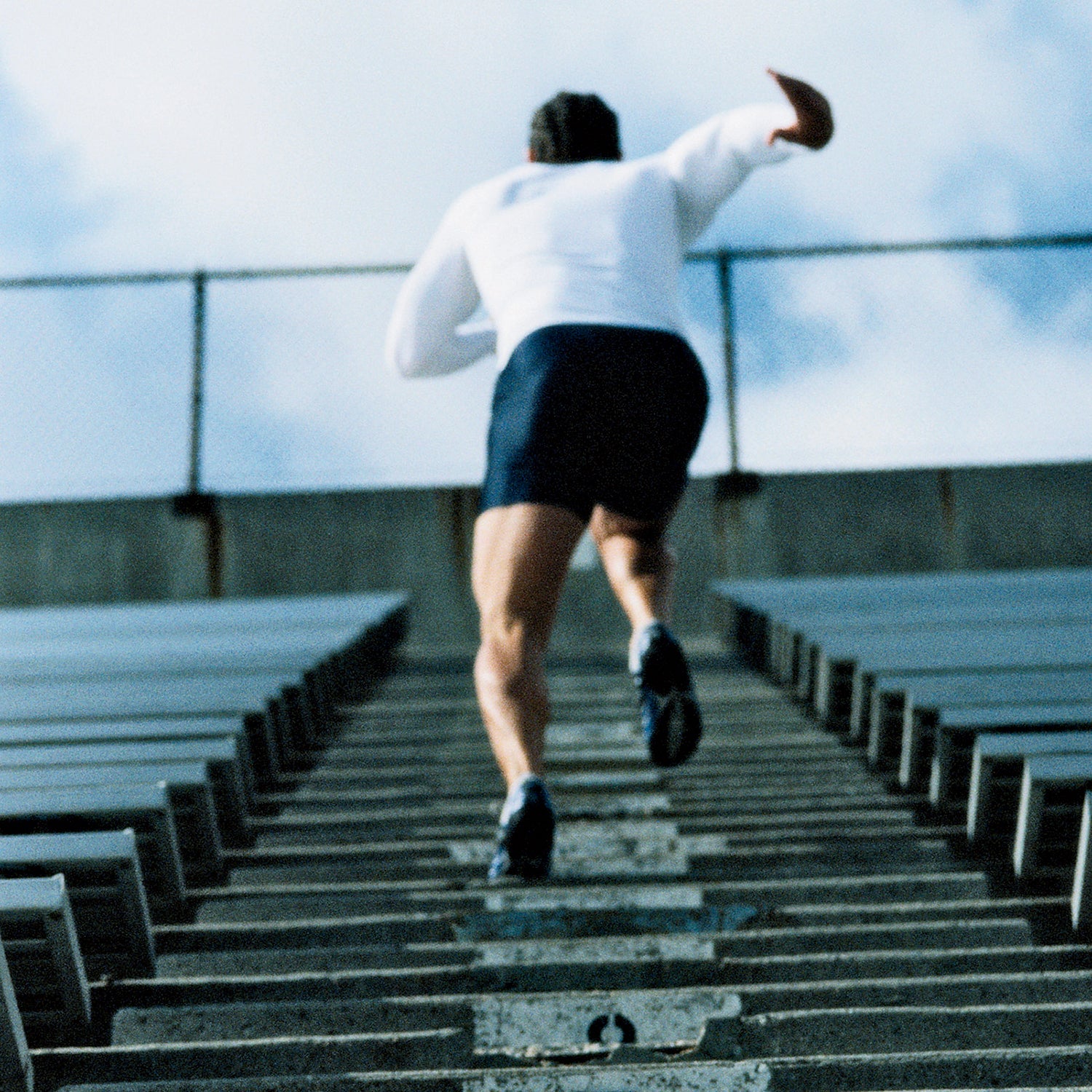 Heading out the door? Read this article on the new Outside+ app available now on iOS devices for members! Download the app.
By the 45th floor, I'd worked up a lather worthy of Big Brown. On the 72nd floor, I had to sidestep someone's breakfast splattered across the landing. And by the 93rd floor still ten flights and 100 vertical feet shy of the finish line I was seeing spots. Such are the joys of competing in the Go Vertical Chicago Sears Tower Climb, a race from the lobby of the continent's tallest building to its sky deck, 103 floors, 2,109 stairs, and 1,353 feet above. The masochistic intensity of this event, now in its seventh year, is offset only by its merciful brevity about 20 minutes, if you're good. The Sears Tower race is one of dozens of competitive stair climbs that take place all over the world each year, patronized by a community of gravitationally disturbed athletes.
"I dread it," says Ed McCall, 41, a veteran racer who won his debut race up L.A.'s U.S. Bank Tower in 2002 and has kept at it ever since. "I know I'm going to be redlined no matter what kind of shape I'm in."
I first caught wind of tower racing last summer, and decided to look into the scene after hearing that some athletes consider it more painful than longer events, like half-marathons. Intrigued, if skeptical, I signed up for what appeared to be the toughest of them all: the Sears Tower. Bounding up stairs is essentially a series of one-legged plyometrics that hammers on key muscles like hamstrings, quads, and glutes. This training translates to almost every sport, from soccer to skiing. And because the workout takes place during a race, you're pushed to a higher intensity than you'd ever reach on a stair machine. Sure, you could climb a mountain, but for most city dwellers, the highest peaks around are made of glass and steel.
When I arrived at the Sears Tower this past November, some 2,000 participants milled around the lobby. A handful of them looked hardcore whippet-thin runners in full Lycra but most bounders appeared to be recreational athletes. A gaggle of teenage girls wore T-shirts that read ELEVATORS ARE FOR WIMPS! I was particularly impressed by a group of firefighters in full kit who called themselves the High-Rise Heroes.
Climbers blasted off at seven-second intervals. The stairs were about six feet wide, so the course became a sort of 45-degree NASCAR track, with the slower racers clinging to the inside handrail. Taking two steps at a time, I began passing slower folks, making it about 20 floors before going fully anaerobic. By the time I hit the 93rd floor, I'd ground down to a lumbering plod. I tried to yank on the handrail for assistance but was so soaked in sweat that I slid off the pole. For the final floor, I paced off of two ten-year-old boys just in front of me, and we busted through the door at the finish almost side by side. Recovering on the sky deck, I saw one woman who'd done the race in four-inch heels.
Despite the agony, I managed to finish 78th out of the 2,000-person field. It was good enough to leave me contemplating another stair race possibly the slightly shorter run up the Empire State Building. The thought of turning myself into a champion didn't excite me, but raising my pain threshold did. "Tower racing is a mental sport," says Terry Purcell, 38, winner of the 2008 Sears Tower race (he beat my time 19:55 by six minutes). "There's this moment when you begin to suffer, and you have a decision: You can slow down, or you can push harder." This, I discovered, is the essence of tower racing the ability to keep going when you're feeling beat. Somewhere shortly before the 103rd floor, I realized the real opponent wasn't the building, or the 2,000 other racers. The competition was just one grunting, groaning climber, and I had him in my sights the whole way.
A comprehensive race schedule can be found at towerrunning.com.
---
The Real Stair Master
Tower climbing may sound a little silly, but it requires supreme cardiovascular fitness and tremendous lower-body strength. Here's how Terry Purcell, three-time champion of the Sears Tower event, keeps in racing shape over the course of a week:
Monday: I do a 45-minute plyometric workout in the morning, with lots of high-knee jumps. At night, I go for a 30-minute jog. 
Tuesday: I do a core workout in the morning, and in the evening I do an intense stair workout—four sets of 30 floors, up and down, followed by three ten-floor sprints. I take the elevator down following the sprints. 
Wednesday: This is a recovery day. I do 30 minutes of spinning on an indoor bike. 
Thursday: I'll lift weights in the morning and go for a four-mile run in the afternoon. 
Friday: A light bike workout. 
Saturday: I'll do core work again in the morning, then 45 minutes of simulated hill climbing on an indoor bike in the afternoon. 
Sunday: I'll go for an easy jog. 
—As told to Alex Crevar