What You Need to Know About Osteitis Pubis
This little-known injury is difficult to diagnose but can be debilitating. Here's what to look for.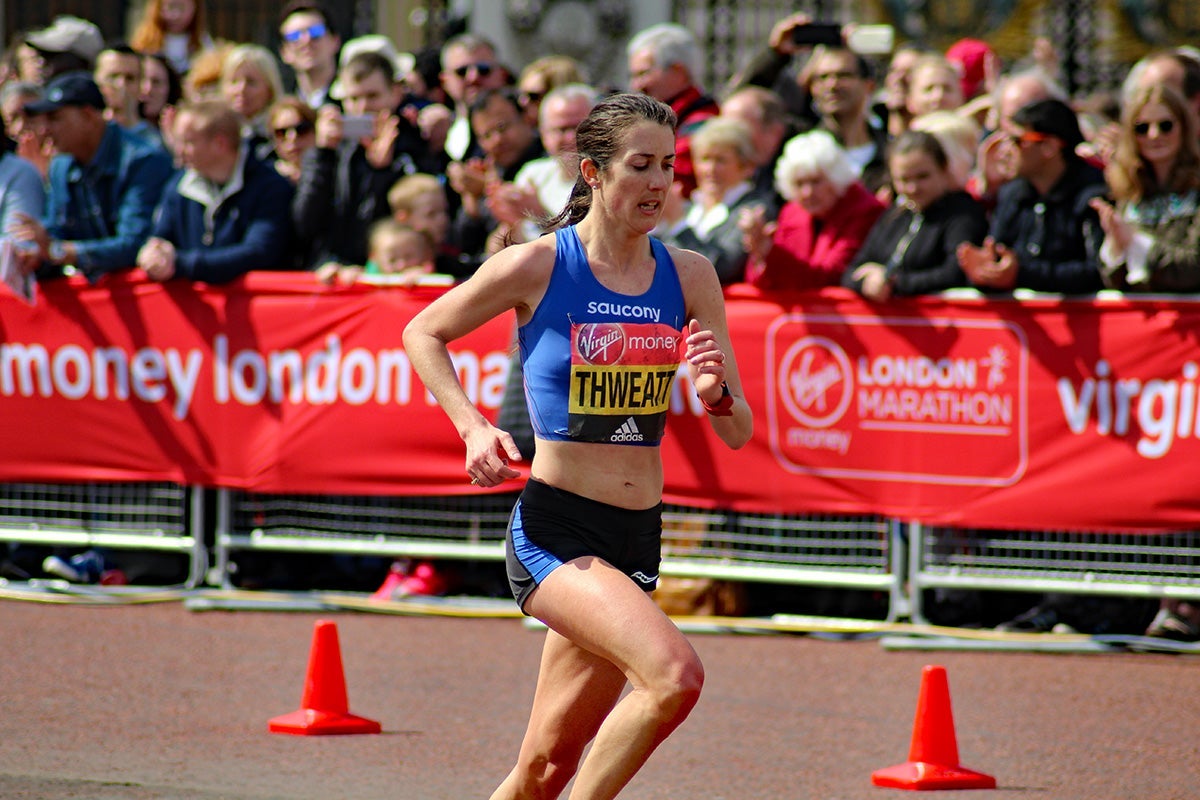 Heading out the door? Read this article on the new Outside+ app available now on iOS devices for members! Download the app.
Many elites consider fourth place to be the worst. It's just out of medal count, glory and oftentimes, a paycheck. But for 29-year-old Saucony runner Laura Thweatt, her fourth-place finish was the best outcome during the UAE Healthy Kidney 10k. The race marked her return to competition after a nearly year-long layoff due to a little-known injury called osteitis pubis.
The condition, which involves inflammation of the pubic bones at the center of the pelvis, can be debilitating and require long periods of rest from running if not caught early. It can also be difficult to correctly diagnose. Sometimes, athletes find themselves caught in no-man's land, struggling with an uncertain diagnosis and treatment before finally landing on the right approach. Thweatt spent some time in this gray area, unsure of exactly what was causing her pain. "I had achiness in my groin for about a month, but nothing too bad," she shared. "I brought it to my chiropractor who thought it might be a sports hernia or osteitis pubis."
As she continued with treatment and training, Thweatt found the pain persistent yet manageable. She took two full weeks off of running following the 2016 Olympic trials for the 10,000m and 5,000m, but found the pain unchanged. Working with a physical therapist and her chiropractor, Thweatt was able to continue training with the condition all the way through her 2017 Virgin Money London Marathon debut, where she ran a noteworthy 2:25:38. "In the final weeks building up to London, the pain was pretty unbearable," she admitted. "It was there all the time and we were pretty sure by then that it was osteitis pubis."
Following another two weeks of complete rest, Thweatt tried a short test run and couldn't complete it. Her coach Lee Troop sent her off for an MRI—the only sure way to diagnose osteitis pubis—and shut things down. The image confirmed the team's suspicions and Thweatt began the long road to recovery.
Tricky but Treatable
Osteitis pubis doesn't discriminate in choosing its victims, but it seems to occur in soccer players and female runners returning from pregnancy in higher numbers than other athletes. However, any runner can experience it. "Any time you have destabilization of your pelvis and exert too much force on your pubic bones, you might be susceptible," said Josh Emdur, DO, treating physician for running at SteadyMD.
Common contributing factors include leg length discrepancy (which Thweatt has), muscle imbalances and a return to running following childbirth. Tight hips and adductors can also play a role and serve as initial warning signs. If caught very early, the layoff for osteitis pubis doesn't have to be long, said Maryland-based physical therapist and co-owner of Recharge fitness facility Gene Shirokobrod, DPT. "Rest for about three to seven days can help at that point," he stated, "but it's important to figure out why it occurred."
Unlike other typical running injuries, which trend toward training errors, osteitis pubis often has an underlying biomechanical cause. This is why an evaluation by a practitioner who understands movement is critical. "It could involve your low back, lack of glute strength, or a running gait that stresses one side versus the other," Shirokobrod explained.
Once a professional has identified the cause of osteitis pubis, it's time to move on to treatment. In Thweatt's case, that involved a slow progression forward. "I took a full month of rest only," she said. "Then we moved onto strength training, mobility work and pool running." Emdur stated that a routine that focuses on glute, hip and adductor strength is often a key part of the rehab process. "A program that involves hip and back mobility is usually indicated as well," he shared.
Most importantly, osteitis pubis is not a condition to ignore. Developing consistent groin achiness is the big red flag to see your practitioner. "If left untreated, it can progress to a stress fracture, chronic laxity or ossification," said Shirokobrod. Now back in the competitive world, Thweatt can say she is just almost asymptomatic. "Each phase to recovery has had its ups and downs," she shared. "I still get some stiffness in the area, but I'm thankful to say it's been pretty smooth otherwise. I'm just taking things one race at a time."
From PodiumRunner