Ritz on Running: Smart Strength Training for Runners
Dathan Ritzenhein shows how strength training for running needs to be strategic, individualized and modified over time.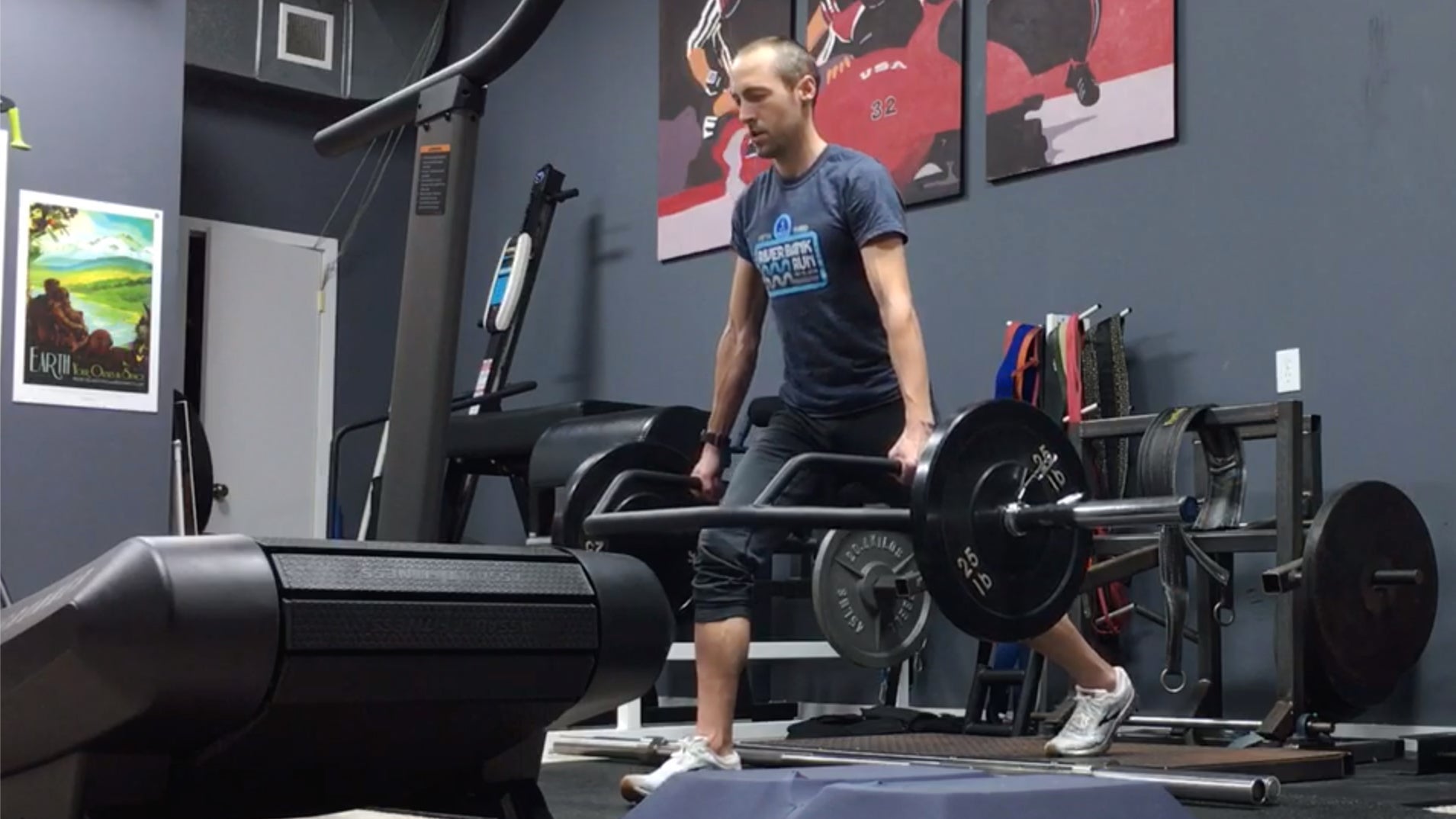 Heading out the door? Read this article on the new Outside+ app available now on iOS devices for members! Download the app.
In my last column, which outlined my weeks training for Boston Marathon, I mentioned specific strength training workouts I was doing to prepare my legs for the course in Boston. I thought this would be a good chance to share some some simple suggestions and concepts I've learned about strength training for runners.
You can spend hours in the gym but it might not make you better, if fact it would probably make you worse. Runners don't need Crossfit style high intensity training or crazy amount of volume. Your running is giving you that.
If you look on social media or other online sources, you can be overwhelmed with the complexity of strength training. Most runners don't come with a background knowledge of strength work—that's why we ended up as runners! I was the same way. I knew running: long runs, tempo runs, intervals, mileage, etc. Thats our language. We stay in the world we know.
I spent years wandering around the gym without anyone prescribing a the program. I knew it was a component to training that I was missing, I just didn't have a clue where to start. I had no idea that it is different for every athlete and it changes over the course of a career and season. I just did the same few things every day, thinking I was working on "core." Truthfully, I was wasting my time and ingraining patterns which weren't helpful to my running.
In 2011, as I was rehabbing from my second achilles surgery, I began working with David McHenry a physical therapist and strength coach at PACE Therapeutic Associates in Portland Oregon. It was the first time I had a dedicated strength coach who oversaw the progression of my return from injury. We started looking at ways to improve my ability to train at the highest level.
We started at the ground level. I was literally in a walking boot only days after my surgery with a wound vac attached to my achilles incision. Dave would hold it and walk with me during my exercises so we could start right away. We slowly began the process of rebuilding my structure and getting me back to 100%.

Strength for Speed
In those days I was still running track. As a 5,000m/10,000m runner my needs were so much different than they are now as a veteran marathoner. I was training with guys like Mo Farah, Galen Rupp and Matthew Centrowitz. They had wheels, as you could always tell at the end of a race or workout when they could throw down 50-52 second on last 400m.
I was still seeing benefit from working on more power and explosive movements. As someone who had a significant injury past, however, exercises like power cleans and heavy runner squats—after learning proper technique—were a safer bet for me than hill sprints or 80m flys. The goal then was to maximize speed and power at the end of the race. We never reached too far into plyometric work because I regularly did that in my drills, but I did a lot of twisting and throwing with medicine balls to create explosive power. I had a great couple years running really fast and making another World Championship and Olympic teams in the 10,000m.
These are the drills I did 4x each week:
Truthfully I loved that kind of work, and Dave was a great coach, but I started to get older and as I moved towards a full time schedule on the roads it didn't make sense for me to reach for the ballistic/dynamic work that I had once
seen such benefit. I had some disc and groin injuries that made that work too dangerous for me. My body needed other avenues to be able to use strength training to enhance my running.
Strength for the Long Road
When I returned to Michigan, after two years of writing my own programs, I started to work with Jason Ross at Train Out Pain to help take me in a bit a of a different direction for where I was in my career. We looked at how my body was moving and the how the goals had changed.
My body was going to need a different approach and so we actually went back to some of the work that I initially did with Dave in my rehab. It was much more focused on isometric and eccentric work. The movements were slower but we also added small doses of assisted quicker movement to help keep the "pop" in my legs that I got from the dynamic work. We started using other modalities such as resistance bands, glute/ham machine, reverse hypers
etc. These allowed me to still get some of the benefits form the past but with less risk than doing exercies like power cleans and box jumps.
Here's an example of glute and hamstring work with a med ball:
https://vimeo.com/322827131
We also brought the volume of time in the weight room down. My lift sessions are closer to 35–45 minutes long instead of 60–75. I have heard Dan Pfaff, one of the all-time greatest track coaches, say that volume is the enemy of the older athlete. I don't consider myself old but there are now lifetime miles (and lifts) in the body. Volume is cumulative over the years and even if you aren't fit, your DNA changes and the adaptations stay in your system. As a veteran athlete, I adapt fast but also breakdown easily. So I use the lifts to get ready of the upcoming training session and to recover from harder training sessions which I have recently completed.
Everyone wants to do the sexy work right away, but all training has to be laid on a foundation that is solid or it will come crumbling down. Think of strength training like base work. It takes months and years to develop as a runner. We build a base and eventually we get to the point where we can start doing specific work. That specific work will change depending on what you are getting ready for.
Here is an example of eccentric quad work we are doing for Boston:
https://vimeo.com/322826987
It looks a lot different from the specific work I was doing years ago with Dave, but some things remain the same, such as finishing in a tall runner position. Those are basics which I will always keep, but instead of going for fast concentric contractions, we are focusing on slow eccentric contractions with an isometric hold to get my quads ready for the fast downhills of the Boston Marathon. I do these in place of downhill intervals I might do otherwise, because the downhills are too much risk for me.
But just like with running, after a hard marathon build up or long season, it's important to go back and patch up the foundation so you can come back stronger for the next specific block. Regardless of what "specific" thing you are training for, whether it is a marathon or track season, the most important part is that the base of your strength training program should be one of symmetry, flexibility and muscle engagement.
Lastly, with David and Jason, I had therapists who looked at the patterns I had learned over years of putting one foot in front of the other. Injuries create compensatory habits that if not fixed will lead to breaking the next weakest link. I think the first stop for anyone who wants to start a strength training program should be an evaluation by a therapist that can look for areas to correct, before they move into any "general strength" phase. This is something I do with all my athletes now. They see a Physical therapist and Chiropractor first, before we begin. The professionals have a trained eye that can see things we might not, and can tell us what to focus on or avoid.
Once you lay the foundation you can move into general work to actually start to build strength. Find a coach or training partner who can help you make sure your learning technique. If you can't do it right, there's no point in doing it.
From PodiumRunner