Western States Has New Rules for Transgender Athletes
Earlier this year, the iconic race announced a new policy for transgender competitors. Here's how the decision came together and why it's important.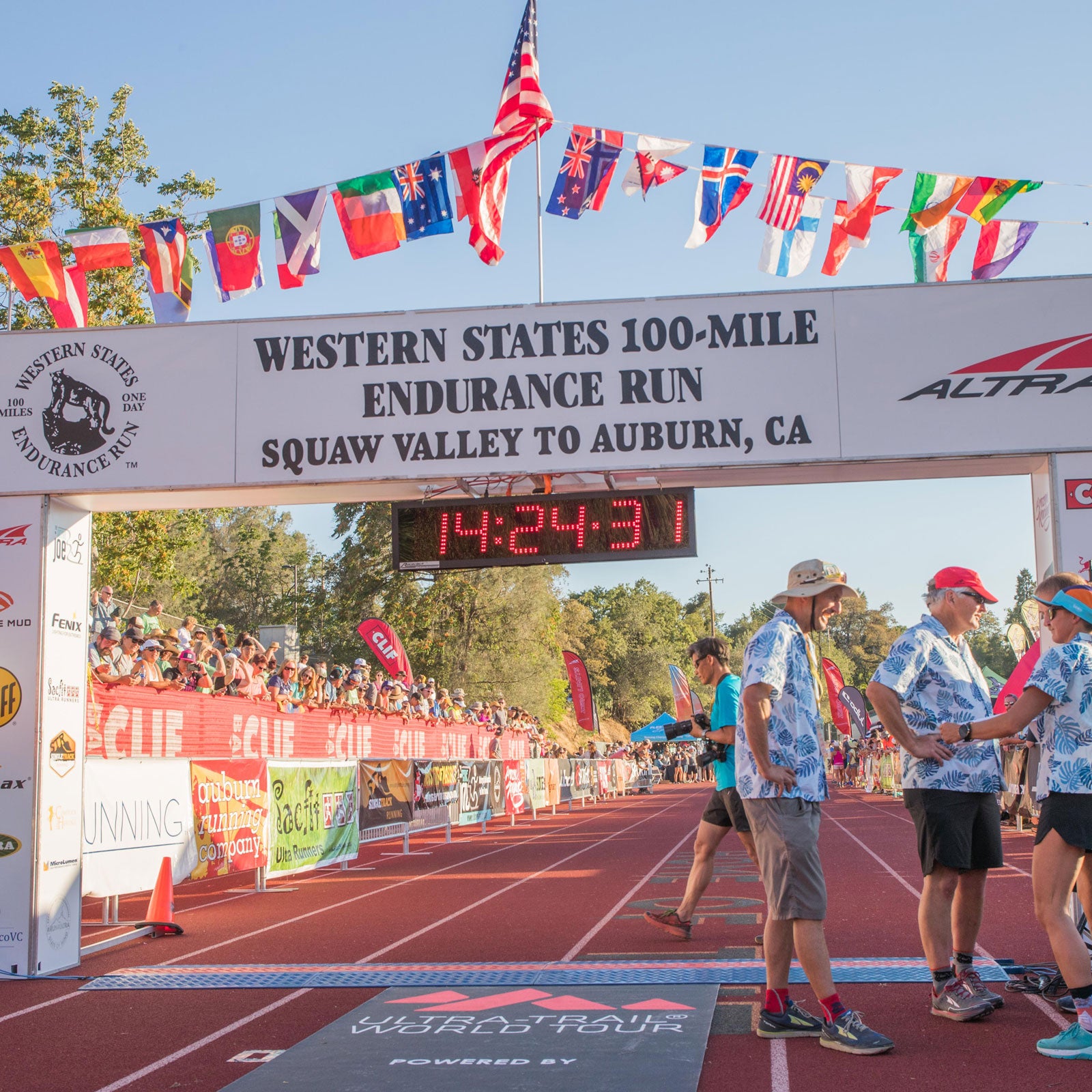 Heading out the door? Read this article on the new Outside+ app available now on iOS devices for members! Download the app.
The Western States Endurance Run (WSER) lottery draw is one of the most highly anticipated in the ultrarunning community. Every year in early December, runners from around the world hope to snag one of the 369 available spots in the historic California 100-miler. The race has a less than a 5 percent acceptance rate, so the entry process is heavily scrutinized. The names of runners who have completed a qualifying race are listed for all to view in the weeks leading up to the draw. And from that list, WSER runners are selected by members of the audience at a public lottery draw, which is streamed live online. 
After the 2019 lottery, WSER race director Craig Thornley learned that Grace Fisher, a 38-year-old transgender woman, had been selected for the race. With a recent 100-mile win and a previous top-five race finish at the Vermont 100 Endurance Run under her belt, the WSER board of directors felt that Fisher could earn a top-ten podium finish at the race. To preempt any possible controversy regarding her participation as a woman, the board decided to adopt an official policy for the inclusion of transgender athletes. According to Diana Fitzpatrick, a member of the board, the motivations were twofold: "We wanted to send a message of inclusivity to Grace and other trans runners while also addressing any concerns about competitive fairness that might come up."
In developing the specifics of the new policy, the board looked at those of other relevant sports organizations for guidance. It decided to follow the approach taken by USA Track and Field (USATF) and the Boston Marathon in allowing runners to compete as their self-identified gender, which would be taken "at face value" and protected from challenge unless an award was at stake. In those cases—which for Western States means top-ten male and female finishers and age-group winners—trans women could be required to show documentation certifying one year of hormone therapy (trans men may compete with no restrictions). 
The WSER board was careful, however, not to follow a cookie-cutter model. There are no other prominent examples of similar policies in the ultrarunning community, so they had to assess whether certain rules from other sports organizations would make sense in the context of WSER. The Board opted not to impose the standard set by the International Olympic Committee (IOC), followed by many other sports organizations (including the USATF and Boston Marathon), that requires trans women to reach certain specified hormone levels in addition to the year of therapy. As Fitzpatrick explained, "We felt that this was overly intrusive and unnecessary for our event, and there's a fair amount of controversy over what is the appropriate hormone level to require." 
The response in the ultrarunning community to Western States' announcement in February was largely positive, and both cisgender and transgender athletes expressed support for the organization's inclusive approach. Perhaps inevitably though, there was some online backlash, mainly in the comments on the race's Facebook page. Some questioned the need for such a policy at all. "Born a guy, you are a guy. Born a girl you are a girl! Nothing else need be said!" one man, Ed Walsh, wrote. Another, Trey McCain, added: "I get what you're trying to do but fair competition is competing with your natural body… True sport and sportsmanship is using the body you were born with." The negative response was mainly directed at the participation of trans women in the race and in competitive sports in general. A number of people—male and female—expressed concern that trans women would have an unfair advantage against cisgender women. Some online commenters even suggested that the WSER board had failed to spend adequate time and research crafting the policy and urged it to reconsider.
The response in the ultrarunning community to Western States' announcement in February was largely positive, and both cisgender and transgender athletes expressed support for the organization's inclusive approach.
But in reality, the committee tasked with developing the WSER policy spent two months working on it, learning about the evolving science, medicine, and privacy issues its members needed to consider to create a fair set of rules. And as the committee discovered, there is no research that consistently and reliably shows that trans women have any advantage over cisgender women in sports. In fact, some research has shown that after a year of testosterone suppression, trans women lose strength, speed, and athletic ability. Fitzpatrick added, "We felt there was sufficient medical and scientific research to support the standard of one year of continuous hormone therapy as sufficient to take away any competitive advantage that might otherwise exist for trans female athletes." 
And before unveiling the new rules, the board asked medical physicist and ultrarunner Joanna Harper to review the policy to ensure inclusivity. Harper, a trans woman herself, previously advised the IOC on its own transgender policy. (When Harper reviewed the WSER policy, she didn't recommend any changes.)
Still, not everyone believes the WSER policy is perfect. "Any policy about trans people should start and end with accepting self-identification," says Aurora Borin, a trans-rights activist. In her view, having to provide documentation "tends to feel like a scarlet letter." But Angela Quinton, a trans woman and ultrarunner, disagrees. "I don't think that's an unreasonable burden in the face of what elite cis athletes face," she says in reference to standard protocols like drug testing. 
Of course, transgender athletes are not new to the ultrarunning scene. But race directors have been slow to address their participation. As Quinton says, "The lack of a visible policy is likely to be a huge source of anxiety for trans athletes. The mystery of whether I am welcome at a given event acts as a deterrent." As one of the most prominent and well-respected races in the sport, Western States is raising the bar in ultrarunning—to a place where it should have been all along.