Marathoner Shalane Flanagan
Marathoner Shalane Flanagan's masochistic plan to bring home the gold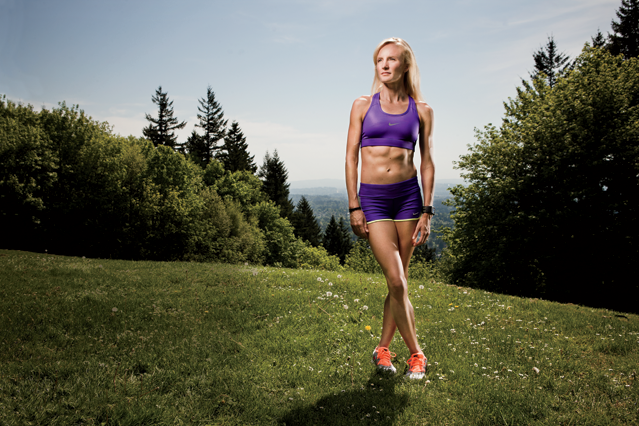 Heading out the door? Read this article on the new Outside+ app available now on iOS devices for members! Download the app.
She didn't need to push it. 
Flanagan

Flanagan (middle) in Oregon, 2010
It was a brisk January morning in downtown Houston at the 2012 U.S. Olympic marathon trials, and with four miles to go, 31-year-old Shalane Flanagan had a lock on her third Olympic appearance. She and fellow American distance stars Desiree Davila and Kara Goucher had gapped the field. But around mile 22, Flanagan overheard Davila's coaches plotting a late surge. So Flanagan planned to keep pace until, as she says, "I knew I could put the knife in and bring it home." Then, with two miles to go, the rail-thin, five-foot-six blonde heard her own coach, Jerry Schumacher, say the magic words: "Track race!" Flanagan took off, leaving Davila in the dust. "I could feel her crumble," says Flanagan. The resulting time, 2 hours, 25 minutes, and 38 seconds, was a personal best and a trials record. And it was just the second marathon she'd ever run.
This month, the U.S. will send three legitimate medal contenders to London to compete in the women's marathon, an event traditionally dominated by East African and Russian runners. And while Davila and Goucher have faster personal records and are more experienced at the 26.2-mile grind, it's Flanagan who represents America's best chance at a gold—precisely because of the competitive overdrive that led her to take down her teammates back in Houston. Davila and Goucher are elite runners, sure. But Flanagan is a competitive assassin who will redline it when stakes are highest.
"She will sacrifice her body for as long as she possibly can," says Goucher, who has been training with Flanagan in Oregon since October. "I've never seen anyone push themselves to the limit that Shalane's been able to."
Flanagan doesn't see anything extraordinary about that; it's just how she's wired. As she says, "I will go through a lot of pain to beat someone. If there's pride and ego on the line, if I'm desperate, then I'm willing to go to a place where it hurts a lot more."
Flanagan was born to run. Her mother, Cheryl Treworgy, was a marathon world-record holder in the 1970s. Her father, Steve Flanagan, had a 2:18 personal record. When she was five, her parents divorced and she moved with her dad and younger sister to Marblehead, Massachusetts, where she picked up her parents' sport. "I thought Patriots' Day was a national holiday and that everything revolved around the Boston Marathon," she says. Flanagan developed her crash-and-burn style in high school, where, as a junior and senior, she pushed herself to the point of exhaustion at a qualifier for the 5K cross-country national championships. The first year, she ran while sick, collapsed, and crawled to the finish. The next, she fell from exhaustion in the final yards and didn't finish. 
In 2000, she enrolled at the University of North Carolina, where she won back-to-back NCAA cross-country titles. Shortly after turning pro, she made her Olympic debut in Athens, reaching the semifinals in the 5,000 meters. The next year, she won the national 5,000-meter title—despite the fact that an extra bone in her left foot would fray one of her tendons every time she sprinted. Following surgery in 2006, she set the American 10,000-meter record in her first try, then showed up at the 2008 Beijing Olympics with a nasty case of food poisoning that had her throwing up for two days before the 10,000-meter race. She won bronze.
"My coach at the time was dead set against me competing, because I was doubling in the 5K," she says. "But I knew the 10K was my event. It became an emotionless race. I was depleted. I was drained. It became simple." 
After Beijing, she started training under Shumacher and decided to try the marathon. The going was rough at first: every time Flanagan set a blazing pace, he made her start over. "I used to get so mad at him," Flanagan says. But the patience paid off at the 2010 New York City Marathon, where Flanagan finished second and shocked the crowd by blowing past Kenya's Mary Keitany, the favorite at the London Games, in the final mile. 
No woman has won the Olympic marathon with as few starts as Flanagan has. But no one doubts her chances when she lines up August 5 on the Mall in front of Buckingham Palace. Not even those who want the gold just as badly.
"I always thought she was not human," says Goucher. "Maybe twice have I actually seen her look like she was hurting. She is—she's just really good at not letting you see it."
For his part, Schumacher just hopes he has prepared Flanagan's body well enough so that her killer instinct can take over on the homestretch. And if that happens, Flanagan may be able to pinpoint the thing that drives her: "I just want to find out how good I can be at running."
Women's marathon: August 5, 5 a.m. EDT