In Stride
The World's 8 Toughest Races
A shortlist of running's most notorious sufferfests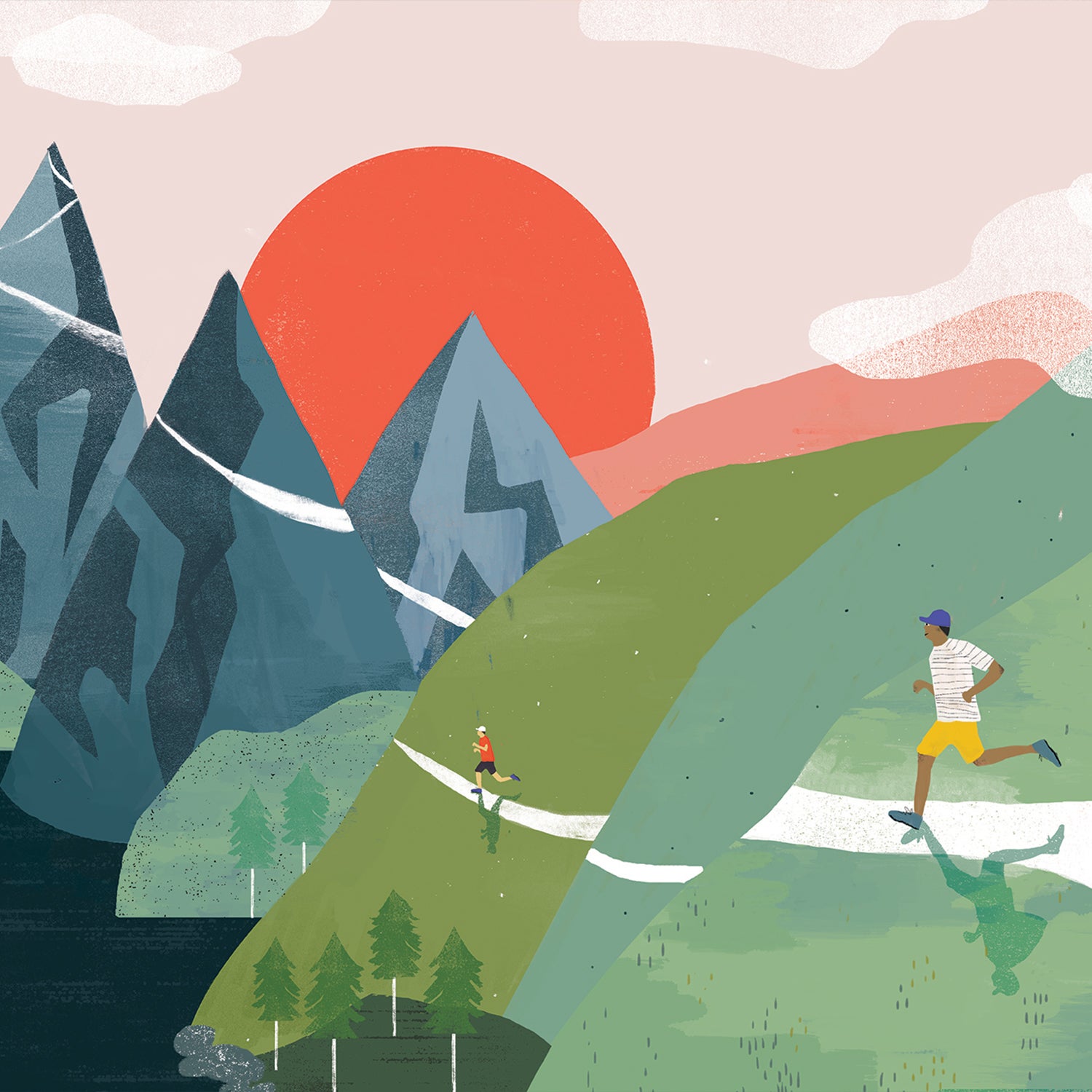 Heading out the door? Read this article on the new Outside+ app available now on iOS devices for members! Download the app.
If you do it right, racing always hurts. But a select few running events are in a league of their own. From the lows of Death Valley to the peaks of the Alps and San Juans, some races are so tough that they nearly destroy the best in the world. With so many variables to consider, is it possible to determine which one is hardest?
"I suppose it's all one's perspective," says two-time Western States winner Rob Krar. "From the heat and quad-searing descents of Western States, the blazing sun, sand, and day-after-day stages of Marathon des Sables, the altitude and vert of Hardrock, the treacherous descent of Mount Marathon, to the, well, Barkley Marathons—all of these races allow one to reach their furthest depths of suffering and discovery."
Since it's nearly impossible to quantify toughness, we surveyed the most daunting roads and trails, consulted some of the pros, and whittled down our shortlist of running's most extreme sufferfests.
---
Barkley Marathons
Category: Navigation
What's so tough? Few people would contest that the Barkley Marathons is among the hardest, most sadistic, unreasonable races in the world. In the event's 30 years of existence, fewer than 20 runners have finished. Its convoluted entry process, the imprecise race distance (which always exceeds 100 miles), an unpredictable start time, and its eccentric race director all contribute to the Barkley's infamy. But the race's biggest challenge is navigating the course itself: the unmarked route gains 60,000 feet of elevation—double that of other notoriously difficult 100-milers—and racers must find their own way through Tennessee's steep, overgrown Frozen Head State Park to books hidden in the woods. Runners must complete five loops of roughly 20 miles each in under 60 hours. (Successfully completing three loops is cruelly dubbed a "fun run.")
What the pros say: "In 2013, I didn't finish. It was atrocious weather, and I got really lost for about seven or eight hours—in most races, people get distraught if they're lost for ten or 20 minutes. At Barkley, every year there's some point where you're lost." —Jared Campbell, three-time Barkley finisher and 2014 Barkley winner
---
Western States Endurance Run
Categories: Elite competition and heat
What's so tough? As the world's oldest and most prestigious American 100-miler, Western States—which runs every June from Squaw Valley to Auburn, California—reliably attracts the sport's best. Intense competition aside, the race is most notorious for subjecting its runners to central California's brutal summer heat, which regularly surpasses 100 degrees. Many runners hit the infamous Canyons—a roughly 30-mile stretch of unforgiving climbs and descents, widely considered the most difficult part of the race—during the hottest part of the day. "It challenges even the hardiest of brave souls," says Krar.
What the pros say: "The hardest race I've ever done was Western States in 2013. It was the second-hottest year on record. My GI system failed, and it was like carrying a basketball in my stomach. When I finished, I was five pounds heavier, and I ended up losing nine toenails." —Rory Bosio, two-time UTMB winner and course record holder
"What make Western States a unique challenge is the heat. You climb up and down these canyons—huge uphills and downhills in the middle of the afternoon, and heat gets trapped in the canyons. Forty to 50 miles in this year's race, I was running out of water. I don't think I've ever been so thirsty." —Sage Canaday, Hoka One One ultrarunner
"Western States is well-known as being the granddaddy of them all—the race that started trail ultrarunning. It's very competitive for that reason and has this mystique of being the oldest race in our sport. That draws a really competitive field and makes for really fun racing." —Dylan Bowman, The North Face and Red Bull athlete
"Heat is the devil and what makes Western States so difficult. Nothing can prepare one for the furnace encountered deep in the infamous canyons of the race—Duncan, Deadwood, El Dorado, and Volcano—or the deceptively difficult and exposed 16-mile stretch along the American River known as Cal Street. I've found myself in my most desperate yet critical miles of the race each of my three Western States runs. The heat is piercing. The frigid waters of the American River constantly teasing with a quick glance to the left." —Rob Krar, two-time Western States champion
---
Hardrock 100
Category: Elevation
What's so tough? Another classic staple of American ultrarunning, Hardrock is revered for both its steepness and remote terrain. The race boasts 30,000 feet of climbing (plus 30,000 feet of descent) over 100.5 miles in southwestern Colorado's San Juan Mountains. The course tops out at just over 14,000 feet, on the summit of Handies Peak, and the entire race has an average elevation of over 11,000 feet. (And that's if you're lucky enough to get in: for this year's race, 1,968 people entered the lottery for 145 available spots.)
What the pros say: "Hardrock makes you feel very small. That's a really challenging thing to accept." —Mike Foote, 2015 Hardrock runner-up and co-founder of the Rut
"In my experience, Hardrock is significantly harder than Western States. However, I believe much of that opinion is based on my experiences where Hardrock has taken me twice as long to complete. I just haven't had an on day at Hardrock yet." —Timmy Olson, two-time Western States winner and course record holder
---
Ultra-Trail du Mont-Blanc (UTMB)
Category: Elevation and elite competition
What's so tough? This beautiful and iconic 100-mile ultra begins in Chamonix and traverses around Mont Blanc through France, Italy, and Switzerland. UTMB is famous for its incredible scenery (though it's hard to appreciate those views when you're forced to climb 30,000 feet over incredibly technical terrain) and its festive atmosphere. Perhaps the race's main allure is its prestige. UTMB annually attracts about 2,500 runners, many of whom are top-tier international pros. Chamonix, a true trail-running mecca, essentially shuts down in honor of the event, drawing hordes of spectators, and many top runners enjoy almost-celebrity treatment from the locals.
What the pros say: "The most challenging thing about UTMB is gaining over 30,000 feet of elevation. The pacing for that race is really tricky, especially if you get caught up in the atmosphere. My headlamp died one year, and my backup one died too. I used the flashlight on my iPhone for 1.5 hours and a 3,000-foot descent. It worked, but it wasn't ideal." —Bosio
---
Marathon des Sables
Category: Distance
What's so tough? The Marathon des Sables is a seven-day multistage race of roughly 150 miles through the Sahara Desert. The route changes from year to year. In addition to sheer distance, racers must endure Morocco's extreme heat—while running on sand dunes—and the burden of having to carry their own food, water, first aid, and extra clothes.
What the pros say: "Marathon des Sables is one of those races where you can make it as tough as you want it to be. The obstacles along the way are really challenging and test people's limits. Why does a race like this sell out? Because people want to see if they can survive with what they have on their backs." —Lisa Smith-Batchen, first U.S. woman to win the Marathon des Sables and two-time Badwater winner
---
The Rut
Category: Exposure
What's so tough? This Montana 50K, dreamed up by Missoula ultrarunners Mike Foote and Mike Wolfe, may have less name recognition than some of the other races on this list, but with more than 20,000 feet of elevation change over 31 miles of highly technical, exposed terrain, the Rut has earned a reputation for European-style trail-running toughness.
What the pros say: "I didn't have what I needed to go fast downhill. It's super hard to let your legs go on technical downhills—every time I went down the mountain, a new rock jammed into my ankle. I quiver a little at the thought of that race." —Stevie Kremer, ultrarunner and ski mountaineer
"The Rut showcases terrain that you just don't encounter in other events in the U.S. Not only is it essentially high-alpine, off-trail, exposed-ridge scrambling, but beyond the physical challenge, there's legitimate exposure and the risk of falling and tumbling down a mountain. That presents mental challenges for people who aren't comfortable with that." —Foote
---
Badwater 135
Category: Heat and distance
What's so tough? Running 135 miles through Death Valley in July, when the average high temperature is above 110 degrees. That's pretty much all you need to know.
What the pros say:  "I've finished Badwater ten times. To me, it never gets any easier. You never have a good race out there—even the year I won it. The miseries that are layered upon each other in Badwater—it's otherworldly. It can hit 130 degrees, and the wind just rips through the place like a blow-dryer in your face." —Dean Karnazes, ten-time Badwater finisher
"I'm never ever doing Badwater ever. Maybe if I was paid a million dollars, but I would seriously have to think about my long-term health. To me, that's a test in sadomasochism. I just don't understand it." —Bosio
---
Mount Marathon Race
Category: Technicality and exposure
What's so tough? The Mount Marathon race is small and mighty. By far the shortest race on this list, the course, in Seward, Alaska, is just 3.1 to 3.5 miles long, depending on the year. But it also gains more than 3,000 feet of elevation and forces racers to scale an exposed cliff before descending the mountain. Mount Marathon rightly has a reputation for being dangerous. It always takes place on the Fourth of July, so the holiday spectacle draws huge crowds of locals. As ultrarunner Rickey Gates says, for the spectators, "It's not all that different from Nascar—in the back of your head, you're hoping to see a crash."
What the pros say: "There are parts of the course where you're literally climbing up a cliff…You get to the top, and you go right off into a 3,000-foot descent that's done in about a mile and a half. There's a great fascination with ultras being harder than other races, but the mile is every bit as difficult as 100 miles if you apply yourself to it. I'd much rather run a 45-minute race and have it be as exciting as a couple of my Mount Marathon races have been than go out and suffer for 50 or 100 miles." —Rickey Gates, Salomon and Stance athlete and former U.S. Mountain Running champion
Lead Photo: Petra Zeiler