In Stride
You Should Probably Try This Japanese Blood-Flow Routine
Footballers of both kinds have caught on. Here's what you need to know.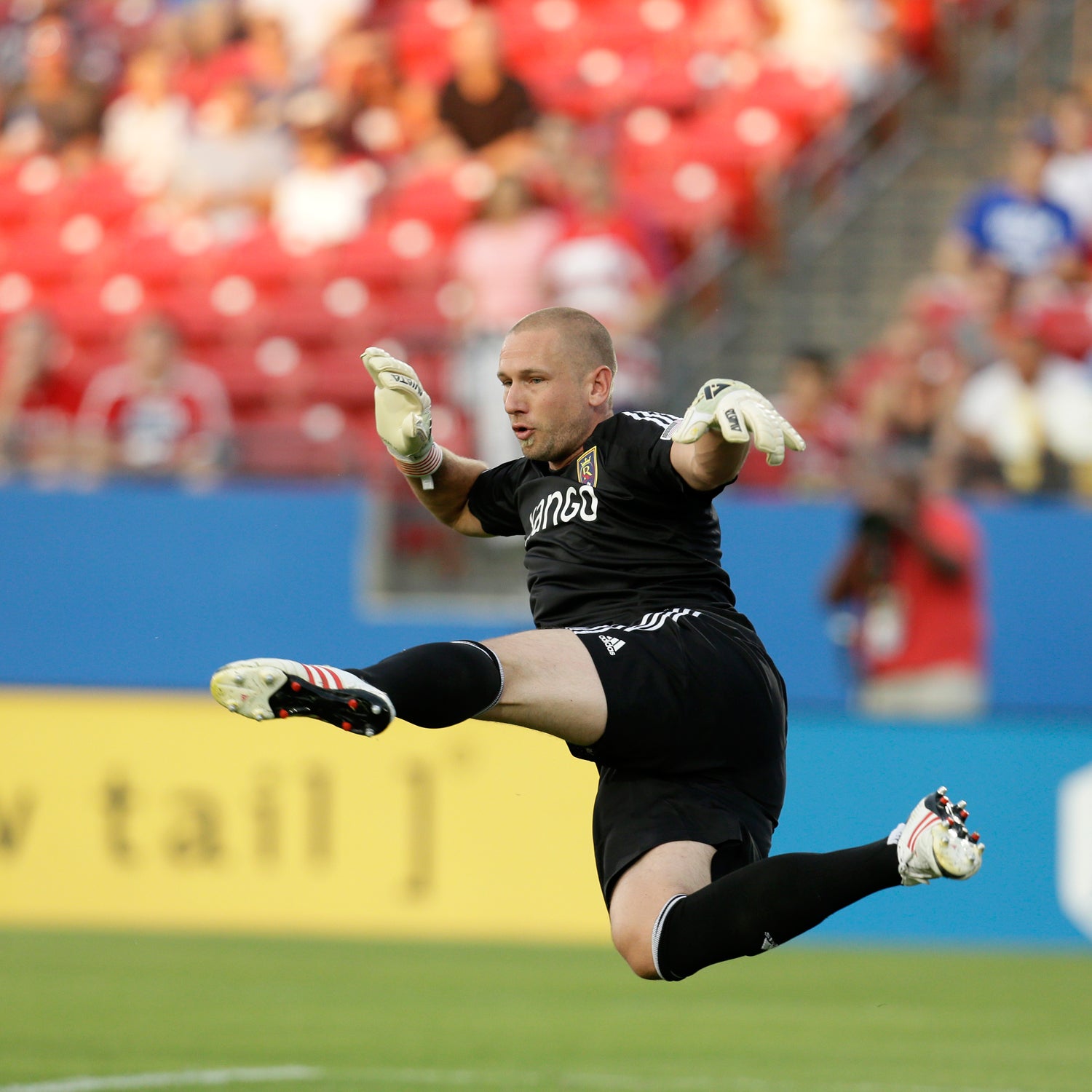 Heading out the door? Read this article on the new Outside+ app available now on iOS devices for members! Download the app.
Two to three times a week, New York City FC goalkeeper Josh Saunders takes out two pairs of small padded bands and wraps them tightly around each limb, taking care to keep the attached wires extending down toward his fingers or toes. He then inflates the bands, which are connected by tubes to a touchscreen device, creating pressure on his extremities for a total of 20 minutes—ten for his arms, ten for his legs. Saunders sometimes does this while making his morning coffee. If this sounds like the setup to an S&M flick, it isn't. This is Kaatsu, a Japanese-created exercise routine that's spreading like, well, like kudzu throughout the world of fitness coaches, athletes, and physical therapists, and one Saunders credits with resurrecting his professional career. 
In late July 2013, two weeks after his fourth surgery to repair a torn left ACL, which he injured in a game against Dallas FC while playing for Real Salt Lake, Saunders discovered that the 30 pounds of weight he'd suddenly dropped and agonizing pain he was suffering weren't just symptoms of his injury. Saunders was suffering from a potentially fatal bone infection that had the potential to cost him not just his athletic career but also his leg—and maybe his life. Luckily, doctors managed to clean out the invading bacteria before it could spread, but the process involved two more procedures: a bone graft and reconstruction. The reconstruction was performed by Dr. Vern Cooley, the surgeon who repaired Tiger Woods' ACL. And it was Cooley who introduced the 34-year-old keeper to Dr. Jim Stray-Gundersen, a Park City, Utah–based sports science adviser for the U.S. Ski and Snowboard Association and chief medical officer of Kaatsu's global organization, to help him through his rehab. 
A portmanteau of the Japanese words ka (meaning "additional") and atsu ("pressure"), Kaatsu came about in 1966 when 18-year-old Yoshiaki Sato, now a doctor, noticed the intense ache in his calves after having assumed the traditional Japanese sitting position during a typically long Buddhist ceremony. It was an ache much like the one he experienced after lifting weights—an ache he realized had to do the occultation of blood circulation. Eureka! Using himself as a test subject, Sato spent the next several years perfecting a system of blood-flow moderation using bicycle tubes, ropes, and straps. He later replaced the tubes with thin computer-controlled pneumatic bands. The idea was to apply pressure around the arms and legs while lifting a light load, safely impeding the flow of blood to exercising muscles. Slowing this flow engorges the limbs with blood, expanding capillaries, engaging muscle fibers, and raising lactic acid concentration. But—and here's part of what makes Kaatsu unique—it fools the brain into thinking it's being put through a vigorous workout. 
"Normally, you'd have to lift 300 pounds or run a marathon to get the kind of workout you get with not even an hour of this," Jim Stray-Gundersen says.
"Other forms of exercise may cause some degree of blood-flow restriction while being performed, but it is not consistent, and once you stop the exercise to rest between sets, blood flow is quickly reestablished and the muscle somewhat recovers," explains Alan Mikesky, professor of kinesiology at Indiana University-Purdue University Indianapolis. "With Kaatsu training, blood-flow restriction is maintained throughout the duration of the exercise, even during the rests between sets. As a result, the muscle can't recover as quickly." This creates, adds Mikesky, a "unique muscle-cell environment that provides the stimuli that cause muscle adaptations in size and strength." Stimuli that Kaatsu kicks into gear in about half the time using about a third the amount of weight.
"It puts out a very robust response," says Stray-Gundersen, who was first introduced to Kaatsu in 2013. Though skeptical at first, the doctor finally tried Kaatsu on himself and started seeing improvements in athletes as well as non-athletes. "Normally, you'd have to lift 300 pounds or run a marathon to get the kind of workout you get with not even an hour of this," he explains. "And because you're not exercising as much, you're doing much less damage to your muscles." 
It's these performance benefits that have caused the method to catch on among athletes ranging from European soccer clubs and ski teams to American football teams like the Dallas Cowboys and New England Patriots. World downhill ski champion Bode Miller credits Kaatsu and Stray-Gundersen for getting him from herniated disk surgery last November to being fit enough to ski at the world championships just months later. "Jim's enthusiasm to explain everything very well and show results based on other athletes really turned me on," says Saunders. "I couldn't do any load bearing at all before working with Dr. Jim." But within two days, he says he felt a change in his ability to perform basic exercises, and he started regaining weight. Less than four months after starting Kaatsu, Saunders was back on the field. 
Doubters, of course, have pointed to 1980s weightlifters who used blood-flow restriction to not-so-healthy effects, including clotting and rhabdomyolysis. But their equipment was crude by comparison, and often bands were tightened to dangerous points of constriction. Athletes who use Kaatsu have described it as no more discomforting than a blood-pressure cuff. Still, while the bands are portable and available for home use, Stray-Gundersen and others emphasize that it's best to use the method with a trained doctor. 
As for Saunders, he's noticeably stronger and has had several of his NYC teammates over to his house to help them work on their recovery. "I also now I have the mental confidence to get through plays because I know I have the strength," he says. "Kaatsu changed my mechanics, and it did so much for me not just physically but also emotionally. I started running correctly. It provided me with the reality that I'd be able to play again."
Lead Photo: AP