In Stride
You're Not Fast Enough to Wear Nike Vaporflys
What do your $250 sneakers say about you?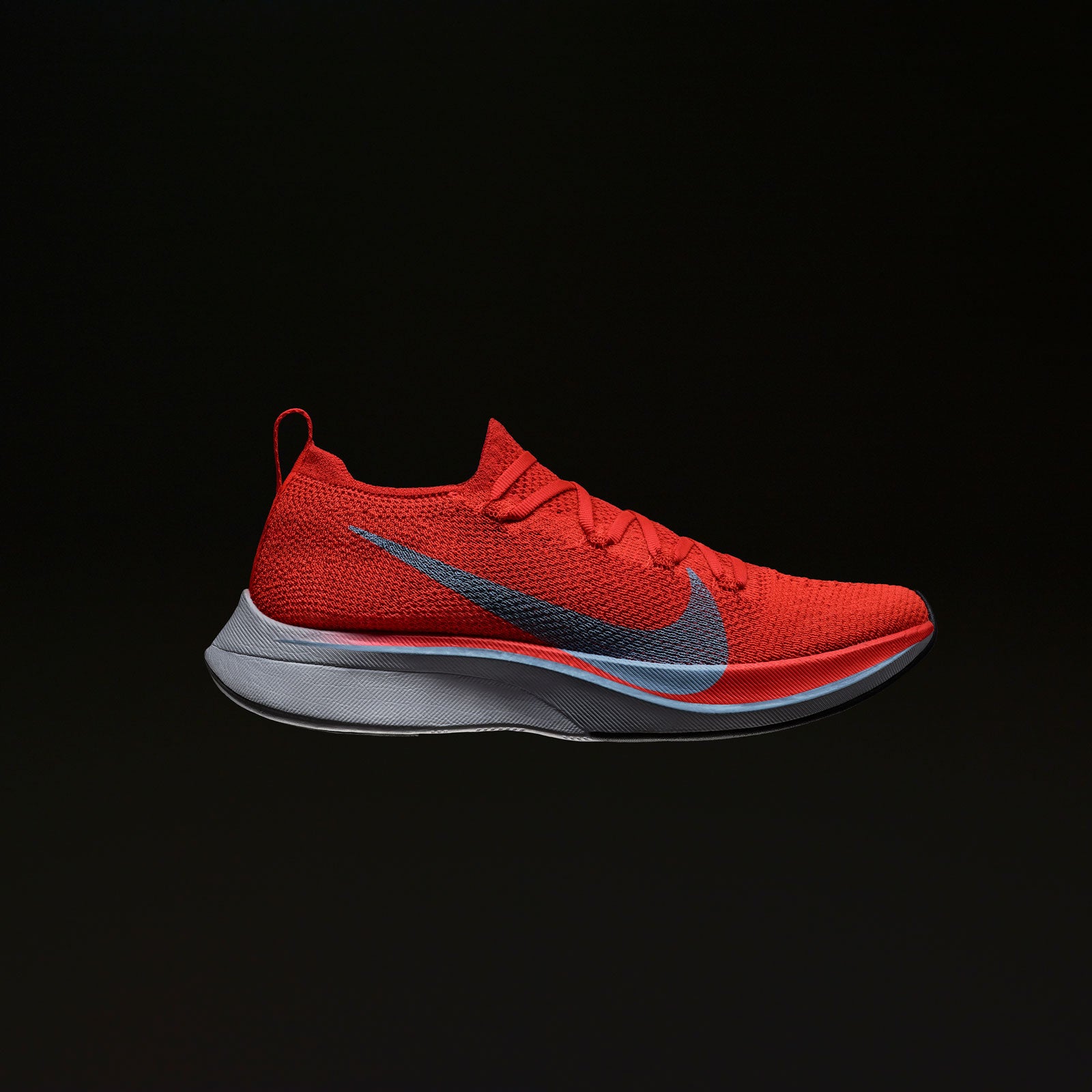 Courtesy Nike(Photo)
Heading out the door? Read this article on the new Outside+ app available now on iOS devices for members! Download the app.
I hate Twitter as much as the next person, but I've always believed myself to be impervious to its corruptive influence. I'm sad to report that I was wrong.
Last week, while scrolling through my feed, I saw a prominent voice in running media proclaim that Nike had just released the latest version of its coveted 4% racing shoe. There was a sense of urgency in the announcement; apparently, the Nike Zoom Vaporfly 4% Flyknit was going fast. It was all I needed to hear. Within minutes, I was handing over my credit card information to Nike.com and setting a new, dubious, PR by spending $250 on a single pair of running shoes. As least I wasn't the only lemming hurling himself off the ecommerce cliff, because the shoes sold out the same day. (I checked.)  
Needless to say, the timing of the Nike's latest product launch was not accidental. On Sunday, I watched the Chicago Marathon, where the company is a major sponsor. Lo and behold, the vast majority of professional runners were sporting the same racer that I had just mortgaged my home for. 
"It's interesting to see that most of the front runners are wearing the same footwear," one of NBC's commentators said. Perhaps afraid that the network was in danger of violating some law of impartiality, the other announcer quickly interjected that they wouldn't be revealing the identity of the "shoe company." It was an impressive and totally superfluous act of discretion. 
The 4% Flyknits are not discreet. Their fluorescent vermillion colorway, combined with the general media hype around the shoe, mean that runners can't wear them and be incognito, which of course might be the point. It's virtually impossible to rock a pair of 4%s, without outing yourself as the type of person who spends $250 on running shoes.
It would be one thing if the Vaporfly 4% was just another high-end item in a retail category that is increasingly merging with the luxury market. But ever since its unveiling last year, the narrative surrounding the shoe has been dominated by how its distinct design can help improve running economy by four percent (hence the name) and propel wearers to faster times. Nike even commissioned a study to prove that this was the case. Last month, the 4% received invaluable PR when Eliud Kipchoge eviscerated the marathon world record by 78 seconds while wearing the shoe. 
All of us are hobbyjoggers at the end of the day, and nothing is more tiresome than an amateur athlete with an inflated sense of self-importance.
It was shrewd marketing on Nike's part to include "4%" in the product name, lest anyone should forget that this shoe promises to improve your performance. And that's the thing: to wear a pair of Vaporfly 4%s is to tacitly acknowledge your faith in that promise. It is to announce to your fellow runners that not only are you the type of person who spends $250 on running shoes, but you do it because you actually believe they will make you faster! 
Unsurprisingly, certain elitists of the online running community have voiced their disapproval that less competitive athletes are buying up the 4%, as if the privilege should be reserved for Olympic Trials qualifiers and semi-pros. (In a bizarre analogy, One LetsRun.com message board poster compared hobbyjogging in the shoe to taking a family road trip in a Ferrari.) Personally, if I were a small-town superstar, I'd be rather cautious about espousing any snobbery. Compared to the front end of races like Chicago, all of us are hobbyjoggers at the end of the day, and nothing is more tiresome than an amateur athlete with an inflated sense of self-importance.
To be fair, it's inevitable that conspicuously expensive—and allegedly performance-enhancing—gear will invite scrutiny. You can't be the guy with the $10,000 bike or customized powder skis and expect that nobody is going to judge you for it. Previously, the world of distance running was largely insulated from this phenomenon, but if we're entering a new era of legalized technical doping, maybe that's about to change. 
But as for this notion that midpackers should save their money, it's worth making the obvious point that running isn't a sport where fancy equipment requires a higher degree of proficiency. If the Vaporfly 4%s really do "work," one could argue that us slow folks "need" the shoe more than the elites. I know I could certainly use the help. Eliud Kipchoge and Mo Farah, meanwhile, are already fast enough.
Lead Photo: Courtesy Nike
Trending on Outside Online