5 Tips for Staying Warm in Any Winter Race
From fat biking and snowshoe racing to winter trail running, there has never been more opportunity—or more variety—for competing on snow. Here's how to thrive when the mercury drops.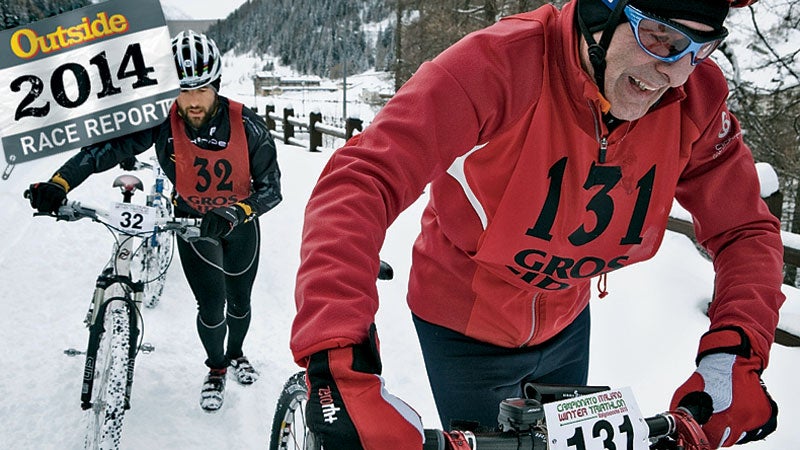 Heading out the door? Read this article on the new Outside+ app available now on iOS devices for members! Download the app.
Replicate the Conditions
Train in low temperatures as often as you can. According to a 2012 study in the European Journal of Applied Physiology, cold-acclimatized men don't require as much oxygen as nonacclimatized men. To stay warm, your body has a natural tendency to shiver, constrict blood vessels, and increase metabolism, all of which can detract from performance. If you don't live where it's cold, travel somewhere that is for a weekend or two of training in conditions similar to what you'll find on the racecourse. And if you live in, say, Florida, wake up early and train when it's still cool. 

Outside endorsed snow races
Get the Gear
The right equipment is crucial to making cold-weather workouts fun and safe. Stabilize yourself on icy running trails with Kahtoola's MicroSpikes ($65), or go DIY and screw Ice Spikes into your shoes ($25). For snowshoeing, Atlas's Run snowshoes ($210) are a good choice for most conditions. For fat biking, Specialized's beefy Ground Control tires ($50) will help you float over powdery snow. 
Manage Your Body Heat
On your feet and hands: Appendages freeze first, so make sure they're properly covered. Wool socks manage moisture best. Waterproof shoes like Brooks's Adrenaline ASR 10 ($125), paired with low-profile trail gaiters from Salomon ($30), minimize wetness. On your paws, Saucony's convertible Ulti-Mitts ($45) are both gloves and mittens—just pull the covers over your fingers when you need-extra wind protection. On a cross or fat bike, the rubberized shell of 45Nrth's-Fasterkatt boots ($225) provides wind and water resistance.
On your body: Layering is key in cold temperatures. Wear a wicking base layer, like SmartWool's NTS Mid 250 Crew ($95), to stay dry, with a midlayer like Voormi's nylon High-E Hoodie ($229) over the top. On extremely cold or snowy days, a water-and windproof shell like Helly Hansen's Odin Foil ($140) should be your outer layer.
On your head: Use ear warmers or a lightweight wool or fleece hat to stay warm without overheating. Vaseline prevents cheeks and noses from chapping in cold wind, and don't forget sunblock and lip balm—winter rays reflecting off snow can be especially strong. Keep cold air out of your lungs by pulling a balaclava over your neck and mouth. The Gorilla, by Outdoor-Research ($56), has a fleece interior and a removable nose cover for tailored protection.
Stay Hydrated
You'll sweat even on the coldest days, and dry winter air sucks moisture from your body. CamelBak's StoAway ($55) holds 100 ounces of water in an insulated reservoir and tube—just be sure to start off with warm water. For more serious endurance races, start hydrating at least two days before the event. If you're even slightly dehydrated going into it, your performance can be affected by as much as 6 percent.
Warm Up Indoors
Getting limber in the cold can be challenging, so do it inside. Spend at least ten minutes performing dynamic movements like lunges, squats, and jumping jacks, which engage the muscles you'll use on the racecourse. Then move outside and do some easy jogging and a set of striders to prime your body for higher intensity. Make sure you time everything right: if possible, avoid lingering outside for more than ten minutes between your warm-up and the start of a race.