Can Alpine Skiing Help With My Running?
Or will I be totally out of shape this spring?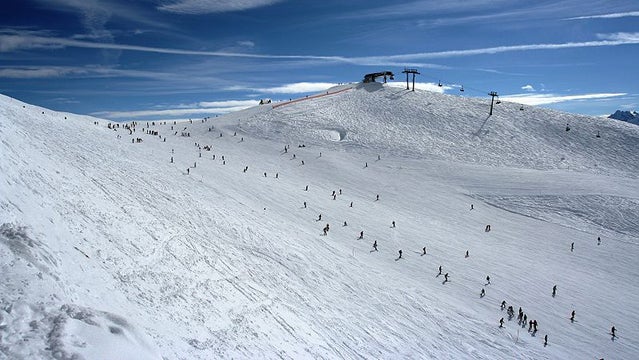 Heading out the door? Read this article on the new Outside+ app available now on iOS devices for members! Download the app.
Don't worry, hitting the slopes this winter won't have a negative impact on your spring marathon training. In fact, frequent alpine skiing can actually help your running. Trail running, in particular, benefits from downhill skiing because both sports require lots of strength and balance.
"Runners as a group tend to be much too one-dimensional," explains John Lumley, a skier, runner, and owner of the Running Hub in Santa Fe, New Mexico. "Any time a runner can work on strength, flexibility, balance, and/or use different muscle groups, it's a good thing." In addition to building coordination, core stability, and leg strength, alpine skiing also works the leg muscles in many different planes, which is beneficial for runners. Your glutes, quads, hamstrings, and calves, as well as your abductor and adductor muscles, are all utilized in downhill skiing.
The key, however, is to ski often. "For any type of cross training to be effective, it must be done with some level of frequency," Lumley advises. "This can be a problem with alpine skiing since many people think 10 or 15 days a year is a lot of days on the slopes. If you plan to use alpine skiing as an integral part of your winter training program, buy a season pass and get out on the slopes two to three times each week." At the very least, he says, ski once a week and do one or two sessions in the gym designed to help your skiing. Yoga, for example, will help your strength, balance, and concentration, while pilates will develop your core muscles.
Also keep in mind that alpine skiing does not have a substantial aerobic component (unlike cross-country or backcountry skiing), so in addition to skiing, resort-bound runners will need to do some kind of cardio two or three times per week during the winter to maintain aerobic fitness.
Follow Lumley's advice, and rest assured you'll be ready to hit the road as soon as the snow melts. "After a winter on the slopes," he says, "you'll be mentally and physically refreshed and ready for a summer and fall of great running."