The Fourth and Final Desert
Len Stanmore, 60, is currently in Antarctica, competing in one of the world's most grueling footraces. If he completes it, he'll not only be a one-time overweight retiree who got sick of the golf course, but also the first person to climb the Seven Summits, ski to both poles, and complete the 4 Deserts Grand Slam.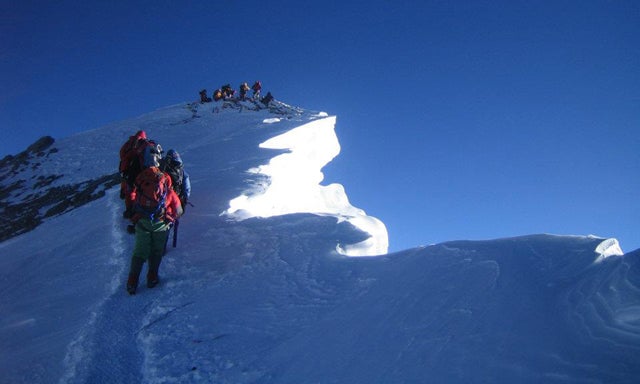 Heading out the door? Read this article on the new Outside+ app available now on iOS devices for members! Download the app.
On November 22, the Canadian adventurer Len Stanmore began an endurance footrace called The Last Desert—a wild, seven-day, six-stage haul across part of Antarctica. It's the kind of thing that can devastate even a fit 24-year-old, which is what makes Stanmore's bid all the more impressive: He's a 60-year-old retiree.
The story of Stanmore's transformation into a global explorer is an unlikely one. Before he started climbing mountains, he didn't even particularly like the outdoors, although he was no stranger to physical exertion. One of his first jobs in his native Toronto was pumping gas for $2 an hour. When Stanmore was in his mid-twenties, he figured he'd never get anywhere if he didn't go into business for himself, so he borrowed $5,000 from his parents and started his own telecom firm. In the beginning, the firm was just Stanmore and another guy in a truck, digging holes to lay cable. Little by little, though, Stanmore built the business, and, 25 years later, it was the largest telecom contracting company in North America.
In 1998, Stanmore sold his company to a Silicon Valley firm, and the following year, he retired. That's when he experienced a crisis of faith that launched him on a remarkable run of outdoor achievements. He has climbed the highest peak on each of the seven continents—the Seven Summits—including Mt. Everest. He has cross-country skiied to the North and South Poles. And he has raced through the Gobi, Atcama, and Sahara deserts as part of 4 Deserts, a series of footraces in extreme environments. If Stanmore finishes The Last Desert in Antarctica, he'll become the first person ever to stand on top of all Seven Summits, ski to both poles, and complete the 4 Deserts Grand Slam. His bid is part of an effort to raise money for Trekking for Kids, a charity that aids orphan children who live at the bases of popular climbing destinations. He hopes to raise $100,000. You can follow Stanmore's journey in Antarctica at the Trekking for Kids website.
Here, in a conversation that took place before he shipped off for Antarctica, Stanmore discusses his training regimen, the surprising agony of running across salt flats, and how to fight off polar bears.
What exactly is required of you in The Last Desert?
It's a 250-kilometer run, and it's over seven days. They have one long day, which is anywhere between 80 and 100 kilometers, and the rest of them are 40-kilometer days. It looks like our first day is going to be a 100-kilometer race, so that's going to be a good challenge. Usually they don't have that on the first day, because you're getting used to your gear, and I think for a lot of people, especially people coming from warmer climates, that's going to be very tricky.
You're 60 years old. I assume most of your competitors will be younger.
They're all younger.
So, at your age, how do you prepare for something like this?
Well, I'm pretty strict about training. Normally I'll train between four and six hours a day, six days a week. I'll run between 90 and 120 kilometers a week. Then I'll fill in with another six to eight hours of cardio on top of that, whether it's elliptical or stepmaster or spin bike. Then I'll train another eight hours on top of that during the week with a trainer.
For these races, you have to carry all your gear with you. The pack weighs anywhere from 27 to 30 pounds. That doesn't sound like much, but after about 10 kilometers, you really start to feel it. It's like carrying a two-year-old on your back for the whole race.
How'd you get started with endurance athletics in the first place, back in the late '90s? You weren't an athlete at all. You were a recently retired guy who played a lot of golf.
I started feeling depressed. I didn't have any purpose in my life, any challenges. And I could look ahead, seeing myself 20 years down the road, standing at the same golf hole, putting at the same green.
So I'm at this business lunch one day in California, with these two guys, and on the weekends they had been mountain climbing. That really intrigued me. This is the excitement I need in my life. I thought, "I'm going to go to Africa and climb Kilimanjaro." I picked Kilimanjaro because it was the only mountain I knew by name.
It was the most exhausting thing I'd ever done in my life. At the time, I was 50 pounds heavier, I smoked cigars, and I'm not outdoorsy. I was really out of my element. All my friends and family thought I was completely crazy.
But anyway, when I was on that trip, you get talking to people, and they started talking about these Seven Summits. And it's like: That sounds interesting. That could eat up five years of my life. I never thought I'd get to Everest. I just thought, I'll take them one at a time, and I'll take the easiest ones first and I'll see how far I get. And that's what I did.
And then you started skiing?
When I was doing the climbing, people always talked about the Grand Slam: Do the Seven Summits and ski to the North and South Poles. I needed something after I did the Seven Summits, so we did the North Pole in 2007. I'd never cross-country skiied before. You know, I did a few sessions here in Ontario, and then I just landed on the polar cap, and away we went, and I learned along the way. It was quite something, I must say. I always feel sorry for the guides: "Oh my God, where did this guy come from." That's tricky skiing. So much open water! You'll be going across thin, thin, thin ice, maybe a half an inch thick, and you're pulling a sled and thinking, Are you going to go through? Rigging your tents up to keep polar bears out.
Wait, how do you rig a tent to keep a polar bear out?
Oh, this is interesting stuff! This is really cool. You put aluminum pipes around your tent, and then you put fishing wire connecting each one. And then you put flares in them, so if a polar bear comes in, he trips the fishing wire and trips the flare, which gives the guide time to get out his big-ass rifle and shoot it. Polar bears are the worst. They will hunt you, right?
To even get invited to compete in the Last Desert in Antarctica, you have to have already successfully finished two other races in the 4 Deserts series. When was your first 4 Deserts race?
In 2009, I started running. The first run I did, I left the house here, did what I thought was a pretty good run, came back, marked it off with the truck: 1.5 miles. Not exactly stellar. So I went back to my trainer. I said, "I signed up for this race in the Gobi Desert." He said, "Oh, good, how far is it?" I said, "It's about 250 kilometers." He said, "Oh gosh, you've got a lot of work to do."
I attemped it in 2009 for the first time, and I failed. I got 180 clicks in, and I had to quit.
Why's that?
Well, because I didn't listen to anybody, and I was an idiot. The terrain is really rough. Up and down mountains, over boulders. I didn't realize that blisters could bring you to a complete stop. I'm not talking about little blisters. I was on crutches after that. I had nerve damage. But what did I wear? Trail shoes or running shoes? Running shoes. I kept trying to suck it up. Completely ridiculous.
After the experience in the Gobi, I thought I'd never go back. But it always kind of bugged me that I didn't finish it. It drives you crazy. So in 2011, I figured I'd try one of the other races. So I went to the Atcama. It's one of the 4 Deserts races. It's in Chile, and it's another 250-kilometer race. You're not runnining over roads. You're running over mountains, sand dunes, over the salt flats, which was incredibly hard. It's like running on jagged coral, about 20 kilometers of that. I always thought the salt flats were flat! They're not. You bounce from one jagged rim to another.
But anyway, I knocked that one off and felt pretty good about myself, so in July, I went to the Gobi Desert, where I had failed before, and that was a good race for me. I completed it on July 22. It was incredibly hot. On our long day, about 87 kilometers, it got up to 54 degrees Celsius. That would be 120 or 130 degrees Fahrenheit. And it stayed there the whole day. It was just mind-boggling. You just felt like your brain was frying.
What's the mission of Trekking for Kids, and how did you get involved with them?
Oh, this is a good story. So, I'm in Ecuador, and I'm climbing Cotopaxi and some of the mountains there, and my guide from Everest, Luis Benitez—he's an American, and just a phenomenal climber; he's summited Everest six times so far—I'm climbing with him, and he says, "Len, I'm a volunteer with a charity, Trekking for Kids, and I gotta stop by the orphanage. Do you want to come?" I said, "I guess."
I'm kind of skeptical about charities. You never know if your money's going to pay somebody's salary or if it's going to the cause, right?
So, anyway, I go there, and I meet the nuns, and I meet the orphan girls, and I'm so impressed with the dedication of the volunteers, so I decide to donate. I bought them a new stove and a new fridge. The stove was broken down. They make baked goods and they sell them to make money for the orphanage. And then I put some money into building some beds for them, and then I paid for them to have a vegetable garden put in, so they can eat the vegetables and sell them. I was staying down there for a while, so I was actually there while they had local workers coming in and building the beds and stuff. You can see the difference you're making. You know exactly where your money's going.
Normally when you travel, you stay in a really nice hotel in the middle of the city or on the ocean, and you really never see how 95 percent of the world lives. But doing these adventures, I really see how people live and how they struggle, just to survive. It's like, holy Christ, this is really rough. Especially with children. They don't have anyone to help them. If we can't help them with organizations like Trekking for Kids, I don't know what kind of hope they really have.
What advice would you have for anyone who's like you were several years ago—overweight, not particularly athletic, etc.—and wants to try one of these long treks?
For me, I'm always battling with my age. You can't compete with youth. I think you have to train harder than you think you need to. But at the end of the day … it's more of a mind game than a physical game. I've been in some spots, say, climbing, or in a race, and after eight hours I'm completely exhausted, I'm just thinking, "This is it, I've got to pack it in," and 12 hours later, I'm still going.
Trust me: I don't think I've gone on one race or one climb where I haven't thought, "Why the hell am I here? This is ridiculous." In the Atcama race, I got lost, and I was really suffering, and I remember thinking, "If I just fell down and broke my leg, I could get out of here with some dignity. I just have to break my leg and there's no shame in that." You really just have to stop and analyze yourself. "Wait, I'm a little hot." Push through it, push through it.