Mud Run Wars
The obstacle course craze is taking over America. This year some 1.5 million people will enter an event. But behind all the dirty fun is a nasty business and legal battle between entrepreneurs looking to cash in. Here, in a preview of Outside's November cover story, is a glimpse at just how far they'll go to sell you their brand of pain.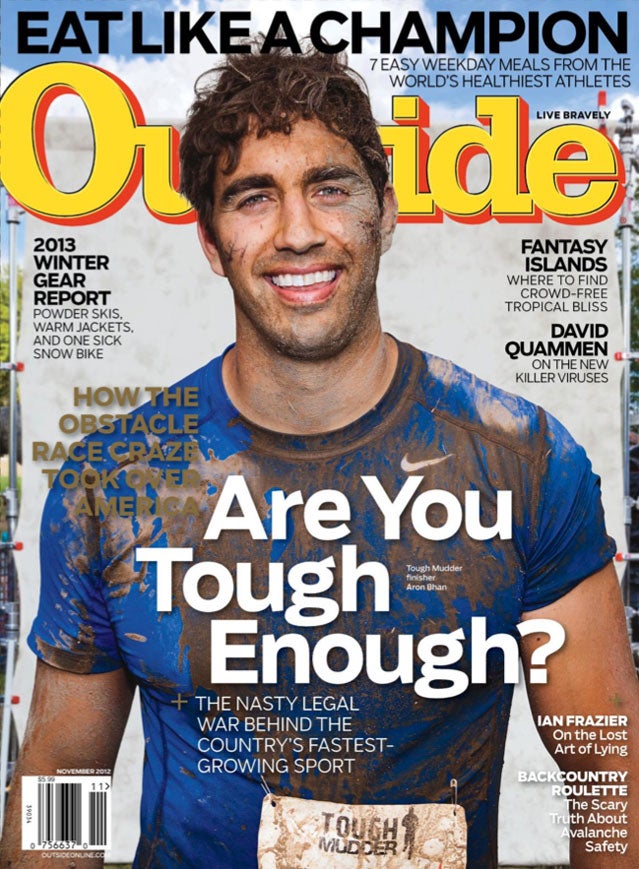 Heading out the door? Read this article on the new Outside+ app available now on iOS devices for members! Download the app.
In the November issue of Outside magazine, Scott Keneally reports on the bitter business warfare between America's top obstacle racing brands: Tough Mudder, Warrior Dash, and the Spartan Race series. These startups have raked in enormous profits as the sport has exploded in popularity, from 41,000 participants in 2010 to 1.5 million participants this year. Warrior Dash, with 49 events, will bring in $50 million in revenue in 2012. The Spartan Series, with 28 events, will bring in $30 million. And Tough Mudder, with 35 events, will earn $70 million, making it the lead dog.
Will Dean, the 31-year-old Englishman who hatched his plan for Tough Mudder while getting his MBA at Harvard Business School, has been feted as a marketing genius. His company has a knack for developing dramatic obstacles—consider Electroshock Therapy, which sends runners through a curtain of dangling wires juiced with 10,000 volts—and Dean has shown a gift for harnessing the power of social media. But some of his adversaries have a different take on why he's been so successful. To them, Will Dean is another Mark Zuckerberg, an unscrupulous Harvard brat who took someone else's idea and is willing to do whatever it takes to win.
As Keneally reports, in 2007, while at Harvard, Dean began researching obstacle races that were popular in Europe, in particular Tough Guy, a 15-kilometer midwinter mud run founded by an eccentric former British Soldier and event promoter named Billy Wilson. Dean proposed doing a report for his Harvard studies focusing on "the feasibility and logistics of expanding Tough Guy internationally." Wilson agreed to cooperate, sharing everything from company financials to the costs of setting up a course.
Fast forward to February 2010, when Dean launched the website for Tough Mudder and decorated it with photos and videos taken almost exclusively at Tough Guy. Wilson was furious when he found out about it, Keneally reports, and several months later he filed a multimillion-dollar civil suit against Tough Mudder in U.S. courts. The case was eventually settled, and an agreement between the parties forbids them from discussing it, but documents obtained by Outside detail an ugly fight that began with an internal Harvard investigation.
According to university records subpoenaed by the court, administrators contacted Dean in May 2010, shortly after the first Tough Mudder, to inform him that they were convening a Conduct Review Board to investigate complaints made by Wilson. Two months later, the review board concluded that "there was insufficient evidence that [Dean] inappropriately used confidential information … provided by Tough Guy Limited in developing his own enterprise." But the board also said that Dean had violated Harvard standards of "'honesty' and 'integrity' and 'accountability' in several important respects." The board placed Dean on probation for five years. Meanwhile, the legal case dragged on until the summer of 2011, when the parties reached a confidential settlement. According to court documents, Tough Mudder paid $725,000 to Tough Guy.
And that was just the start. In a year of reporting, Keneally unearthed a cutthroat battle behind the scenes of America's fastest growing sport—complete with death threats, cyber-warfare, and some nasty name-calling. It's a must-read for anyone interested in the obstacle-racing phenomenon.
Read the full story in the November 2012 issue.
Trending on Outside Online