No More Knife: The Stem-Cell Shortcut To Injury Recovery
Used to be, you blew a knee and your options back to action were few—and long. But a fast-growing field of stem-cell therapy is ushering in a new, and much speedier, era of orthopedic recovery.
Heading out the door? Read this article on the new Outside+ app available now on iOS devices for members! Download the app.
Stephan Drake was halfway down a backcountry ski run in Alaska last March, filming with Sweetgrass Productions and Patagonia, when he aired over a steep spine onto an unexpected wind crust. The snow grabbed his right ski and Drake felt the unmistakable snap! of his knee ripping apart as he rolled down the slope like a starfish. Having torn his anterior cruciate and medial collateral ligaments in 2009, the 37-year-old pro skier and DPS Skis founder knew exactly what the snapping sensation meant. Season over. And: time to make a decision. Surgery or no surgery?

Dr. Chris Centeno injecting stem cells back into patient's knee.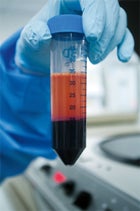 Regenexx-SD procedure isolates and separates mesenchymal stem cells from bone marrow sample.
Twenty years ago, the idea of repairing a ruptured ACL without surgery would not have been rational. Within the past decade, however, a growing number of patients have opted for stem-cell injections to heal the native ligament over surgical reconstruction that uses various non-native tissues to replace it.
When Drake returned from Alaska, he learned he had not only suffered a Grade 3 tear of the ACL, which provides 80 percent of the knee's stability, but also had torn his medial and lateral meniscus and chipped a piece of bone off his femoral head.
After months of research, Drake decided to try stem-cell injections in a unique treatment called Regenexx at the Centeno-Schultz Clinic near Boulder, Colorado. Early one morning in August, he went in for the first of two visits that day. Dr. John Schultz drove a needle into Drake's hip and extracted a syringeful of stem-cell-rich bone marrow. Drake then left the clinic and drove to a coffee shop to eat breakfast. He returned about noon, after Schultz had finished concentrating the stem cells. Schultz then used a tiny camera and a needle to inject the cells precisely where he wanted in Drake's knee—where the ligaments had torn. Drake walked out of the clinic at 1 p.m.
Stem cells have been used in Europe to treat bone disease since the early 1990s, but same-day procedures like the one performed on Drake were first approved in the U.S. in 1999.
"I think about 70 to 80 percent of what's currently done surgically, in the future will move toward needle-based therapies," says Dr. Chris Centeno, Schultz's business partner, who began using stem cells in orthopedic medicine in 2005 and treated his first ACL tear with them four years ago. "Simply because athletes and others will want to return quicker, they'll want less invasive procedures, and there will be a focus on trying to regrow or heal tissue rather than to cut it out or replace it."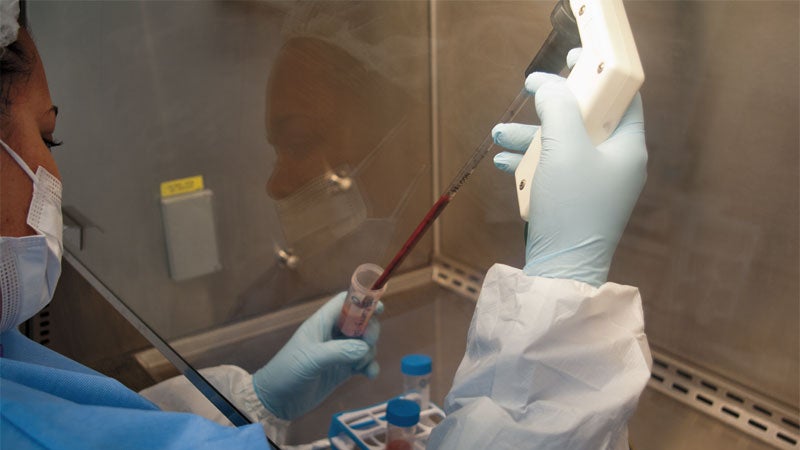 Chances are you have heard about stem cells. In layman's terms, they comprise the body's fix-it system, like maintenance men at an apartment complex. They exist in our fat, our marrow, our muscles, our skin. When we ski moguls, for example, we kill thousands of cartilage, muscle, and tendon cells; if we're young enough, our local stem cells take action by coordinating the repair response or taking the form of a variety of tissues themselves—from bone to cartilage to ligament to tendon—depending on what they detect to be in need of repair. The knock on them is that they are still poorly understood overall, and it's hard to predict exactly what they will become when injected into a new area, which is done to stimulate repair. But doctors and researchers know enough about their general healing ability that the U.S. government has paid hundreds of millions of dollars to stockpile stem cells in the event of a nuclear attack.
Stem cells as an orthopedic solution still carry a controversial stigma. The U.S. Food and Drug Administration allows them to be used for same-day procedures such as Drake's, but they cannot be "cultured," or multiplied over time. "You can't amplify them, that's the stem-cell rule," says Dr. Rocco Monto, a Nantucket-based orthopedic surgeon and longtime physician for U.S. Soccer, who serves as a spokesperson for the American Academy of Orthopaedic Surgeons. The reason the FDA prohibits culturing is due to fears that the cells would be "abused in research," Monto says, by doctors creating some kind of monster cell with inhuman capabilities. However, no such restrictions exist in Europe or the Caribbean, which is why you may have heard of athletes like NFL MVP Peyton Manning or Cy Young-winning pitcher Bartolo Colon venturing overseas for cultured cells—and why many American doctors claim to be hamstrung in their pursuit of medicinal advancement, compared with their foreign peers.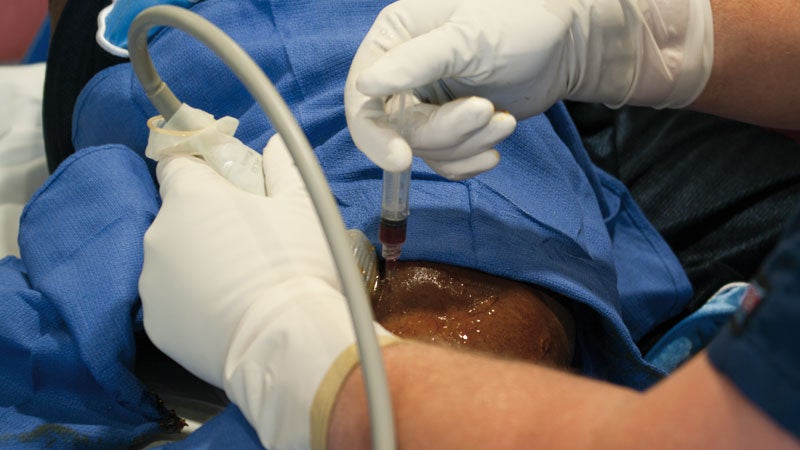 Research restrictions and vagaries about their exact mechanism notwithstanding, stem cells are employed in a wide range of orthopedic cases, from torn rotator cuffs to knee arthritis. Dr. Joseph Purita, a leading surgeon and longtime stem-cell proponent in Boca Raton, Florida, claims to have used them to heal a pitcher's ulnar collateral ligament tear, a devastating elbow injury that usually requires so-called Tommy John surgery and a one-year recovery period. "He was back pitching in six, seven weeks," Purita says. (Most pro athletes who undergo stem-cell treatments don't allow their physicians to name them publicly due to contract implications.)
Stem cells are less trusted to heal fully ruptured ligaments than, say, a partial tear where the ligament remains attached to the bone. Centeno estimates about four in five ACL tears—of which roughly 200,000 occur in the U.S. annually, 25,000 while skiing—can be repaired via stem-cell injections, including cases with up to a one-centimeter gap between the ligament and the bone. (About 100,000 people who suffer tears opt for surgery; no one tracks how many opt for stem-cell therapy.) Depending upon the severity of the injury, Centeno touts a recovery time of six to 12 weeks, a fraction of the six to nine months it takes to recover from a standard ACL surgery. This disparity is mostly due to the trauma involved with reconstructive surgery, compared with none for stem-cell therapy, which allows rehabilitation to begin immediately. The cost, too, is far less—about $4,000 for a stem-cell procedure versus $12,000 or more for surgery. However, while surgery is often covered by insurance, you'll probably have to pay for stem-cell therapy yourself.
The light recovery time from a stem-cell injection is not guaranteed, either. For every patient like Peter Lyddon, a Colorado ski patrolman who returned to intensive skiing eight weeks after his ACL procedure—"It was really dramatic," he says—there are others who require more time and even, in some cases, another round of stem-cell therapy. Drake, after receiving his first dose in August, went in for a second injection in December. His knee still hurts and is weak, but it's showing progress, he said. Still, he has not skied this winter and does not expect to.
"I've basically written off this season and am planning a summer trip to South America," he said. "That's my new goal."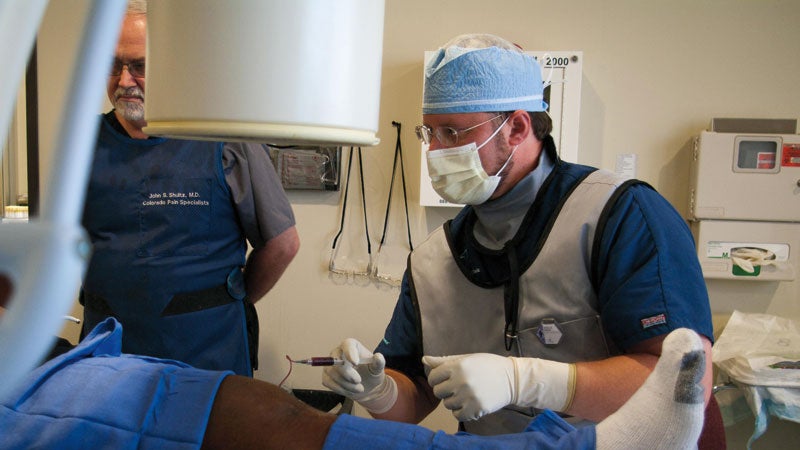 Because of cases like Drake's, skepticism persists in the medical community. Centeno and Purita cite MRIs that show their patients have fully healed, but some of their peers don't believe a photograph can prove structural integrity. "It might look normal, but it doesn't behave normally," Monto says. "You go in there, it's all stretched out, it's not good. ACLs are structures that function dynamically, under high stresses. And it takes a lot, even when you reconstruct them, to get them to work."
Dr. Angus Goetz, a leading orthopedic surgeon in Jackson Hole, uses stem cells to treat some sports injuries and considers them "the wave of the future" in orthopedic medicine. But, like other surgeons, he points at the lack of definitive research as a cautionary factor. "There is still no double-blinded study to suggest that a complete rupture treated with stem cells is equivalent or better than one treated surgically," he says.
Centeno compares the needle-based orthopedic treatment trend with the way heart surgeons have moved away from slicing open patients' chests and toward stents that are inserted through a catheter. He believes that 10 to 20 years from now, we could see a similar shift in sports medicine, especially if the FDA lifts its research restrictions. Even his wary peers don't dispute that.
"We see something broken, we want to put it together with steel," Monto says. "I think that's the real paradigm shift here: a shift to orthobiologic treatments. And it's coming. We're not there yet, but we're nudging at it."
Lost season or not, Drake believes his stem cells will ultimately leave his knee stronger than a surgeon could have.
"Even if it takes a little longer," Drake said, "this is still worth it to me."
Lead Photo: Dmitriy Shironosov/Getty Images