OCR's Energizer Bunny: Brad Kloha
After 100 races he just keeps going and going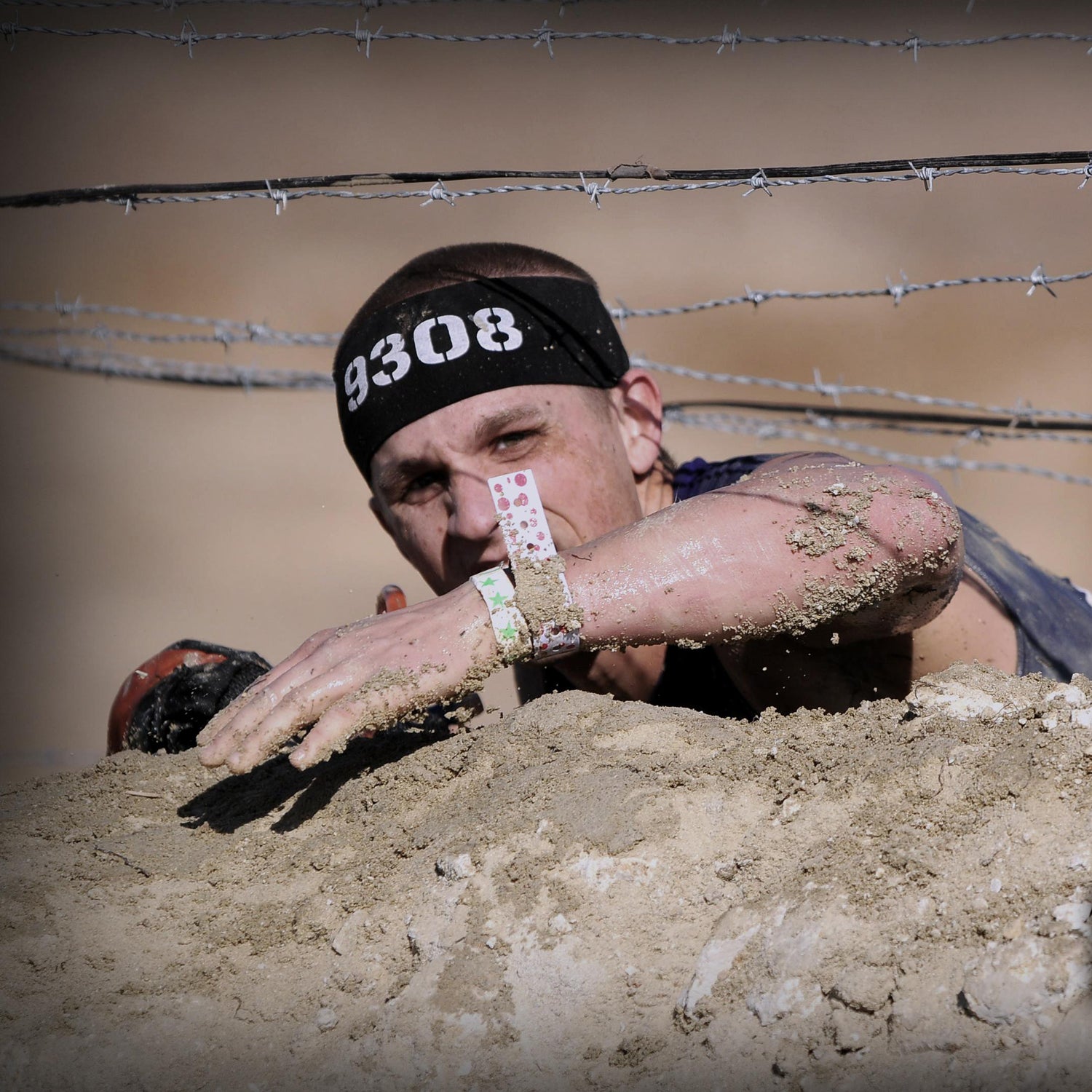 Heading out the door? Read this article on the new Outside+ app available now on iOS devices for members! Download the app.
Brad Kloha refused to quit. His body told him to. His mind did too. And more than a few loved ones face-palmed when they'd see him hobbling around after races, knees wrapped in ice.
But he kept going. Through ice, fire, electricity and barbed wire; through wear, tear, sprains and strains; Kloha kept going and going and going. And on June 14, at the Run to Remember 5K Run/Walk in his hometown of Mount Pleasant, Michigan, the 28-year-old successfully completed 100 races in 52 weeks. Some on the streets, but mostly in mud.
Kloha isn't a professional runner. He works full time at his alma mater, Central Michigan University. But after all the helplessness he and his family felt during his grandmother's 13-year battle with Alzheimer's, he was inspired to do something. Something big, spectacular, symbolic. And so began "Run to Remember," a wildly ambitious mission to raise awareness and money for the Alzheimer's Association.
"He's the best example of someone who races for all the right reasons," says Spartan World Champion Amelia Boone. "He never complains; he just keeps going."
OUTSIDE: What did your family think about your plan?
KLOHA: They were all pretty moved right from the start. My mom, my sister, and my aunt all cried. My dad smiled his approving smile. I've been extremely lucky that way; even this past year when things got tough, my entire family has been there all along. It's not been just about me, it's been a labor of love for all of us.
Did they express any concerns about how demanding your mission was?
Clearly, I had never attempted anything even close to this before, so there were a lot of unknowns about how my body was going to hold up. I wasn't exactly 100% going into it either; previous injuries and surgeries from some of those surgeries had left me weaker in some areas and with some chronic pain that I was used to dealing with, but no one knew how it would work without the chance for any rest. I didn't really have a good answer because I didn't know either, all I knew is I didn't plan to let anything stop me from reaching the finish line of 100th race.
Have they suggested you hang up your laces at some point?
The suggestion was made quite a few times, but they knew I wasn't going to listen. And even though they suggested it, they still supported me in continuing as long as they knew I wasn't doing any life-threatening damage. 
What's the most challenging part of this experience?
I think the hardest part of the experience was logistically making every race. Unfortunately there were some race cancellations
What was the toughest race?
There are probably a few that can fall into that category. The Vermont Spartan Beast took me completely off-guard. I had done Beasts before, but the mountains completely did me in. An injury between miles three and four made it that much more difficult. I also put the permanent course of Mud, Guts, and Glory in Oregonia, Ohio, in that category as well. I've run their race three times this past year, and they've done things with obstacles that I haven't seen and make just awesome use of their entire terrain.
Physically, what's been the worst part of it?
The worst part was not having time to recover from injuries. When I tore, strained, or sprained something, I didn't have the ability to take the necessary time off to allow the injury to heal. Once the first major injury occurred, it sort of became a vicious cycle as other parts of my body tried to compensate, which sometimes compounded some issues.
What's been the best part of it?
I think the best part has been being at races and having people come up to me and share their personal experiences with Alzheimer's disease. While my grandma and great-grandma battled their disease, I remember that they became much more introverted and avoided public situations, and that I didn't feel like anyone else was experiencing what my family was experiencing.
It wasn't until I started this journey this past year that I learned just how many close friends I have that also have had similar experiences with Alzheimer's in their family. The opportunity to get to share experiences and to hopefully create a louder voice about the prevalence and impact of the disease has been incredible.