How This 80-Year-Old Keeps Breaking Cycling Records
Patricia Baker established multiple track-cycling records in her age group after taking a 20-year break from racing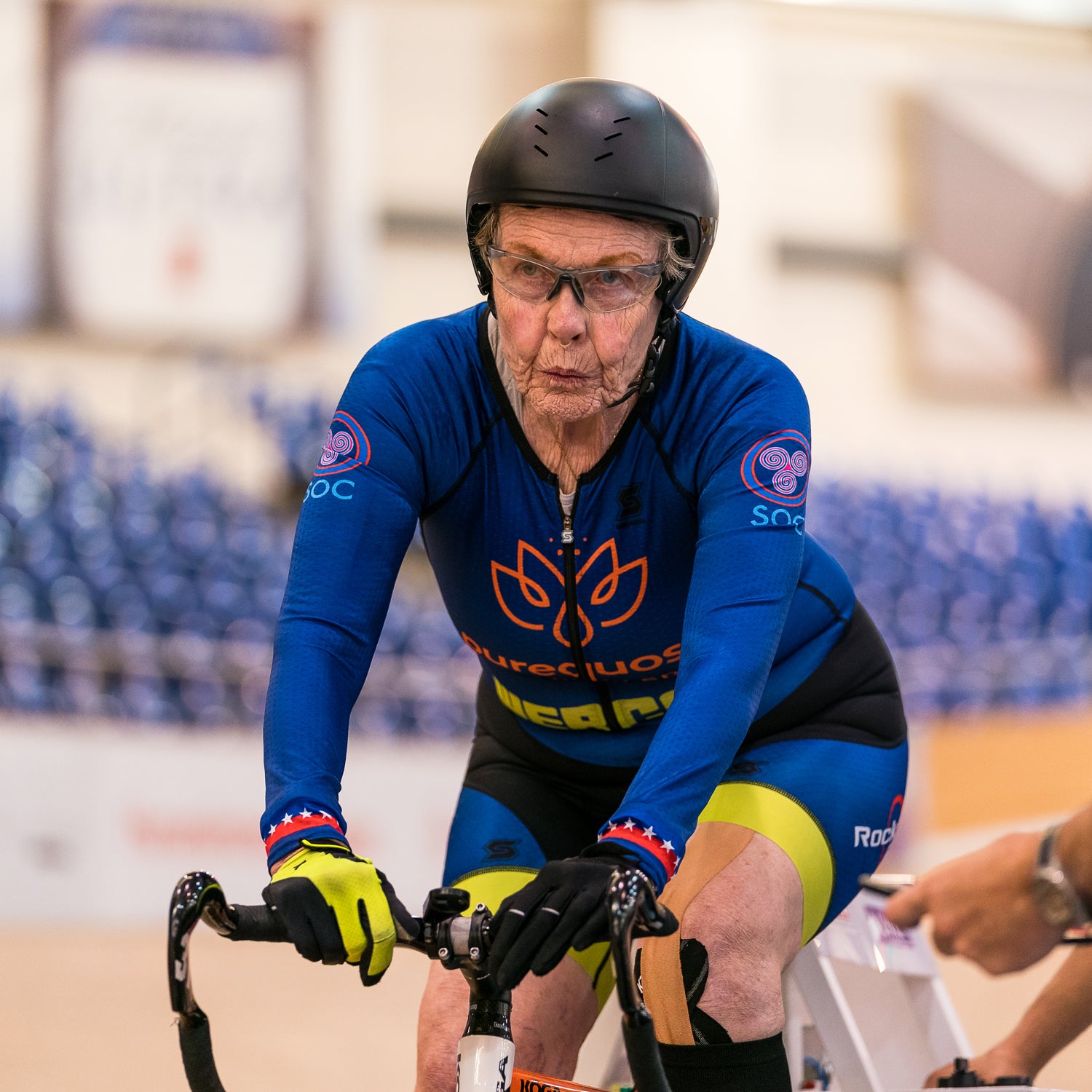 Courtesy Josh Burton(Photo)
Heading out the door? Read this article on the new Outside+ app available now on iOS devices for members! Download the app.
Patricia Baker has had a busy few months. In August, the 80-year-old track cyclist and great-grandmother of five became the oldest American woman to compete in the USA Cycling Masters Track National Championships, where she established four national and world records in the 80-to-84 age group. But she didn't stop there. Just over a month later, she won a gold medal in the individual pursuit and a silver in the 500-meter time trial at the UCI Masters Track Cycling World Championships in Manchester, England.
Organizing a trip to Manchester so soon after the national championships wasn't easy for Baker and her husband of 60 years, Michael. But she felt a duty to go. The UCI was offering an age bracket for women ages 75 and older (something already available for men)—usually, all women over the age of 55 have to compete against each other. Since so few women her age currently race on the track, Baker worried that if she didn't show up, the UCI might rescind the new age bracket at future events.
"My feelings were that if the new age brackets were set up, I was going to move heaven and earth to try to get there so that they would stay in place for riders following me," Baker says. According to a UCI spokesperson, additional age groups have been offered in the past but, depending on the number of entries, may have been merged with an adjoining age group. The UCI did not respond to questions about whether those age groups were still scored separately.
Baker's concern for women's racing isn't new; it's the same sentiment that kick-started her cycling career back in 1975, when her teenage daughter decided she wanted to train for a track event. Baker soon followed suit. "I wanted to support women's racing," Baker says. "I had a feeling we had more women out there who were capable of doing this, but they didn't have anybody to really pave the way."
So at age 36, Baker entered her first road race. At the time, races usually only had one field for women, which meant that, as a beginner, Baker had to line up against professional-level riders. As a result, she often found herself blown off the back of the peloton, desperately trying to chase back on.
But Baker didn't give up. She started riding to and from her pharmacist job—42 miles round-trip—to get in extra miles, and training on a DIY stationary trainer that her mathematician-physicist husband built out of a car generator. By the 1980s, when she was in her forties, Baker was good enough to start traveling to, and winning, big masters races, including multiple state championships.
But in 1985, before the first World Masters Games in Toronto, the low-back pain she had been managing since a 1982 bike accident grew too excruciating to ignore. "I made a bargain with the devil," Baker says. "I said, 'Get me through this, and I'll think about retiring.'" Baker's doctors couldn't find anything wrong with her back, but she stopped racing in 1986 and only rode recreationally for the next 20 years—first on a recumbent, then on a mountain bike, and eventually on a custom-built Serotta road bike that she was able to pedal without pain.
Then, in 2006, at the age of 67, Baker discovered she had scoliosis, possibly a result of her accident or an unrelated gall-bladder operation that she had in 1972. Not wanting to undergo a risky surgery to correct her spine, she began physical therapy and was able to start racing bikes again, first on the road and then on the track after attending a women's clinic run by eight-time track world champion Sarah Hammer. "There's apparently something about the geometry of my track bike that's just been perfectly OK with my back," Baker says.
"I had a feeling we had more women out there who were capable of doing this, but they didn't have anybody to really pave the way."
Despite her long absence from racing, it didn't take long for Baker to start seeing results: she stood on the podium at masters road and track national championships from 2006 through 2015, scooped up seven medals at the Pan-American Masters Games in 2010, and was the first woman to set world hour records in the 75-to-79 and 80-to-84 age groups.
To date, Baker estimates that she's won 25 national championships and one world championship. But it hasn't always been as easy as she makes it seem. On the track, she's often the oldest person competing and the only woman in her age group. "One of the hardest things, when I came back to racing, was to accept that I was not going to be doing things that I did 20 years before," Baker says. "Your VO2 max decreases, your maximum heart rate decreases—it's a physiological thing that happens, but you can still work around it."
To stay competitive, Baker started working with David Brinton, a former professional track cyclist and masters world champion, eight years ago. Three times a week, Baker and her husband, Michael, leave their house in Laguna Hills, California, at 5 A.M. and drive 45 miles so Baker can be on the track by six. She then spends two to three (and sometimes four) hours running through her prescribed workout, which can be anything from eight-lap efforts to pedal-stroke drills. Michael helps with timing and wrench work, a task that's become difficult for Baker's arthritic hands.
On days that she's not at the track, Baker rides inside while watching the channel NHK World-Japan (she's particularly fond of sumo wrestling) or as a warm-up and cooldown to bookend strength training. At home she does a series of body-weight exercises, including crunches and leg lifts, from Graeme Street's Cyclo-Core training DVDs. At the gym, she works out with weights—everything from Smith machine squats to shoulder presses—and does a few yoga poses recommended by her osteopath. Baker also sees a physical therapist once a week.
And then there are her recovery days, when she's forced to slow down. "As you get older, recovery takes longer," Baker says. "I have a number of older riders that I talk to, and we're all experiencing it. But we listen to our bodies, and it keeps us going."
Baker's discipline appears to be paying off. She's getting older, yes, but not exactly slower. The hour record she established this year as an 80-year-old—27.447 kilometers (17.054 miles)—wasn't that far from the one she set five years ago—27.894 kilometers (17.332 miles). Over the next couple of years, she's looking forward to trying to best records she established this year. "I know there are women who are coming up, who I am sure will be faster," Baker says. "I have a friend in Australia who broke my 75-year-old age-group hour record. She told me beforehand that that's what she hoped to do, and I wished her the best. This is why any athlete sets a record—it's part, 'Hey, I've done something nobody else has done,' but it's also putting a carrot out there for other people to know that it's possible to do."
The highest UCI age group for men and women is currently 75 and older, but by continuing to race, Baker and her competitors could entice the UCI to add a permanent 80-to-84 age group. It will take more women following in Baker's footsteps, though. At last year's Masters Track Cycling World Championship, there was only one other woman racing in the 75-and-older category. Either way, whether there's a full field or not, Baker will be competing.
Lead Photo: Courtesy Josh Burton