The Skydiving CEO Who Cheated Death
After a skydiving accident in October 2013 left Squaw Valley Ski Holdings CEO Andy Wirth without a right arm, he didn't quit charging. Now, Wirth lives a life of Ironman racing and adventure. As told to Gordy Megroz.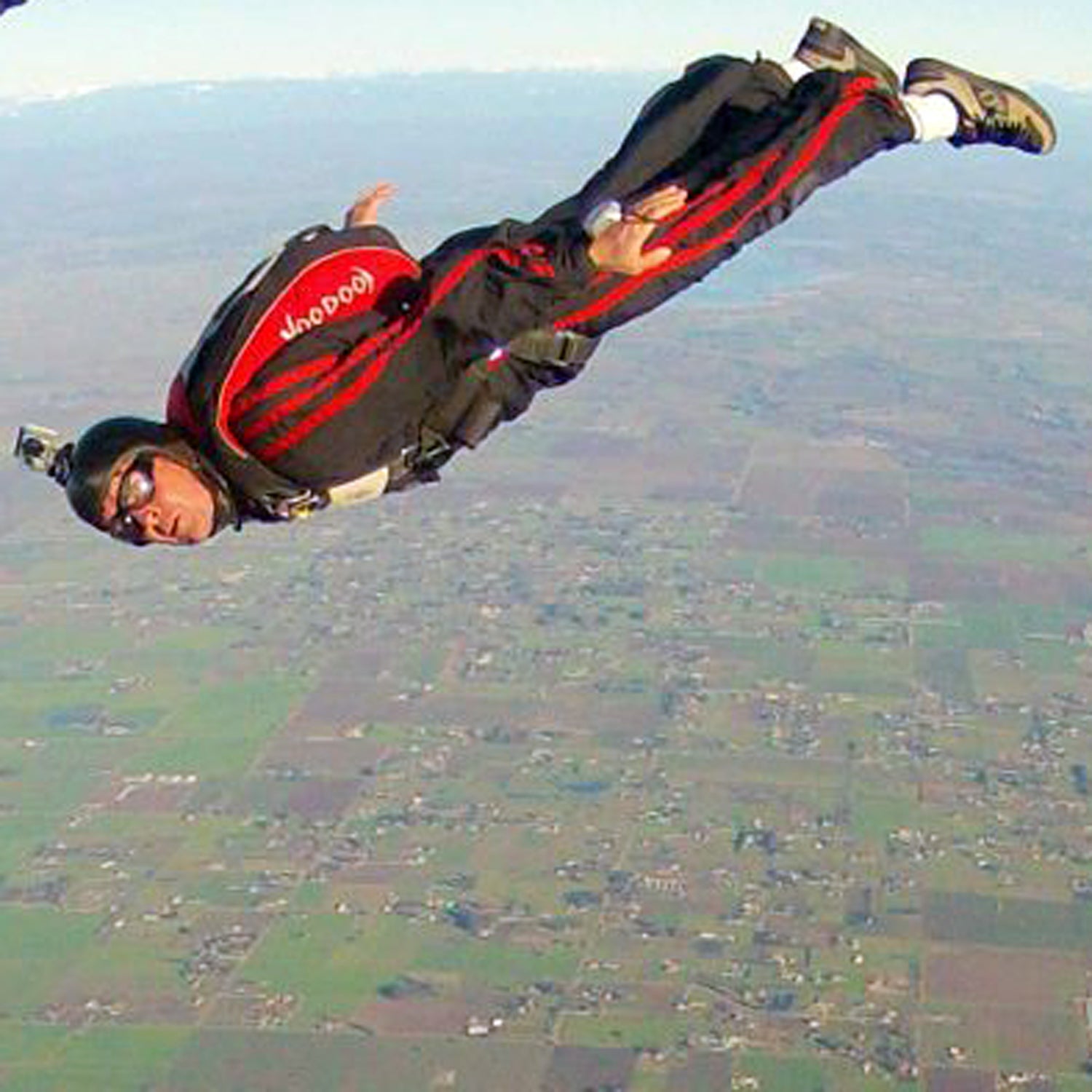 Heading out the door? Read this article on the new Outside+ app available now on iOS devices for members! Download the app.
I came to Squaw Valley in August 2010 to be president and CEO of Squaw Valley Ski Holdings and quickly befriended mountain athlete J.T. Holmes. J.T. is predominantly known for BASE jumping, wingsuiting, and big mountain skiing, but when we skied together, I'd tell him how I really wanted to get into skydiving.
How
When you fall from the sky, you want to live to tell the tale.
These people did
.
In spring 2011, he hooked me up with Red Bull athlete Sean McCormick, who helped me certify to jump, and we saw to that in Perris, California. From the very first time I did it, I was in love with it. I've rapelled big faces and skied some big and hairy lines, but nothing felt like this.
We would jump as often as my schedule allowed, which frequently felt like not enough, as many addictions go. There were days when we would jump from first load to sundown, getting as many jumps as possible. On those days when we were really getting after it, we'd get seven jumps in. I got comfortable enough to do some pretty cool things out of the plane and in the air, like four-way inverted exits—where we'd grab each other and exit facing one another—and delta tracking, where you put your hands by your sides, straighten your legs, and fly like a dart, sometimes in formation with other jumpers. 
[quote]The pole tore off my arm and stripped all the tissue from my shoulder down to mid-forearm.[/quote]
On October 12, 2013, J.T., some friends, and I went to Davis, California, to jump. We had a great, full day of jumping. On Sunday the 13th, the Davis drop zone was shut down due to winds, so we drove over to a drop zone in Lodi. It was windy, but they were still flying. I'd jumped there before, so I knew this drop zone pretty well. We went up, played in freefall, and delta tracked.
But then a few things went wrong. The pilot flew a bad flight line, so we were too far away from the drop zone, and we exited last, taking us even farther from the drop zone. I pulled my canopy too low at 2,500 feet AGL (above ground level). Normally I'd pull the canopy at 4,000 feet AGL. Unknown to all of us, the winds had changed since takeoff, so I had a headwind going into the drop zone instead of a tailwind.
I realized I wasn't going to make the drop zone, and I didn't have any good landing options: power lines on three sides and a vineyard on the other. I decided to land in the vineyard rather than try to make it over or under the power lines. I lined up parallel with the rows of the vines, but just as I was coming in and flared my canopy to slow down and land, a small crosswind forced me to my right.
I caught a pole with my right arm. The pole tore off my arm and stripped all the tissue from my shoulder down to mid-forearm. When I looked down, I knew I was in a rough spot. My brachial artery, which runs from your shoulder to your forearm, was bleeding out. Within a short period of time, I had lost a substantial amount of blood.
I assessed the situation. I was hung up; my canopy was caught in the wires and vines. Looking down at my arm, I knew that if I wanted to make it through the day, I had to stop the bleeding. As a former backcountry ranger, my experience with nasty trauma had me painfully aware that the injury was substantial and death was a very real possibility.
[quote]My experience with nasty trauma had me painfully aware that the injury was substantial and death was a very real possibility.[/quote]
In the absence of a tourniquet and a right arm to tie one on, I took my left fist and stuffed it under my right armpit. It was very uncomfortable to say the least. I thought, "What can I do to keep shock at bay?" Shock kills so many people, and I wasn't going to give in. I thought, "I need to keep breathing." As a Pearl Jam fan, I remembered the song "Just Breathe," since breathing slowly and steadily can help control trauma and shock. The first two lines of that song poignantly reference death. As morbid as it sounds, those first two lines gave me a sense of calm, because I knew that death was a very probable outcome. Those lyrics and coming to peace with dying ultimately helped me stave off shock.
Everybody who had jumped was scattered away from the drop zone. Another skydiver, Amanda, heard my cries and got to me 15 minutes after I'd touched down. I instructed her to take off my altimeter and use the strap as a tourniquet. We worked on slowing and stopping the bleeding. The ambulance arrived 30 minutes after I landed. When the crew got to me, I was still singing "Just Breathe," sometimes to myself and sometimes quite audibly.
As a former EMT, I immediately started by introducing myself and the situation—age; no meds; no other mechanisms of injury, including neck or back; time frames; and AAO times three, at least for now. It was kind of funny in retrospect. I'm sure they couldn't understand how I was able to function, let alone walk them through what to do.
By the time they got me loaded up and out of the vineyard, a helicopter was waiting. Earlier at some point I thought, "If I can just make it to that helicopter, I'll be okay." After working with flight nurses in the past, I know they are simply the best at stabilizing and saving people. They transferred me into the heli and slammed the door shut. The flight nurse leaned over me with his helmet on and reflective visor down. I smiled at him and said, "I've given it everything I can. It's entirely on you now, brother." I kept my eyes open long enough to see the turbines start to spin for takeoff. The sun was bright in my closed eyes, and it felt good. That's the exact moment Eddie Vedder's "Just Breathe" stopped rolling through my mind.
That afternoon at the hospital, they put 12 units of blood in me. On the way to the ER, I told the doctor, "Just try to save my arm. If you have to take it a month from now, I'm okay with that. But try to save it now." That night, the doctors spent 12 hours reattaching my arm. Twenty-four other operations, more than 50 hours in surgery, and nearly three months in the hospital largely reconstructed my arm. They did a phenomenal job, and now I have 70 percent use of my right hand. There is no bicep, but I'm hoping to get one of those from a leg muscle this winter.
Since then, I've been able to get back into trail running and biking, which have been part of my life and passion since I can remember. In February, a Navy SEAL team came to Squaw Valley to train for winter alpine combat. I befriended a handful of them. We talked about our mutual love of skydiving, lost limbs, and lost friends. In some ways, I've adopted them and they've adopted me.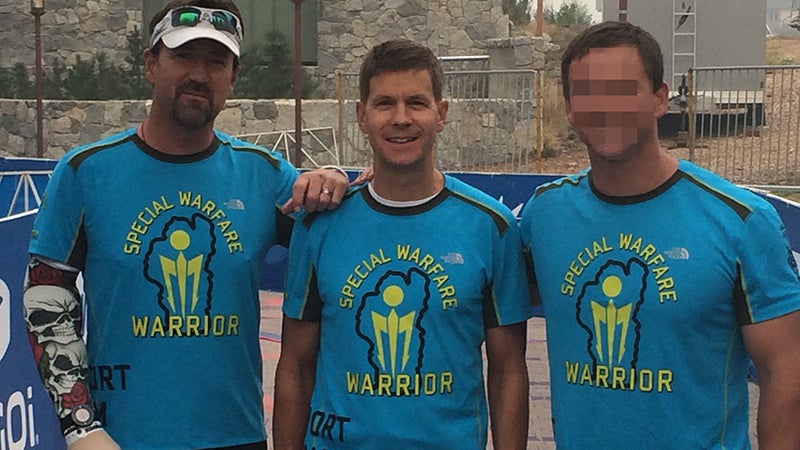 I've raised more than $40,000 for the Navy SEAL Foundation, which helps families of killed SEAL operators and SEAL operators who have lost limbs. The thought of those guys and their brothers helped me keep running and training on the days when I just didn't want to. Their stories and their quiet, fierce commitment have been a big part of my recovery and training.
The fact that I'm here, have my arm, and had the chance to compete in the Ironman 70.3 is very cool. We got smoked out by a nearby fire, but we all trained hard and were set to compete until they canceled the event five minutes prior to the start. I've done quite a few triathlons, but not under these circumstances.
I deeply regret putting my family through this. My wife, Karen, is remarkable. She told me that she wasn't going to stop me from skydiving, but I stopped jumping. I miss it, but if I were to strap on a canopy and go skydive, it would create a great deal of stress, and I can't do that to her or my kids