Teva Games Q&A: Slackliner Andy Lewis
Lewis dishes on the nuances of slackline tricking competition, the newest event at the Teva Mountain Games in Vail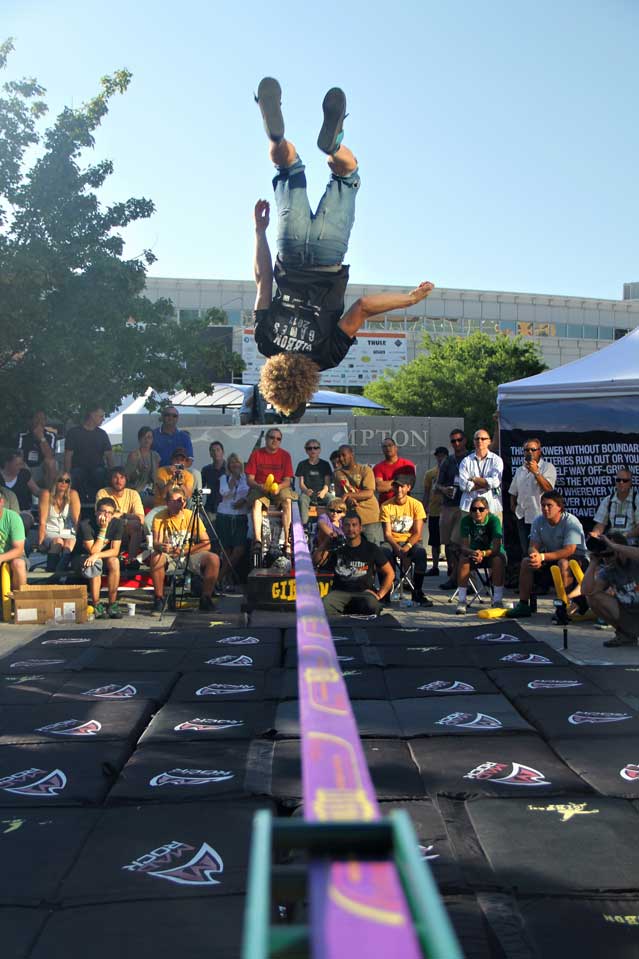 Heading out the door? Read this article on the new Outside+ app available now on iOS devices for members! Download the app.
Andy Lewis is at the top of his game, if there is such a thing in the slackline world. He has four world titles under his belt, but you probably remember him better as the dude in the toga at Madonna's Super Bowl Halftime Show. Because of that performance, he's the most well known athlete in the slackline world, but a handful of up-and-comers are the ones advancing new tricks and funky styles. Lewis squared off against them this weekend at the Teva Mountain Games, where he lost in the quarterfinals to eventual champ (and 14-year-old prodigy) Alex Mason. We caught up with him en route to Vail.
The Slackline tricking competition is the only new sporting event at the Teva Mountain Games this year. What we want to know is: How is the sport even judged?
You're judged heavily on style, so how clean you look when you're slackening is a huge factor. There are a lot of new tricks coming up lately and we'll see how people string them together. Judges need to know the difference between someone with the same five tricks, and someone with a lot of diversity in their repertoire. It's hard to find good judges because the people who know slacklining the best want to compete, but Teva will have some avid slackliners on the panel.
Each competitor will get two minutes on the line. If you fall off, your time stops and the other guy goes, until he falls and you're back up. It's kind of like chess. You have to position yourself to be out front early with solid tricks, then go for the stupid fun stuff to amp up the crowd.
How important is it to impress the crowd?
A lot is based on the crowd. The crowd doesn't always know what the best or hardest tricks are, so you need to go big for them. Spins and flips are the best crowd-pleasing tricks because they're familiar and most people know how hard they are. Other tricks like bouncing off your butt or back straight into a flip are called "nasty" tricks. When you get the crowd excited, that helps sway the judges.
What's the hardest combo or transition from one position to another?
I'd have to say that combos of movements with blind rotations are the hardest. So is going from a chest bounce to a back bounce where you can't see the line. And of course, any inverted rotation above the line takes the biggest commitment.
Has anyone landed the double back flip on a line yet?
The double back flip hasn't been landed yet but I'm sure it will, probably by a gymnast.
Do you think that's more likely to happen in a competition or in someone's backyard?
The cool thing about competitions is that they actually push athletes to be more fearless and committing. I've been competing for four years now and I have four overall world championship titles and I can definitely tell you that you get pumped up by the crowd. The energy makes you want to push it a little harder than you're used to. It can also be dangerous. The first time I tried a double backflip was in competition at ISPO 2010 in Germany. I landed on my knees and almost knocked myself out. It was totally worth it.
Are there standard specs or tensions for the line?
The line at Teva will probably be 3.5-4 feet high, 50 to 60 feet long with probably 4,000 pounds of tension. Tension gives you the ability to jump high but takes away the control you have outside your center of gravity, which helps you land tricks. Unfortunately there are no separate classes with different tensions. But there will eventually have to be weight classes. If I'm 6'2″, 185 pounds going against Alex Mason, who's like 5'2″ and 100 pounds, the ideal tension for one will not be optimal for the other. It's not really fair yet and bigger competitors like Mike Payton and I are getting shafted because we can't get all the power we're used to. It's not ideal for sure.
Slacklining has such a fun and playful element to it, especially when guys like you do it naked or in costume (like your superbowl halftime dress). How it this element of slacklining brought into competitions like this?
The fun can get lost in competitions if they're taken too seriously. For slackening, it's not about winning as much as having a good time and promoting the sport. It can become really daunting with all the people and sponsors watching you, but the fun is always there. You can play with the crowd and mess with other competitors and that's when you end up winning, when you're not worried.
Slackline tricking is still relatively new. Where do you see slacklining going in the next few years?
I only see the skill level increasing. We haven't even gotten into multiple inverted rotations and corks yet. But with a lot of other sports, you need huge ramps and the resources to build them. In slackening, all you need is a slackline, which is why it's growing so quickly. It's so accessible to the public and that's really going to drive the sport.
Lead Photo: Courtesy of Gibbon Slacklines