Sponsor Content: Under Armour
The Secret to Dressing for a Winter Run
The cold season can throw lots of different conditions your way, but with a little prep, you can keep training through any weather.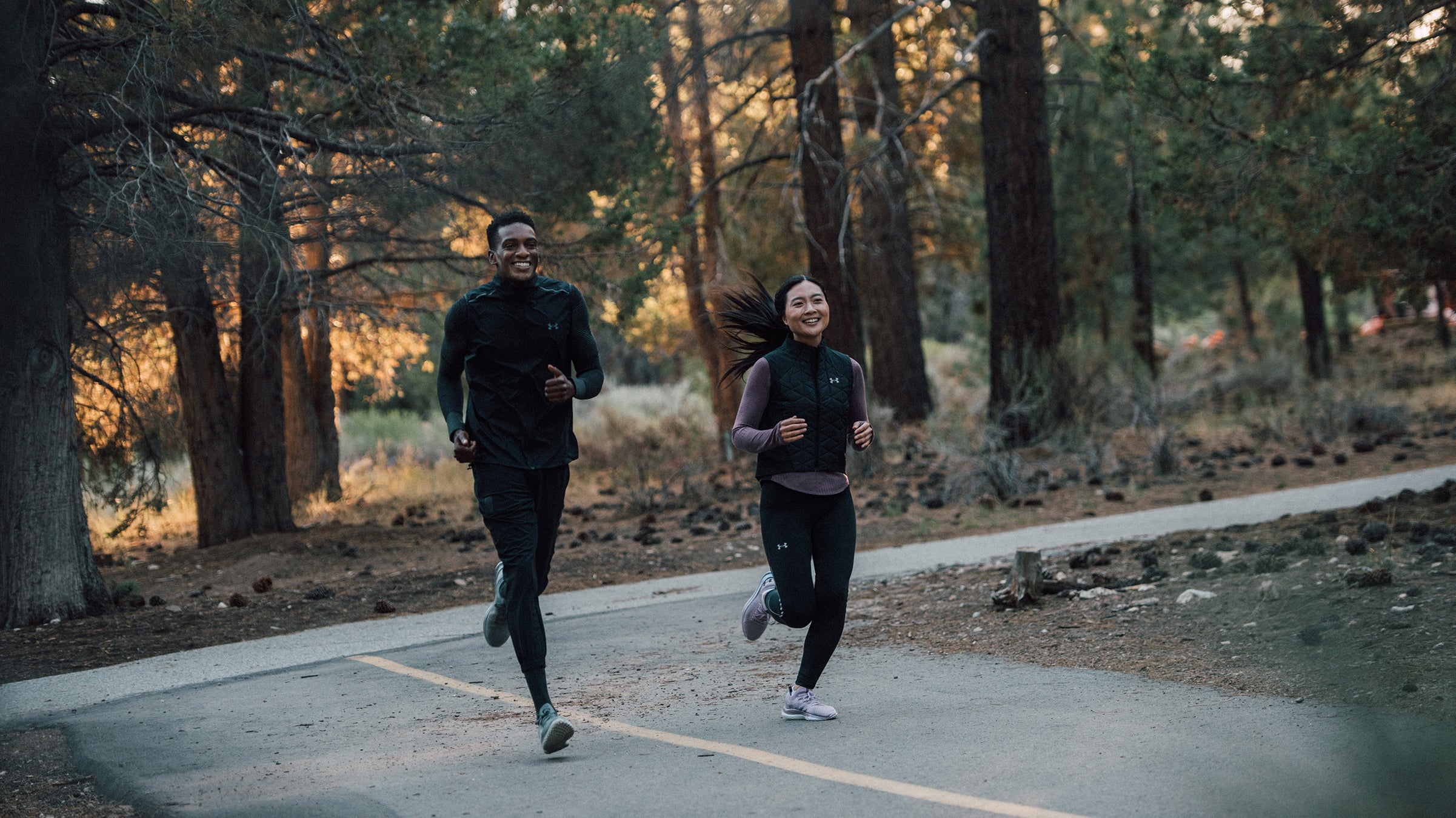 Winter can bring a huge variety of conditions, from cool and rainy to straight-up frigid and icy. To manage it all, you just need a few key pieces of apparel in your closet. Luckily, there's winter gear for every type of runner. Not only that, but the latest running gear provides more warmth with less bulk and weight. Not sure where to start? We sat down with a professional cold weather apparel designer to learn about the latest, smartest technology on the market and how athletes are gaining an edge even when winter arrives. 
Materials Matter
Before you start pulling on your gear, you need to put some thought into your material choices. "The one thing you want to avoid is cotton in cold weather conditions because it retains moisture, dries slowly, and thus can lead to that wet and chilly sensation that causes an uncomfortable experience," says Under Armour running coach and apparel designer Gabriel Rodriguez. "The goal is to move moisture quickly throughout the fabric and get it evaporated and dried as quickly as possible." Fortunately, high-performance apparel brands like Under Armour have developed synthetics that dry faster than any natural fiber (like wool), to allow your body to thermoregulate.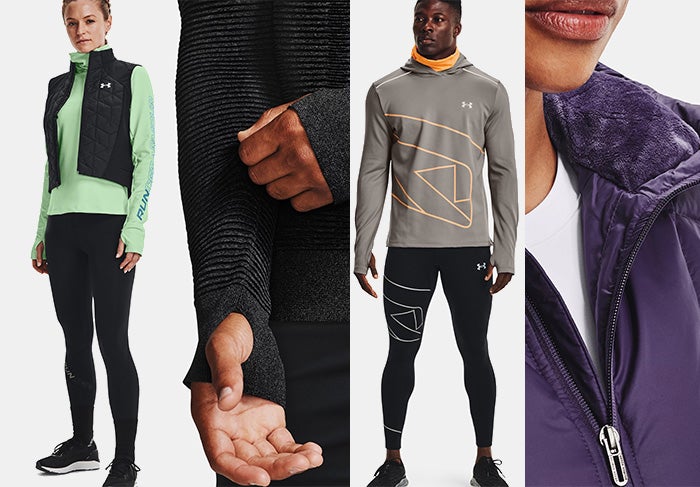 Start with Your Extremities
Did you know that you can lose up to 10 percent of your body's heat through your head? "The amount of hair you have actually makes a difference here," says Rodriguez. "If you have a lot of hair, you can get away with less than if you're bald or have very short hair, for instance." In temperatures down to freezing, most people only need an ear warmer, says Rodriguez. But below freezing, many runners reach for a heat-trapping cap. A lightweight Storm Launch Beanie does the trick without causing overheating. Or consider the versatility of a hooded shirt with a built-in face mask, like the UA Empowered Hoodie.
Protect your hands, too. "If your hands are freezing, it can ruin your run," says Rodriguez. Depending on the temperature and conditions, you'll want to vary your gloves. From about 30 to 45 degrees, a simple liner will do. When it gets below freezing and/or windy, look for fleece or wind-proof gloves.
Keep Your Core Cozy
In cold weather, keeping your core warm is just as important as keeping your extremities warm. "The secret is layering," says Rodriguez. "It's the best way to design a system to keep you comfortable through a range of temperatures."
Look for a lightweight base layer—something like a Seamless Run Long Sleeve will deliver warmth with freedom of movement. "That can work down to about 40 degrees," says Rodriguez. "If it's colder, start looking at a half zip or a lightweight hoodie to add on top." Options here might include fleece, 100 percent polyester, or wool—all thin layers that trap heat. For added core warmth, consider adding a vest like the OutRun. "Changing layers can be tricky," says Rodriguez. "It's easy to remove outer and mid-layers like a jacket or half zip, but the optimal experience is selecting the appropriate base layer and/or first layer for warmth that dries quickly and wicks moisture."
When should you opt for a waterproof shell and potentially trade off some breathability? Go by time and effort, says Rodriguez. "If you are aiming to be out for an hour-plus on a very long run, prioritize waterproof over breathability," he explains. "If you're aiming for a tempo run or a speed day/high effort run, you may want to sacrifice staying dry for a more breathable option."  
What's On the Bottom Matters, Too
From tight-fitting shorts (which will keep you warmer than more loose options) to fleece tights for the coldest of days, it's important to have the right gear for the lower half of your body as well. "Look for single-layer leggings down to about 25 degrees," recommends Rodriguez. "If it's colder, consider a double layer, like a pair of pants on top of lightweight tights." Good options for that first layer of leggings include Under Armour's Empowered Tights or the Fly Fast Printed Tights—both will keep you toasty without weighing you down.
Your socks and shoes count, too. "Winter is where you want to swap out your thin summer socks for something thicker," says Rodriguez. Wool socks will be some of your warmest options. In rain or wet snow, consider the UA HOVR Sonic 4, shoes that are water-repellent and cushioned to reduce impact. They're even Bluetooth-enabled to connect to MapMyRun and deliver real-time coaching as you train.
Ultimately, you shouldn't let the winter stop your training. And with the right running gear, you should be as comfortable as training in any season. So get dressed, and get out there.
---
Under Armour, Inc., headquartered in Baltimore, Maryland, is a leading inventor, marketer and distributor of branded athletic performance apparel, footwear and accessories. Designed to empower human performance, Under Armour's innovative products and experiences are engineered to make athletes better. For further information, please visit http://about.underarmour.com.
Trending on Outside Online