Sponsor Content: Visit Walla Walla
The Ultimate Guide to Adventuring in Walla Walla
Between the charming small town and countless wineries, there is great trail running to be found in Walla Walla, Washington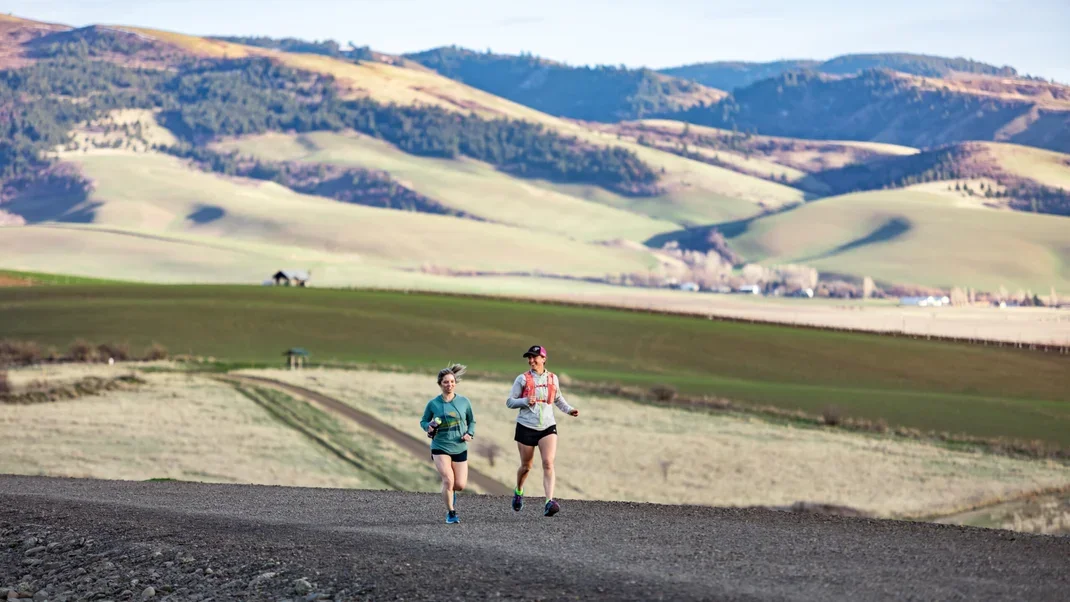 On the very edge of southeastern Washington, Walla Walla is known for being one of the best wine destinations in the country with more than 120 local wineries. But wide open spaces, hundreds of miles of running trails and surrounding picturesque hills and mountains render it an underrated gem for trail running and other outdoor adventures. Two locals share their favorite places to get outside, fill up on good food, and spend time in town.
Where to Run
Just two miles east of Walla Walla, Bennington Lake is a 50-plus acre reservoir encircled by rolling hills of gravel roads. The lake trail starts at the Mill Creek Recreation Area and has picturesque views of the snow-capped Blue Mountains south of town, plus you can extend your run on spurs off the main trail. "You can go out there and hardly see anyone," says Todd Telander, a runner, artist, and owner of Telander Gallery. "I run out there all the time just because it's so close to town and my house." It's also the setting for an annual women focused running event, the Walla Walla 6 hour in April and the Onion Man Triathlon every May.
For a more remote experience, and when he's up for driving 30 to 40 minutes to the Blue Mountains, Telander likes to run the South Fork Walla Walla River Trail. It stretches for more than 22 miles along the water through the forest. From the trailhead at Harris Park, the first few miles are in a state park before it turns into national forest land. Walla Walla is an Indigenous name that means "place of many waters," and springs and snow melt feed the creeks all year long. "Even in the middle of August when it's baking, you can run up there and dip in the water," Telander says. "It's always cold and refreshing."
Two other running areas are worth the hour drive out of town, says Becca Lastoskie, owner of local restaurant Graze. To the east just over the border into Oregon, the Umatilla Rim Trail is an 8.5-mile loop. Wildflowers bloom throughout the year, and 830 feet of elevation gain takes you through the trees up to scenic overlooks. To the west, Wallula Gap straddles the Columbia River. Several trails of varying difficulties and lengths lead to the tops of bluffs, offering panoramic views of the region. Wherever you choose to run in the area, be sure to research trail and weather conditions ahead to have the best experience possible.
Where to Dine
After running for miles, you'll probably need some refreshments to recharge. Walla Walla's rich soil and mild climate are ideal for growing organic produce, so in addition to the wine industry, the town is ripe with amazing restaurants.
Vacation isn't vacation without a good brunch spot and Telander recommends Bacon & Eggs for a hearty breakfast. For quick-but-delicious coffee, there's the Walla Walla Roastery. And for irresistible danishes, eclairs, or other desserts, the Colville Street Patisserie is open seven days a week. Latoskie's high-quality sandwich shop Graze has plenty of vegetarian-friendly options and two local locations so it's convenient to wherever you're staying in town.
On Saturdays from May through October, locals and visitors alike should check out the Downtown Farmers Market to buy fresh fruits and veggies. After a stop at the Farmers Market, visitors can taste wine at one of the more than 40 wineries in the downtown area or go further afield to wineries in the south side of town that offer pairing menus or full food service.
What Else to Do
On rest days, make time for the town's burgeoning art scene. Telander opened the Telander Gallery eight years ago, and since then, the Combine Art Collective has opened as another resource for regional artists to show their work. The Walla Walla Foundry, established in 1980, is one of the largest contemporary art fabricators in the world and while you can't visit the facility, you can take a self-guided sculpture walk through the Whitman College campus to see some work created at the Foundry.
As for performance arts, the Walla Walla Chamber Music Festival presents classical music concerts in intimate local venues (including some of the many local wineries) during the months of January and June. The Walla Walla Symphony is the longest continuously running symphony west of the Mississippi and has concerts through the year. It's worth it to check out the Gesa Power House Theatre calendar for other musical performances as well as plays, lectures, comedians and more.
"There's artists all over the place, and it's starting to become a little more known as a place to come to see art," Telander says. For a trip off the beaten bath, there's no shortage to explore in Walla Walla.
---
A scenic four-hour drive from Seattle, Portland, or Boise, or a short, nonstop flight from Seattle, Walla Walla is home to more than 120 wineries, a nationally recognized culinary scene, and diverse arts and entertainment. Nestled next to the Blue Mountains, Walla Walla has easy access to an abundance of outdoor recreation.