Sponsor Content: OOFOS
Upgrade Your Recovery Strategy with OOFOS
Professional athletes and everyday recreationalist swear by active recovery with OOFOS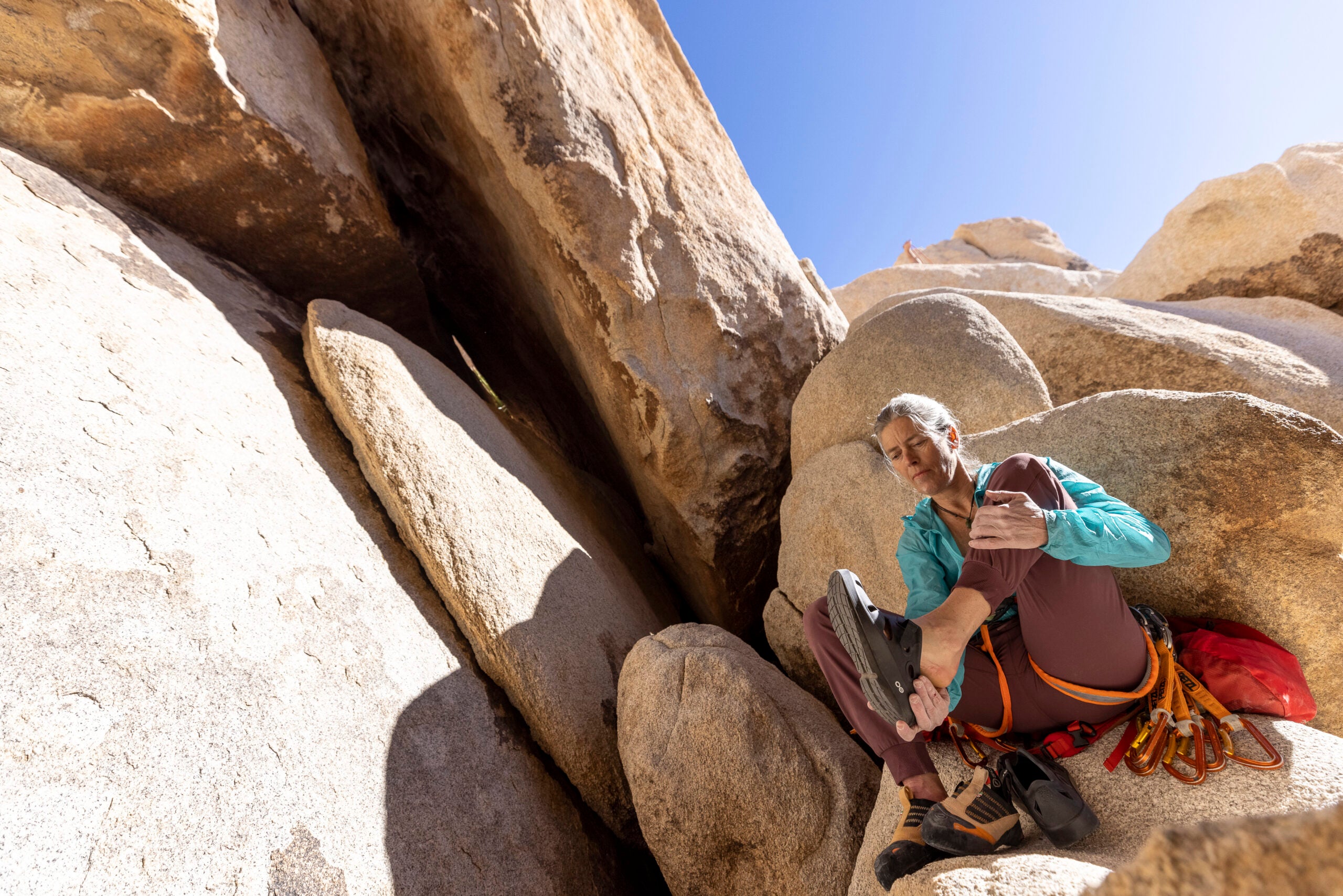 It doesn't matter if you're a thru-hiker logging daily, double-digit mileage with a few thousand feet of vert or a recreational skier chasing toddlers more than face shots; recovery is critical. More often than not, our feet are the powerhouses propelling us through the fun. The 26 bones, 33 joints, and 100 ligaments and tendons packed inside our feet allow us to walk, run, and skip down the trail but, it comes at a cost: our feet get worked. That's why both recreational and elite outdoor enthusiasts have turned to a number of solutions to help their muscles and feet recuperate faster. One of the best practices? Active recovery.
Active recovery is the practice of low-intensity exercise or movement after the tougher, high-intensity activity. It may seem counterintuitive at first that you should move rather than flop on a couch after challenging yourself in the mountains. But according to science, active recovery is an effective way to heal your body. Difficult outdoor activities often lead to muscle fatigue that can last up to a few days, however if you participate in a mellow activity like walking or even gentle hiking, you're more likely to reduce the lactic acid buildup in your muscles and increase blood flow to the healing tissue. It's not sorcery; it's science, and professional athletes like legendary climber Lynn Hill swear by it.
"Training is about stressing your muscles and your body to adapt," says Hill, who made a name for herself as the first climber to make a successful free ascent of The Nose on El Capitan in Yosemite National Park. "I'm still in pretty good shape and don't have any injuries, and I think a lot of that has to do with being aware of my body and ensuring I participate in active recovery."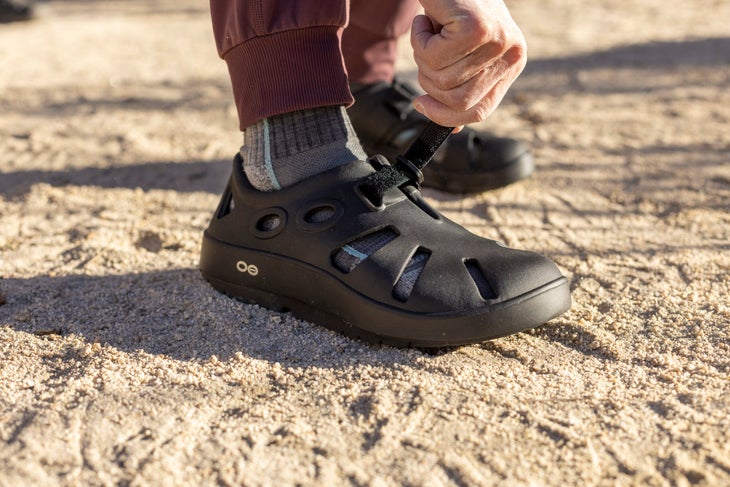 Of course, not all active recovery is equal. That's why OOFOS dug into the data before creating OOFOS footwear: intentionally designed shoes for active recovery. The secret is in the foam. The brand uses a proprietary technology they call OOfoam™, a closed-cell, water-resistant foam proven to absorb 37% more impact than other foam footwear. When combined with their patented footbed that supports arches and reduces ankle energy exertion by up to 47%, OOFOS kicks minimize muscle fatigue and tension while expediting recovery. 
Bottom line: OOFOS gets you back out doing what you love a lot faster.
"As a climber, I stuff my feet in really tight shoes," Hill says. "They bend your toes back and you get calluses and bunions, so in between climbs and pretty much whenever I'm not in technical shoes, I'm in my OOFOS to eliminate the stress on my feet. There's different models for different things, and I wear them all."
From sandals and shoes to clogs and slippers, OOFOS has a style for every purpose. That's the beauty of active recovery with OOFOS. If you're walking around town after an epic slog, throw on a pair of OOmg eeZee Low shoes to heal your limbs quicker. Enjoying an evening at home after shredding powdery lines all day? Try the OOcoozie Low slipper-style shoes. The latest line is the OOcandoo collection, a breathable hybrid-type of recovery shoe designed specifically for outdoor enthusiasts and travelers. As with all OOFOS shoes, OOcandoo uses the magical OOfoam to reduce stress on sore knees, back, and feet while also encouraging a natural gait. 
"From the first time I stepped into my OOFOS, they felt so good," Hill admits. "And I think that's the reaction I've seen from everybody who tries them on. I call them my quiet shoes: I move so softly and gently when I'm wearing them."
---
OOFOS, the global leader in recovery footwear, was founded by a team of industry veterans to provide active recovery for active lifestyles. Made with revolutionary OOfoam™ technology, OOFOS are designed to absorb impact, so your body doesn't have to. Magic, right? Actually, it's science. The science of OOfoam™ technology.
Lead Photo: lance koudele photography