Winter's Wonderland Workout
Welcome to an Endless Playground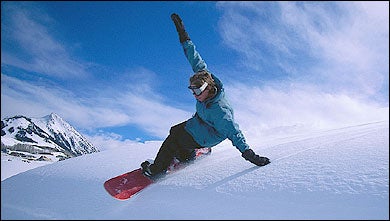 Heading out the door? Read this article on the new Outside+ app available now on iOS devices for members! Download the app.
You've seen the folks at the top of the ski resort: They're wearing snowshoes and a daypack, tromping away from the groomed runs and toward a scenic ridge. Or they're skinning uphill on telemark skis toward a powder face with no lift service—to carve lines for free. Who are these people blazing their own trails in the backcountry? They're the ones who know that keeping super- fit from November to April outside of the gym is easy.


More than six million snow hogs now participate in backcountry snowshoeing, snowboarding, and skiing, reaping incredible health benefits. "Heading into the backcountry is the best fat-burning workout you can get in winter," says Cathy Sassin, a Bend, Oregon-based adventure racer and nutritionist. One hour of snowshoeing or uphill skiing, for example, can burn 680 calories, compared with only 408 burned during downhill skiing, and 340 when you hike.


That said, Sassin adds, you'll enjoy your experience in the backcountry more if you build a solid aerobic base beforehand. Start now and you'll be in shape for a hut-to-hut trip in the Rockies in April. An added bonus: You can keep snow sports going long after the lifts have closed.


To get ready, Sassin recommends the following basic aerobic workout: 40 minutes of cardio training four days a week (on a treadmill, StairMaster, or NordicTrack). "Your pace should allow you to carry on a light conversation—that's the fat-burning pace," says Sassin. After the first three weeks, you'll be primed to break trail on a three-hour winter-wonderland tour of your choosing. Looking to tackle more mountainous terrain? Bump up the cardio sessions with three two-minute sprint intervals, each five minutes apart, for an additional 20 minutes in all. Now you're dialed to relish the most efficient full-body aerobic workout of the winter—the one in the wild.
Essential Gear and Skills
Before you head out on a backcountry trek, you'll need some specialized equipment. Modern snowshoes and backcountry ski and snowboarding equipment (see "Tools of the Trade," below) are making winter pursuits much more fun. The easiest and least expensive way into the backcountry is on snowshoes. Simply strap them onto your winter or snowboard boots and go, with your skis or snowboard lashed to a backpack for the ride down. If you're a skier, slap a pair of climbing skins on your skis and you've got an impressively efficient way to get uphill. First-timers can make do with Alpine Trekkers, climbing attachments that snap into standard downhill bindings, accommodate alpine boots, and have a toe hinge that allows for a natural upward stride. At the top, pull off the Trekkers and skins and schuss back down. Or invest in a randonnée setup—ultralight skis, boots, and hinged bindings that make it even easier to stomp your way to the summit. Once there, simply lock your heels in and—voilà—you're ready to ski. Snowboarders can take advantage of planks that split lengthwise into skis for skinning up. A fifth and increasingly popular option is telemark skiing. Though this freeheel downhill technique requires some practice, the comfortable gear makes charging around, and up, mountains easy.

All these implements take time to master—15 minutes or so for snowshoes, up to a season for telemark skis—so break in your new setup at a familiar ski resort or a cross-country trail system. Practice climbing at a steady and sustainable pace. Frequently stopping to rest plays havoc with your body's temperature—and leaves you drenched in sweat. After a run, you'll know how much effort the terrain demands.
Go Deep, Be Safe
Empowered with your new winter skills, you can now punch your ticket at some of America's classic backcountry destinations, such as New Hampshire's Tuckerman Ravine, home to a 1,500-foot-high wall that locals have skied for more than 80 years; an overnight at the Peter Estin Hut, southwest of Vail; or the deep virgin snowpack of Hurricane Ridge, just outside Washington's Olympic National Park.

Whatever your choice, make sure you follow these backcountry rules from Cathy Sassin and Appalachian Mountain Club search-and-rescue coordinator Dave Herring: Check the weather forecast. It's no fun ending up in a blizzard. Then check the avalanche forecast to see if the snow conditions are safe. (Regional numbers are available at www.avalanche.org.) "Always call the local ranger district; they'll have current firsthand experience," says Herring. Prepare for the worst conditions by carrying a down jacket, waterproof-breathable parka and pants, heavyweight insulated gloves, and a warm hat in your backpack. In known avalanche country, carry an avalanche beacon and snow shovel and know how to use them (see "Class Outside," below). Once on the snow, travel single file, crossing open slopes one person at a time so an avalanche can't take out your entire group. Or choose a route that steers clear of avalanche terrain (anything steeper than an intermediate ski run) until you've taken a course on backcountry travel. When possible, stick to the trees, where there's less danger from an avalanche or a storm. Along the way, snack on foods like trail mix and cheese, and fuel up often. Finally, never stop drinking liquids. They'll help you avoid hypothermia and frostbite.


Once you learn to love the backcountry, winter may end up being your fittest time of year. The reason, says Lyle Haugsven, a backcountry guide with the American Alpine Institute, is simple: "The biggest advantage of winter's activities over summer's is that you have so much fun on the way down."
Tools of the Trade
Backcountry Skiing Gear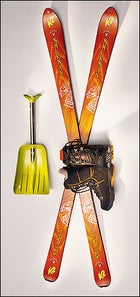 K2 SHUKSAN RANDONNÉE SKIS have a lightweight wood core that makes them easy on the legs when climbing, while the titanium-alloy wrap strengthens the skis to let you bomb rugged steeps. This year's wider waist (78cm) makes the Shuksan float better—on the trail up and the powder roller coaster down. ($459; 800-426-1617, www.k2skis.com) Unlike most snowboard boots, which are designed for 120-pound groms, the BURTON DRIVER is tall and stiff enough for adults to put power on the edge in all conditions. Bonus: Retractable metal spikes in the sole offer solid traction on steep, hard snow and ice when kicking steps uphill. ($230; 800-881-3138, www.burton.com) Convenience is a below-zero necessity, so the INDIGO EQUIPMENT SNOW LOGIC SHOVEL has a squared-off, telescopic shaft to prevent swiveling, and it quickly expands for more leverage. The meaty blade (made from the same plastic as Nalgene bottles) won't bend or crack if you ever need to dig deep—or sculpt a base-camp La-Z-Boy out of snow. ($40; 970-429-1005, www.indigoequipment.com) —E. H.
Class Outside
Dial in winter safety skills at these premier backcountry-adventure schools:

International Mountain Climbing School: Spend a day learning the skills necessary for ski mountaineering and climbing above tree line: route finding, snow camping, and avalanche awareness. The next day, apply them below the famed bowl of Tuckerman Ravine, on Mount Washington. On day three, ascend the 6,288-foot peak itself. ($400 per person, including boots, helmet, ice ax, tent, and sleeping bag rental; December through April; 603-356-7064, www.ime-usa.com)

Colorado Mountain School: The only climbing school in Rocky Mountain National Park offers a winter curriculum of two classes: Learning to Thrive in Winter and Backcountry Skiing. The former involves an overnight in the park and lectures on avalanche skills, navigation, shelters, and food. The latter is a two-day introduction to off-piste shredding in the bowls and chutes of the park for skiers and boarders alike. ($300; each course offered once a month, December through April; 888-267-7783, www.cmschool.com)

American Alpine Institute: This season, choose between sessions in Ouray, Colorado, or California's Eastern Sierra. Over eight days, you'll hit the principals of roped climbing—belays, ice climbing, multipitch ascents, single and double ice-ax use. Then you'll move on to winter camping, weather assessment, avalanche avoidance, and route finding. Cap it off with two to four days of instruction on randonnéte;e or telemark skiing in the backcountry. ($1,450Ð$1,770; December through March; 360-671-1505, www.mtnguide.com) —E. H.