Zero to Hero: Above-Average Joes
Whatever daredevilry you aim to master, you can go from zero to hero a lot faster than you think. Join our brave, bruised guinea pigs on their quests to prove that, with a little time and energy (and the right coach), any bum can be a badass.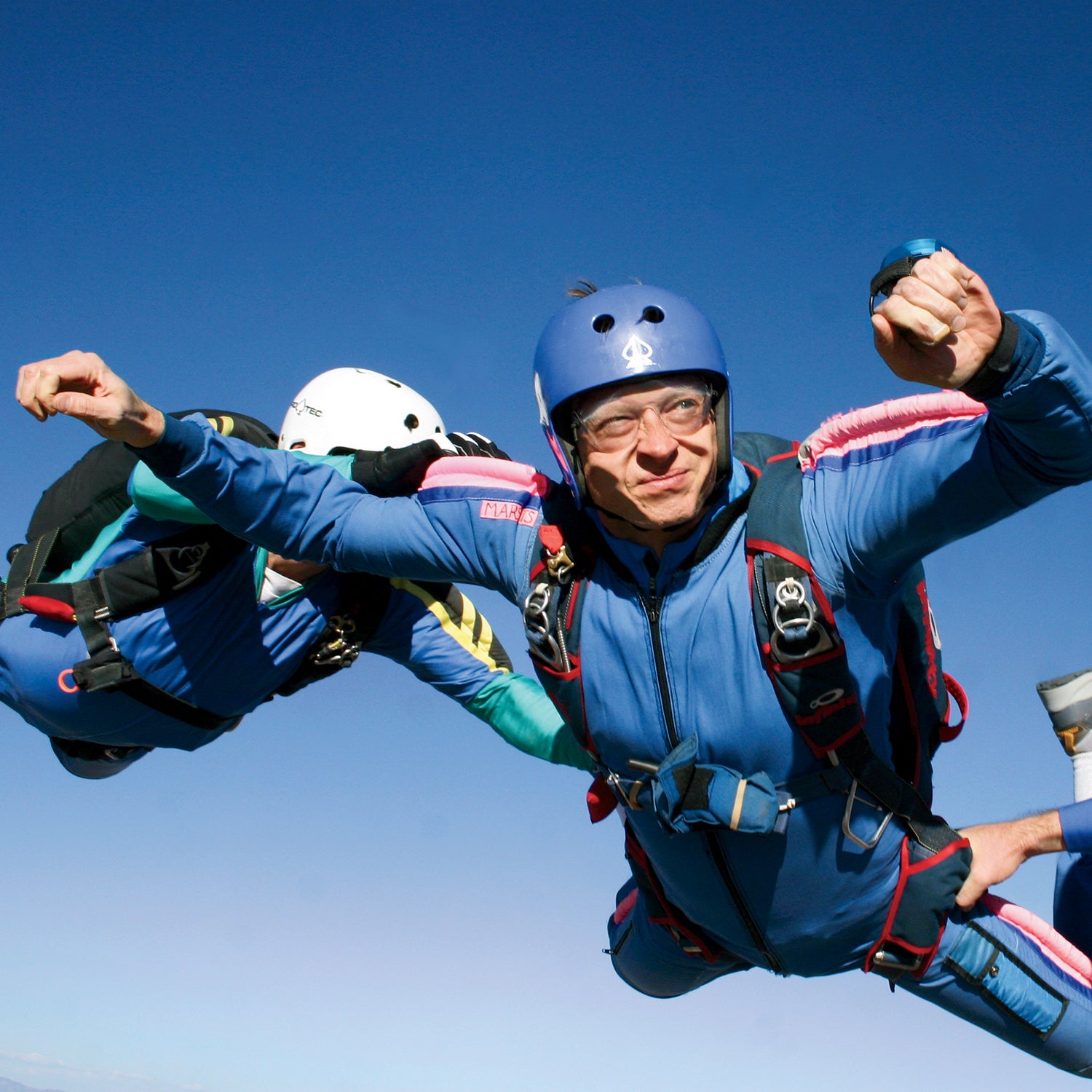 Heading out the door? Read this article on the new Outside+ app available now on iOS devices for members! Download the app.
Ski the double diamonds, surf bigger waves, run your first race, or just take better snapshots. No matter what skill you want to acquire, there's a pro ready to show you how.
---
Learning the Ropes of Tow-In Surfing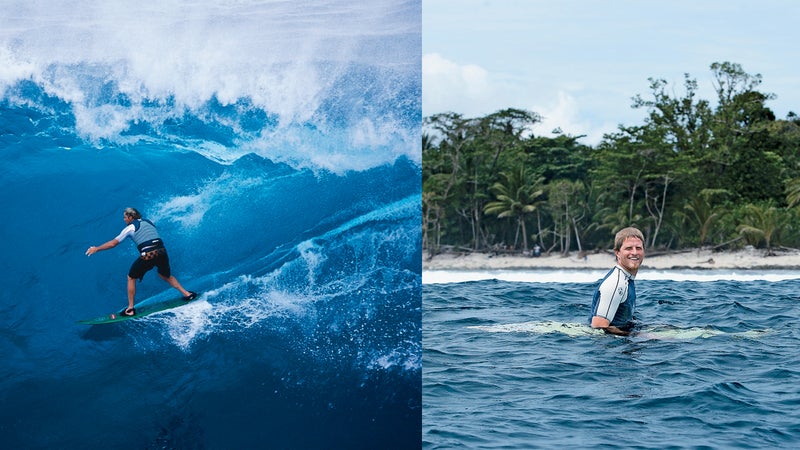 I tend to heed directions best when they're screamed. So when big-wave champion Garrett McNamara gunned his personal watercraft (PWC) toward my face at 30 miles per hour and bellowed, "A 20-foot wave is going to crash on your head! Grab the sled—quick!" I did as I was told. Never mind that I was actually bobbing safely in warm, two-foot Indonesian surf.
So goes training for tow-in surfing. It was our fifth relatively flat day of a 12-day live-aboard surf mission through the Mentawais, an archipelago of 70-odd islands full of legendary breaks, about 120 miles west of Sumatra. The beverage brand SoBe had chartered a 65-foot luxury yacht for team riders McNamara, 40, Kealii Mamala, 29, and the three pubescent wunderkind Florence brothers—John John, Nathan, and Ivan. After some luck and scheming, I convinced SoBe to allow me—an average surfer who paddles to shore when the waves crest above double-overhead—to come along, so McNamara and Mamala could teach me how to catch a monster.
Popularized in Hawaii during the nineties, tow-in surfing gets riders onto waves too big and fast to paddle into. It's now practiced around the world, but it will never be an everyman endeavor—it's too difficult and dangerous. McNamara and Mamala are two of the discipline's most accomplished stars. In 2006 they won tow-in contests in Hawaii and Oregon, catching waves with 40-foot faces, and last year McNamara won the Billabong XXL Overall Performance Award. To prepare himself for the giant drops—and massive wipeouts—he follows an agonizing fitness routine that includes everything from jogging underwater while weighted down by rocks to pedaling a unicycle on a trampoline. His ultimate ambition is to ride a 100-footer, surfing's holy grail.
I had a more modest goal: to catch the wave of my life. My training began in flat water, where I slid into the foot straps and learned to ride behind the PWC, wakeboard style. "Watch the rope," McNamara warned. "If it wraps around your neck, it can pop your head off."
A few days later, Mamala taught me how to short-rope, a quick-escape move in which a floating surfer pops up by grabbing a knot in the tow rope instead of waiting for the handle to float by. The guys let me drive the PWC, though my affinity for the throttle made this a rare privilege. When we weren't surfing, I'd do push-ups and shoulder dips while holding my breath. (Me: "How many?" McNamara: "As many as you can, until you're about to black out.")
McNamara also abused me with the occasional pop quiz. During one flat-water practice session, he suddenly turned the PWC tightly, yanking the tow rope taut and slingshotting me out of the foot straps. I hit the water rib cage first.
"What the hell was that?" I gasped when McNamara came puttering around.
"The whip," he chuckled. "You OK?"
"I think I broke a rib," I whimpered. "How fast was I going?"
"With the centrifugal force, probably 50," he replied jubilantly. "I can whip you as fast as I want." Turns out I would need to handle this kind of speed if I actually wanted to drop in on serious big waves. And, as the weather fax would soon indicate, they were finally coming our way. The forecast was calling for consistent 20-footers on our last day. "I packed an extra pair of balls in my bag," McNamara cackled. "You can use them if you need to."
I wish I'd had the chance. Unfortunately, the surf only rose to eight feet. Still, as our boat anchored on an empty left reef break, we fired up the PWC. While the Florence brothers sucked up surf on the inside like little blond vortexes, McNamara drove me up the reef and whipped me into wave after wave. I must have caught eight in 30 minutes, and the rides were three times longer than they would have been had I paddled. Sure, I was cheating in a way—but I was also training.
"We have to practice for when it gets big," McNamara said at session's end. "When Mother Nature makes the call, we have to be ready."
I flew back to Northern California the next day and waited for the phone to ring. —Thayer Walker
---
Outside Mocked Skydiving. I Paid the Price.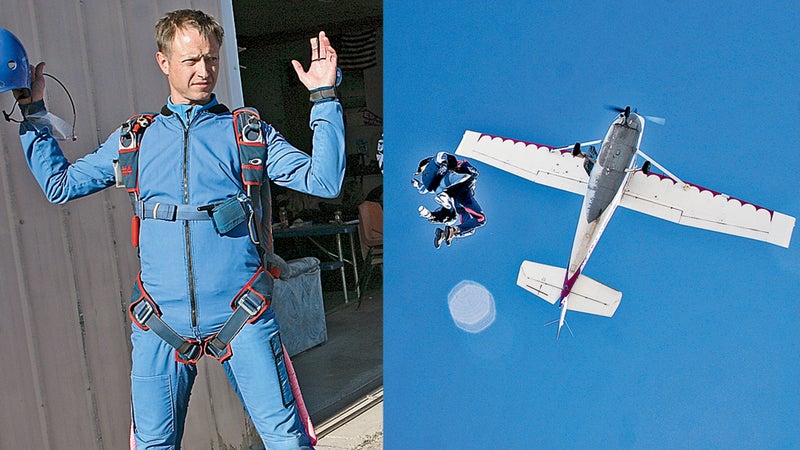 I'm 6,000 feet off the ground over Belen, New Mexico, free-falling at 120 miles per hour. It's noisy as hell, and the wind is rippling my face, turning me into a human shar-pei. Holding on to one side of me is my instructor, Ken, who's spent the past six hours teaching me how to survive Category A of the Accelerated Free Fall (AFF) program. On the other side is Kelly, who's giving me hand signals so I'll improve my arch, correct my leg position, and check my altimeter. But mostly I'm looking straight ahead, at the videographer, Krishan, and the desert landscape beyond him. Which is a problem, because in five seconds we hit 5,000 feet and I'm supposed to pull my rip cord to make sure that pretty landscape doesn't pulverize me.
It started as a dare. A few months ago, Outside published a snarky but well-intentioned little piece on skydiving's slow fall from the pantheon of cool extreme sports. Inevitably, the U.S. Parachute Association's Robert Arends sent in a miffed but well-intentioned (right?) letter reading, "We challenge Outside to experience skydiving firsthand." Push came to getting shoved out of an airplane, and there I was at 10,500 feet, afraid of heights but plummeting out of a Cessna.
That was two weeks ago, a tandem jump that required just an hour of instruction before I was on the plane, reciting the Lord's Prayer as we rose above the arroyos. When we got above the target=, my instructor, Elijah, strapped me to him like a baby—hey, it's the only way—and I faced my biggest challenge since the day in fifth grade when I asked Julie Cook if she liked me. (I was hoping for a better outcome this time.) I swung my feet out the open door and into the 90-mile-an-hour wind, climbed onto an eight-inch step, and said, "Ready as I'll ever be." Elijah launched us, and the chaos felt less like gliding than thrashing around in a swimming pool. Wind buffeted my face as we rocketed to 144 miles an hour, the air inflating my nostrils like balloons. After 25 seconds (which felt like five), I opened our single canopy and Elijah flew us to earth. My work was done.
Or so I thought. The next week I ran into Henry, a dad at my kids' school, who'd been in Belen on the same weekend, doing the real deal: AFF, in which you wear and deploy your own rig as instructors flank you—step one toward solo certification. I had assumed that Henry was about as extreme as I was (my previous highest-speed pursuit was tennis). But the bar had been raised, and after six more hours of lessons I was back in the Cessna.
I breathed deep, found myself getting—how you say?—amped, and scooted out into launch position while my new best friends got a good grip on me. I executed the jump perfectly and got into a half-decent belly-down arch, and now here I am, thrilled at last with the sensation of free fall. Goal achieved.
Or so I thought. I'm gazing dreamily at the Rio Grande, embracing life, thrilled that I'm thrilled about this, when Ken thrusts an index finger in my face—the signal for "Deploy now!" I finally glance at the altimeter and see the needle at 4,800 at the exact moment Ken gives up on me and yanks the rip cord himself. Ohhh, riiight—the save-my-life part. —Will Palmer
---
The Chainring Gang: Putting an End to Years of Sloppy Mountain Biking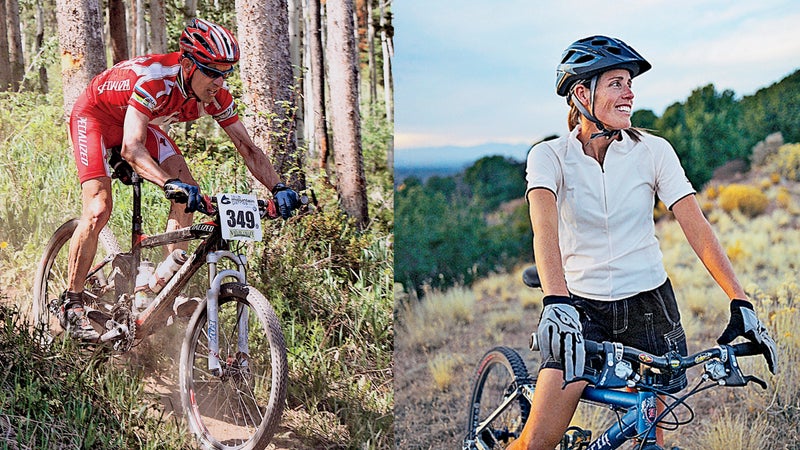 Certain words shouldn't be thrown around on a mountain-bike trip—like "broken collarbone," "concussion," and "raspberry face." But that's exactly what I heard when I showed up in Moab, Utah, last fall for a five-day cross-country clinic led by retired pro Alison Dunlap. Several returning students were sharing stories from last year's camp—about the German guy who rode off a huge ledge and ended up in the ER and the rider who went home with no front teeth. I began to feel very afraid.
On a mountain bike, fear makes you do stupid things, like clip out at the wrong time or yank hard on the front brake when you know better. In my nearly 15 years of riding, I've made all these mistakes, and I have the scars to prove it. But that's why I'd come. If anyone could tame my terror on fast and technical descents, it would be Dunlap. At 38, with one cross-country world championship and 13 national titles to her name, she's the most decorated American mountain biker ever, and she's been coaching full-time since retiring in 2005.
But my pre-clinic jitters only intensified when I learned whom I'd be riding with. My fellow students included a pro from Venezuela, an expert-class racer from Michigan, and two Dunlap groupies back for their third camp. Most worrisome was Kyle, a bodybuilder-turned-mountain-biker from Marin County who'd graduated from beginner to expert after just one year on the competitive circuit. With shaved legs, rippling quads, and head-to-toe Lycra, Kyle was a machine custom-built to crush us.
The first morning, after four hours of drills in a local park, we headed out to Moab's Slickrock Trail. I'd ridden it a few times before, but as I swooped along the bald sandstone, trying to ignore the drops on either side, all I could think was: Holy crap! I knew what to do—Dunlap had taught us to shift our weight back on tricky downhills—but I was too panicked to try. "Flap your arms like a chicken to relax," Dunlap suggested when she saw me hesitate on a lip of rock. By the time we'd finished, I'd wimped out on more than one descent.
From there we graduated to a more difficult trail, a staircase of steep, technical ledges that I wouldn't have ridden on my own. The climbing felt easy, but, coming down, I lost it—all I could picture was my body somersaulting off the edge, my teeth scattered like candy corn along the trail. I scolded myself as I pushed my bike, shamefaced, through the worst of it.
The next day, after breakfast, Dunlap pulled me aside and suggested I ride what my map called "the best beginner trail in Moab." I was too mortified to protest, but by the end of the day, careering down washes and launching off mini-drop-offs, I realized I was finally having fun. I'd stopped thinking so hard about technique—and mangling myself beyond repair—and started remembering what it felt like to ride, and love, my bike. The feeling carried over into the next morning, when we all drove to Sovereign Singletrack Trail. Snaking up sandstone ledges on Kyle's back wheel, I thought I'd never get tired of looking at the hoodoos and cliffs spackled in red and orange and green. On the descent, I found myself drafting behind Dunlap. I felt her momentum and let it become mine.
"We give you the tools to open a can of whup-ass!" Dunlap called over her shoulder. She was right. I'd been waiting for her to give me confidence when, in the end, it was something only I could give myself. I let up on the brakes and let it roll. —Katie Arnold
---
Beginner's Pluck: Triathlon novice? I don't even know how to ride a bike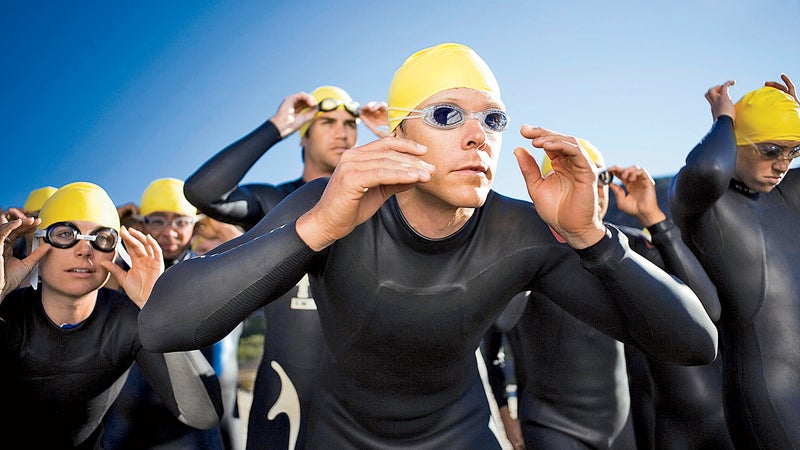 It's a snowless winter day and I'm riding a bicycle for the first time ever and making terrified, wobbly loops around Brooklyn's Prospect Park. "That's it!" says an encouraging voice. "See if you can take one shoe off the pedal." I dangle my foot toward the ground and roll to a white-knuckled halt. Sadly, it's not Christmas, and I'm not six years old. I'm 28. And the man running beside me isn't my dad; he's my triathlon coach.
That's right, I signed up for a triathlon without knowing how to ride a bike. (I had a horse as a kid. Bikes held no interest.) My friends thought I was nuts, but the good people at Team in Training (TNT) didn't flinch. The national endurance-sports program threw me into a group with lots of fit 25-to-40-year-olds but also with Sam, a 68-year-old guy who doesn't swim well, and Carissa and Amy, who are both in remission from cancer. After an hour of encouragement, our bike coach, John Stewart, has me riding a three-mile lap around the park.
This inclusiveness is a big part of TNT's draw: They prep newbies like us for events we might otherwise never consider. Signing up means pledging to raise money (usually $3,500 or more) for the organization's parent charity, the Leukemia & Lymphoma Society, which funds blood cancer research and patient services. In return, TNT members get four months of training from top coaches, plus airfare and accommodations for a major event—in my case, St. Anthony's Triathlon, in St. Petersburg, Florida.
TNT works with about 39,000 racers annually, making it the world's largest endurance-training program—and an annoyance to some athletes who grumble about swarms of first-timers. Most, however, agree that TNT has changed endurance sports for the better. "I've heard complaints," says six-time Ironman champion Dave Scott, now TNT's national triathlon coach, "but an influx of athletes is good for these sports and huge for retail."
Retail, indeed. I will purchase new sneakers, a tri suit, a wetsuit, and a road bike. Still, my body works harder than my credit card. To prepare for the one-mile swim, 25-mile ride, and 6.2-mile run, our group of 60 meets three times a week for one-to-three-hour sessions. Cycling Saturdays require endless circles around Prospect Park. Swimming Wednesdays involve technique work, like everyone elbowing in the same lane to simulate race conditions. Running Tuesdays demand six-mile slogs. "You need a mantra to get through the run," Stewart advises. I chose: This means more beer. This means more beer.… For two of our weekly "days off" we're prescribed solo work. ("Bike two hours.") And there are evening clinics on topics like nutrition and equipment.
On race day, my big goal is to survive in good-enough shape to celebrate with the six family members who have traveled here to cheer me on. Alas, I pace myself too well, finishing in three hours and 39 minutes—just behind the winner of the 75-and-up class. At the victory party, my swim coach taps me on the shoulder, mid-mambo. "If you're dancing that hard," he says, "you probably could've put more effort into the race." —Megan Miller
---
Reclaiming My Youth at the Skate Park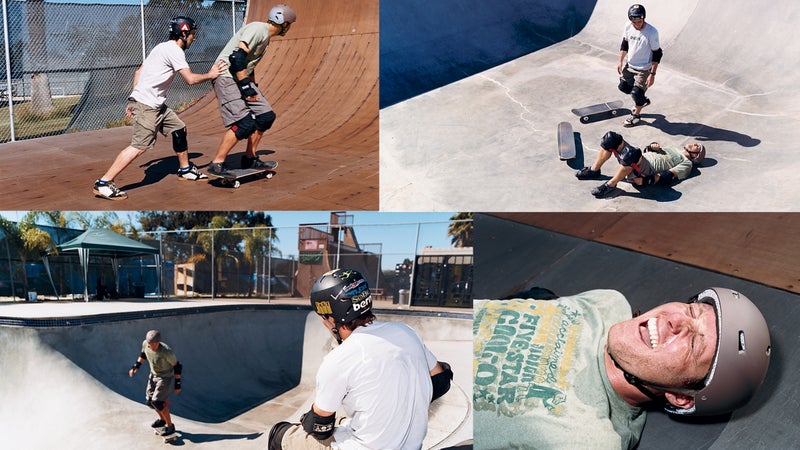 "Daddy, why do you have corn in your pants?" My three-year-old son was poking the improvised ice pack on my right hip, which partially covered a purple-and-blue bruise the size of a small pizza. After two straight days of skateboarding for six hours a day, I felt like I'd been mugged by a kung-fu gang.
Sure, it hurt. But for the first time since 1985—when a high-speed wipeout scared me away—I was skateboarding. And my teacher, eight-time World Cup champion Andy Macdonald, was confident that tomorrow I would achieve my goal: learning, at age 34, how to drop down the vertical face of a ramp, the boarding equivalent of hucking onto a black-diamond ski run.
I wasn't alone in my quest. According to a 2006 study by industry watcher Board-Trac, two million of this country's 11.9 million skaters are over the age of 18, including 205,000 between 45 and 54. Even Tony Hawk's turning 40 this year. And Macdonald, 34, further eased my apprehensions. He has an easy manner and dry wit polished through the free pointers he gives kids at his local park and the 18 years he's spent as an instructor with the famed Woodward skate camps. Woodward had put me in touch with him to set up my three-day course.
We started at an empty outdoor skate park in Poway, California. First lesson: crash technique—drop and let your knee pads take the blow. We then rode around the bottom of a concrete bowl, with Macdonald holding me. The carnage began when we added speed and difficulty.
"It's not a trick until you do it three times in a row," Macdonald said of the steep drops he made me repeat. "The first is luck, and the second is coincidence. But three times and it's a trick."
The only thing I did more than twice in a row was fall. Hard.
On day two, Macdonald took me to a three-foot-high quarterpipe. He held my wrists as I balanced the board on the edge. "Slam it down and keep your knees bent," he counseled. I crouched, stamped hard with my front foot, and rolled down the wall. No way! We walked through three more, then it was my turn to go solo, which went: Wipeout to hip, wipeout to hip, wipeout to hip, successful drop in. I tried again. The board shot out, and my head smacked the concrete.
"You OK, man?" a kid asked. I nodded, trying hard not to puke.
On day three, I met Macdonald at his home park in Clairemont, 53,000 square feet of concrete and wood operated by the YMCA. Macdonald had talked them into opening early, just for us. We warmed up for 45 minutes, then skated to a five-foot quarterpipe. I took a deep breath, leaned forward, and nailed my first try. Hell, yeah! I climbed up for another and crumpled face-first.
"Three times and it's a trick, right?" I asked, leaning on my board to stand.
"Yep." I climbed back up, ignored my throbbing hip, and dropped in cleanly. Then I did it again. Macdonald joined me on the ramp and nodded. I stared hard at the front of my board, stamped on the nose, rolled smoothly down the ramp, and headed home to a freezer full of frozen vegetables. —Mark Anders
---
How I Got Here
The Pros Dish on Their Rises to Success
Chris McCormack: 34 years old, 2007 Ironman World Champion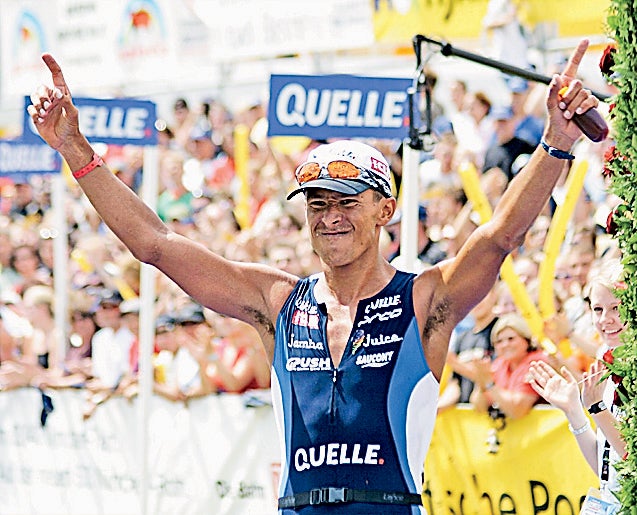 I entered my first triathlon for fun at age 19. I won, and the prize was a vacation at Club Med. I was hooked. But I had a running scholarship to the University of New South Wales, in Sydney, so I went back to running. After two years I lost my scholarship—for partying—and didn't take sports seriously again until I graduated. I got a job at a bank but quit after six months: I wanted to travel the world, and I thought the best way would be to compete as a triathlete. I sold my surfboards and bought a ticket to Paris. I entered the first race I heard about, in Avignon, and got fourth. After six weeks I entered a World Cup circuit race in Paris and finished sixth. This guy came up to me and said, "Who the hell are you?" He was the head of the International Triathlon Union, and he invited me to the next World Cup, the following week in Canada. I came in first and won $10,000. I was 22. I called my dad and said, "Guess what?" —As told to Abe Streep
Seth Morrison: 34 years old, Big-Mountain Freeskier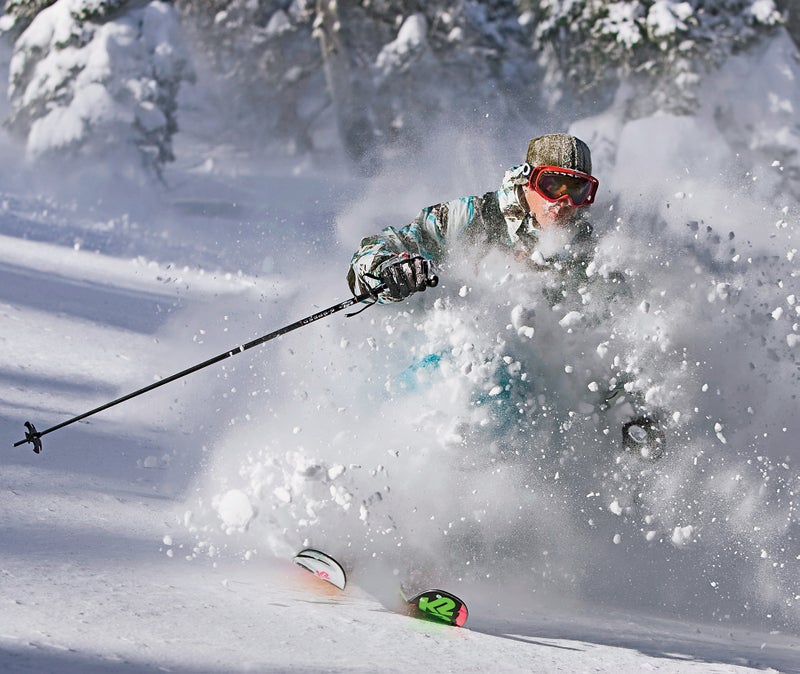 I started skiing at age six, when I was living in Madison, Wisconsin. But I didn't get serious until my family moved to Vail Valley, when I was ten. I wanted to be on the U.S. Ski Team but realized pretty soon that wasn't my path; I was an average racer and preferred the moguls. When I was 19, I entered the 1993 U.S. Extreme Freeskiing Championships in Crested Butte. I had no idea how they judged it. I just skied a line I normally ski and placed second. A week later I was invited to film with Warren Miller, and a few weeks after that to the World Extremes in Alaska. Now my schedule is full-on from New Year's all the way to June. —As told to Grayson Schaffer
Jimmy Chin: 34 years old, Adventure Photographer
After college, I bummed around Yosemite and lived out of my car. I was climbing El Cap with my climbing mentor, Brady Robinson, who taught me how to shoot his camera. We slept on the summit, and in the morning I took his camera and snapped a shot of him sleeping. He submitted his film for a Mountain Hardwear catalog, and mine was the only one that sold. I felt bad about it, but they gave me $500. I couldn't believe you could get paid that much for a picture. Five months later, I was on assignment for The North Face with Conrad Anker. I wasn't thinking about making a living; I was thinking about supporting a lifestyle. My best moment? Shooting Kit and Rob DesLauriers above the Hillary Step on Everest in October 2006. It was one of those unexpected shots. I remember framing them on their skis at 28,800 feet and thinking, I've never seen this shot before. It ran as a full page in Outside's January 2007 issue. I see a lot of material, so I'm always stoked to get a chance to capture an image that I've never seen. —As told to Grayson Schaffer
---
You: On the Podium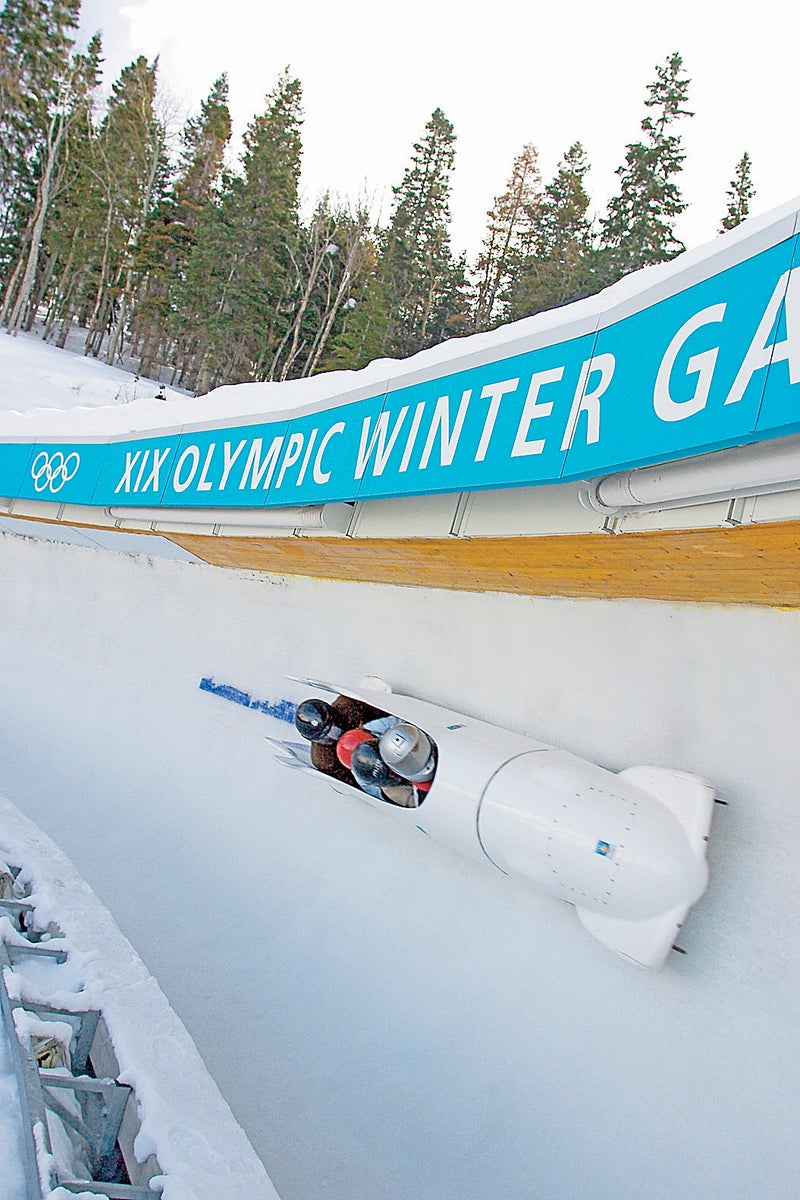 Why watch the Winter Games when you can be there, burning up the ice? Gymnasts are washed up by 14. The Chinese scout for athletic prowess in the womb. At your age, you have a snowball's chance in Cheney's house of ever making an Olympic team, right? Nope.
Let's call them the fun-slide sports—bobsled, luge, and skeleton. Among previous U.S. Olympians in these events: retired San Francisco tight end John Frank (size helps); skeleton racer Eric Bernotas, who made the 2006 Games four years after picking up a sled; and Katie Uhlaender, a softball player who finished seventh in the skeleton junior nationals 15 weeks after her first ride. If you can run very fast for two seconds and hang on for an- other 45 at speeds topping 80 miles an hour, your glory days could be ahead.
"Bobsledding is dangerous," says U.S. Olympic coach Brian Shimer."But I don't know many other sports you can pickupinayearortwoand compete for your country."
Opening ceremonies for the next Winter Games are February 12, 2010. If you want to make it in Vancouver, here's where to start.
Utah Olympic Park; Park City, Utah
Bobsled or Skeleton: Four-day, all-inclusive camp, $1,800; full day, $500; half day from $200; olyparks.com
Luge: Four-day, all-inclusive camp, $2,000; usaluge.org
Lake Placid U.S. Olympic Training Center; Lake Placid, New York
Bobsled Or Skeleton: Four-day, all-inclusive camp, $2,000; usbsf.com
Luge: Four-day, all-inclusive camp, $2,000; usaluge.org
Canada Olympic Park; Calgary, Alberta
​Bobsled: US$150 per ride
Luge: $20 per ride; canadaolympicpark.ca —Joe Spring
---
School's In: The Best Places to Learn