The 100 Best Places to Work in 2012
Enlightened companies seek ambitious individuals who work hard, think big, and crave life-affirming careers, lunchtime bike rides, and soul-expanding travel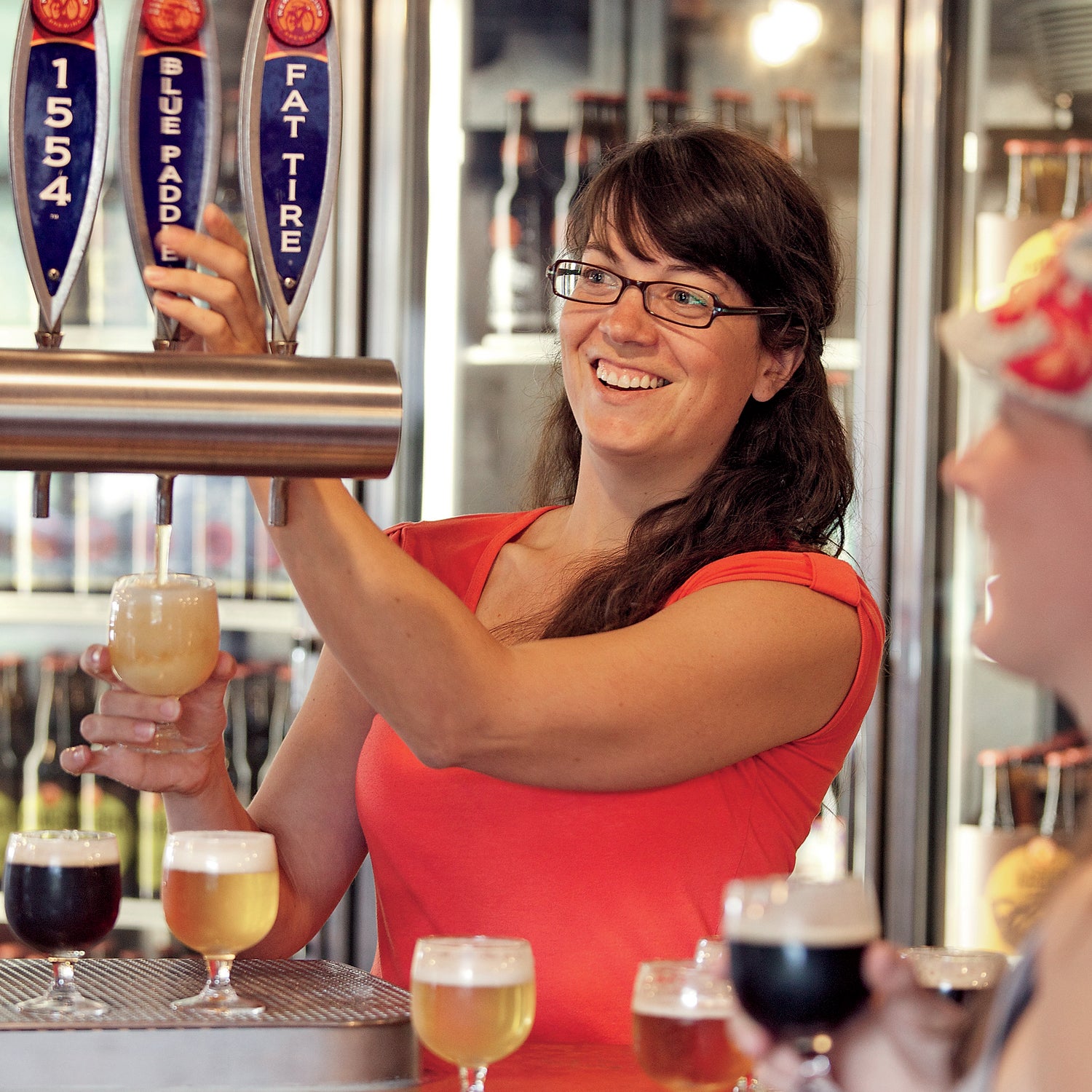 Heading out the door? Read this article on the new Outside+ app available now on iOS devices for members! Download the app.
Five years ago, we embarked on a mission to find American companies that truly believe in work-life balance. We sought out successful businesses that allow people to pursue ambitious careers but also spend time with their families, give back to their communities, and fulfill their passion for adventure. And we found them. Lots of them. In 2008, we celebrated 30 in the first list of Outside's Best Places to Work. By 2010, so many quality companies applied that we were compelled to name 50. This year our research partner, Best Companies Group, was adamant: there were 100 amazing applicants that deserved recognition. And we agreed.
1. Readytalk
Location: Denver, Colorado
Number of Employees: 153
Digs: Two floors of a newly refurbished high-rise in Denver's hip LoDo District.
Culture: It's a tech firm, so you spend many hours staring at a computer screen. But the atmosphere is more Pixar than Office Space. Each team has its own themed area—stocked bar cart and brainstorming toys for the marketing guys, Ping-Pong table for sales, life-size decals of Donkey Kong on the walls of the video-game-obsessed engineering department.
Sweet Perk: Free Eco Passes, which grant employees unlimited transportation on the light rail and buses throughout the entire Front Range.
Now Hiring: Account managers, salespeople
readytalk.com
2. Natural Habitat Adventures
Location: Louisville, Colorado
Number of employees: 34
Digs: Fifteen miles east of Boulder, on the campus of its parent company, yoga brand Gaiam.
Culture: On paper it's just another desk job: spreadsheets, data entry, phone calls with clients. But it sure doesn't feel that way. Employees shout weekend plans over the cubicle walls as dogs roam the office. An always stocked bar fuels Friday-afternoon Ping-Pong sessions in the lounge. "Effectiveness and success count," says general manager Rick Guthke. "But schedules can fluctuate, and folks take advantage of slower seasons."
Sweek Perk: Every year, each employee spends two weeks "inspecting and experiencing" one of the trips the company sells.
Nathab.com
3. Seeley Lake Elementary 
Location: Seeley Lake, Montana
Number of employees: 35
Digs: Typical school—except for the stashes of nordic skis and mountain bikes.
Culture: "We see education as something that happens in places not confined by four walls," says superintendent Chris Stout. Before and after classes, Seeley teachers bike or cross-country ski on the groomed trails that surround the school and help run the Adventure Club, a program that takes kids biking, hiking, skiing, and fishing. Staff also participate in community-building projects like the Blackfoot Challenge, which promotes outdoor education in the Blackfoot River watershed.
Sweet Perk: Financial aid for everything from a master's in science to ski-instructor certification.
Now Hiring: K–6 teacher
Sleonline.org
4. MercuryCSC
Location: Bozeman, Montana
Number of employees: 22
Digs: Brick building overlooking Main Street.
Culture: It can feel more like a ski shop than an ad agency. The music is on, windows look out at the Bridger Mountains, and staffers are at their desks in their base layers after morning runs. The work itself is both collaborative—think brainstorming sessions in front of a giant whiteboard—and competitive: every year, two employees who "have shown exceptional commitment to the company" are awarded international trips.
Sweet Perk: At the end of the year, employees are rewarded with a trip abroad. (Last year: Costa Rica.)
Now Hiring: Creative director and copywriter, among other positions
MercuryCSC.com
5. New Belgium Brewing
Location: Fort Collins, Colorado
Number of Employees: 435
Digs: Brewing complex with fermentation tanks and a wood-and-steel office building.
Culture: Social (the staff collaborated on a hip-hop video to promote a new IPA). Active (cyclo-cross on the company track, climbing on the company wall, on-site yoga, Ping-Pong). Lubricated (complimentary "shift beers" at the end of the workday). The brewers that created the Tour de Fat costumed bike parades clearly enjoy themselves. "Our core value is fun," says media-relations director Bryan Simpson.
Sweet Perk: After one year, new hires are included in a 44 percent employee stake in the company. After five, they're taken to Belgium with cofounder Kim Jordan.
Now Hiring: Graphic designer, warehouse technicians
Newbelgium.com
6. Dero Bike Racks
Location: Minneapolis
Number of Employees: 17
Digs: Everybody, including the CEO, works in an open space inside an office in Minneapolis's Prospect Park neighborhood.
Culture: A biking way of life is both embraced and rewarded. Employees earn $3 each day they ride to work, pedaling to meetings around town is encouraged, and company outings include rolling tours of Twin Cities pubs. "Cycling shoes and helmet hair are the norm," says marketing director Mark Skoine. The mission statement stresses "excellence and happiness," which (sort of) explains the company president's legendary Big Order dance when someone closes a deal.
Sweet Perk: Quarterly outings—laser tag, ski trips, Twins games.
Dero.com
7. Blue Tent Marketing
Location: Carbondale, Colorado
Number of employees: 24
Digs: A dog-friendly loft just a few blocks from the Roaring Fork River.
Culture: Flexible hours let you ski, bike, run, or play, as long as you hit deadlines. Company-sponsored skiing and rafting parties, and a fridge stocked with beer for afternoon stress relief, make for a casual atmosphere in an otherwise hard-charging company. Leadership is also "very open to hearing about new ways to do things," says Todd Chamberlin, a project manager. "We're treated like adults."
Sweet Perk: Freedom to work very remotely for up to three weeks: one employee was recently logging in from Costa Rica.
Now Hiring: Programmers, account managers, search-engine-optimization specialists
Bluetentmarketing.com
8. Clientek
Location: Minneapolis
Number of Employees: 30
Digs: An office suite above a health club in Minneapolis's Warehouse District.
Culture: Number crunching. Endless meetings. Intense pressure from clients. So goes consulting. But Clientek has a formula for keeping its highly educated Type A staffers balanced: group fitness classes, organized races, foosball, and an extensive Nerf arsenal for "random workspace battles."
Sweet Perk: Clientek covers training at the club downstairs and entry fees for fitness and sporting events.
Now Hiring: Software developers
Clientek.com
9. Strava
Location: San Francisco
Number of Employees: 42
Digs: The old newsroom of the San Francisco Chronicle in the SoMa district.
Culture: The staff is dominated by top-tier tech geeks, many of them alums of Google and other Silicon Valley titans, who are also bikers and runners. The aggressive startup mentality is tempered by the fact that workouts double as testing missions for app development.
Sweet Perk: Twenty-five vacation days right off the bat.
Now Hiring: Engineer, mobile-product manager
Strava.com
10. ZaneRay Group
Location: Whitefish, Montana
Number of Employees: 16
Digs: Desks are scattered about an open space that looks out on the Flathead National Forest.
Culture: Staffers are dedicated skiers, bikers, hockey players, and ultimate-frisbee aficionados. Fittingly, "our company stresses recreation," says office administrator Miriam Lewis. Flex hours—eight hours a day on your time or, say, 12 hours one day and four the next—enable the staff to "take advantage of our small-town mountain lifestyle."
Sweet Perk: The company treats everyone to an annual rafting day on the Middle Fork of the Flathead River.
Now Hiring: Web developers
Zaneray.com
11. Realeflow
Location: Parma Heights, Ohio
Number of Employees: 21
Digs: A central "living room" with a leather couch and a big-screen TV ringed by shared offices.
Culture: "Relaxed and friendly" is how communications manager Tracy Tobias describes it. Employees are encouraged to take their families fishing, hiking, and camping at owner Greg Clement's 100-acre apple orchard, just 20 minutes from the office.
Sweet Perk: When the company meets earnings expectations, employees are invited to bring spouses on corporate trips to places like Playa del Carmen, Mexico.
Now Hiring: Graphic designer, programmers
Realeflow.com
12. Clif Bar
Location: Emeryville, California
Number of Employees: 311
Digs: Newly remodeled former manufacturing plant, with vintage bikes hanging from the ceiling, a company theater, and workout spaces.
Culture: Athletes, foodies, tree huggers (and many crossbreeds)—that's who works at Clif. Few teams anywhere enjoy the kind of 360-degree benefits that propel Clif employees: dozens of free fitness classes in the office gym and studios, up to $350 in race-fee reimbursement, an organic cafeteria with discounted meals (including take-home dinners), a $500 stipend for buying a commuter bike after a year on the job … the list goes on. "We strive for a great office culture, because sustaining our people is one of our five bottom lines," says Jennifer Freitas, human resources manager. "It's one of the ways we measure success."
Sweet Perk: Six-week sabbaticals are offered every seven years
Now Hiring: Food-safety specialist
Clifbar.com
13. BrainStorm
Location: American Fork, Utah
Number of Employees: 26
Digs: Office building on Main Street, with views of the Wasatch Front Range.
Culture: It's a competitive place, but one where people manage their own hours. "If you want to cut out early to go hang gliding, just show up earlier that morning," says Chandler Milne, who works in the marketing department. It's also a company where blowing off steam means spontaneous dodgeball games and foosball tournaments.
Sweet Perk: Frequent outings to try out new experiences—curling, mountain scootering, biathlon—in an effort to spur creativity.
Brainstorminc.com
14. Restoration Services
Location: Oak Ridge, Tennessee
Number of Employees: 287
Digs: A eco-friendly headquarters—with an in-house coffeeshop—is under construction.
Culture: Restoration Services does everything from mopping up hazardous areas to building sustainable farms to constructing solar arrays. It's the kind of progressive work that attracts positive-thinking employees. To help them maintain that attitude, there are a range of benefits: compressed 40-hour workweeks, tuition reimbursement up to $3,500 per year, and monthly, company-covered "wellness activities," like charity bikes rides and sports leagues.
Sweet Perk: Go to your gym eight times a month and RSI will pay your membership dues.
Rsienv.com
15. Beach Cities Health
Location: District Redondo Beach, California
Number of Employees: 53
Digs: The main office is a quarter-mile from the ocean; half of it has Pacific views, and the other half looks over Angeles Crest Forest.
Culture: Meetings are often conducted during strolls to the marina or along Redondo Beach. Employees are reimbursed for sharing healthy snacks with coworkers and encouraged to spend a few hours each week working at one of the nine elementary school gardens that BCHD runs.
Sweet Perk: Free access to the company's 16,000-square-foot fitness center.
BCHD.org
16. River Design Group
Location: Whitefish, Montana (main office) and Corvallis, Oregon
Number of employees: 16
Digs: A log cabin with two outbuildings situated on five wooded acres on the outskirts of town. The office décor features photos of RDG's projects as well as artwork of famous western rivers. The five-acre grounds are adjacent to State lands for recreation and contain a seasonal wetland. Within a two-acre fenced area on site, is a "doggie daycare" facility.
Culture: Work attire is casual and based on whether the day's activity is a presentation to a watershed committee, or a field excursion wading rivers and taking scientific measurements. During the short, Pacific Northwest summer field season, the field days are typically long and office days are few and far between. Flex hours are generally redeemed during the winter months when winter activities rule. Employees are encouraged to break up the day with a trip to the gym, mountain bike ride, or a few ski runs on a powder day. No matter the time of year, Glacier National Park or the Oregon Coast are always accessible for a break from the grind.
Sweet Perk: RDG pays for employee memberships to a local fitness center of their choice.
Now Hiring: Senior water resources engineer in the Whitefish and Corvallis office
RiverDesignGroup.com
17. Country Walkers 
Location: Waterbury, Vermont
Number of Employees: 20
Digs Casual, dog-friendly office with views of the Green Mountains.
Culture: People who are passionate about overseas travel—that's who works at this specialized travel provider. A "late shift" policy allows for morning trail runs or ski turns at nearby Stowe Mountain Resort, and telecommuting is an option one day a week.
Sweet Perks: Travel abroad to experience all of the tours the company arranges, like eight-day trips to Crete or a 12-day trekking tour of Nepal.
Countrywalkers.com
18. Max Borges Agency
Location: Miami, Florida
Number of employees: 40
Digs: High-rise building in the center of the downtown Brickell neighborhood. All employees have their own glass office, most with views of the city (think Ari Golds office from Entourage). In the middle of the 16,200-square-feet office is a gym. A broadcast studio, shower room, golf putting area, common room, and a table-tennis table are on their way.
Culture: Unless clients are in the office, it's a jeans and T-shirt vibe—working long hours but having fun doing it. "Laid back but productive" is how they describe the environment. "People who are constantly pushing the envelope," is how the company describes their employees. 
Sweet Perk: Every year the company takes a cruise to locations like the Bahamas. Plus, the agency sponsors any kind of competitive event employees enter, like triathlons or marathons.
Now Hiring: Account manager and an I.T. specialist
MaxBorgesAgency.com
19. The Honest Kitchen
Location: San Diego, California
Number of employees: 20 human staff, 26 four-legged executives
Digs: A 3,500 square-foot loft in a one hundred-year-old red brick building that used to be home to the Wonder Bread factory. The floor plan is very open, with lots of brick and natural wood—and of course dogs, dog beds, and water bowls all over the place. Massage chairs, lots of sofas (usually occupied by one or more dogs), and bookshelves dot the office.
Culture: It goes without saying: it's a dog culture. Twelve office dogs are the focal point of everything: schedules are often structured around their walks, meaning lots of fresh air for everyone. Employees take advantage of flexible hours to accommodate their personal needs, everything from children's sports to canine acupuncture appointments.
Sweet Perk: Monthly in-office chair massages for everyone and dog peticures for the office pups. Office outings are in the oft, and include lectures (the staff recently went to hear the Dalai Lama speak), local craft brew houses, restaurants, and occasional baseball games.
Now Hiring: National sales manager, experiential marketing / consumer insights manager, channel manager and six territory sales people
TheHonestKitchen.com
20. Goal Zero
Location: Bluffdale, Utah
Number of Employees: 62
Digs: Warehouse in an industrial park with a climbing wall and gym on-site.
Culture: Philanthropy remains a guiding principle for Goal Zero, which was formed in 2009 to help bring power to impoverished areas. The non-profit donated $400,000 worth of lights and power packs to Japan following the 2011 tsunami. "Knowing that the products are making a significant difference in peoples' lives is a huge team motivator," says CEO Joe Atkin.
Sweet Perk: Fridays off if you're on top of your deadlines.
Now Hiring: Mechanical engineer, Web-marketing director
Goalzero.com
21. Paradigm Group
Location: Nashville, Tennessee
Number of employees: 26
Digs: A suite on an eight-story office building near Music Row and downtown Nashville. In the building there is a café, an art gallery, and a personal-training studio/gym. In the Paradigm suite there is a large conference room decorated by framed portraits of Patsy Cline and Bill Monroe, done by local artist Jim Sheridan.
Culture: It's a typical office, meaning plenty of time in front of the computer, but it's also a small office with many long-term employees, meaning familial, often jovial working relationships. Long hours serving clients are offset by extremely flexible hours during the slower times of the month; it's not uncommon for employees to schedule haircuts, doctors appointments, or workout in the onsite gym during business hours.
Sweet Perk: Each year the company takes an annual trip to help with a local community project and have a little bit of fun. This past April it was Key West, with a catamaran ride and snorkeling after working on a landscaping project at a women's shelter.
ParadigmGroup.net
22. TrackVia
Location: Denver, Colorado
Number of employees: 22
Digs: A flat converted into an office with a full working kitchen, showers, washer and dryer, just one block from Union Station and Coors Field.
Culture: Passionate, fun, fast. The company's mantra, "treat people like adults," allows employees to decide what they want to wear and the hours they want to work (as long as they get all they're work done, they can set their schedule as they see fit).
Sweet Perk: Unlimited vacation time, an annual $500 scholarship awarded to employees to pursue their personal passion (skiing, mountain biking, travel, etc.), and free public transportation for each employee.
Now Hiring: Product development-Software engineering; marketing; sales
TrackVia.com
23. USANA Health Sciences
Location: West Valley, Utah
Number of Employees: 653
Digs: A 350,000-square-foot office building with an on-site cafeteria that serves organic meals.
Culture: You'd be forgiven for thinking that USANA is a health club with a side business selling supplements. Between conference calls and development meetings, employees sweat out stress at the office's 6,000-square-foot gym or on the outdoor basketball court.
Sweet Perk: Employees are rewarded for hard work with a profit-sharing bonus averaging more than 13 percent of their salary.
Now Hiring: Software engineer and distribution representative, among other positions
Usana.com
24. Rally Software  
Location: Boulder, Colorado
Number of Employees: 306
Digs: A 65,000-square-foot building with an outdoor patio overlooking the Flatirons.
Culture: Coding software to improve workforce efficiency is as nerdy as it gets, but Rally plays it cool: think bare feet on desks and scooters in the hallways. Plus, management occasionally pulls the staff away from their computers with escapes to the local go-kart track and mini-golf course. Over the past three years, employees have donated 6,000 volunteer hours to some 175 organizations.
Sweet Perk: Quarterly blowout celebrations. Recent examples: a ski trip to Eldora and a soapbox derby.
Now Hiring: Salespeople and developers, among other positions
Rallydev.com
25. Groundspeak 
Location: Seattle
Number of Employees: 70
Digs: Brick building on the shores of Seattle's Lake Union.
Culture: Groundspeak employees spend as much time using their products as they do developing them. Every new hire is given a GPS unit and, says human resources manager Erin Carsen, "they're encouraged to get outside and play." Back in the office, the atmosphere is "super laid-back," says Jen Sonstelie, director of marketing. "People wear jeans and ride scooters around the office."
Sweet Perk: Three times a week, a catering company stocks the fridge with free healthy food like eggplant and couscous entrées and frozen blueberries for smoothies.
Now Hiring: Community-relations specialist, among other positions
Groundspeak.com
26. Drake Cooper
Location: Boise, Idaho
Number of Employees: 30
Digs: A historic warehouse building downtown Boise.
Culture: Collaborative, creative types that enjoy family and friends with flexible work hours and a real work hard, play hard mentality. "Our value to our clients is in our creativity and our thinking," says CEO Jamie Cooper. "So it's important to have an environment that gives people a chance to refill the well." Living in Boise, with biking and hiking trails minutes from the office, world-class whitewater and fishing nearby, plus great skiing, offers plenty of oportunities to refill that well.
Sweet Perks: Summer Fridays (half days), a green commuting program, and a fridge that's always stocked with beer and vodka from clients such as Payette Brewing Co. and 44-degrees North Vodka. Employees also enjoy night stays at some of Idaho's best resorts and the company has an annual raft trip each summer.
Now Hiring: Web developer
Drakecooper.com
27. Ecology Project 
Location: Missoula, Montana
Number of Employees: 47
Digs:  A beautiful, 100-year-old restored building on the banks of the Clark Fork River.
Culture: EPI tends to attract an international crew of biologists, travelers, environmentalists, guitar players, yogis, kayakers, climbers, skiers and teachers.
Sweet Perks: Exclusive access to some of the most remote sea turtle and whale and grizzly habitats in the world.
Ecologyproject.org
28. Nerland Agency 
Location: Anchorage, Alaska
Number of Employees: 25
Digs: An open office with a deck that looks out over the Chugach Mountains. The office is just a couple blocks from the Coastal Trail, a bike/run/ski trail that runs along the Turnagain inlet of the Pacific ocean for 12 miles.
Culture: Since Nerland is employee-owned company, the staff has a larger-than-usual incentive to work hard and produce. To relax, many employees go to or from work along the trail, or take advantage of its proximity at the lunch hour. There's also a fitness club just two blocks away, to which each employee has a paid membership courtesy of Nerland. Office anglers can catch wild Alaska salmon three minutes from the office's front door. And in the wintertime, skiers and snowboarders can head for Alyeska Resort, just 45 minutes away.
Sweet Perks: Employees are reimbursed their entry fee once they successfully complete any sort of athletic achievement, such as a marathon, 5-K, spint-tri, or bike race.
Now Hiring: Digital Manager
Nerland.com
29. Salt Communications
Location: Portland, OR; Chicago, IL; and Stamford, CT
Number of employees: 31
Digs: The Portland office is a historical building in downtown off Pioneer Square with indoor and outdoor space. The Chicago office is loft space in downtown with brick walls and hardwood floors. The Stamford office is also downtown in a modern office building. Each office is between three- and four-thousand square feet, and each employee has their own office in each location.
Culture: Salt is very, very casual. Shorts, t-shirts, and flip flops are normal dress, and some employees occasionally work from home. Dogs are welcome and usually roam the Portland and Stamford offices.
Sweet Perk: The annual meeting in Sun Valley, Idaho, involves a couple hours of meetings each morning—then play the rest of the day. Employees are also treated to free multi-day raft trips for them and their family.
Now Hiring: Marketing communications talent
SaltComm.com
30. Hanson Dodge Creative     
Location: Milwaukee
Number of Employees: 65
Digs: A building in Milwaukee's Historic Third Ward district.
Culture: "We're active, to say the least," says marketing manager Joe Ciccarelli. Employees often grab an office bike and go for a midday spin or hop in one of the communal kayaks for a quick paddle down the Milwaukee River. The laid-back HQ is also pet and family friendly. "Many afternoons you'll see somebody's young kids hanging out in the studio café," says Ciccarelli.
Sweet Perk: In August, Hanson Dodge will open a 1,700-square-foot fitness center on the building's first floor.
Now Hiring: Creative director and brand strategist, among other positions
Hansondodge.com
31. Olu Kai
Location: Irvine, California
Number of Employees: 49
Digs: Bright, open, two-story office building with various workplace items trying to foster creative, like a floor-to-ceiling chalkboard for brainstorming sessions and a fire pole that extends from the top to bottom the floor.
Culture: Casual—jeans, T-shirts, shorts, and, of course, sandals. Flexible—eight hour days, but with no stress on starting or ending times. Fit—the usual midday yoga classes plus a Thursday afternoon boot camp. Philanthropic—each year the company holds it Ho'olaule'a festival in Maui, a celebration of ocean lifestyle and community spirit, and all OluKai staff can attend.
Sweet Perks: Also, roughly four times each year the company hosts an outing—lawn bowling, scavenger hunts by boat, Angels' baseball games—for employees plus two or three beach days per year, when the company closes for the day and the staff heads out surfing, SUPing and barbecuing.
Now Hiring: Marketing Manager and Customer Service Rep
OluKai.com
32. TaylorMade-adidas 
Location: Carlsbad, California
Number of Employees: 937
Digs: A 75,000-acre campus lined with palm trees, within walking distance of the Pacific Ocean.
Culture: "We're a company of golfers," says Mark King, president and CEO, "and that fuels our passion in the office and on the course." And while the links addicts get their fix with frequent R&D outings to the nearby Shadowridge and Torrey Pines courses, everyone on staff gets access to a 1,300-square-foot fitness center.
Sweet Perk: Free passes to TaylorMade-sponsored events.
Now Hiring Designers and engineers, among other positions
Taylormadegolf.com
33. TrainingPeaks
Location: Lafayette, Colorado
Number of Employees: 35
Digs: The TrainingPeaks space is a mix of individual offices, cubicles, and open spaces located on the second floor of an office building that overlooks the Boulder Flatirons to the west and Colorado plains to the east. The "Pain Cave," as it's affectionately called, houses a 10-bike storage rack, storage lockers, two flat-screen televisions, and treadmill and stationary bike trainers. In addition, there are shower facilities employees can use after their mid-day workout or after riding their bike into the office.
Culture: The products they produce may be for endurance athletes out there for the long haul, but employees at TrainingPeaks work quickly and efficiently, leaving plenty of time for them to go out and test the products on their bikes or running the nearby trails. That said, shaved legs, compression socks, and lots of lycra are common sights around the office, and signed jerseys from some of the world's best cyclists and triathletes adorn the walls.
Sweet Perks: Each employee receives a $600 annual benefit that can be used for the fitness selection of their choice, from new bike equipment to running shoes to race entries.
Now Hiring: UX Designer, Front End Developer, Sales Development, Business Analyst
Home.TrainingPeaks.com
34. Colle+McVoy
Location: Minneapolis
Number of Employees: 204
Digs: A loft-like office in the Warehouse District of Minneapolis with a rooftop patio overlooking downtown and lots of room for a bike shop, a fleet of bikes to borrow, and shiatsu/meditation room.
Culture: The vibe at Colle+McVoy is supportive and collaborative, but it can be intense at times, which is why employees are encouraged to blow off steam by taking midday rides along the city's bike paths. But when deadlines are met—or it's simply 3 p.m. on any given Friday—someone pilots the beer trike around the office, delivering cold brews and snacks.
Sweet Perks: Weekly subsidized shiatsu massages, fitness classes, state park passes, a bike purchase program, game room and many agency-sponsored parties like an annual " Budweiser Deck" party at a Twins game.
Now Hiring: Account managers, digital-media specialists
Collemcvoy.com
35. Petzl America
Location: Clearfield, Utah
Number of Employees: 51
Digs: In an industrial park roughly midway between Salt Lake City and Ogden, next door to soccer and baseball fields.
Culture: "About 60 percent of our staff are pretty serious climbers," says marketing director John Evans. Employees are encouraged to make use of the office's bouldering wall and take advantage of discounted passes to Snowbird and Snowbasin ski resorts. Every year, the company takes a weekend adventure to places like Zion.
Sweet Perk: A vacation schedule modeled after that of its French parent company: after five years, you get 24 days off.
Now Hiring: Copywriters and account executives, among other positions
petzl.com/us
36. C3 Presents
Location: Austin, Texas
Number of Employees: 95
Digs: An office building in downtown Austin, six blocks from Lady Bird Lake.
Culture: Booking and promoting more than 1,000 concerts each year is stressful, so C3 tries to keep its work environment as casual as possible. The staff—all music geeks—walk around in T-shirts and sneakers. The most popular go-to de-stressing tactic is attending the shows the company puts on, all of which are free to the staff.
Sweet Perk: C3 closes up shop for a week and a half during the holiday season.
Now Hiring: Graphics coordinator and marketing assistants, among other positions
C3presents.com
37. Geographic Expeditions    
Location: San Francisco
Number of Employees: 55
Digs: A refurbished military building in San Francisco's Presidio.
Culture: "People work here because they're jazzed about the places we go," says president James Sano, a mountaineer and medical doctor. Indeed, the staff exudes pride in providing top-end trips to places like Kenya and Bhutan. It helps that they get out there themselves: once a year, each employee goes on a "familiarization trip" to one of the company's destinations.
Sweet Perk: Every quarter, a top-performing employee gets an airline ticket to anywhere the company operates.
Geoex.com
38. Red Frog Events
Location: Chicago, Illinois
Number of Employees: 75 Frogs (full-time employees) and approximately 150 Tadpoles (interns)
Digs: Inside the office is a tree house complete with a slide and beanbag chairs for meetings. The tadpoles sit in "ponds" (clusters of desks that face each other), and several meeting rooms are lit up with mason jar light fixtures that reflect the brand's outdoor camping theme.
Culture: It's not uncommon to see employees in exercise gear inside the office, nor is it surprising to see them zipping around on skateboards or scooters. Though the staff works hard, every Monday they get together for family lunch in the 300-seat mess hall and s'mores stations dot the office. To further blow off steam, employees scale the indoor rock climbing wall or play a game of foosball.
Sweet Parks: Every five years Red Froggers may take a fully paid four-week sabbatical to Africa, Asia, Europe, or South America with any one person of their choice. Frogs also receive unlimited vacation days and are allowed to work from home one day per week.
Now Hiring: Full-time employees are only hired from within, so everyone is required to participate in the internship program in order to be considered for a position
RedFrogEvents.com
39. Spyderco                  
Location: Golden, Colorado
Number of employees: 48
Digs: The office sits above a leafy atrium adjacent to the factory and outlet store.
Culture: Spyderco, which was started in 1978 by Sal and Gail Glesser, remains a family-owned company—and frequent staff-wide outings make employees feel like they're part of that family. "Our office is packed with fishermen, backpackers, and skiers," says Nicole Veney, marketing assistant and graphic designer, "all of whom use our knives all the time."
Sweet Perk: Thirty-five miles of hiking and biking trails out the front door.
Spyderco.com
40. Renters Warehouse 
Location: Golden Valley, Minnesota
Mumber of Employees: 51
Digs: A four-story red brick building a mile outside of Minneapolis.
Culture: A high energy, Wall Street-like atmosphere is known to give way to epic games of Ms. Pacman. On Friday, the staff lets loose and trades the collared shirt and slacks for jeans and T-shirts.
Sweet perks: Pizza fridays, all the energy drink you want, and an annual company boat cruise.
Now hiring: Maintenance supervisor, assistant director of property management, customer service manager, and controller
Renterswarehouse.com
41. Smith Optics
Location: Ketchum, Idaho
Number of Employees: 73
Digs: A two-story building five minutes from chairlifts at Sun Valley Resort. Sectioned work spaces and plenty of meeting space, plus a gear room and locker/shower rooms.
Culture: Smith has a dog-friendly, very casual culture where long lunches for powder days or big bike rides are the norm. A couple times a quarter, the whole company and their families get together for lunches or BBQs in the office's backyard.
Sweet Perks: The company has a private backcountry yurt that employees can use as a base for private powder stashes.
SmithOptics.com
42. Leisure Trends Group
Location: Boulder, Colorado
Number of Employees: 47 full-time employees plus five interns
Digs: Office building next to the Boulder Creek, with views of the Front Range, a lounge/library, and walls decorated with antique outdoor gear and photos.
Culture: The name, perhaps, says it best: if you're into outdoor leisure pursuits, you'll fit right in with Leisure Trends Group, who handles all facets of market research for how people play in the outdoors today. Work is collaborative and casual—jeans, shorts, and, yes, flip flops. Computer time is a necessary evil of the daily grind, but employees are given time to get outside and play (naturally) during the day.
Sweet Perks: Free ski passes at Eldora Mountain Resort and significantly-discounted gear from LTG partners. Plus, three specific company-sponsored celebrations: 1. A holiday party. 2. A summer BBQ. 3. A special anniversary event where all employees who have been with the company for five years or more (currently 47 percent of the staff) is invited to attend.
Now Hiring: Research analyst, office coordinator
LeisureTrends.com
43. WildEarth Guardians 
Location: Santa Fe, New Mexico
Number of Employees: 15
Digs: Just across from the Santa Fe River, the main office is in a beautiful historic adobe downtown with a large courtyard and picnic table under an apricot tree.
Culture: Casual wear (this is Santa Fe after all where no one wears a suit, and people wear jeans to the opera). Telecommuting is fine and hours are completely flexible—no one worries about whether they're working hard enough. And, of course, everybody is serious about being green: Most employees walk or bike to work, and everybody turn off the lights, recycles, and reuses.
Sweet Perks: Yearly staff retreat. Past retreats have included rafting and ski trips.
Now Hiring: Wild River Program Director
Wildearthguardians.org
44. Coast Law Group
Location: Encinitas, California
Number of Employees: 20
Digs: A new building in downtown Encinitas within walking distance of the famous Swami surf break.
Culture: Coast Law is pretty much comprised of a bunch of surfers who happen to be lawyers. Staffers keep bikes and surfboards in their offices and post-work staff training runs are a regular item on the calendar.
Sweet Perks: Flex hours year-round, particularly when there's a good swell; free product from surf companies they represent.
Coastlawgroup.com
45. IslandWood
Location: Bainbridge Island, Washington
Number of Employees: 78
Digs: The "office" is a summer camp on an island in Puget Sound—ponds, trails, playing fields, and all the other usual camp amenities. The administration building houses most employees' offices, but even those look out over a deer-filled meadow.
Culture: It's a camp for kids so, as you can imagine, employees get a fair bit of whimsy and liveliness in their day-to-day, making work/life balance easy to achieve. What overrides all of that playtime is a commitment to outdoor education and a passion for the natural world.
Sweet Perk: Every staff member gets discounts from various outdoor recreation stores and the camp holds annual staff parties. And, of course, access to 255 acres, where midday runs and hikes are encouraged.
Now Hiring: maintenance technician, a full-time housekeeping coordinator, and part-time housekeepers
IslandWood.org
46. BUMP Network, Inc.
Location: La Jolla, California
Number of Employees: 15
Digs: Located on the third floor of a building overlooking the Pacific Ocean.
Culture: It's a tech firm, which means lots of time in front of a computer, but employees are encouraged to workout in order to break up the day—beach runs or swims in the La Jolla Cove during lunch are a popular option—and run errands around the city on beach cruisers. A few of the employees are certified yoga instructors, so group yoga on the roof is also a frequent occurrence.
Sweet Perks: BUMP Network hosts and sponsors events like the annual TEDxLaJolla and the semi-annual Triathlon Sanctuary, and employees get free access.
Now Hiring: Open positions across the board
Bump.com
47. Renters Warehouse 
Location: New Castle, Virginia/Blue Ridge Mountains of Southwest Virginia
Number of Employees: Up to 30 in the summer
Digs: A large log cabin houses open offices, the camp store, main offices, and staff lounge. There's also an exercise area with a complete Total Gym weight set.
Culture: Employees enjoy a laid-back office environment and flexible hours. Shorts and T-shirts are the standard dress, and dogs wander around the office. Spontaneous ice cream socials and Air Soft gun fights break out fairly often.
Sweet Perks: Each season, employees are treated to staff happiness outings. Past outings have included a few days on houseboats, trips to the Olympic Whitewater Center in Charlotte, North Carolina, and go-carting. Employees at Wilderness Adventure are also provided room and board on the property.
Now Hiring: Group leaders as well as seasonal trip leaders for the summer youth program
Wilderness-adventure.com
48. CamelBak Products
Location: Petaluma, California
Number of Employees: 123
Digs: Corporate HQ overlooks Schollenberger Park, a 165-acre park and bird preserve that serves as the perfect mid-day escape for employees to walk, jog, bike, or just enjoy nature.
Culture: Sometimes it's hard to tell the difference between a CamelBak employee and a CamelBak customer. Work is full of energy and employees delicately balance having fun and creating results.
Sweet Perks: Outstanding contributions are recognized in real time by rewarding associates with a CamelBak Voucher, redeemable for two movie tickets or a 15-minute massage.
CamelBak.com 
49. Avery Brewing Company 
Location: Boulder, Colorado
Number of Employees: 70
Digs: Sure they've got corporate offices to house the  president, the accountant, and the sales and marketing team; but the real "office" is a production brewery taking up eight or so light industrial units with outdoor tanks, a brewhouse, bottling and canning lines, refrigerated warehouses, a lab, and the Avery Tap Room. From pretty much any window you can see the Front Range, just west of Boulder.
Culture: Avery feels a bit like Santa's workshop where the elves are perpetually stoked to be making the coolest toy ever—beer. When shifts end, almost everyone sits down at the Tap Room for a few communal beers. It's a congenial staff of climbers, bikers, ultra-runners, and anglers sharing tales around the table. In marketing director Joe Osborne's words "it's easily the most fun you'll ever have in an alley."
Sweet Perks: Along with awesome benefits, the owner throws a New Year's Party at his house every year, and everyone who works at Avery is welcome along with their loved ones. Also, and perhaps most importantly, the production team gets one free case of beer per week.
Averybrewing.com
50. The Clymb
Location: Portland, Oregon
Number of Employees: 64
Digs: At press time, the company was in the process of moving into new offices.
Culture: Employees at The Clymb work long, but flexible hours. It's very common for staffers to break away for walks around the city or long runs along the riverfront. Oftentimes, employees work from home or a local coffee shop. The culture is also green: to help the community, employees do trail maintenance around the Portland area, are near paperless, recycle absolutely everything, utilize natural lighting, and incentivize employees who ride bikes or take public transportation.
Sweet Perks: Company Ski Days, season passes to Mt. Hood Meadows, free Gym memberships for all employees, free bike maintenance for employees that commute at least 50 percent of the time, and a kitchen stocked with fresh fruits and coffee daily.
Now Hiring: Buying, Creative (both copy and design), Tech/Programming
TheClymb.com
51. DryCase
Location: Wilmington, North Carolina
Number of employees: 15
Digs: Sitting a stones throw from the beaches on the southeastern coast of North Carolina, the office was designed with a completely open layout—no walls and enormous bay doors that are left open nine months out of the year.
Culture: Casual is an understatement. Many times you'll find sales reps closing a deal while skating around the parking lot talking on their cell phones. Extremely flexible schedules also mean that when the weather is good for surfing employees can run off to the beach. On a day-to-day basis, employees burn off the rare stress build-ups with basketball, Frisbee and skateboarding.
Sweet Perks: Sales trips often turn into company-sponsored surf vacations and mountain biking adventures. Plus, there's plenty of Friday cookouts with fresh seafood—often from an employee who went out spear fishing or crabbing that morning.
Now Hiring: Sales representative, among other positions
Drycase.com
51. Chesapeake Energy 
Location: Oklahoma City, Oklahoma
Number of Employees: 13,500
Digs: A 120-acre campus, with ponds and courtyards, that feels more like an Ivy League college than a corporation.
Culture: This spring the company faced serious challenges after CEO Aubrey McClendon came under fire for a series of poor investments, but the good life goes on at Chesapeake HQ. Long hours are rewarded with free movie screenings in the company theater, a 63,000-square-foot daycare center, and a 72,000-square-foot fitness facility with a sand volleyball pit and a 25-foot climbing wall. To top it off, employees earn up to $1,500 just for going to the gym and attending health seminars.
Sweet Perk: Summer concert series (with free margaritas) on Thursday afternoons.
Now Hiring: Hundreds of positions in everything from engineering to geoscience
chk.com
53. CLEARLINK  
Location: Salt Lake City
Number of Employees: 1,097
Digs: A three-story office in Salt Lake City's International Center.
Culture Ad work is notoriously demanding, and Clearlink gets the incentive part just right. Every March, the company takes top-performing employees to Mexico, and in the fall there's a weekend retreat in Sin City. Management also lets employees' creative sides set the tone: a blog run by staff members recommends places to eat, an employee in a bunny suit makes random appearances around the office to lighten the mood, and last year the company organized to create 1,279 snowmen in 60 minutes, earning a spot in Guinness World Records.
Sweet Perk: Each year the sales agent of the year and the employee of the year get a free week-long trip anywhere in the world.
Now Hiring: Copywriters, developers
Clearlink.com
54. First Green Bank
Location: Mt. Dora, Florida
Number of Employees: 49
Digs: A new 12,000-square-foot headquarters, which is currently undergoing LEED Platinum certification for the innovative green design elements—koi ponds which feed into the building, 320 square feet of living walls (plants) that improve indoor air quality, 60 solar panels on the roof, and massive amounts of natural light. On the second floor: a fully-stocked gym.
Culture: It's a professional environment (it's a bank after all) but managers work constantly with their staff to make hours as flexible as possible. Employees also have free use of the gym during the workday, so they can train before, during, or after work, and the bank pays a trainer to come in twice weekly. To encourage employees to stay fit, the company even goes further, providing each employee with a $500 annual stipend for race or league registration fees.
Sweet Perks: Employees can get a 0 percent interest on a car loan—provided the vehicle gets over 30mpg. same thing with home remodeling: 0 percent interest on alternative-energy upgrades.
FirstGreenBank.com
55. Full Sail Brewing Company
Location: Hood River, Oregon
Number of Employees: 115
Digs: Your typical brewery—complete with fermentation tanks, a filtration system, a bottling line, and a tasting room—on a bluff overlooking one of the best wind- and kite-surfing spots in the world. There's also front-door access to the Columbia River Gorge.
Culture: Full Sail is an employee-owned company. As such, everyone working for the company is dedicated to and passionate about the product—which just so happens to be craft beer. And because it's located in the Columbia River Gorge, most everyone just so happens to be passionate about outdoor pursuits too. In a recent survey Full Sail conducted, 85 percent of employees hike, bike, fish, kayak, ski, snowboard, climb, windsurf, or kite-board each week.
Sweet Perks: Full Sail has a standard four-day work week, giving employees a three-day weekend year-round. Also, employees get half-price meals and two beers after each shift in the company's Tasting Room and Pub, which features local produce, natural grass-fed beef, free-range chicken, and wild-caught salmon.
Now Hiring: Salespeople and cooks and servers in the tasting room
FullSailBrewing.com
56. Backbone Media 
Location: Carbondale, Colorado
Number of Employees: 31
Digs: Large open work spaces and a huge gear room stocked from floor to ceiling with the latest outdoor products from the 40-odd brands Backbone represents.
Culture: If you're an elite skier, mountain-biker, climber, backpacker, runner, or fly-fisherman, but don't quite have the inclination to go pro (and live a dirtbag existence), chances are you'll fit right in. More often than not you'll find employees working in running clothes or a bike kit after just returning for a lunchtime run or ride. Backbone has a standing rule that employees can ski (or cycle or fish) in the morning as long as they return to the office by mid-day to get their work done. And as media representatives for many of the most recognizable brands in the outdoor industry, employees also have access to outdoor gear that everyone is encouraged to demo (product research).
Sweet Perks: Yearly all-staff charges (Backbone staffers don't "retreat") —camping in the summer and backcountry skiing in the winter. Plus, there's a kegerator stocked with New Belgium beer (one of the brands they represent) and a fleet of New Belgium cruisers to get around town.
Now Hiring: All positions
Backbonemedia.net
57. NOLS
Location: Lander, Wyoming
Number of Employees: 1,000
Digs: Corporate HQ is a 40,000-square-foot building that features, naturally, plenty of eco-conscious elements, like self-dimming lights, recycled carpeting, and unfinished surfaces. Like HQ, NOLS schools around the globe have a range of choices for relaxing, from gyms to rock-climbing walls to an ocean-side soccer field.
Culture: People who like experiencing outdoor adventures and people who like sharing outdoor adventures—that's who works at NOLS. Around the globe, various branches play volleyball, kickball, ultimate Frisbee, and soccer together during the day or go rock climbing, biking, or skiing. At the Lander HQ, bikes are available for employees to run mid-day errands. And all employees are given free time to participate in NOLS-sponsored volunteer efforts, such as trail repair or community garden support.
Sweet Perks: All branches have outdoor gear that is free for employees to use. In the Pacific Northwest, staff can take the keelboat out on personal trips. The New Zealand branch has surfboards. Australia has mountain bikes. Alaska has sea kayaks.
Now Hiring: NOLS hires over 100 seasonal employees at various locations each year
NOLS.edu
58. Amer Sports Winter & Outdo
Location: Ogden, Utah
Number of Employees: 116
Digs Office in Ogden with views of the Wasatch Range.
Culture: When you make leading outdoor brands like Salomon, Wilson, Atomic, and Suunto, chances are your workforce is going to be similarly outdoor oriented. And such is the case with Amer Sports—employees, when they're not working, are out "testing" the products the company makes.  
Sweet Perk: Free season ski passes and free and subsidized gym passes.
Amersports.com
59. KEEN Footwear
Location: Portland, Oregon
Number of Employees: 170
Digs: Employees work in an office with an open floor plan and work areas designed to spur creativity—desks and furniture made with repurposed materials, like reclaimed wood, and there are community boards where people can share ideas. The heart of the office is the "great room," a shared space stocked with games, musical instruments, and areas to relax and eat. There is also indoor bike parking and showers.
Culture: Keen, which makes hybrid shoes, consistently promotes a "hybrid" culture within the office. "We never take ourselves too seriously, but we take what we do very seriously," as the company puts it. And indeed, fun on the job is part of the culture—a daily 10-minute "recess" to get outside and play, frequent games such as corn hole in the great room or, when the mood strikes, piano, guitar, and the drum sessions.
Sweet Perks: Every summer from Memorial Day through Labor Day, the company closes the office at 3:00 for "Hybrid Fridays," where employees are encouraged to get outside. To encourage them even further, the company provides items like bikes, stand-up paddleboards, and maps in the office so people can go directly from working to playing in the big outdoors.
Now Hiring: Design manager, developer, human resources manager, finance manager, national sales director
KEENFootwear.com
60. Boa Technology
Location: Denver, Colorado
Digs: An old brick factory along the Platte River with the Platte River Path just outside the door.
Culture: Boa employees are encouraged to join the team for lunchtime bike rides and runs (fortunately, there are at least six showers at the office) and the Heath and Wellness program provides prize incentives for Boa employees to set and achieve their goals, which range from running a 100-mile trail race to attending yoga class to eating more vegetables to simply walking half a mile per day. Incentive to get outside? A squadron of colorful office townie bikes.
Sweet Perks: Boa employees get a $500 Health and Wellness bonus each year that can be applied to such things as gym memberships, ski passes, or race entries. Out-of-office events include an annual outing to nearby Coors Field for a Rockies Game, a community volunteering event, and, this year, a shopping cart racing world championship. Seriously.
Now Hiring: Product designers, developers, engineers, and salespeople
Boatechnology.com
61. Quality Bicycle Products  
Location: Bloomington, Minnesota
Number of Employees: 670
Digs: The two-story, LEED-certified office building and distribution center overlooks Hyland Lake Park Reserve.
Culture: Predictably, a riding ethos dominates at QBP. Employees receive bike swag for cycling to work, there's a fully stocked service and repairs facility, employees can purchase QBP gear wholesale, and there are spin classes during the chilly Minnesota winters. Dogs roam the office, and staff members are granted two days paid leave to volunteer.
Sweet Perk: After 10 years, employees can take a four-week paid sabbatical to help promote cycling any way they choose.
Now Hiring: Brand manager
Qbp.com
62. Redspin, Inc.
Location: Carpinteria, California
Number of Employees: 20
Digs: A stand-alone building with vaulted ceilings, wooden beams, and skylights. The office has its own shower to support early morning or lunchtime athletes. Restaurants, city parks, a gym, community pool and the beach are all within walking distance.
Culture: Redspin supports flexible work schedules and shorts and flip-flops are standard dress. Employees often get together for beach volleyball and, inside the office, teams get together for lunches once a month. Redspin also supports several charitable causes, including Heal The Bay and the S.O.S End Childhood Hunger Campaign.
Sweet Perks: Redspin pays 100 percent of employee health insurance premiums and 100 percent of their gym membership costs.
Now Hiring: IT Security Engineers
Redspin.com
63. The Republic of Tea
Location: Novato, California
Number of Employees: 100
Digs: The building is a former Army and Air Force airplane hangar with offices and cubicles designed by a Feng Shui architect.
Culture: From the calming Feng Shui design of the office to a commitment to exercise, the Republic's culture is a healthy one. Each employee is fitted with a new pair of athletic shoes every year and is encouraged to head outside every day, where the staff takes advantage of the nearby trails. In addition, many employees stretch it out in Wednesday evening Yoga classes. The kitchen is stocked with healthy snacks and a staff nutritionist helps employees dial in their eating habits.
Sweet Perks: Employees take annual educational trips to tea-producing countries such as India, China, Japan, Sri Lanka, Taiwan, and South Africa. Highlights include plucking tea, visiting tea gardens, meeting the generations of tea farmers, as well as exploring the region.
RepublicOfTea.com 
64. Vail Recreation District 
Location: Vail, Colorado
Number of Employees: Approximately 24 employees, year-round. Eighty additional seasonal employees during the summer.
Digs: Employees work in seven facilities: the Vail Golf Club and Nordic Center, Vail Tennis Center (houses tennis, administration, sports, building maintenance and parks maintenance), Dobson Ice Arena, Vail's Community Room and Imagination Station, Vail Gymnastics Center, Vail Nature Center, and Golf Maintenance.
Culture: Vail Recreation District is multi-cultural when it comes to work: though everybody is laid-back and works outside, each venue has a different feel to it. Work at the golf club and you're wearing a collared shirt; work at the Dobson Ice Arena and you could be spending a lot of time in skates. Across the board, one thing applies: On powder days at Vail mountain, everybody is showing up a little late.
Sweet Perks: All full-time employees receive a free Epic Pass for Vail Resorts' mountains and all employees (seasonal and part- and full-time) receive free golf and tennis. In the summer, employees are treated to a recreational party (last year, the whole staff went kayaking and rafting for the day).
Vailrec.com
65. Deckers Outdoor 
Location: Goleta, California
Number of Employees: 1,026
Digs: Currently, employees are spread across three buildings in the Santa Barbara metro area, but construction of a 20-acre campus is under way.
Culture: The company owns brands as diverse as Teva and Ugg, and Deckers' workforce is similarly eclectic, from fitness freaks to fashionistas. In the Teva offices, water-cooler talk revolves around an upcoming Ironman. In the Sanuk wing, it's about a recent surfing trip. One common denominator is the company's charitable ethos: it has donated more than $2.4 million and 224,000 pairs of shoes to non-profit organizations since 2006, and it pays employees for volunteering—up to 24 hours per year.
Sweet Perk: The company makes SUPs and surfboards available to employees, even on weekends.
Now Hiring: Brand marketers, footwear developers
Deckers.com
66. BONOBOS
Location: New York, New York, and Palo Alto, California
Number of Employees: 108
Digs: Two 6,000-square-foot headquarters.
Culture: As a men's apparel company, you might think it's all fashionistas working behind cloth-strewn desks. But employees are much more active and passionate than you think. The company has liberal vacation policies to put it mildly (there is no limit on the number of days you can take off) and it pays for all kinds of "wellness" activities, like sponsored sports leagues.
Sweet Perks: Camp Bonobos, an annual three-day, two-night camping trip in New Hampshire for employees. (Bonobos pays to fly the West Coast team out to attend the event.) Also, the company provides iPhones and pays for cell-phone plans.
Now Hiring: Product managers, engineers, customers service representatives, among other positions
Bonobos.com
67. Horny Toad Activewear Inc.
Location: Santa Barbara, California
Number of Employees: 25
Digs: Horny Toad has an open office environment that has lockers, a shower, and is only one block from the beach and bike path. A back patio is equipped with a basketball hoop, a ping pong table, a unicycle, usually a couple of hula hoops, and a BBQ.
Culture: Dress code is only dictated by the weather of this coastal southern California town and work hours are dictated by the sun and surf. Afternoon breaks for a run on the beach are common and when the waves are big, staffers show up to work a little late with wet hair. Meetings happen, but they sometimes take place over a game of ping pong.
Sweet Perks: Monthly team parties, which generally consist of some kind of specialized BBQ, such as local tri-tip, SB farmers Market Salads, or even a taco cooking contest.
HornyToad.com 
68. Brooks Sports
Location: Bothell, Washington
Number of Employees: 249
Digs: Several office buildings on a site overlooking North Creek Trail, which connects to the 27-mile Burke Gilman Trail, allowing employees to get out for regular runs and rides throughout the day. In the main building, there is a bistro that serves lunch four days a week, and a second building that houses the fully-stocked gym—treadmills, bikes, free weights, flat screen televisions, lockers, bike racks, and a ping pong table.
Culture: As you can imagine, the office is buzzing with energy and fit people who are passionate about running. Everyone works hard, but there are plenty of opportunities to head to the gym. Employees can be seen wearing anything from a dress shirt and dress pants to a pair of running capris. On Fridays, the company organizes "run parties," where employees go out for a run together, then come back to the bistro for a themed party ('80s, Toga, Fiesta, etc.) with free food and drinks.
Sweet Perks: The Passport Plus Program, which rewards employees with a free dinner at Seattle's trendy Teatro Zinzanni restaurant if they compete in at least three organized races and volunteer at one running event each year.
BrooksRunning.com 
69. Europa Sports Products
Location: Charlotte, North Carolina
Number of Employees: 463
Digs: Headquarters is 120,000 square feet of cubes, offices, and warehouse space. Conference rooms are named after bodybuilding legends such as Arnold Schwarzenegger and Lou Ferrigno and feature floor-to-ceiling graphics of them. Of course, there's also a 3,000-square-foot gym that is fully-loaded: strength-training equipment, cardio-equipment, TRX training options, and on and on.
Culture: As you can imagine, there are a lot of fitness freaks who work here, which makes workdays a fun, energy-filled event. In between meetings or face-time with the computer, employees hit up the gym or take a few laps around the parking lot (painted with mile markers) to run out the stress. And although teamwork is valued, so too is a little friendly competition: the company has various fitness challenges throughout the year to both inspire healthy living and create a positive environment.
Sweet Perks: Employees get occasional free tickets to NFL Football and NBA Basketball games and steep discounts for all the products Europa sells.
Now Hiring: Account consultant, copywriter, sales representatives, Web designer, and warehouse associates, among other positions
EuropaSports.com
70. Nixon
Location: Encinitas, California
Number of Employees: 130
Digs: Offices are in a wood barn built in early 1970s. It's Encinitas, so of course there's a rack for surfboards and an outdoor area to dry wetsuits—plus showers to rinse off in after a lunch surf session.
Culture: Dogs lying around the office, surfboards and bikes scattered about, professional surfers and skateboarders (who come in for product assessments) roaming the hallways, and not a tie in sight—that's Nixon. Of course, staff members work hard and put in long hours to get the job done, but are rewarded with a flexible schedule that allows them to fit in real life too.
Sweet Perks: Free concert tickets; discounts on surf, skate, and snow equipment; and the occasional ski resort trip each year. But there are also Ball Park days, where the staff BBQs at company HQ, then hops the coaster train to a Padres game.
Now Hiring: Customer service representatives, product managers, designers, and merchandisers, among other positions
Nixon.com
71. Parliament
Location: Portland, Oregon
Number of Employees: 15
Digs: Wide-open work spaces within a 5,000-square-foot building right in the heart of downtown Portland. And there's plenty of room left over for skateboarding around the office.
Culture: Employees often bike to work (the company is in the process of adding a shower to its office), kick it in jeans and t-shirts, and skateboard around the office. Days are spent creating digital sales tools for companies like Gatorade or thinking up promotional campaigns for new video games—with the occasional break to play said games.
Sweet Perk: Employees who work at Parliament for seven years receive an all-expenses paid vacation anywhere in the world for a full week.
Now Hiring: Currently seeking freelance designers, Web programmers, and copywriters
Parliamentdesign.com
 
72. Brunton Outdoor Group
Location: Riverton, Wyoming
Number of Employees: 65
Digs: Located at the foothills of the Wind River Range, Brunton runs out of a new 40,000-square-foot facility on a 10-acre campus that includes numerous paths for walking, jogging, or biking; Frisbee golf fields; and a community garden.
Culture: Making top-of-the-line camping accessories—like Primus Stoves and Brunton binoculars and compasses, among other items—inspires employees to get outside during work (for runs or rides near the HQ) and afterwards for longer jaunts in the woods (good for product testing). Dogs are frequently spotted lounging around the office, as are employees in shorts and flip-flops.
Sweet Perk: An on-site video arcade. Seriously.
Bruntongroup.com
73. Kiva Designs
Location: Benicia, California
Number of Employees: 15
Digs: Typical office and warehouse, but located on the edge of a Bay Area suburb with with rolling hills for a backdrop. Employees bring their dogs to work and occasionally their kids.
Culture: Like many small companies, it feels like family—busy days working in close proximity to others but with plenty of support from the entire team. To destress and share a little friendly competition, there is an annual ping-pong tournament that everyone participates in. During nice weather, most of the staff heads out for walks on their break.
Sweet Perks: Every few weeks the company brings in food for the entire team, then they take the afternoon off to drink beer and catch up with each other.
Now Hiring: Program managers and sales professionals
KivaDesigns.com
74. Gazelle Sports
Location: Kalamazoo, Michigan
Number of Employees: 168
Digs: Three retail locations in the state of Michigan: Kalamazoo, Holland, and Grand Rapids. All locations have bike racks and locker rooms to encourage bike commuting. The Kalamazoo store, which houses many of the administrative staff, has a roof-top picnic area. The Holland location is located in downtown of Holland, Michigan.
Culture: As you can imagine, most people that work at Gazelle Sports have an interest running. That passion is shared by the company and it helps the staff maintain a great work-life balance. On a day-to-day basis, the atmosphere is very laid back, with flexibility in schedules so employees can tend to their families, appointments, and pets.
Sweet Perks: It's all about fitness: reimbursements for race entry fees and gym memberships and hefty discounts on athletic apparel.
Now Hiring: Supply chain assistant, data coordinator, and brand assistant, among other positions
GazelleSports.com
75. Pearl Izumi
Location: Louisville, Colorado
Number of Employees: 276
Digs: This 92,000-square-foot facility is cyclist friendly: 40-plus bikes regularly line the walls and there's a "fix-it" area where employees can perform minor bike repairs. In addition, the facility has a full gym with a space for yoga classes, and full shower and locker room facilities.   
Culture: From making sports gear to testing the product, athletics dictates the work culture at Pearl Izumi. Lunchtime bike rides head out at 12:15 daily, open to anyone in the company, or anyone in the area that would like to join. Depending on the time of the year, you may see up to 20-plus riders in a group. Can't get out on that ride? Pearl offers flex schedules for employees to manage their time how they want.
Sweet Perks: Pearl offers everything from free health screenings to "Fun Fridays," events ranging from BBQs to ice-cream socials.
Now Hiring: Custom operations associate, custom product and developer/line manager, among others
Pearlizumi.com
76. Osprey Packs
Location: Cortez, Colorado
Number of Employees: 51
Digs: An office building with extensive green upgrades, like heliotropic skylights and landscaping (the HQ is lined with deciduous trees) to provide cooling shade in the summer and heating sun in the winter.
Culture: If business casual means a dog- and family-friendly office; flex time to go out for a swim, ride, or run; and a free cruiser bike after one year, this is it. Long hours designing gear or organizing production lines are offset by lunchtime Frisbee golf sessions and bike rides. Two weeks paid vacation per year eventually builds into sabbaticals at 10, 15, and 20 years.
Sweet Perks: 1. A floating "Powder Day" to use during ski season after whatever snowstorm you chose. 2. An "Outings Holiday" to participate in an Osprey backcountry trip. 3. A "Volunteer Holiday" to participate in local, state, or national volunteer opportunities. 4. A "Stress Free Holiday" around Christmas, for staff to get all of the shopping done.
Now Hiring: Customer service, among other positions
OspreyPacks.com
77. Caldrea Company
Location: Minneapolis, Minnesota
Number of Employees: 54
Digs: A LEED-certified building in the heart of Minneapolis' Warehouse District.
Culture: Caldrea employees like to call themselves an unstoppable band of optimists. Focus is on getting the job done rather than on actual time spent at the office, and family always comes first. Philanthropy is encouraged (paid time off to volunteer). And when it comes to green initiatives, Caldrea has a strong focus on urban gardening in the communities they serve, and those gardens often become the inspiration for many ingredients and fragrances.
Sweet Perks: Race admission fees and state park fees are paid for, the company puts on an annual talent show, and brings the staff to a Twins game each year.
Now Hiring: Sales and marketing
Caldrea.com
78. Missy Farren & Associates
Location: New York, New York
Digs: There are a few offices partitioned with glass walls and doors, but most of the staff sits together in two open spaces. There's also a common space where teams can meet and brainstorm ideas, and a lounge with couches, an oversized ottoman, and a TV (and a Wii). Mfa clients are also an integral part of the décor. Snowboards and surfboards hang on the walls, and a free standing bike rack showcases a rotating variety of Schwinn, Cannondale, GT, and Mongoose Bicycles.
Culture: Mfa employees work hard pitching products and athletes, but the staff is also free to set their own hours. Employees often take advantage by getting in a workout at Soul Cycle, Flywheel, or Stacy's Bootcamp, and many employees take advantage of a corporate membership opportunity at Equinox, which is located across the street from the office. Other staff take runs through Central Park or along the East or Hudson Rivers. And when they're not working or exercising, Mfa employees give back, helping the homeless develop job skills through Coalition for the Homeless.
Sweet Perks: All full-time employees receive a bicycle, not to mention frequent tickets to Yankee Stadium, both Summer and Winter Olympics, and the U.S. Open of Tennis and Surfing.
mfaltd.com
79. Adventure Life
Location: Missoula, Montana
Number of Employees: 18
Digs: Currently, employees work out of a renovated house decorated with pictures of the staff standing on a Patagonia glacier, crouching down next to a giant tortoise, or perched above Machu Picchu, making the familial office environment even more family-like.
Culture: Setting up overseas trips for hundreds of clients means employees spend a lot of time at the desk, on the phone, and in front of a computer. But backyard meetings and impromptu barbecues keep things interesting.
Sweet Perks: In order to talk knowledgeably about the destinations they serve, each employee gets the chance to take a trip abroad to learn about the location (past trips have included Antarctica, Alaska and the Galapagos).
Now Hiring: Office and operations staff
Adventure-Life.com
80. Aspen Skiing Company
Location: Aspen/Snowmass, Colorado
Number of Employees: 1,200
Digs: Offices vary across the mountain, anything from ski patrol huts to offices next to the gondola.
Culture: With so many employees, it's hard to stereotype, but most employees probably consider the surrounding outdoors as their own private gym—and treat the mountains as such. Company bicycles help employees commute between meetings and long lunch breaks are good for a quick afternoon hike, run, or lap on the mountain. Also cool, Aspen/Snowmass recently bought rights to the regional methane to convert it to electricity, offsetting 100 percent of company's annual electrical usage.
Sweet Perks: The backyard is a playground and the company, when it can, provides hall passes for big powder days and, of course, free ski passes.
Now Hiring: Communications coordinator, as well as open positions in guest services, rental, retail, and ski school
AspenSnowmass.com
81. Butler, Shine, Stern & Pnr
Location: Sausalito, California
Number of Employees: 174
Digs: Offices one block away from the Bay, with a bike path outside the front door, a basketball court a few blocks away, and tennis courts around the corner.
Culture: Creative, fast paced, deadline driven. And fun. Like many advertising agencies, the work is stressful but rewarding.
Sweet Perks: A summer concert series: the last Thursday of every month, the office closes at 4 p.m. and a local band performs in the company's parking lot, where local food and beer is also served. The entire community is invited.
BSSP.com 
82. Tendril
Location: Boulder, Colorado
Number of Employees: 160
Digs: Located right on Boulder Creek, the office includes a large kitchen/cafeteria and has easy access to biking, hiking and running trails.
Culture: The active staff takes full advantage of Boulder's outdoor activities (employees sometimes even kayak to work). The office has a small yoga room and shower facilities as well as several bike racks. Dogs are welcome and every Thursday a food truck serving organic, locally sourced food parks outside the building.
Sweet Perks: All employees can get a free EcoPass, allowing them to use public transportation for free in Boulder and Denver.
Now Hiring: Project managers
TendrilInc.com
83. Outlaw Partners
Location: Big Sky, Montana
Number of Employees: 18
Digs: Two-story office in Big Sky—almost every office has a view of 11,166-foot Lone Peak or the surrounding national forest—with music pumping in the hallways.
Culture: Long hours, lots of creative energy flowing throughout the office, and people passionate about their work—that's Outlaw in a nutshell. Employees work hard, but they also self-manage their schedule, taking breaks to go hiking or run the dog and coming in late if there's fresh powder on the mountain. Fridays often include jam sessions, where the team rallies around a few drinks to come up with new ideas. You can also catch the staff performing renditions of Bob Marley and the Grateful Dead during late hours in their "vent" room, a studio with a full drum kit, amps, and guitars.
Sweet Perks: Season passes to the local ski area, gym passes, the occasional cat-skiing trip in British Columbia or multi-day raft trips down the rivers of Idaho.
Now Hiring: Publications editor, salesperson
TheOutlawPartners.com
84. Santa Cruz Bicycles
Location: Santa Cruz, California
Number of Employees: 72 full- and part-time employees
Digs: A factory housed inside a historical cannery. Next door is a climbing gym.
Culture: The culture is dominated by cycling. Employees work hard and are rewarded with cash bonuses for meeting production goals, but when they aren't building bikes, they're training for bike races. Flexible work hours allow the staff to get outside and ride as much as possible. Dogs roam the factory floor and family are frequent guests. The dress code, however, is strict: pants with holes, t-shirts with slogans, and footwear of questionable sensibility or fashion are a must.
Sweet Perks: Annual three-day trip to Downieville, California, for employees and their families. Lots of bike riding, eating, and drinking.
Now Hiring: Wheel assembly and bike assembly
SantaCruzBicycles.com
85. MiresBall
Location: San Diego, California
Number of Employees: 33
Digs: A two-story, 9,000-square-foot converted warehouse, decorated with floor-to-ceiling, gallery-quality art; display walls featuring rolled steel; and custom-built tables and desks.
Culture: If the surf is good, it's not uncommon for employees to show up a little late. But when it comes to the job, everyone works hard to do great work, and the company recognizes that great ideas often come from collaboration, which is why there are plenty of common areas for brainstorming (or chatting about the morning's surf session). It's a small office, so colleagues often seem like family. Of course, with the flex time, there is still plenty of daytime to spend with the real fam.
Sweet Perks: Every employee receives floating holidays over Christmas and New Year's, so you don't have to save up vacation time to use then. Plus, the company hosts events like a summer party, a weekend camping trip, Thanksgiving potluck, and an end-of-year holiday party.
Now Hiring: Senior designer and copywriter, among other positions
MiresBall.com
86. Patagonia
Location: Ventura, CA
Number of Employees: 1,210
Digs: Both the Ventura headquarters the Reno Service Center warehouse (Gold LEED Certified) house workout areas for yoga classes, bike and surfboard racks, biking and walking trails, sand beach volleyball courts, basketball courts, ping pong, foosball, and exercise equipment.
Culture: When they're not making and marketing sports threads, employees are encouraged to get outside and bike, walk, or run during their breaks (the office has on-site shower facilities). The Ventura Campus has an organic cafeteria and daycare facility; the Reno Service Center has food delivered each day. All locations recycle, compost, and have building energy efficiencies or alternative energy sources.      
Sweet Perks: Naturally, each employee gets great discounts on Patagonia products. In addition, employees can sign up for an environmental internship, allowing them to volunteer for a green non-profit of their choice up to two months while still earning their regular pay.
Now Hiring: Apparel graphic designer, IT systems administrator, and managing editor—catalog, among others
Patagonia.com
87. Osiris Shoes
Location: Carlsbad, California
Number of employees: 33
Digs: Typical Southern California office—i.e. surrounded by palm trees and within a few minutes drive of the beach.
Culture: Laid back, to say the least. Think skate culture inside an office with a 401K policy.
Sweet Perk: The company offers a year-round alternative workweek: make up the time in advance, and you can take Friday afternoons off.
Osirisshoes.com
88. Bern Unlimited
Location: Kingston, Massachusetts
Number of Employees: 17
Digs: The office is an old mill warehouse located on the edge of conservation land, with a tidal river that runs right next to the building. It's a standard open office set up, but with plenty of skateboards and other play items scattered about.
Culture: A jeans-and-T-shirt dress code, dogs lying around the office, and every Friday the office closes at three—when you produce some of the top helmets for action sports, your staff is naturally laid back, too. A small office means that co-workers become family and flexible hours means that there is always time to head out for a mid-day workout, whether it be for a long run or a surf session.
Sweet Perks: Free lift passes in winter and a free "powder day" to use them.
BernUnlimited.com
89. Adventure Cycling Assoc.
Location: Missoula, Montana
Number of Employees: 32
Digs: A converted church in downtown Missoula complete with outdoor courtyard, picnic tables, and a balcony patio. Also key for the bike-centric crew: two staff showers.
Culture: Laid back, flexible schedules so that employees are free to escape for anything from powder days to lunch runs to classes at the University.
Sweet Perks: Adventure Cycling staff embodies the expression "the family that plays together, stays together," as they do all sorts of things together out of the office: Missoula Osprey baseball games (including free tickets and a barbeques for family and staff), hockey in the winter, and a yearly bike overnight that starts with a staff ride from the offices out to a designated camping spot.
AdventureCycling.org
90. Sterling-Rice Group
Location: Boulder, Colorado
Number of Employees: 120
Digs: Centrally located in a single building in downtown Boulder with a restaurant-quality kitchen and conference rooms that provide stunning views of the Flatirons. Most of the perimeter offices have balconies and there is outdoor seating on the balcony of the office's cafe. In the summer, there's a fountain and patio seating in the courtyard of the building, which is converted to an ice skating rink in the winter months.
Culture: A healthy atmosphere at Sterling-Rice is cultivated with yoga on Mondays and onsite massages. Employees also make time to head out for a ride or run on the nearby trails. There are well-stocked snack areas on all three floors and sweet treats and coffee in the lobby. The fourth floor is home to a foosball table and company bikes, all available for employees to use throughout the day. Twice a year, the whole staff escapes to the mountains for company meetings and on the first Friday of every month employees enjoy a fully catered lunch.
Sweet Perks: An all-company ski day, free tickets to concerts and sporting events throughout the year, and free parking in downtown Boulder as well as a free Eco Pass for access to the areas public transit system are just some of the perks employees receive at Sterling-Rice.
Now Hiring: Associate Consultant, Senior Account Director, Consultant, Digital Creative Director
SRG.com
91. Haberman
Location: Minneapolis, Minnesota
Number of Employees: 38
Digs: An office in Minneapolis' Warehouse District, located near biking trails, the new Minnesota Twins baseball park, and running trails along the Mississippi River. The "second office" in summer is an employer-sponsored garden, where employees and their families work the garden (along with some experienced gardeners paid by the company) and the organic produce is shared with the entire staff—green beans, pea pods, watermelon radishes, chives, oregano, tomatoes, chard, and fresh eggs.
Culture: It's a marketing agency, which means the usual creative buzz—and frenzy trying to meet deadlines. But the company makes sure their employees get a chance to de-stress and hosts what it calls a "wellness inferno" competition, where teams of employees can earn weekly prizes for completing various wellness tasks: hosting a walking meeting on the Mississippi riverfront, having a screen-free lunch, playing a game of Ping Pong. Flexible start and end times ensure that employees can sneak out early to take advantage of the long summer days in Minnesota or attend a family event.
Sweet Perks: A company endorsed "fun committee" to make sure that any stress build-up is vented: lawn bowling at a downtown pub for lunch, pizza parties, impromptu happy hours, and an annual winter retreat (last year it featured boot hockey and couch rides on a frozen lake—it was pulled by a four-wheeler).
Now Hiring: Digital strategist, copywriter, and an account supervisor
ModernStorytellers.com
92. Pitch
Location: Culver City, California
Number of Employees: 40
Digs: A warehouse with high ceilings and skylights throughout, walls of glass that let the sunshine in, and a huge garage door that's always open, allowing employees to easily escape to the fully-furnished outside patio.
Culture: Employees at this growing company work long, hard hours, but to ease the stress, they're encouraged to invite their families in for visits, music plays throughout the agency, and they can relax with an open dress code (shorts and flip flops are standard). The fridge is always stocked and BBQs on the patio are a frequent occurrence. To blow off steam, employees also head out to the company's basketball court.
Sweet Perks: Twice-a-year company parties, cash bonuses for good work, and tickets to sporting events and concerts.
Now Hiring: Project Manager and a copywriter/art director team
ThePitchAgency.com
93. NatureBridge
Location: San Francisco, California
Number of Employees: 175
Digs: California's National Parks—seriously. Administrative staff work in offices within the national parks, many of which are historic buildings, and field workers lead trips, often in the backcountry. All of them, naturally, have access to hiking trails, lakes, rivers, and the Pacific Ocean.
Culture: People who love the natural environment and people who love sharing it—that's who works at NatureBridge. Naturally, those people enjoy outdoor adventures during their free time, including climbing, backpacking, and other outdoor pursuits.
Sweet Perks: Each year a NatureBridge staff member is awarded one or more grants that allow them to pursue a lifelong journey. One awardee spent two and a half months exploring and experiencing the biology and culture of Tanzania. Another employee embarked on a solo journey from the source of the Merced River to its confluence with the San Joaquin River.
Now Hiring: Development associate, kitchen assistant, grants manager, field science educator
NatureBridge.org
94. Dealer.com
Location: Burlington, Vermont
Number of Employees: 618
DIGS: Office complex in Burlington, with a comprehensive fitness facility that includes free weights, nautilus and cardio equipment with TVs, boxing equipment (including speed and Muy Thai heavy bags), a world-class indoor tennis court and a world-class ping-pong table, half-court basketball, locker rooms with showers, and more.
Culture: You don't need to love cars to work here, but it helps. What you do need is a passion for doing your best work at a place that rewards that work generously and helps employees thrive.
Sweet Perks: The company pays for 50 percent of ski passes at one of six area mountains, and offers free membership to the Burlington Swim and Tennis Club for employees and their families (with access to pool, tennis courts, etc.).
Dealer.com
95. SmartWool
Location: Steamboat Springs, Colorado
Number of Employees: 83
Digs: Global headquarters are located in an old renovated airport. A huge stone fireplace and chimney from the airport's waiting area remain as the primary gathering for all company meetings.
Culture: The company focuses on producing and marketing their popular line of clothing. And to properly do that, they need to do lots of testing. To that end, group bike rides and ski days are common, as are weekend hiking and camping trips.
Sweet Perks: All employees are given an activity pass that may be used to buy a gym membership, a ski resort season pass, or a pass to some other outdoor activity.
Now Hiring: E-comm demand & suplly planner, online content developer, field service manager, product developer and quality assurance, sales channel manager
SmartWool.com
96. Rite in the Rain
Location: Tacoma, Washington
Number of Employees: 57
Digs: Offices are a combination of both single office and cubicles as well as a manufacturing floor.
Culture: Employees work long hours, but have the option of making up their own work schedules. Though employees are busy, the atmosphere is laid back: "Denim Fridays" offer a chance to dress down and family and pets are welcome in the office.
Sweet Perks: Employees have been given paid vacations to Hawaii, the company employs quarterly lunch celebrations, and takes the staff on local cruises.
Now Hiring: Sales positions
RiteInTheRain.com
97. Aventura Clothing
Location: Truckee, California
Number of Employees: 37
Digs: Aventura is second-generation family-owned and operated business with offices in the Sierra Nevada foothills across the street from the Truckee River and Rock Park.
Culture: In between design meetings and computer time, employees have access to mountain bikes and kayaks that can be checked out for playtime on the Truckee River path system and Rock Park, which features one of two whitewater parks in North Nevada.
Sweet Perks: Friday lunch BBQs with paid half days, and group tickets for the local Triple-A baseball team, the Reno Aces, and for University of Nevada Wolf Pack Football home games.
AventuraClothing.com 
98. Infinite Energy
Location: Gainesville, Florida
Number of Employees: 346
Digs: Corporate headquarters has four buildings with over 55,000 square feet of space, including an on-site gym.
Culture: Long hours are rewarded with good pay and the ability to move up within the company. An emphasis on innovation makes the job surprisingly creative in the right worker's hands.
Sweet Perks: Free access to the on-site gym and personal trainers brought in by the company.
InfiniteEnergy.com 
99. Zozi
Location: San Francisco, California
Number of Employees: 40
Digs: Zozi is located in the heart of Jackson Square, a beautiful tree-lined neighborhood with historic architecture nestled between the iconic Transamerica Pyramid and the world-famous North Beach neighborhood in downtown San Francisco. Zozi's headquarters is in a light-filled, open-concept office space in the fourth floor penthouse of a historic brick building. The office features three outdoor balconies for meetings, outdoor lunch seating, a private rooftop deck, and a bistro-style kitchen. Framed photos of places around the world Zozi employees have lived and visited (from Montana to Morroco, India, Switzerland, Peru, Australia, and more) adorn the walls of the office.
Culture: Travel is big, of course, but food seems to dominate the culture at Zozi. There are smoothie breaks where one employee makes a smoothie for everyone else in the office, waffle breakfasts (complete with french press coffee), and veggie days, where one employee can volunteer to make fresh vegetables as afternoon snacks for everyone else.
Sweet Perks: On-site massage therapist visits the office every two weeks, Zozi reimburses employees' monthly gym memberships, and rooftop happy hours and pizza parties.
Now Hiring: Product Manager, Senior Front-End Engineer, Senior Rails Engineer, VP of Engineering, Merchandising Manager/Buyer, Sports Marketing/Events Marketing Manager, Sales Account Executives
Zozi.com
100. Trek Bicycle Corporation
Location: Waterloo, Wisconsin
Number of Employees: 1,900 employees globally, with approximately 800 located in Waterloo
Digs: The entryway and atrium feature historically significant bikes as well as open meeting spaces.
Culture: It's a cycling culture, naturally, which means that lunchtime rides on the 18 miles of mountain bike trails that surround the office are the norm. In addition, employees keep themselves healthy by visiting the on-site fitness center and eating from the cafeteria, where the chefs have teamed with nutritionists to serve up healthy creations. Trek is also committed to giving back, donating $10 of every full-suspension mountain bike sold to the International Mountain Biking Association, and $1 of every helmet sold to support Bicycle Friendly Communities, a non-profit that supports bike commuting.
Sweet Perks: Tuition reimbursement is available for employees pursuing higher education, while college-bound children of Trek employees are eligible for Trek's scholarship program. Employees enjoy product discounts, as well as discounts on Trek Travel cycling vacations.
Now Hiring: Product Management, Engineering, Marketing, Sales, Apparel Design, Creative Design, Industrial Design, Finance, Retail, Information Technology, Software Development, and more
TrekBikes.com