The 50 Best Places to Work in 2011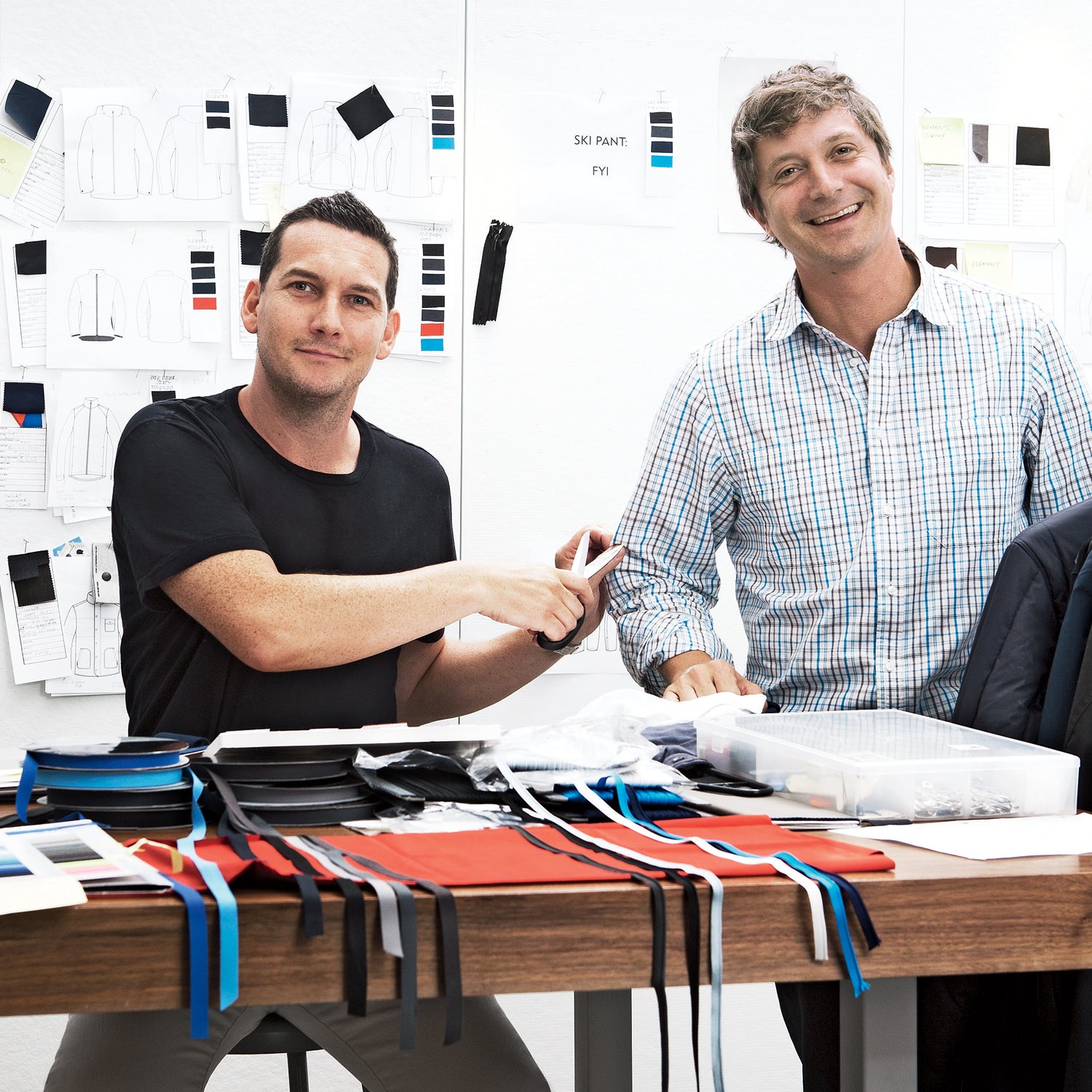 Heading out the door? Read this article on the new Outside+ app available now on iOS devices for members! Download the app.
Just when we need it most, along comes a wave of enlightened companies that believe success starts with smiling employees. Which means lunchtime bike rides, flexible hours, and bringing the dog to the office can now be part of your job description. Presenting Outside's 50 Best Places to Work.
---
How We Picked Them
The yearlong selection ­process for Outside's Best Places to Work began with outreach, supported by the Outdoor Industry ­Association (outdoorindustry.org), in which we got the word out to ­eligible applicants: nonprofit and for-profit ­organizations with at least 15 employees working in the United States. Our ­research partner, Harrisburg, Pennsylvania–based Best Companies Group (bestcompaniesgroup.com), then sent registrants employer questionnaires and confidential employee-satisfaction surveys to collect information about benefits, compensation, policies, job satisfaction, environmental initiatives, and ­community-service programs. Results were analyzed by Best Companies Group ­experts, who selected the 50 companies, ranking them according to which best-­enabled employees to balance productivity with an active and socially and ecologically conscious lifestyle.
---
50. Tabar
LOCATION: Bethel, CT
NUMBER OF EMPLOYEES: 24
BEST PERKS: Alternative work environment, Flex time, Swag
HIRING: YES! tabarinc.com
Founded in 1982, Tabar is a market-leading designer and importer of mid-to-high-end gloves for the most respected outdoors sports brands in the United States. The company provides technically advanced gloves for four seasons of sports, including outdoor, skiing and snowboarding, cycling, power sports, hunting and fishing, tactical, and watersports. Tabar's process spans original concept, expert CAD prototype designs, sample production, material sourcing, manufacturing coordination and importation, and global freight forwarding. Its true differentiation is in its analysis of market trends and its original design capabilities of gloves, one of the most technically challenging products in the outdoor industry.
COMPANY CULTURE
Tabar's corporate culture is one that exists not only to serve our client base and deliver a best-in-class service experience; it also aims to provide a stable base and core for the employees to use as a foundation to build their lives. We have a very open culture that respects and rewards individual and group achievement.
EMPLOYEE RECOGNITION AND AWARDS
Tabat has an extremely rich and generous benefits plan and vacation policy and competitive compensation plans. We have a defined tuition-reimbursement plan. We have the Tabar Thumbs Up Award, which is a roaming statue that sits on an employee's desk when he or she goes over and above the call of job performance.
FITNESS BENEFITS
We have showers available to employees. We have storage areas for employees to store gear and equipment and exercise clothing, and we offer health-advocacy services at no cost to employees.
FLEXTIME
We offer employees with 10 years of service a formal award as well as an extra week of vacation, for a total of 20 days off work. We offer employees with three years of service 15 days of vacation time. We had a long-term employee take a six-month leave at half pay to take the sailing trip of a lifetime.
COMMUNITY SERVICE
Tabar fully sponsors a child in each full-time employee's name with the organization Save the Children. Tabar currently sponsors 23 children worldwide. Employees get paid time off for approved volunteer work for community or church services
GREEN INITIATIVES
Waste recycling and low-wattage lighting alternatives have been implemented wherever possible.
49. Quality Bicycle Products
LOCATION: Bloomington, MN
NUMBER OF EMPLOYEES: 571
BEST PERKS: Alternative work environment, Community & environmental support, Swag
HIRING? Yes! qbp.com
QBP is a leading distributor to the cycling industry. Carrying more than 32,000 SKUs from 450 vendors, the company offers domestic and international retailers a wide array of products and services, including a 1,600-page catalog, an online ordering system, a renowned custom-wheel service, a specialty bike-building program, and more. The company owns four bike brands, including All-City, Civia, Salsa Cycles, and Surly. QBP is also the exclusive U.S. distributor of Ridley, a Belgian manufacturer of road, mountain, and cyclocross bikes. Through its Q-Outdoor division, QBP distributes products to independent ski, run, and outdoor retailers. A strong proponent of environmental business practices, QBP operates two LEED-certified, Gold-level distribution centers and office complexes in Bloomington, Minnesota, and Ogden, Utah.
COMPANY CULTURE
No employee, director, manager, or supervisor has an office with doors. We all sit together. QBP is committed to developing, providing learning opportunities, and being a fun place to work. Employees often cite our casual environment as one of the things they appreciate most. There's no dress code, we work in wide open spaces, and we have informal meeting areas. This fosters an environment where employees can bring their unique individuality to the company. QBP cultivates employee growth. We have a department whose sole devotion is to developing employees through seminars and training that give them tools to better understand our business.
EMPLOYEE RECOGNITION AND AWARDS
In the event QBP has a profitable trimester (four-month period), a percentage of profits are used to recognize each employee's contribution to the ongoing success of the company. Bonuses are determined per employee based on such factors as company profit, a percentage of wages earned during the trimester, and years of service with QBP. Bonuses are available to seasonal, part-time, and full time employees and will typically make up between 7 and 12 percent of an employee's annual pay.
FITNESS BENEFITS
During the winter months, we have a snowshoeing club and a cross-country ski club. All year round, we also have walking and running clubs. These groups meet once a week either during lunch or after work and head out to our backyard park to enjoy the weather and have some fun. We offer a yoga and stretch class once a week, free of charge, to all employees. It is held on-site, and yoga mats are provided. As a distributor of bikes, parts, and components, we have a number of bikes on hand. We have some reserved as our demo fleet. Employees can check these out at any time to go for a ride during their lunchtime, before or after work, or to try out a bike prior to purchasing it.
COMMUNITY SERVICE
We gift $10 to any 501(c)3 organization for every hour our employees volunteer there. Every employee can record up to 40 hours per year that QBP will pay out $10 per hour. Last year we logged 1,280 off-the-clock volunteer hours. This year our goal is 2,000. Every holiday season, our ACE committee sets up several different fundraising events to purchase bikes for every member of four different families. We call this Bikes 4 Families. The families are picked out by local social services.
GREEN INITIATIVES
For every trip made to work via cycling, walking, carpooling, or any method other than single-passenger vehicle, employees earns credits that can be used to purchase goods we sell. We also have on-site lockers, showers, and a towel service.
On top of that, we operate in a Gold LEED–certified building with a 40-kilowatt solar-panel array, waterless urinals, dual-flush toilets, high-efficiency heating and cooling, a smaller-than-average footprint for a business of our size, and speed hand driers in the bathroom.
We've also have a compost partnership with the city of Bloomington. Because of this partnership, we are able to compost pizza boxes, the spudware (potato-based disposable utensils) we provide in the cafeteria, meat, and many other things that normally go into the trash. We reduced our landfill waste by 50 percent with the compost partnership.
48. Eddie Bauer
LOCATION: Bellevue, WA
NUMBER OF EMPLOYEES: 8,000
BEST PERKS: Fitness, Community & Environmental Support, Swag
HIRING: YES! eddiebauer.com
Established in 1920 in Seattle, Eddie Bauer is a specialty retailer that sells casual sportswear and accessories for the active outdoor lifestyle, as well as expedition-class mountaineering gear. Our products are available in over 300 stores throughout the U.S., through our catalog, and online at eddiebauer.com and firstascent.com.
COMPANY CULTURE
President and CEO Neil Fiske hosts quarterly town halls. Every Town Hall consists of a review of our accomplishments from the last quarter, a business update, and a preview of what's coming up for the business and brand, and each town hall ends with a Culture Update, where we focus on cool employee programs and stories from across the company. We regularly survey and focus-group our employees so they can provide feedback in a secure setting. We use their feedback to influence and inform our programs and events. For example, our focus groups have led to the development of a new annual rewards program, a new everyday rewards program, our Get Outside benefit (associates get $100 per year to spend on an outdoor activity), and a new orientation program.
EMPLOYEE RECOGNITION AND AWARDS
We offer many ways for employees to push their limits at work while getting outside with their families and enjoying life. Last year four employees won an all-expenses-paid trip to climb Mount Rainier with some of the country's most well-known mountain guides. Teams of employees across the country dreamed up an adventure they wanted to go on. Eddie Bauer footed the bill for the winning team. Twenty-five employees won a weeklong adventure expedition to Alaska with a guest.
There's also an annual bonus plan. The plan can pay out up to twice a year, midway through the year and at the end of the year. All corporate employees are eligible for the plan, and there is no waiting period to participate. In our stores, to honor Eddie's passion to Be the Best, we award our top-performing teams on a monthly basis. Quarterly, districts nominate and award their top associate who demonstrates a passion for the brand, the business, and delivering on our legendary service standards. Nominees for the Best of Bauer program are flown to Seattle and treated to a Northwest adventure. The winners of the program are sent on a five-day outdoor adventure for themselves and a guest. Typically, there are 80 nominees selected from across the company, and about 30 winners are selected from those nominees.
FITNESS BENEFITS
Eddie Bauer has a separate shower facility for both men and women, available to all employees. Eddie Bauer offers three to four on-site fitness classes a week. These classes are held after work and are typically free or heavily subsidized. Classes in 2010 included yoga, Pilates, and Zumba. In 2010, Eddie Bauer launched a company-wide Fitness Challenge. The hugely successful online challenge incorporated different fitness levels into a fun eight-week program. Employees received fitness tips, nutritional information, and a way to get their personal questions answered.
FLEXTIME
Eddie Bauer employees have the opportunity to flex their schedules during the summer months to get outside and have an adventure. The program allows employees to work 4.5 days and take an afternoon or morning off to get outside and have fun. Eddie Bauer also encourages teams to use this time for fun outdoor-focused team development. Our policy is to schedule employees' store hours based on availability. This allows employees with obligations outside of work (i.e., child care, family care) and to work a schedule that allows them to meet their needs.
COMMUNITY SERVICE
This year, Eddie Bauer held its third annual employee Give a Coat, Warm a Heart coat drive. In return for donating a coat, associates receive a discount on a new piece of Eddie Bauer outerwear. This year more than 1,000 coats were donated by Eddie Bauer employees. Eddie Bauer partnered with a local organization to conduct a Thanksgiving Food Drive for a food bank. Over 1,100 pounds of food was collected during a critical time for a local food bank. Eddie Bauer made it easy for employees to contribute by leveraging a quarterly meeting and requiring employees to provide canned food for admission to the meeting. Food-collection barrels were strategically placed throughout the building. Eddie Bauer also partnered with a Seattle charity, and employees helped sustain several urban farms. The employees worked on maintaining the farms and built mobile greenhouse units that allowed the charity to provide fresh produce to local food banks in the winter months.
GREEN INITIATIVES
Eddie Bauer has a Green Team of employees dedicated to making our company more environmentally friendly. The Green Team is calculating our carbon footprint so that we can identify ways to reduce our impact on the environment. To celebrate Earth Day, Eddie Bauer organizes events across the company for employees to give back to the environment. Last year associates participated in trail restorations and park clean-ups. As a part of Earth Hour, Eddie Bauer corporate HQ went completely dark. Since January of 2010, all paper that Eddie Bauer purchases for its catalogs and catalog inserts have Forest Stewardship Council certification. In addition, Eddie Bauer has community composting and recycling bins as well as individual recycling bins at each employee's desk.
47. Realeflow
LOCATION: Parma Heighs, OH
NUMBER OF EMPLOYERS: 32
BEST PERKS: Travel, Community & environmental support, Swag
HIRING?YES! realeflow.com
Realeflow provides the leading online platform for real estate investors. It's an all-encompassing software system that gives real estate investors the tools to make their job easier, allows them to be more efficient and effective, and ultimately helps them make more money. Realeflow teaches people how to take their business online for a much wider reach and higher profits. 
COMPANY CULTURE
Owners and management expect everyone to give 110 percent each and every day and are happy to reward team members for a job well done. The executive team at Realeflow has cultivated a close-knit group of highly effective team members that work extremely well together. The atmosphere is a very positive combination of work hard–play hard. Each year (provided it was a lucrative year) all company employees—as well as spouses and significant others—are invited on an expenses-paid trip. The Realeflow team has traveled to an all-inclusive resort in Mexico for the past two years.
There are video games in the Realeflow office along with a big screen TV, Wii, Xbox, couch, and comfy chairs. Realeflow team members make daily smoothies, which has turned into a fun competition where taste and nutrition are the criteria used to judge the winner.
EMPLOYEE RECOGNITION AND AWARDS
Each team member is eligible for the profit-sharing program. Profit sharing is based on amount of time with the company, level of contribution to the company's success, and other factors such as overall attitude and continuous contribution to the positive direction of the company. Each year, awards such as Teammate of the Year, Team of the Year, Rookie of the Year, and MVP are given to the team and team members who display outstanding work and dedication for the previous year.
FITNESS BENEFITS
The company recently acquired a 100-acre tract of land that was formerly an apple orchard. It has four waterfalls, two lakes, and two streams. A company-retreat compound is being built on the property for the employees to use with their families year-round.
FLEXTIME
During June, July, and August, Realeflow closes the office at noon every Friday. This is a great opportunity for team members to enjoy the weather and spend more time with their families while kids are out of school.
COMMUNITY SERVICE
Each year during the Christmas holiday, Realeflow sponsors a family in need through the Salvation Army. Employees volunteer to supply Christmas presents and food so that families who would otherwise not celebrate the holiday with gifts are able to. Each year Realeflow donates money to the Special Olympics to support their events, and in 2010 Realeflow participated in the local Toys for Tots drive.
GREEN INITIATIVES
Realeflow encourages team members to work with their office lights off to save energy and to share documents electronically whenever possible to cut down on paper waste. Realeflow is also heading up a new initiative called Greenhabbing. The Greenhabbing process involves an energy audit to test for efficiency of windows, lighting, water, HVAC, and any other energy efficiency operations to ensure homes are rehabbed to be as energy-efficient and environmentally friendly as possible.
46. Nixon
LOCATION: Encinitas, CA
NUMBER OF EMPLOYERS: 70
BEST PERKS: Alternative work environment, Flex time, Swag
HIRING? YES! nixonnow.com
Founded in 1998 in Encinitas, California, Nixon is the premium watch and accessories brand for the youth lifestyle market. Focused on making the little stuff better, Nixon began with a small line of team-designed, custom-built watches sold exclusively in specialty board-sports and fashion retailers. Currently distributed in more than 65 countries, Nixon's product range has grown to include select men's and women's soft goods, leather goods, and custom headphones.
COMPANY CULTURE
We have created a collaborative atmosphere when it comes to developing products, projects, and processes. It doesn't matter if you have been here ten days or ten years, the best idea wins. We invest in our workforce whether it's developing personal education, elevating the tools we use to get our jobs done, or creating fun events our employees can use to build relationships with each other and burn off steam. We have an open-door policy and monthly all-hands meetings on the first Friday of every month. We allow pets in the office.
FITNESS BENEFITS
If employees are going for a surf, skate, run, or any workout activity, there is a locker room for them to change clothes, shower, and secure valuables. Employees can borrow surfboards or skateboards to surf or skate locally. Bikes and boards were given to every employees as a year-end gift to promote local transportation—a healthy alternative to driving.
We have a company snowboard trip where we close our office on Friday and hire buses to take employees and significant others snowboarding for the weekend. Transportation, lodging, food, and use fees are completely covered by Nixon.
FLEXTIME
Flexible hours are given to accommodate school events, taking a family member to the doctor, etc. Employees who have demonstrated commitment to the workplace have been allowed extended leave time from work when they have identified opportunities to develop their personal goals.
COMMUNITY SERVICE
Rob Machado is a sponsored athlete of Nixon's and his organization, the Rob Machado Foundation, is focused on supporting and initiating environmental initiatives with local grammar schools. Nixon contributes by supporting two fundraising events each year: a local kids' surf contest and a local golf charity event. Nixon contributes more than $10,000 a year in financial support to our local community.
45. Deckers Outdoor
LOCATION: Goleta, CA
NUMBER OF EMPLOYERS: 964
BEST PERKS: Fitness, Community & environmental support, Swag
HIRING? Yes! deckers.com

Deckers Outdoor Corporation is a premier lifestyle marketer that builds niche brands into global market leaders by designing and marketing innovative, functional, and fashion-oriented footwear developed for both high-performance-outdoor activities and everyday casual lifestyle use. Our brands include Ugg Australia, Teva, Simple Shoes, Tsubo, Ahnu, and Mozo.
COMPANY CULTURE
It's hard to beat working for a company that has the perfect blend of family atmosphere plus a lifestyle-first attitude:
"I wouldn't dream of working anywhere else."—Years of service, 19
EMPLOYEE RECOGNITION
Certain employees are eligible for a Management Business Objective bonus and nonvested stock units that can be achieved by hitting both individual and company objectives. Some employees are eligible for individual bonuses that are achieved by hitting individual objectives, and some employees are eligible to receive a company team bonus, which is achieved by the company hitting its corporate objectives.
FITNESS BENEFITS
Company pays the majority of the expense for a massage therapist to come to our location and give chair massages; they are booked within 30 minutes every week. We have beach cruisers employees can use to go for bike rides during lunch or to run errands. We have paddleboards for employees to use when they want a great workout and spend some time in the sun. During the spring and summer season at the Flagstaff location, there is a lunchtime walking club. The group ranges from four to 14 people on a weekly basis. Also, employees are offered a subsidized gym membership to a local gym. Employees pay a small portion as a payroll deduction, and the company pays the monthly membership fee. One group had a private trainer come out to the corporate location to challenge them to get fit and healthy. Everyone in the group had their weight and body fat measured at the beginning of the challenge and every 30 days thereafter.
COMMUNITY SERVICE
Deckers recently adopted a policy to pay employees for up to 24 hours of charity work per year. Deckers encourages all employees to give their time in addition to, or in place of, financial gifts. The Volunteer Newsletter highlights opportunities for volunteering at various organizations throughout the community. Deckers gives nonprofits a $1,000 grant every time employees log 40 hours of volunteer time. Deckers encourages and supports employees' generosity by matching employees' charitable donations dollar for dollar up to $1,000 per year. Deckers' Soles for Soles program has donated more than 100,000 pairs of shoes since 2007 to S4S, which redistributes shoes to tragedy-stricken parts of the world (i.e. earthquake victims on Haiti, tsunami victims in Indonesia, etc.).
44. Camelbak
LOCATION: Petaluma, CA
NUMBER OF EMPLOYERS: 121
BEST PERKS: Flex time, Fitness, Community & environmental support
HIRING? YES! camelbak.com

CamelBak invented the hydration category in 1989, when founder Michael Eidson decided there had to be a better way to hydrate during a 100-mile bike race in the sweltering August heat in the middle of Texas. Since his original prototype of an IV bag strapped inside a tube sock, CamelBak has become the world's leader in hydration products, expanding to include hands-free hydration packs, water bottles, and water-filtration products for myriad outdoor sports and activities. CamelBak also produces hydration devices and a full line of tactical performance gloves for our military. In line with the company's auspicious beginnings, our mission is to continuously reinvent and forever change the way people hydrate and perform. As part of that mission, we are committed to replacing bottled water as the most common way to hydrate.
COMPANY CULTURE
Sometimes it's hard to tell the difference between a CamelBak employee and a CamelBak customer. We're an energetic bunch who delicately balance having fun and creating results. Our employee-drafted company values speak volumes:
• We are obsessively innovative: We are forward-thinking inventors who value creative, unconventional ideas and unusual solutions to common problems. We seek new ways to do things and are not afraid to take risks.
• We give a s___: We are fully dedicated to what we make, how we make it, for whom we make it, and the way it impacts peoples' lives.
• Rest stops are overrated: We push to be first but must also be the best. We get excited about winning and taking on seemingly impossible challenges. We prefer not to coast, draft, take the easy route, or sit still.
• People inspire us: Passionate people make superior, meaningful products. We are inspired by one another and the diverse missions, passions, and stories of our customers.
EMPLOYEE RECOGNITION AND AWARDS
Our coveted peer-nominated Water Carrier award is presented annually to a group of employees who uniquely embody and transfer company culture and values to other associates. The award is named in honor of the Native American tradition of carrying water to fellow tribe members to sustain life and provide one of the essential elements for survival. In addition, the company rewards key managers with annual cash bonuses based on personal goal achievement and company performance. Discretionary bonuses are given to non-bonus-eligible associates for exceptional performance. Outstanding contributions are recognized in real time by rewarding associates with a CamelBak Voucher, redeemable for two movie tickets or a 15-minute massage.
FITNESS BENEFITS
Our corporate headquarters overlooks Schollenberger Park in Petaluma, California. This 165-acre park and bird preserve is the perfect backdrop for our associates to walk, jog, bike, or just enjoy nature. Access to the park can be found at the main entrance, which is located northwest of our building. We also provide showers and lockers on-site for our associates and corporate sponsorship to local fitness centers.
COMMUNITY SERVICE
CamelBak believes strongly in Giving Bak: every year we provide each employee with two paid volunteer days, allowing them to work within the community and support local nonprofits. We donate reusable bottles to countless organization throughout the country. This year we partnered with Conservation Next to help clean up San Francisco, ran a food drive to raise money and food for the local community, provided volunteers to mentor local children, and supported Sonoma County Bicycle Coalition and Trips for Kids. We are strongly aligned with the Conservation Alliance, and our CEO, Sally McCoy, also serves as president of its Board of Directors. We actively support our veterans through a variety of financial contributions, including the Wounded Warrior Project.
GREEN INITIATIVES
Our headquarters building is LEED-certified and powered by renewable energy sources. We have low-flow faucets, which have lowered our water consumption more than 20 percent; we have Energy Star–rated appliances; our building has an abundance of natural light, motion-activated lighting, utilities that have been programmed for key business hours, and a multi-zone HVAC system that is both energy efficient and contributes to a more comfortable climate for our employees. And it should go without saying—you will not find bottled water at our offices.
43. MiresBall
LOCATION: San Diego, CA
NUMBER OF EMPLOYERS: 32
BEST PERKS: Alternative work environment, Flex time, Swag
HIRING? No. miresball.com
MiresBall is a West Coast–based brand agency. From its headquarters in San Diego, the firm develops the strategy, narrative, and visuals to help companies, from innovative start-ups to established global leaders, communicate with clarity and authenticity.
COMPANY CULTURE
A healthy work-life balance is a key to the company's success, helping to motivate employees, foster collaboration, and produce high-quality work. An annual camping trip, picnics at the beach, and the company kickball team offer employees and their families frequent opportunities to socialize outside the office. The office itself is bright and airy, with casual meeting spots designed to encourage creativity scattered throughout. With its collegial approach, the firm offers employees a variety of opportunities to contribute to high-profile client assignments.
EMPLOYEE RECOGNITION AND AWARDS
Despite the weak economy, the firm has maintained a generous performance bonus program available to all employees, with bonuses based on annual ratings. Also, the firm regularly enters design competitions to garner outside recognition for employees' work, including recent awards from the American Graphic Design Awards and the Rebrand 100.
FITNESS BENEFITS
Comprehensive benefits packages provide medical and dental care, life and disability insurance, paid vacation and sick leave, and retirement savings. To encourage physical fitness, the company sponsors an employee kickball team. Employees have the flexibility to plan their work schedule around their outdoor commitments, from training for marathons to tennis leagues to hiking trips.
FLEXTIME
No one complains if employees leave a bit early to pick up their kids or come in a few minutes late after a medical appointment—or because they were out surfing. The firm recognizes that employees can generate big ideas outside of traditional business hours, not to mention outdoors.
COMMUNITY SERVICE
The agency provides turkeys to a local charity and decorates a neighborhood shelter with fresh Christmas trees and other décor during the holiday season. In addition, the company performs a variety of pro bono and volunteer projects in the studio throughout the year. The firm has also contributed to humanitarian efforts abroad by funding a reforestation project in the Sano-Gomala village of Nepal. The 16,000 trees now protect the village school from landslides.
GREEN INITIATIVES
The firm encourages employees to recycle at work and home, while purchasing sustainable materials and supplies whenever possible. The firm's office design incorporates reclaimed barn wood, energy-efficient lighting, and drought-tolerant landscaping.
41. Livestrong
LOCATION: Steamboat Springs, CO
NUMBER OF EMPLOYERS: 88
BEST PERKS: Flex time, Fitness, Community & environmental support
HIRING? YES! smartwool.com 
SmartWool is an apparel brand whose products are inspired by living and playing in the mountains. The company offers year-round technical clothing for an active life lived in unpredictable mountain climates. SmartWool products are created to get the most out of the inherent benefits of Merino wool while delivering extraordinary comfort through intelligent and thoughtful products, allowing mountain athletes to do what they love to do longer. 
COMPANY CULTURE
The SmartWool team wants to affect positive change in the world where they live, play, and do business. The team believes in capitalism with a conscience and that a company can and does participate in active kindness. The overall culture is to help each other be more successful through thoughtful listening, treating others with respect, and motivation. 
Having a balanced and healthy life is part of the company's corporate values and is strongly encouraged at all levels of SmartWool. The employees believe that a conscious approach to living extends beyond the walls of their offices. The employees themselves promote and encourage a healthy work-life balance. The expectation is that everyone should get out and live a full life as defined by each individual. Employees are required to work a 40-hour week Monday through Friday. However, during the summer, the office closes at 3 p.m. each Friday, and no meetings are allowed after noon, so the team can grab their bikes and hit the trails early. Schedules are flexible and determined by each department head. Employees are also encouraged to partake in the "powder clause" that allows employees to get out and enjoy first tracks whenever there is fresh powder on the ski hills.
EMPLOYEE RECOGNITION AND AWARDS
STIP bonus awards are available to all employees. Annual merit pay is based on annual performance-related reviews. And numerous other awards exist to recognize individuals and teams who exemplify the five driving SmartWool Values of Humanity, Humility, Integrity, Excellence, and Commitment. Those who are awarded the company's highest honor, the Pinnacle Award, are given up to $1,000 cash.
FITNESS BENEFITS
Each employee is given a season ski pass for their hometown ski resort. Employees are also given the opportunity to purchase an annual activity pass for their choice of activity, such as a season pass to the local health club, golf course, or other activity. The employee is then reimbursed for their activity pass up to $150.
June was turned into bike-to-work month in Steamboat Springs. We had nearly 100 percent participation at SmartWool. Our Smarties Commute program continues to grow and gain momentum. In 2010, we carpooled, walked, ran, or biked more than 40,000 miles to and from work. We also have an annual ride that we do from Steamboat Springs to the Outdoor Retailer Show in Salt Lake City. This year the company had 30 people participate in the four-day, 400-mile bike ride. 
FLEXTIME
SmartWool also offers summer hours that allow employees to take advantage of the longer days and warmer temperatures to get out and enjoy the outdoors. During the winter months, employees are encouraged to use flexible working hours and partake in snow days if there is fresh powder on the ski slopes. During the summer, every Friday afternoon at 3 p.m. employees meet in the main entry and depart for bike rides, both mountain and road. They ride for approximately two hours and then meet at a local watering hole to share stories from the ride, relax, and ease into the weekend.
COMMUNITY SERVICE
The company closes all its offices globally for one day dedicated to community service with several group volunteer projects. This year the company cleaned parks, built mountain-bike trails, helped the elderly, and delivered firewood to families in need. We also close our offices for a day of service dedicated to community greening. At SmartWool, all employees are given 40 hours annually to volunteer in their hometown communities. The team's community volunteering hit an all-time high in 2010, with team members serving more than 1,500 hours in their local communities.
GREEN INITIATIVES
SmartWool has increased its recycling programs at all offices around the globe, even adding on-site composting at the global headquarters to help create fertile soil for the new vegetable garden. The Design Office in Boulder, Colorado, is a PACE-certified zero-waste facility.
41. Livestrong
LOCATION: Austin, TX
NUMBER OF EMPLOYERS: 92
BEST PERKS: Flex time, Fitness, Community & environmental support
HIRING? No. livestrong.org

Founded in 1997 by cancer survivor and champion cyclist Lance Armstrong and based in Austin, Texas, Livestrong fights for the 28 million people around the world living with cancer today. Livestrong connects individuals to the support they need, leverages funding and resources to spur innovation, and engages communities and leaders to drive social change. Known for the iconic yellow wristband, Livestrong's mission is to inspire and empower anyone affected by cancer. For more information visit Livestrong.org.
COMPANY CULTURE
Livestrong gives a voice to each and every team member so every idea is heard. Livestrong fosters an environment where creativity and innovation thrive. Its approach is grassroots, community-based, and dynamic. Livestrong team members are motivated by service, humility, and compassion for helping those affected by cancer. When you walk through the doors of Livestrong, you can feel the contagious energy and excitement from those in the building. For a small office of only 91 team members, they consider themselves a tight-knit family.
EMPLOYEE RECOGNITION AND AWARDS
As a way to reward hard work and dedication, every team member receives an equal bonus if the organization exceeds its strategic goals in furtherance of its global mission. This bonus plan also rewards team members for completion of creative and innovative projects. In addition, Livestrong has a recognition program that consists of the following components. The Yellow Jersey Award is a peer-to-peer recognition tool where each quarter the entire team has the opportunity to recognize a coworker for going above and beyond, working cross-functionally, or representing the mission and core values in an impactful way. Winners receive a bouquet of yellow roses, a gift card, and their picture posted on a placard hanging in the office. Every year, Livestrong holds a special dinner to recognize team members who are celebrating their five-year anniversary. Team members who are celebrating their seven-year anniversary are eligible to take a one-month sabbatical to rest, recharge, and give back to the local community. One of our team members recently took a sabbatical to volunteer at AIDS Services of Austin.
FITNESS BENEFITS
The HQ boasts a 1,142-square-foot fitness center outfitted with a Nike Regrind floor and equipped with custom-made fitness machines and equipment provided to Livestrong at no cost through their partnership with Johnson Health Tech. Many of the Livestrong team members are bike commuters, so in addition to bike racks there are locker facilities for showering and storing personal items throughout the day. Livestrong has four Trek bikes for team members to check out during the day to exercise, run errands, or grab lunch. As part of the Health and Wellness Program, Livestrong offers on-site massage, meditation, and acupuncture sessions, as well as a full suite of fitness classes: yoga, Pilates, and sports conditioning. Team members are also encouraged to participate in the Team Livestrong run/walk/bike challenge series as well as Livestrong's grassroots fundraising events.
FLEXTIME
Livestrong is a results-oriented workplace and allows staff to balance their work and life commitments as they deem best to achieve their goals. One team member was training for a marathon, and she adjusted her hours to make sure she could hit the running trail before dark. Additionally, the leadership team will surprise team members with half-day Fridays before major holiday weekends.
COMMUNITY SERVICE
The Livestrong team partnered on a project with the Austin Trail Foundation to clean up the area around Town Lake. The team cleaned up trash along the shore, planted new trees, and painted a bridge. Livestrong is also involved with the Meals on Wheels program, and two team members volunteer each week to deliver meals to those in need. Livestrong partners with Bikes for Kids annually to help purchase, build, and give away bikes to families in need of holiday gifts. Every year, Livestrong donates a bike on behalf of each team member. Last year, 30 percent of those bikes went to families affected by cancer.
GREEN INITIATIVES
Livestrong's offices are certified LEED and have a four-star rating from the Austin Energy Green Building Program. Ninety-five percent of the building materials were reused or recycled. Concrete slabs were recycled in various areas in the front of the building, including the walkway, fountain, fence perimeters, and parking strips. Livestrong also has a partnership with Car2Go, an eco-friendly car-sharing service, and the headquarters also serve as a Car2Go station. Team members may use Car2Go cars during the day for business purposes.
40. Brooks Sports
LOCATION: Bothell, WA
NUMBER OF EMPLOYERS: 229
BEST PERKS: Fitness, Community & environmental support, Swag
HIRING? YES! brooksrunning.com

Brooks Sports, your go-to company for anything and everything related to running, designs and markets high-performance running shoes, apparel, and accessories in more than 60 countries worldwide. Brooks is dedicated to inspiring people to run and be active by creating innovative gear that keeps them running longer, farther, faster, and happier. Every day, the company and its employees live and breathe the Run Happy spirit it promotes with great product and fun promotions, like the Run Happy Cavalcade of Curiosities, a custom double-decker British bus featuring free running-gait analysis, which travels the country helping runners find the perfect ride for their stride. A subsidiary of Berkshire Hathaway Inc., Brooks was founded in 1914 and is headquartered in Bothell, Washington.
COMPANY CULTURE
At Brooks, employees aren't just dedicated to making the best gear for runners; they are runners. Walking into the Brooks office, you never know if you will see President and CEO Jim Weber headed out for a daily run, someone just returning from a lunchtime bike ride, or a group of employees participating in CrossFit or Zumba in the parking lot. The corporate office is located on outdoor running trails, making it easy to get a run in before work or on a lunch break. Employees are encouraged to get active with 24-hour access to the on-site workout facility and the opportunity to participate in workout classes such as group training, yoga, CrossFit, and Zumba. A rich benefits package including 100 percent employee coverage along with 50 percent dependent coverage for medical, dental, vision, etc., also keeps employees healthy and active. Employees also have access to Brooks U, the company's online training site. Brooks U offers sales training videos, book or reading abstracts, and multiple learning libraries with a variety of classes to help employees continue developing and improving their skill set.
EMPLOYEE RECOGNITION AND AWARDS
Each year at the Brooks Annual Employee Meeting in January, the company celebrates the previous year's success and recognizes outstanding individual contributors with annual awards. Eight honors are bestowed upon Brooks employees, including the Run Happy Award, Green Award, Chariot Award, and Fit and Powerful Award. Winners receive cold, hard cash, a round of applause, and bragging rights for the year. All full-time employees are also eligible for an annual bonus as a percentage of their salary based upon company performance and achievement of individual goals. In addition, each Brooks employee is awarded between $100 and $500 in Brooks product based on years of employment, as an Anniversary Award.
FITNESS BENEFITS
Brooks offers free and discounted race entry for various marathons, half-marathons, and fun runs year-round, including the Rock 'n' Roll Marathon series, where Brooks is a sponsor. To cover any other race fees, all employees are given a $100 annual award called "Mo Bucks" to be used on activities and equipment that promote an active and healthy lifestyle, such as race-entry fees, gym memberships, fitness programs, and, of course, running gear. Employees are also challenged to participate in at least one race that is a half-marathon distance or greater, plus two shorter races during the year in the Brooks employee race series. Employees who log all three races are rewarded at the end of the year with a fun night out. Employees are encouraged to train and race, so at Brooks, daily runs and workouts are a normal part of business. The on-site gym makes it easy to get your workout in, rain or shine, plus on-site fitness classes from yoga to high-impact aerobics give employees the chance to mix their workout up from day to day. For employees who choose to commute to work, bike racks are also available inside the gym. For those sunny days in Seattle, Brooks is conveniently located along the Burke-Gilman Trail, which offers outdoor workout stations and clearly marked routes. To promote an active lifestyle, departments take turns hosting "Friday Runs" to encourage the employees to get outside. These runs begin at 3:30 and end with a themed party like 80's or Toga. For those unfamiliar with the area, employees and visiting clients are provided maps with clearly marked routes and distances. For postworkout, employees have access to lockers and shower facilities.
FLEXTIME
Brooks believes in a healthy lifestyle for all its employees, and with this comes a good work/life balance. This means spending time with those you love and taking time for the things you love. All employees are offered a generous vacation package, and those employees with 13 years of full-time continuous service are eligible to receive four additional weeks of paid time off. Every six years thereafter, they are eligible for an additional four weeks of paid time off (19 years, 25 years, 31 years, etc.). For employees who need flexibility, Brooks offers telecommuting options and variable hours.
COMMUNITY SERVICE
The Run B'Cause program gives employees $300 of product to donate to a personally relevant cause each year. Each employee is also given eight hours per year of paid time off to participate with a group of fellow employees in a community-service activity. The Run B'Cause program also lends support in the form of in-kind product donations to organizations, events, and individuals that share our passion for sport and a healthy lifestyle. A new addition to the Run B'cause program for 2011 is Inspiring Coaches, which honors high school track and cross-country coaches who make a lasting difference in the lives of their athletes and inspire not only their athletes but also others in their communities to run and be active. The Inspiring Coaches top ten finalists, based on applications received on brooksrunning.com, receive $5,000 in Brooks gear for their team, $500 in additional team expenses, and membership to the Brooks I.D. program. The Most Inspiring Coach receives $10,000 in Brooks gear, $2,500 for additional team expenses, and a trip for two to the 2012 Brooks PR Invitational in Seattle. The program gives Brooks the opportunity to support amazing high school runners who are the future influencers of the sport.
GREEN INITIATIVES
Brooks encourages alternate forms of commuting and provides employees with a way to understand and analyze their carbon footprint. In 2010, employees were asked to participate in a Commuter Challenge. The overall company goal was to cumulatively offset 3,000 pounds of CO2 in the month of May, using alternate forms of commuting. Brooks employees rallied around this challenge and reached their goal. As a reward, all participants were treated to a catered lunch and were entered into a raffle to win prizes such as iPads, Kindles, Brooks product, and more. In 2011, the Commuter Challenge was made even bigger. Employees are encouraged to find alternate forms of commuting like carpooling, biking, running, etc. The companywide goal is to reduce our total number of single-occupancy vehicle commuting trips by 1,750 during a five-month period that will end in September.
39. Carmichael Lynch
LOCATION: Minneapolis, MN
NUMBER OF EMPLOYERS: 194
BEST PERKS: Alternative work environment, Fitness, Community & environmental support
HIRING? YES! carmichaellynch.com

At Carmichael Lynch, we're building some of the most beloved and iconic brands in the world through inventive ideas in advertising and public relations. These brands are transcending their categories, competition, and budgets to become not just successful but a part of the American conversation. We're a passionate group that consistently delivers powerful ideas for an envied portfolio of clients including Subaru of America, Jack Link's Beef Jerky, Ingersoll Rand, and Newell Rubbermaid. Whether it's motivating consumers to share their love for Subaru or inspiring consumer-generated content for Jack Link's, Carmichael Lynch creates compelling, breakthrough work that instills deep brand meaning and inspires devoted fans.
COMPANY CULTURE
At Carmichael Lynch, our culture is driven by creativity, inventiveness, collaboration, and hard work. People come here to do their best work for an envied portfolio of clients and stay because they love it—they love being a part of an agency where ideas are king and anyone with a good one is welcome at the table. They love the chance to blow off steam at annual Rooftop parties or with the occasional Friday-afternoon beer cart. They also love working for the greenest agency in America, where things like reducing our carbon footprint and volunteering in the community come as second nature.
EMPLOYEE RECOGNITION AND AWARDS
Bonuses are based on the financial success of the agency plus individual objectives. "On the spot" bonuses are given out randomly by department leaders for exceptional work on a given project. The agency welcomes referrals from employees for great, qualified candidates and rewards the employees with a cash award for referring a new employee to Carmichael Lynch. Last year the agency awarded three individuals with the inaugural Leland T. Lynch Award for creativity, leadership, and humanitarianism. Each award winner received a monetary cash prize and recognition in front of their peers. We also have many cultural events, including an annual agency-wide talent show, the O'Gong Show, which allows employees and management to mingle and get to know each other better, even if it is while they're doing an outrageously goofy act. Whenever we have new hires to the agency, upper management and fellow employees attend a welcome breakfast for that individual. We give Carmichael Lynch letterman sweaters to each employee on their first anniversary with the agency. Our CEO, Mike Lescarbeau, arrives at your desk to present you with your sweater, then proceeds to put it on you (much like they put the green jacket on golf stars). Each year thereafter, a "General's Star" lapel pin is provided for the sweater. Those volunteering at a company-sponsored effort (like serving meals at Sharing & Caring Hands) get a heart-in-hand lapel pin for their sweater. We also like more informal activities—like the occasional, just-because-it's-Friday beer cart. We have several game stations, including a Wii, Guitar Hero, pool table, foosball table, and Ping-Pong table. New employees are welcomed to the agency with a new-employee happy hour. We have softball, bowling, and football agency teams that compete against other agency teams in town. New for this year: we created the Carmichael Lynch Book Club, which allows our employees to meet and mingle each month to discuss the latest read.
FITNESS BENEFITS
We have a full locker room and towel service available for those who work out during the day. The locker room is also used by those who bicycle-commute to work. In addition, we've negotiated company discounts at the nearby health club, and our medical insurance offers a discount to employees and spouses who attend a health club weekly. We offer reimbursement of some full memberships, plus monthly discounts for employees and spouses. Carmichael Lynch co-sponsors employee-organized league sports or sports clubs, and our creative talent ensures we field softball teams, a running club, broomball, touch football, kickball and more. Through our health-care provider, there are several wellness, fitness, work-balance, and smoking-cessation programs available. The agency coordinates Lunch and Learns in our central meeting space, called the Greenhouse. Speakers for the Lunch and Learns cover a variety of topics including wellness issues. We have a massage therapist who comes into the building weekly to give massages to employees for a reduced fee. This is a great way for employees to relieve stress and stay healthy both mentally and physically. For the second year in a row we are participating with the Driftless Organics Community Supported Agriculture (CSA) program, which is a way for consumers to buy local, seasonal "shares" of fruits and vegetables directly from a farmer.
FLEXTIME
We have a long tradition of granting seven additional paid days off during the summer, also known as summer time-off hours. Employees work longer days during the summer months in order to take advantage of their STOs. This is especially important for Minnesotans, because we have long winters. It adds positive energy and keeps us creative so we can continue to come up with the best ideas for clients. Also, during the holiday season, our offices traditionally close between Christmas and New Year's Day for staff to enjoy time with family and friends. We offer a paid, one-time, one-month sabbatical opportunity for those who have been with Carmichael Lynch for ten years or longer.
COMMUNITY SERVICE
To tie in with the new Minnesota Twins stadium, we donated $5 and one hour of community service to a local nonprofit for each RBI during the Twins season. In less than five months we donated more than 900 hours to various organizations and $3,700 to a local nonprofit. Carmichael Lynch has a long-standing commitment with Creatives for Causes, a local nonprofit that focuses on the creative development of underprivileged children. We match creative mentors with at-risk kids, and these groups meet on Thursday afternoons for several weeks. We regularly send employees to a local homeless shelter, Sharing and Caring Hands, to prepare and serve meals during the lunch hour. The agency also supports Memorial Blood Center and conducts regular blood drives for employees. Last year more than 600 pints of blood were donated by employees.
GREEN INITIATIVES
We occupy a LEED-qualified workspace, where many of the existing building components—including fire doors from the textile mill that once existed—were salvaged and incorporated into conference-room furniture. Interface recyclable carpeting was used in the space; overhead lighting is from CFLs, and natural light is used; hand dryers were installed in bathrooms to limit paper use; low-VOC paints and sealers were used. Every office is furnished with a 99 percent sustainable and 50 percent recyclable chair. The agency partners with the Renewable Choice energy-credit program to purchase wind credits at 100 percent of our electricity usage. This helps us to avoid up to 1,351,225 pounds (613 metric tons) of carbon dioxide emissions from being released into the atmosphere. We were the first major agency in the Midwest to move to 100 percent wind-sourced power. Carmichael Lynch's Green Team created a green blog to keep employees up to speed on local and national environmental issues. Those taking public transportation receive a subsidized metro pass for the bus and/or light rail. For those who bike to work, the agency provides a locker room and shower, along with a pump, patch kit, reflector light, loaner bike, and free bike parking. Carmichael Lynch provided complimentary Twins baseball hats to employees using alternative transportation for 20 percent of Twins home games, in order to cut back on traffic congestion and encourage sustainable commuting.
38. Patagonia
LOCATION: Ventura, CA
NUMBER OF EMPLOYERS: 806
BEST PERKS: Alternative work environment, Fitness, Community & environmental support
HIRING? YES! patagonia.com

Patagonia is a designer, distributor, and retailer of high-quality technical outdoor clothing, lifestyle clothing, and travel gear for men, women, and kids. Patagonia sells products through company-owned retail stores in the U.S., Japan, and Europe; through wholesale dealers, both domestic and international; and via our award-winning website and mail-order catalog. We use environmentally preferred fabrics—such as recycled polyester, organic cotton, hemp, and organic wool—and seek to serve as a model of sound environmental and business practices.
COMPANY CULTURE
If you ask any Patagonia employee what they love best about working here, they will most likely say it's the people they work with. Patagonia's culture creates an environment where our employees' individuality is alive and flourishes within the business and, at the same time, everyone is aware of their responsibilities and takes great pride in the contribution they make to Patagonia's products and values. Patagonia's culture encourages employees to celebrate all the roles they have in their lives, be it as a parent, a community organizer, an athlete, or an activist. This is not a workplace where one has to shed those responsibilities when walking through the front door; rather, those attributes are celebrated and respected by the culture.
EMPLOYEE RECOGNITION AND AWARDS
Patagonia offers a company-wide bonus program to all Patagonia employees, including those who have full-time, part-time and seasonal status. If the company meets or exceeds the financial goals set for the fiscal year, employees are given a percentage bonus of their annual salary based on their past performance and level of responsibility within the company. The Employee Referral Bonus program rewards employees who refer candidates to fill open Patagonia positions. Once the candidate is hired, the employee who referred the newly hired employee is awarded $100 or more. Individual and group efforts of our employees are acknowledged in a variety of ways. We reward employees with gift certificates for meals or travel, departmental or public recognition at company meetings, or company-wide parties. Patagonia thanks their employees by having parties to celebrate the holidays, summer, and the end of the fiscal year. Party activities vary, and often include the opportunity to give back to the local community at the same time. The Reno Service Center has a Fun Patrol that organizes fun activities such as the Holiday party, a Halloween Costume Contest, and a Super Bowl tailgate lunch. Cooking breakfast as a fundraiser for local environmental groups is encouraged, as is the annual holiday Waffle Breakfast sponsored by the company's Quality Team. The Ventura Headquarters employees participate in the annual Corporate Games, competing with other Ventura County businesses in a variety of sports such as softball, volleyball, tennis, and tug-of-war. Many departments plan activities to do together as a team to relieve stress and promote fun. At the Reno Service Center, many groups take a half day to snowshoe or ski during the winter, and float down the Truckee River during the summer. Departmental potlucks, BBQs, and Birthday Cake and Ice Cream for monthly birthday celebrations also gather people together for fun occasions or for no reason at all. The Shipping Department in Reno hides riddles in the warehouse for workers to find and solve for fun prizes like a Turkey Piñata for Thanksgiving!
FITNESS BENEFITS
Patagonia has exercise areas where employees may take yoga or aerobics classes during the workday. In addition to these areas, exercise equipment and free weights are also available for employee use at the Ventura Headquarters and Reno Service Center. Most Patagonia employees enjoy being outdoors and exercising during their breaks and lunch, so many of our stores and offices provide shower facilities, bike racks, or racks for employee surfboards. The Ventura Headquarters has an outdoor sand volleyball court, and both the Ventura and Reno Service Center facilities have basketball courts and are adjacent to public bike paths and hiking trails. Patagonia's Ventura Headquarters facility operates an on-site Café where the majority of the food served is organically grown. It provides employees healthy breakfast items and a full lunch with a daily hot entrée and extensive salad and sandwich bar; pricing is lower than comparable fare in the local community. "Take-home" meals are available to purchase for dinner, and all of Patagonia's global locations provide free organic tea and coffee to employees and guests. Patagonia offers employees free yoga and aerobics classes on-site at the Ventura Headquarters and Reno Service Center. In addition, a massage therapist provides services on-site in the company's Reno facility.
FLEXTIME
Patagonia's owner and founder, Yvon Chouinard, wrote a book a few years ago titled, Let My People Go Surfing, a great metaphor for the company's general philosophy of, and commitment to, achieving good balance between work and life. It is culturally accepted for employees to take time off during their workday to pursue that balance, whether it is taking time off to spend time with their children, go surfing, skiing, or fly-fishing, or participate in one of the company's on-site sponsored exercise classes (free to employees). We trust employees to figure out a schedule that allows them to get their jobs done and also take care of themselves and their families. Our leave-of-absence policy assists employees in obtaining a good work-life balance rather than reward them for long-term service. With manager approval, and for eligible employees, Patagonia offers an unpaid personal leave of absence of up to four months; during this time, the company will continue to pay the employee's medical premiums. Many employees use this time to travel and/or pursue their passion for outdoor sports. For example, last April, in partnership with the Nevada Wilderness Project, a Patagonia employee who is also an ultralight hiker took a personal leave of absence to hike across the entire state of Nevada, bringing awareness of the environmental impact of a proposed power line paralleling his route. Keeping a healthy work-life balance is key to Patagonia's success. From the company's first days, when production of climbing gear was suspended if a swell came up or there was a powder dump in the local mountains, employees have always been encouraged to effectively balance their passions with their work responsibilities. To have employees be trusted to best know how to get their work done in order to achieve this balance is what sets Patagonia's workplace culture apart from many others.
GREEN INITIATIVES
The 2010 Gulf Oil Spill was deemed "the largest accidental marine oil spill in the history of the petroleum industry," and Patagonia employees wanted to help in some way. To answer the call, Patagonia sent seven groups of ten employees each to the Gulf region to work with a local nonprofit organization, the Louisiana Bucket Brigade, to assist with their community outreach program. Patagonia employees canvassed different Gulf communities to reach out to individuals and their families to assess the impact of the oil spill in their neighborhood and then add the data collected to a map of the region. Patagonia employees were paid their regular salaries during this time, in addition to being reimbursed for their living and travel expenses. Also, Patagonia has an Environmental Internship program in which individuals and/or groups of employees work for nonprofit environmental organizations of their choice. Employees earn their regular salaries while providing their skills to groups in their local communities or around the world. In addition to the internships, Patagonia sponsored 15 Witness for Wildlife trips for employees across the U.S. in order for them to gather data on migratory animals. This data is collected and used to support the Freedom to Roam environmental campaign, protecting critical wildlife corridors throughout North America. Last year, 84 Patagonia employees were able to contribute to another community-service initiative called the Backyard Collective. Employees volunteered to help clean up the Ventura River, along with employees from Horny Toad and Teva/Deckers. Patagonia celebrates Martin Luther King Day by providing opportunities for employees to give back to their local community by working for a half or full day and earn their regular pay. In addition to Patagonia's global environmental-grants program, the company also matches 100 percent of employee donations to the nonprofit organization of their choice. Throughout the year, Patagonia and its employees donate food, toys, clothing, and time to charitable endeavors in their local communities. Patagonia's mission statement, "Build the best product, cause no unnecessary harm," creates a business environment in which decisions are made every day to reduce our environmental footprint. One hundred percent of Patagonia's apparel styles are recyclable through our Common Threads Recycling program, and 65 percent of all styles are made with at least 35 percent environmentally conscious fibers. Thirty-nine tons of garments have already been recycled through the Common Threads program, and 27 tons have been collected so far. Also, our award-winning catalogs are made with 30 percent post-consumer waste and are FSC-certified.
37. The Honest Kitchen
LOCATION: San Diego, CA
NUMBER OF EMPLOYERS: 16
BEST PERKS: Alternative work environment, Flex time, Community & environmental support
HIRING? YES! thehonestkitchen.com
The Honest Kitchen was established in early 2002 and is a privately held company with its corporate offices located in San Diego, California. The company produces a line of 100 percent natural, dehydrated human-grade pet food for dogs and cats, along with medicinal teas, herbal pet supplements, and all-natural treats.
COMPANY CULTURE
The Honest Kitchen really has "gone to the dogs." We have a dog-friendly office that includes pet perks like compensation for annual pet checkups, an allowance of free pet food, and free treats for in-office pets and encouragement to take daily group walks around downtown San Diego. We believe that having pets in the office facilitates teamwork and makes our office a very friendly and approachable place. We also have companywide, bimonthly "tea-time" meetings in which staff at the headquarters cook meals or bake for one another and share ideas or develop strategies over homemade goods, which infuses the workplace with a sense of family and belonging. We celebrate every birthday (yes, even the dogs). Also, everyone contributes to the Pandora playlist.
EMPLOYEE RECOGNITION AND AWARDS
We have a discretionary bonus program for all Honest Kitchen employees, based on profitability. We also encourage open dialogue with members of the team; all employees are welcome to provide feedback on strategic plans, new foods or treats, and even packaging design. Also, the Honest Kitchen donates to a variety of local charities through its Pawlanthropy program, and employees frequently hand-select the charities to be supported.
FITNESS BENEFITS
All employees in our corporate office have access to group yoga, Pilates, and cardio classes at a neighboring fitness center, East Village Body Shop, and the office is equipped with a shower and communal open-plan kitchen facilities. We also host nutritionists to speak about the benefits of whole foods for people and pets.
FLEXTIME
The Honest Kitchen offers flexible working schedules for all employees to enable them to fulfill family, pet, and other personal commitments, and we've also been known to close the office early some afternoons in order to make companywide outings with dogs to local spots like Fiesta Island and Dog Beach.
GREEN INITIATIVES
We do what's right for the environment; we use only non-GMO foods, free-range chicken, and wild-caught fish, and every ingredient in our pet food is sourced from the human-food chain and made under FDA inspection. The Honest Kitchen is an approved member of Green America (formerly Co-op America) and is one of only four pet-food companies to receive the "four-leaf" rating from Greenopia. We're committed to minimizing our environmental pawprint through ingredient selection and packaging materials. On a smaller level, we have in-office environmental-responsibility trainings; the most recent was on composting and how to start a worm bin.
36. Pacific Market International
LOCATION: Seattle, WA
NUMBER OF EMPLOYERS: 85
BEST PERKS: Flex time, Fitness, Community & environmental support
HIRING? YES! pmi-worldwide.com
Pacific Market International manufactures, markets, and designs innovative food and beverage solutions for busy lifestyles across the globe. PMI's two most recognizable brands, Stanley and Aladdin, are both nearly 100 years old. Guided by principles of sustainability, community, and integrity, PMI has extended these beloved brands into the future while remaining rooted in their past. 
COMPANY CULTURE
Don't take it from us. Here is what our employees say: "People: we really care about one another and have a real sense of family and belonging." "Work-life balance: while we're expected to work hard, we play hard, too, and have a significant number of organized activities, such as quarterly Energizers, annual ski/spa day, a spring golf series, and numerous other celebrations."
EMPLOYEE RECOGNITION AND AWARDS
Employees are eligible for an annual bonus based upon company performance and individual contribution. PMI offers three annual awards, which carry much prestige: the President's award; the Entrepreneur of the Year award; and the Best Team. Candidates are initially nominated by the senior management and then employees are encouraged to share their feedback on those nominated. These awards come with monetary benefits, as well as the recognition of exceptional efforts and results for PMI. We also host a quarterly Thumbs-Up Award, in which employees nominate their peers for outstanding contributions in a given quarter. Anyone can nominate, and the entire group of nominees gets put to a vote. The person who receives the most votes gets awarded. Also, PMI plans several family-friendly events throughout the calendar year—Halloween festivities, a holiday party in December, a summer picnic, etc.—and employees are encouraged to include partners and significant others in more formal events.
FITNESS BENEFITS
We host an annual, monthlong Health and Fitness Challenge that includes a health fair, healthy-living lunch seminars, and workout groups. The company also pays the initiation fee to the local gym, which offers discounted rates to employees. We have a dedicated bike room for bike commuters and an on-site shower for those who bike-commute and/or work out during the day. 
COMMUNITY SERVICE
PMI takes pride in its tradition of supporting local, national, and international nonprofit organizations. PMI employees are encouraged to give back to the communities where we live and work through volunteer efforts. The company offers each employee one paid day per year to volunteer at the organization of their choice, and PMI gives annually the greater of $50,000 or 1 percent of its net profits to nonprofits that align with its corporate philanthropic pillars: children, education and the environment. PMI also has a Grassroots Philanthropy Award, whereby the company donates funds each quarter to a nonprofit organization chosen by its employees in each office.
GREEN INITIATIVES
Environmental Responsibility is one of five strategic pillars of PMI. Grassroots employee ideas have stimulated sustainable innovation, like the creation of materials such as eCycle, PMI's proprietary mix of recycled plastics, and significant reductions in our packaging materials. eCycle contains 95 percent recycled plastics, of which 25 percent is post-consumer content. PMI also promotes environmental responsibility outside the office by subsidizing the cost of public transportation for employees, and encourages comprehensive recycling in the office as well.
35. Intrepid Travel
LOCATION: Santa Rosa, CA
NUMBER OF EMPLOYEES: 33
BEST PERKS: Travel, Fitness, Community & environmental support
HIRING? YES! intrepidtravel.com
Intrepid takes more than 100,000 travelers to over 100 countries worldwide each year. We employ more than 1,000 staff and have offices in 25 countries around the globe. Intrepid's philosophy has stayed the same over the past 21 years: to provide the best-value small-group adventures in the world. Despite the company's global expansion, Intrepid Travel remains independently owned. Our travelers get the chance to meet local people and really get to know their culture firsthand. They contribute directly to local economies and help develop cross-cultural understanding. In other words, Intrepid travelers enjoy real life experiences. In 2010, we became a carbon-neutral company.
COMPANY CULTURE
Our employees feel like they are making a difference every day. Our team is extremely passionate about our style of travel, and they love to share their experiences with fellow colleagues and clients. We are actively involved with local projects and support the work of our charitable partners. We have a motivated team that is unashamedly proud of what we do—and best of all, we have fun doing it. As we like to say, "There is more to work than the job you do." Also, we are a pet-friendly office, and our office dog, Jake, is loved by everyone. He brings a lot of playfulness and fun to each department he goes around to visit each morning.
EMPLOYEE RECOGNITION AND AWARDS
Performance-based bonuses are offered annually based on individual performance and that of the local business. All staff are eligible to earn up to an average of 10 percent of their annual salary. In addition, our company runs short-term incentives throughout the year to stimulate new projects. Staff can earn extra time off, free holidays, and gift cards. New staff are sent on one of our holidays as an induction trip free of charge, including flights. They can also receive free trips from sales-based incentives and long service and can also take 75 percent off any trip at any time, including 50 percent discounts for traveling partners, friends, and family. Our annual awards are the highlight of the year for most staff. These awards recognize those individuals who show exceptional support of our core values and provide the highest level of customer service, internally and externally. Prizes are awarded to each category. Also, every Friday night we have happy-hour drinks in the office, which gives employees a chance to wind down, chat with co-workers from other departments, and get ready for the weekend.
FITNESS BENEFITS
We have a covered bike rack by the front steps of the office to encourage bike commuting, with shower facilities on-site, and we encourage staff to work out during their lunch breaks. Our Stay Active program offers $250 to every employee for any activity that will raise their heartbeats. We have a company softball team that practices once a week in the summer, and has a weekly game as well. Uniforms, joining fees, and equipment are provided by the company.
FLEXTIME
We allow workers to arrive and leave early, others can work at home on some days to avoid long commutes, and others can shift their days to be able to enjoy three-day weekends. Employees can also earn two months' paid time off for serving ten years in the company. We offer an extra day off per month for managers who tend to stay longer than their normal hours. This "Rostered Day Off" must be taken that month and is intended to give them time to pursue their interests outside of work.
COMMUNITY SERVICE
We encourage all employees to dedicate at least one day a year to support a local project of their choice. This is treated as paid time off. We are active supporters of St. Anthony's Foundation in San Francisco. We donate employees' time working at the mission, and deliver our excess supplies of sleeping bags, as well as the results of our ongoing food and clothing drives. We also donate trips to their annual fundraising auctions. In addition, we are supporters of the Bay Area Wilderness Trust, the Redwoods Stewards, and the San Francisco National Seashore committee.
GREEN INITIATIVES
We operate a strict recycling program, and our "Green Team" monitors our monthly use of resources, including utilities, office supplies, and work-related travel, and are constantly aiming to reduce our carbon footprint. We have also removed any nonessential equipment. For example, we removed all personal printers and reduced our total number of printers and photocopiers to one unit. We also removed other energy-using units, such as refrigerators and Coke and vending machines.
34. Keen
LOCATION: Portland, OR
NUMBER OF EMPLOYEES: 126
BEST PERKS: Alternative work environment, Flex time, Swag
HIRING? YES! keenfootwear.com
Keen, the manufacturer of original hybrid footwear, bags, and socks, was founded in 2003. Headquartered in Portland, Oregon, Keen offers innovative hybrid products enabling outdoor enthusiasts to live an active lifestyle. Keen's products are sold in specialty footwear, travel, and outdoor retailers, premium-sporting-goods retailers, and major outdoor specialty-retail chains worldwide. Keen creates solutions to creative questions such as "Can a sandal protect your toes?" Yes. "Can a bag manage your life better through improved organization?" Yes again. "Is it possible to rethink a sock?" You guessed it. Keen products allow you to go anywhere and do anything—whether you're trekking the wilds of the world, exploring a cool city, heading to work or even heading to the playground down the street.
COMPANY CULTURE
Keen takes a vested interest in its employees on both a personal and professional level. We understand the need for employees to feel valued, rewarded for their efforts, and acknowledged for their contributions. Keen finds unique and meaningful ways to do all of those things. We strive to maintain a small-company feel as we get bigger—to know one another by face and by name, and to engage with one another not just as co-workers but as people. We also have a lot of fun. It's a true hybrid culture—we never take ourselves too seriously, but we take what we do very seriously. The hub of the office is its physical center, which is Keen's great room or "living room." All employees gather there to share a meal, play a game, meet, or simply relax. This town-square concept has created an environment in which employees genuinely take the time to get to know one another, discuss what's going on in the company, and build rapport with senior leadership.

EMPLOYEE RECOGNITION
Keen offers an annual profit-sharing program to reward employees for the company's success. The profit sharing is discretionary but is typically the equivalent of 3 percent of the employee's salary. There has not been a year yet that Keen has not paid the profit share. Merit increases are used to reward employees on an annual basis for performance. Merit increases are an increase to an employee's base salary based on outcomes of their performance review and the company's performance. We use "Random Acts of KEENness" to show appreciation to our employees. We believe that "the element of surprise" is sometimes the best form of appreciation—a thank-you when you least expect it but when you most need it! This may be closing the office early on a particularly sunny day in rainy Portland, "disc golfing for dollars" in the great room for employees to earn money for a charity of their choice, or the CEO and the Keen jam band serenading someone on a special occasion. The ultimate Random Act of KEENness in the past year was when Keen gave the opportunity for all employees to attend the 2010 Winter Olympics in Whistler, Canada! Keen rented an "off the grid" (solar-powered) home near Whistler for our employees. We also rented multiple ten-passenger vans to transport employees from Portland to Whistler (seven hours). Upon arrival, every employee had a ticket to at least one Olympic event and fully paid housing and food. The only thing we asked of them was to perform their own Random Acts of KEENness when they were there by giving Keen wool socks to Keen fans or people who seemed like they could use a little "warming up." In addition, no fewer than twice per year, we provide our employees with free products to help them recreate in the outdoors, including shoes, bags and socks. In 2010, through our partnership with Mt. Hood Meadows Ski Resort, we were able to provide employees with free ski passes or lift tickets. We also provide free cycling apparel to employees who participate in the "KEENners Cycling Club." Employees may also use their Keen free-shoe option to obtain a pair of Keen cycling shoes.
FITNESS BENEFITS
Keen provides locker-room and shower facilities to promote employees commuting to work as well as fitness during the workday. We provide bikes to employees to ride during the lunch hour, after hours, or to daytime appointments. Bike racks are also available in multiple locations at the office. Most employees have the option to "flex" their work schedules to accommodate exercise during the day or before or after work. Furthermore, our great room, the hub of our office, has room for employees to play sports like disc golf and table tennis. There are two full gyms within one block from of our offices, and Keen "buys down" the cost of membership or pays initiation fees at these clubs. Keen sponsors a Bike Club for all levels of riders and types of riding. We buy cycling apparel for employees, have bike-repair workshops, and pay for entries in organized bike rides, many of which are fundraisers for nonprofits in our community.
FLEXTIME
Every summer, from Memorial Day through Labor Day, Keen officially closes the office at 3:00 for "Hybrid Fridays." Employees are encouraged to use the time to Create, Play, or Care! To this end, we provide things like bikes and maps in the office so people can go directly from work on an outdoor adventure. We are also situated within a half-mile of a 16-mile running and cycling path and one mile from the country's largest urban park (Forest Park). Because of this, employees may organize jogging, hiking, or biking groups to get outside and play in the good weather. Most jobs at Keen also provide the opportunity for employees to work flexible hours within a given day. At managers' discretion and based on business needs, employees have the ability to choose their start or end times to accommodate personal needs or hobbies. Outside of our PTO program, Keen also provides 32 hours per year of "service leave" to employees. During this time they may volunteer for a nonprofit or community organization of their choice, such as at a child's school or a park cleanup.
COMMUNITY INITIATIVES
We're working with the Outdoor Industry and grassroots organizations to expand access to and appreciation for the outdoors, which has resulted in the protection of millions of acres of wild places and thousands of miles of rivers throughout North America. We're turning our passion for the outdoors into action in our own communities (Portland and other cities in which we have retail partners). Staff members plant trees and do restoration and maintenance of parks and trails. We connect with schools by donating school supplies and product, as well as providing business education to at-risk youth. We open our doors to nonprofits to provide free or low-cost space in which they can have meetings or hold events, which allows them to devote their precious financial resources to their cause. We're partnering with Kiva.org to provide microloans to create opportunity and, as the name suggests, hope in impoverished communities across around the world.
GREEN INITIATIVES
When Keen moved its headquarters to Portland, Oregon, in 2006, it chose a once-abandoned warehouse as its new home. Keen has committed itself to transforming the workspace by using sustainable elements and practices based on the fundamental principles of "repurpose for a purpose" and creating an inspiring and responsible work environment. This includes bookshelves made from school lockers and tables made from car hoods. We have successfully designed and furnished all areas of the building with repurposed and non-virgin materials—old barns, chairs made from garden hoses, workstations made from refurbished cubicle walls, couches made from old car seats, tables made from stop signs, and many more items like this. We have also implemented a Green-Blue-Brown-Black recycling system throughout the office to work to achieve as close to a "zero waste" goal as possible. We also provide bicycles for employees to use for errands or meetings, provide free annual public transportation passes to employees ($900 value), use car sharing (Zip Car) for local and business travel when possible, and house business guests within walking distance or streetcar distance from the office so they do not have to take cabs or rent cars. We also have an on-site shower for employees who may want to commute by bike to work. Keen is creating meaningful results in the way we conduct our business around three key areas: Community, Environment, and Growth. We strike a balance between what's good for the company and what's good for our planet and communities. For example, Keen produces some products in North America. Another example: In 2010 Keen needed to acquire more space, and we identified an old warehouse within walking distance of the main office. Instead of refurbishing the building, we repurposed a retired 5,000-square-foot trade-show booth by dropping it into the space for an office. It allowed us to avoid renovations and to find a new use for something that had otherwise become obsolete. It now provides workstations, meeting spaces, a kitchen, bathrooms, and a common area. Like the main office, it is furnished with furniture made from sustainable or reclaimed materials. It is recognized as being a fun and creative space for the team that works in it.
33. Zozi
LOCATION: San Francisco, CA
NUMBER OF EMPLOYEES: 43
BEST PERKS: Alternative work environment, Fitness, Swag
HIRING? YES! zozi.com
Zozi believes that everyone should experience what this amazing world has to offer, and not have to break their piggy bank in the process. Zozi does this by helping consumers find the coolest and most unique travel activities close to home—all curated by Zozi's local experts. These are one-of-a-kind activities ranging from after-dark kayaking in New York City, outdoor cooking classes in Golden Gate Park, and learning how to fly a plane to horseback riding while wine tasting, learning how to sail, diving for abalone, and getting behind the wheel of a NASCAR race car. In addition to offering local deals in ten U.S. cities, Zozi also features unique domestic getaway packages in off-the-beaten-path destinations like Bodega Bay, California, and the mountains of Vermont. Zozi is headquartered in San Francisco, with offices in New York City.
COMPANY CULTURE
We're an open-minded company focused on the concept of tangible experiences—how to locate them, how to create them, and how to deliver them. We enjoy each other's company, and the office feels like home, but way more productive. We focus on a culture where every single person feels excited about building this company. The team is incentivized to do well, and we're heavily invested in the future of each person. We want each person to grow professionally, have a lot of fun, and be surrounded by the best.
EMPLOYEE RECOGNITION AND AWARDS
To start with, we have free trips around the world, iPhones, MacBooks, and an office dog, Charlie, all for the team. All team members participate in a detailed and highly incentivized commission plan that provides attractive monetary rewards for overall sales performance as well as bringing new and unique activities to zozi.com. All employees are eligible for cash bonuses for excellent performance or specific achievements. Bonuses are typically given annually after a formal performance review with management; however, spot bonuses have been given for unique accomplishments or milestones (promotions, great work on a particular project). In addition to the bonus and incentive programs already discussed, top salespeople win free vacation getaways on a monthly/quarterly basis. All team members receive credits toward Zozi activities of their choosing as well as a monthly subscription to Foodzie, a gourmet natural-foods tasting service.

FITNESS BENEFITS
The Zozi office environment is extremely casual, and employees are encouraged to bring in and use items like free weights, footballs, and toys for the office dog. Employees are also reimbursed up to $50 per month for a fitness-club membership or activity dues of their choice. Employees participate in everything from rock-climbing gyms to yoga studios and are encouraged to utilize these facilities whenever they can. Employees are encouraged to participate in group sports, wellness classes, etc., whenever possible, and management is flexible as to when employees choose to participate (i.e. taking a long lunch for a yoga class or leaving early to play in a recreational soccer game). A massage therapist is available to all employees once a week, and an in-office dog promotes fun and relieves stress.

FLEXTIME
Extremely flexible work hours and conditions allow employees to attend personal events and other activities when reasonable. All employees have laptops and are able to work remotely, when reasonable, in order to accommodate personal commitments. After one year of service, employees receive a one-week sabbatical in addition to their annual PTO/holidays. Sabbatical rolls over for up to three years so an employee can earn up to three weeks.

COMMUNITY SUPPORT
As stated on the Zozi website, "We believe in a strong sense of community and do-goodery, so we give a portion of our profits back to the local communities in which we operate. We're thrilled to help local schools, environmental causes, and other phenomenal projects—it's part of our DNA and we're psyched to do our part in making a positive impact in the community." While Zozi does not currently formally sponsor any community-service initiatives through financial means, management will individually approve requests from employees who wish to participate in community-service/volunteer work and grant paid time off. The CEO sets an example for the rest of the company by participating in and raising money for various charity events like the Best Buddies International Bike Challenge and Livestrong.
32. Smith Optics
LOCATION: Ketchum, ID
NUMBER OF EMPLOYEES: 68
BEST PERKS: Alternative work environment, Flex time, Fitness
HIRING? YES! smithoptics.com
Smith Optics designs, manufactures, markets, and sells eyewear and helmets for the sports industries—snow goggles, sunglasses, snow helmets, apparel, ballistic eyewear, and prescription eyewear intended for use by people who are active-lifestyle seekers.



COMPANY CULTURE
Smith Optics has the best workplace any company employee could hope for. From the open-door policy with senior-level management to a policy that allows employees to bring their dogs with them, to work, to a motto that implores employees not to live a deferred life, Smith is all about work-life balance. Friday barbecues, ski days during winter, and employee gatherings throughout the year encourage Smith's hard-working, dedicated people to gather and bond outside the work environment. Smith is truly a place that has the best interests of its employees at the front of its mind, and the people who work at Smith know that their employer has their back.


EMPLOYEE AWARDS AND RECOGNITION
We have an average 6 percent gross-salary bonus for making the fiscal goal for the year, and all employees with favorable reviews are awarded the bonus. We also offer a $1,000 recreation subsidy for all employees in good standing.


FITNESS BENEFITS
We have an equipment room fully supplied with the equipment employees need to work out on bikes, skis, and boards and room to store them. We have on-site shower facilities, and there is a top-notch gym across the street; Smith subsidizes employee memberships. We also have Freeride Thursdays, a group mountain-bike ride during the warmer months, which gets everyone out on their bike. We live surrounded by an amazing array of outdoor activities—mountain biking, skiing, fishing, trail running, hiking, kayaking—and we encourage employees to get out and enjoy them. Each employee has a two-and-a-half-hour lunch once a week to get out and take part in the activities for which we make our products.
FLEXTIME
We offer employees a two-and-a-half-hour lunch once per week and flexible hours for most of the company, depending on department, to get out and recreate. After ten years, employees are eligible for a six-month sabbatical.
COMMUNITY SERVICE
We support Sun Valley Adaptive Sports, a local nonprofit that helps disabled veterans and others learn to ski, snowboard, cycle, etc. We participate in fundraising, help supply equipment, and help coach.
 
We support every possible local nonprofit we can. From Sun Valley Ski Education Foundation, who are creating the ski and snowboarding athletes of tomorrow, to Blaine County Recreation District, which puts together youth soccer, baseball, and basketball programs, to Sun Valley Adaptive Sports, which helps disabled veterans and others learn to ski, snowboard, and cycle. We participate through fundraising, equipment supply, and volunteer time.



GREEN INITIATIVES
We have evolved a top-to-bottom approach, from recycling to installing new light bulbs to product manufacturing to minimizing our carbon footprint and the overall impact of the business. Our Evolve product collection features environmentally considerate and renewable materials integrated into our sunglasses, goggles, and helmets without product-quality compromise. We know our environmental initiatives are a process and look to build upon our successes and learn from our failures.
31. Amer Sports Winter and Outdoor
LOCATION: Ogden, UT
NUMBER OF EMPLOYEES: 91
BEST PERKS: Flex time, Fitness, Swag
HIRING? YES! amersports.com
Amer Sports Winter & Outdoor, with its brands Salomon, Atomic, and Suunto, is the world's leading manufacturer of winter and outdoor products. The continuing trend toward outdoor-oriented lifestyles forms the basis for the success of this business. Amer Sports Winter and Outdoor's core sports are alpine skiing, cross-country skiing, snowboarding, hiking, cycling, trekking, trail running, and diving.
COMPANY CULTURE
Amer Sports Winter & Outdoor offers a great work environment in several different ways. In addition to our great health and welfare benefits, we also offer fringe benefits that contribute to work-life balance. We have an "open door" policy within the company, which encourages enhanced communication and camaraderie between peer groups and leadership. This environment provides a positive day-to-day atmosphere.

EMPLOYEE RECOGNITION AND AWARDS
For our full-time employees, we provide a free season ski pass, free or subsidized gym memberships to two local gyms, and a tuition-reimbursement program. We reward our employees by offering summer hours and holding several company events a year. We strive to let our employees know that we value their work and dedication. We offer a rewards and recognition program that is based on peer-to-peer nominations. Recipients receive a variety of prizes, including gift cards, a premier parking spot, and/or money to go toward company product. This is open to all employees; they just need to be nominated by their peers. Team members have the opportunity to nominate others for a Team Member of the Quarter award. The winner receives a $200 certificate for Amer Bucks, money to be used to purchase our products. Once a year, team members have the opportunity to nominate a co-worker for Team Member of the Year. Team members are nominated based on their performance and how they follow our values—determination to win, team spirit, fair play, and innovation. The winner receives a $1,000 certificate in Amer Bucks, a parking spot for the year, and eight hours of flexible time off, and their photo is displayed on the ASWO Wall of Fame bulletin board. We offer a Years of Service award that recognizes team members that have been with the company 5, 10, 15, 20, 25, 30, etc., years. We offer a cash award for this achievement as well as extra paid time off to be used at the team member's discretion. We have a Universal Thanks program that helps create camaraderie within the team. Team members and/or managers will fill out a universal-thanks card that details a specific reason for a thank-you, e.g., help with a special project, training, etc.  The team member that has been thanked has their manager sign off on the universal thanks. During our quarterly company meetings, team members can put their universal-thanks cards into a drawing for a chance to win a gift certificate. We offer a yearly ski day where the company pays for breakfast, and employees who ski are able to go up on the mountain for a day.

FITNESS BENEFITS
We have the Front gym, located just next door, where we offer subsidized membership for our full-time employees, or full-time employees can opt for a complete company-paid membership to Gold's Gym. We also offer a shower and changing room on-site, which allows employees to exercise before work or during their lunch hour. We have just started our formal Wellness Focus Group, which will be starting more initiatives this year to help team members in their fitness level and overall work-life balance. We annually hold a Health and Wellness Fair, where we invite local vendors to come and discuss healthy lifestyles and food choices. We also offer healthy foods at this fair, as well as cholesterol, BMI, and glucose testing. We also have a blood drive during the health fair and encourage our team members to donate. We offer free Snowbasin ski passes to our full-time employees, which encourages them to not only try out our product on the mountain but get outside during the colder months. We offer an employee purchase program that allows our team members to buy product from any of the Amer Sports brands at a varying discounted rate. We also have Amer Bucks that we give out every year during the holidays, which can be used for our in-house brands, Salomon, Suunto, and Atomic.

FLEXTIME
Our summer hours allow us to leave at 12:00 p.m. on Fridays (or another approved day) as long as we still work a 40-hour week. This program was enacted to promote work-life balance as well as encourage our employees to enjoy time outside. We have several trails that are just five to ten minutes from our office, so many team members go biking or hiking after work.
COMMUNITY SERVICE
We are proponents of donating to local organizations in order to better our community. We donate financially to Enable Industries, a local nonprofit that helps find work for people with disabilities. We support their fundraisers/auctions through financial means or by donating product. We have a volunteer program that allows our employees to volunteer either as a group or individually on company paid time. Every year we donate our time cleaning our many local mountain trails. We do this in two shifts, and volunteers pick up trash and/or help rebuild the trails if necessary. We also financially support local events/organizations that help children and adults with disabilities participate in skiing and other outdoor activities. Two of the organizations that we support are Splore and Snowbasin Adaptive Sports program.

GREEN INITIATIVES
We promote recycling programs in our office. Each desk has a blue recycle bin with a do and don't recycle list taped to the bin. We also have an Environmental Focus group that is responsible for creating environmentally friendly programs that will engage our team members.
30. NatureBridge
LOCATION: San Francisco, CA
NUMBER OF EMPLOYEES: 180
BEST PERKS: Travel, Alternative work environment, Community & environmental support
HIRING? YES! naturebridge.org
Our mission is to inspire personal connections to the natural world and responsible actions to sustain it. Serving more than 40,000 participants annually, NatureBridge is the largest nonprofit residential environmental-education partner of the National Park Service. Since 1971, we have introduced almost one million students to national parks through field science education programs for schools and youth leadership programs. Our employees work, live, and play in the some of the most spectacular places in the world. NatureBridge is a 501(c)3 nonprofit corporation.
EMPLOYEE RECOGNITION AND AWARDS
The Baxter Award and the Bishop-Marcus Award were both created to celebrate the memories and contributions of these three individuals. The two awards give employees a chance to explore and educate themselves with monies provided by these awards. Each year, the awards committees select employees of good standing who inspire the two committees with their proposals. Some staff have traveled the world with these awards—to Tanzania, the French Alps, Mongolia, and national parks across the country. At the conclusion of these life-changing trips, employees share the stories of their discoveries with the NatureBridge community. NatureBridge also offers staff an opportunity to try new things through its ambassador program. High-performing educators from our campuses get an opportunity to live and work in another national park or our San Francisco office. The idea is to shadow, observe, listen, and then bring back learnings to your own campus. Only our best employees are invited to be an Ambassador.

FITNESS BENEFITS
All of our campus-based facilities are in national parks. Hiking, rock climbing, skiing, tide-pooling, and other activities in the out-of-doors are all easily accessible to employees. Many of our employees hike during the day as a regular part of their duties. The ability to do any of these activities on the way to and from work is encouraged and celebrated. Some employess can even kayak to work! NatureBridge distributes a relevant wellness newsletter to all employees on a monthly basis. This includes tips on healthy eating, exercise, current medical trends, and overall wellness. Our campuses provide free and discounted meals that are created with healthy, organic, and often locally grown produce.
FLEXTIME
Sabbaticals are awarded to those full-time employees in excellent standing who after seven years apply for this honor. We pay half their salary and keep the employee on full benefits while they are gone for three months. All we ask is to share in the joys and learnings once they return. All staff are encouraged to spend a day in the field with our students at least once a year. This allows each of us to reconnect with the mission and experience the power of NatureBridge firsthand. Staff who work in the field regularly have an opportunity to do office-based projects if desired. These include creating videos, writing blog posts, learning more about risk management, contributing to diversity efforts, etc.

COMMUNITY SERVICE
Staff participate in local and regional organizations that benefit the community. One example is Sustainable Action, a volunteer-run organization in Yosemite. This organization finds and repairs bicycles to create a "bike library" for those unable to afford a sustainable means of transportation, and staff are able to use this as a professional-development opportunity.
Our Olympic campus regularly creates fundraising opportunities to support free program participation for the local schools.  
GREEN INITIATIVES
Stewardship is a key component of all NatureBridge programs. In addition to field science programs with schools, NatureBridge invites community participation in stewardship activities in the parks in which it operates. Examples are Earth Day and Coastal Clean-ups at Marin Headlands in the Golden Gate National Recreation Area. These days include a cleanup of the beaches, invasive-species removal, and native nursery pot cleanup. We serve organic, sustainable, locally grown food whenever possible. A central component of NatureBridge programs is the reduction of waste in all areas. There is a focus on garbology—food waste, compost, recycling, and landfills. We aim to have zero food waste at every meal by every participant. Nearly all of our buildings are repurposed. From army bunkers to a TB clinic to a former B&B, using existing buildings rather than starting from scratch saves waste and allows our students to learn from the history of the area. NatureBridge uses sustainable building materials and cleaning supplies. Whenever feasible, we use LED and compact fluorescent lightbulbs, carpets made from recycled plastic bottles, electric vehicles to make deliveries on campus, and low-flow toilets. NatureBridge teaches all students about these sustainable practices and how they can make changes at home to protect the planet. We also provide incentives for staff who live in campus housing to reduce their energy use. NatureBridge relocated our national office to a public-transportation-friendly location in San Francisco. Now all national staff use public transportation to commute to work.
29. Osprey Packs
LOCATION: Cortez, CO
NUMBER OF EMPLOYEES: 41
BEST PERKS: Alternative work environment, Community & environmental support, Swag
HIRING? YES! ospreypacks.com
An independent outdoor-industry company since 1974, Osprey Packs is America's premier designer and manufacturer of high-quality gear-carrying equipment. The Osprey collection includes technical backpacks, pursuit-specific packs, hydration packs, active everyday packs, and a full line of travel packs, bags, and luggage. Headquartered in Cortez, Colorado, Osprey also maintains a product-development office in Ho Chi Minh City, Vietnam, as well as a product-design office in Mill Valley, California.
COMPANY CULTURE
We have a true team/family atmosphere that has been carefully cultivated among a group of independent-minded individuals from diverse backgrounds united by a common goal to comprise the Osprey Team. There are many aspects of the Osprey culture that make the business unique, but one of the most important things is the fact that, since 1974, Osprey has existed as an independently owned and operated entity. This independence has created an Osprey family to which each individual brings his or her own special contributions, creating a unique environment that values the individual and promotes open communication throughout the organization. This team environment makes Osprey a great place to work.

EMPLOYEE RECOGNITION AND AWARDS
We have a healthy and robust profit-sharing program that pays yearly incentives to the entire team based on sales goals for the fiscal year. Each Osprey team member receives a new bicycle after one year of service. Years of Service awards are also given for 5, 10, and 20 years of service. These generally include additional time off, with the 20-year service awards including paid vacations. Regular team-member-appreciation dinners, lunches, and other functions are held throughout the year to show team-member appreciation.
The Osprey Outings Holiday offers each team member one paid day off to participate in the Osprey Outings Program, which leads outdoor trips such as skiing, boating, climbing, cycling, and more.
FITNESS BENEFITS
Paid health-club memberships and free and discounted ski passes are available to every Osprey team member. Osprey headquarters has lockers and showers as well as strength-training balls and bicycle rollers. Our headquarters is adjacent to the Carpenter Preserve open-space area, which allows for organized team-member walks and runs, while miles of county roadways allow the perfect place for organized road rides. Secure bicycle-parking facilities are also offered to encourage physical fitness and nonmotorized commute.
Daily stretch and walking breaks are highly encouraged to get team members out of the realm of daily duties. Organized lunchtime bike rides, runs, frisbee-golf outings, and Ping-Pong tournaments have a long and storied past at Osprey and work very well to relieve workday stress and add fun to the day. Organized lunchtime basketball games are another tool that Osprey uses on a semiregular basis to promote office fun and camaraderie.
Osprey maintains an extensive outings gear program available to all team members, which includes packs, tents, sleeping pads, stoves, water filters, and all manner of gear for outdoor activities.
FLEXTIME
Osprey team members are granted a floating powder-day holiday to use during in February or March for winter outdoor activities. The Osprey Stress Free holiday grants additional time off to Osprey team members during the busy holiday season.
COMMUNITY SERVICE
Osprey's Volunteer Incentive Program allows each team member paid time off to participate in a wide range of Osprey-sponsored volunteer projects at the local and national level.
In addition, Osprey's biannual Community Locals Sale awards 5 percent of all proceeds to select area nonprofits. Past recipients of this donation have included Sheep Mountain Alliance, For Pet's Sake Humane Society, Bridge Emergency Shelter, West Slope Climber's Coalition, Kokopelli Bike Club, and others.

GREEN INITIATIVES
The Osprey Sustainable Transportation Initiative, which pays team members for cycling or walking to work, not only encourages nonmotorized transport but also encourages a healthy lifestyle and has had very successful participation. Our annual Bike to Work Day celebration and Bike Commute Pledge, whereby Osprey team members pledge to ride to work a certain number of times throughout the summer months, has seen great participation.
Osprey Packs headquarters is powered by 100 percent renewable energy using local wind farms, small solar, and hydroelectric sources. We've had two recent headquarter expansion projects, one in 2007 and then again in 2010, incorporating the best of LEED-type standards. A wide range of green materials were used in each project, including non-VOC paints, recycled carpet foam, recycled-denim insulation, motion-sensor lights that only turn on when someone enters the room, and heliotropic skylights that greatly reduce the need for conventional lighting. Osprey offsets all carbon emissions produced via motor-freight shipments, international sales meetings, and trade-show travel via the nonprofit Bonneville Environmental Foundation.
28. NOLS
LOCATION: Lander, WY
NUMBER OF EMPLOYEES: 183
BEST PERKS: Travel, Flex time, Swag
HIRING? YES! nols.edu
Founded in 1965 by legendary mountaineer Paul Petzoldt, NOLS is the leader in wilderness education, providing awe-inspiring, transformative experiences to more than 15,000 students each year. These students, ages 14 to 70, learn outdoor skills, life skills, leadership, environmental ethics, and risk management in the wildest and most remote classrooms worldwide. Outdoor skills we teach include: wilderness medicine, mountaineering, sea kayaking, canoeing, rafting, backpacking, whitewater canoeing, mountaineering, rock climbing, sailing, and more. The Wilderness Medicine Institute of NOLS is the leading teacher of wilderness medicine worldwide, providing medical training for circumstances when resources are scarce or help is not immediately available.

COMPANY CULTURE
We are a values-driven organization, and our employees have great passion for our values: leadership, wilderness, the environment, and education. We have an amazing quality of life. NOLS faculty work all over the world, and administrative staff can have flexible schedules, work remotely, and teach in the field part-time. We also enjoy a laid-back and comfortable atmosphere. Employees are encouraged to spend time outside. In fact, business meetings might happen on the saddle of a bicycle or skiing. Dogs are permitted to come to work with employees at several locations (including Rocky Mountain and Teton Valley). Footwear is sometimes optional. You will find Alaskan employees spending a couple of hours of their day working in the garden. And some offices are equipped with rock rings and sofas. (Exercise or relax, you choose!)

EMPLOYEE RECOGNITION AND AWARDS
Our full-time faculty receive a bonus of $875 to $1,155 per year. Ten percent of our top-performing faculty receive a bonus each season along with a letter recognizing their exceptional talents. All current employees who have worked a minimum of 25 days during the fiscal year, including our hard-working interns, are eligible to receive a "gainshare" check at the end of the year based on the school's and their performance. This past year, we made gainshare distributions to 700 staff worldwide, the second-largest distribution in NOLS's history. The 2009 gainshare was the equivalent of 8 percent of employees' wages. Last year employees received more that a 5 percent gainshare.
Staff members who have served for more than 20 years are recognized publicly in awards ceremonies. We also recognize faculty with more than 400 weeks in the field instructing NOLS courses with Masters of Outdoor Education awards. Yearly, we recognize six of our top-performing staff at our October board meeting and celebration. They receive a gift certificate and plaque.
Various departments at NOLS's headquarters have Friday afternoon happy hours, which might include food and beverages. During the holiday season, a party cart replete with food and beverages (and a host of groupies) spends an entire afternoon making the rounds of NOLS's headquarters. NOLS Teton Valley hosts themed dance parties during the winter season. NOLS Mexico has regular BBQs on the beach with Mariachi bands.
FITNESS BENEFITS
We have full gyms or rock-climbing walls at a few locations worldwide, several of our locations have running or mountain-bike trails, and all of our branches provided free gear for employees to use. For example, Spectrum, one of NOLS Pacific Northwest's keelboats, is available for qualified faculty to take on personal sailing trips. NOLS New Zealand has staff surfboards. NOLS Australia and Alaska have staff mountain bikes. NOLS Alaska has sea kayaks that staff can use on Prince William Sound. At our Rocky Mountain location and at our headquarters, we offer discounted weekly yoga classes.
Pick-up games and exercise during work hours are encouraged. NOLS Pacific Northwest has volleyball, kickball, cricket, or Wiffle Ball games on Tuesdays. NOLS New Zealand plays croquet in the evenings. NOLS Rocky Mountain and our headquarters employees spend time rock climbing on bluebird days, on our road bikes, or cross-country skiing. NOLS Teton Valley has a gnarly 15-minute core-workout session at 3:15 every day.
A few of our locations offer discounts to employees to participate in local outdoor activities. NOLS Southwest has a discount at the local climbing gym. NOLS Teton Valley and Rocky Mountain have discounts at ski resorts. One of our most successful programs is an employee discount of up to 75 percent off a NOLS course.
FLEXTIME
Although we do not have formal policies, we informally encourage employees to spend time outdoors and make up their hours either in the mornings, evenings, or weekends. Employees have even taken entire days to go on more epic outdoor adventures such as climbing Grand Teton or backcountry skiing a big peak. Early-out Fridays are common during the summer, with the executive director closing up shop midafternoon.
Although we do not have a formal sabbatical program, high-performing senior employees historically have been granted three-to-four-month sabbaticals upon request.
COMMUNTIY SERVICE
Our employees are active members of local ambulance crews, fire departments, and search-and-rescue teams, where they apply their NOLS skills to help handle crises. For example, during the summer 2010 flooding of the river in NOLS's hometown, employees spent hours bagging sand and helping protect homes in the community from being ravaged by the flood. NOLS's worldwide bases individually organize and support community events and organizations in their respective locations, including river-bank or beach clean-ups, trail building and maintenance, and free outdoor-skills classes for local community members.
GREEN INITIATIVES
Almost all NOLS locations including Alaska, Mexico, Rocky Mountain, Pacific Northwest, and our headquarters use composting as a method of reducing waste. Grounds waste, kitchen scraps, coffee grounds and filters, and returned field rations are turned into nutrient-rich soil used to fertilize our gardens and landscaping. At NOLS Rocky Mountain, since composting began we estimate a garbage-collection savings of $2,500 annually. Even more, we've cut our trash collection by 66 percent and use far fewer trash bags.
With a goal of reducing our carbon footprint by 30 percent before 2020, we are slowly retrofitting all of our buildings to be more energy efficient with CFLs, high-efficiency windows, and insulation. Solar panels produce 40 percent of NOLS Rocky Mountain's energy use, nearly all of NOLS Mexico's energy use, and 75 percent of NOLS Patagonia's energy use, and will produce 10 percent of the Noble Hotel's needs.
NOLS purchases environmentally preferable products wherever possible. We require paper containing at least 50 percent postconsumer recycled paper fiber. NOLS also purchases a significant amount of outdoor gear, and we support companies with strong environmental practices. We are developing protocols that our staff can use to make sustainable purchasing decisions, no matter where in the world they are or what department they are working in.
27. Santa Cruz Bicycles
LOCATION: Santa Cruz, CA
NUMBER OF EMPLOYEES: 65
BEST PERKS: Alternative work environment, Fitness, Swag
HIRING? YES! santacruzbicycles.com
Established in 1993 by two guys who loved to ride their bikes on dirt, Santa Cruz Bicycles has grown to represent the pinnacle of full-suspension mountain-bike performance. Starting with a single model, we now manufacture 17 widely varied mountain bikes, ranging from featherlight hardtail cross-country racers to ten-inch-travel, World Cup–winning downhill bikes. We are located in a quietly awesome hotbed of mountain biking disguised as a beach town: Santa Cruz, California.
COMPANY CULTURE
We were founded by cyclists, first and foremost, and today are staffed by cyclists through and through. From the engineers designing the bikes to the sales and production guys guinea-pigging the prototypes, we are staffed by longtime cyclists who have opted into this life and who care deeply and personally about the quality of bike that we represent. That sounds almost like some kind of Stalinist brainwashing exhortation in praise of the proletariat worker. Sorry about that. Still, that's who we are. We care about our bikes, and we bust our asses to make sure that they are awesome, every single one of us. There is no corporate dress code, and the general appearance of the facility and the workers could best be described as enthusiastically crusty, but almost everyone who works here rides. A lot.



EMPLOYEE RECOGNITION AND AWARDS
Our employee bonus program is based on productivity and meeting our goals. In December 2010, at the request of our employees, we recognized our first Employee of the Month. The award consists of a singing Kung-Fu Panda perpetual trophy and $100.
We sponsor events like our annual trip to Downieville, California, so our employees (and family members and guests) can ride bikes and unwind, our summer BBQ, and the Winter Holiday Cheer Party on the last day of the year that we are open.
FITNESS BENEFITS
We provide bikes for our employees to ride in the beautiful Santa Cruz Mountains, on trails that start about a mile from our office.


FLEXTIME
All employees have a flexible window from 7:30 a.m. to 9:00 a.m. to start work. We allow for time away from work to go for a bike ride during the day or to just go to the beach. As long as their work is being accomplished, we give our employees the flexibility to manage their time and have an excellent work-quality-outside-life balance.



COMMUNITY SERVICE
We donate lots of frames and bicycles, time, and money: Sierra Buttes Trail Stewardship (northern Sierra–based nonprofit land stewardship), IMBA, Jordan and Kyra Foundation (cancer fundraiser), Sprockids (a group in Canada that gets kids on bikes), NorCal Mountain Bike League, Project Bike Trip (local nonprofit focused on developing bicycle-oriented high school curricula) Youth Resource Bank, Gault School (local elementary school)…
GREEN INITIATIVES
We give our employees a merchandise credit of a dollar a day for riding, walking, skating, or using public transportation to get to work. We have several employees who ride 30 miles to work and home on a daily basis. Ninety-five percent of our packing materials are recycled. We get real stingy with the heater and air-conditioning controls.
26. Fuse
LOCATION: Burlington, VT
NUMBER OF EMPLOYEES: 35
BEST PERKS: Alternative work environment, Flex time, Swag
HIRING? YES! fusemarketing.com
Fuse is a youth-marketing agency that helps clients market to teens and young adults through sports, music, fashion, gaming, and other interests. Fuse services include brand strategy, event marketing, public relations, design, and digital. Selected current or past clients include Gatorade, Mountain Dew, New Balance, Burton Snowboards, and Teton Gravity Research. Recent agency expansion has included brand licensing and higher-education marketing. Fuse employs a staff of youth-marketing experts recruited from leading brands, agencies, and media. 



COMPANY CULTURE
The agency's culture is creative and energetic, and it has progressive benefits and practices that foster a positive and balanced working environment. The staff value Fuse's work atmosphere, which fosters creativity and encourages independent work while providing support and growth opportunities. Staff also value Fuse's rich health benefits and its laid back, creative (and dog-friendly) workplace. Fuse's new offices were designed to inspire creativity with interesting spaces.



EMPLOYEE RECOGNITION AND AWARDS
Fuse provides a year-end bonus to full-time employees based on agency performance during the year, as well as 401(k) profit sharing. In addition, the agency provides periodic employee gifts. In a past year, the gift was a custom sweatshirt with artwork designed by an employee. In the summer of 2009, to celebrate Fuse moving to the new renovated-mill office space, staff were treated to a half-day canoe and kayak trip down the Winooski River. In 2010, to commemorate Fuse's 15-year anniversary, Fuse gave an iPad to each full-time employee.
 Each year at Fuse's holiday party, Fuse partners recognize and celebrate its employees who have reached their 5-year anniversary. Award recipients receive a commemorative trophy as well as a special gift specifically selected to match the employee's interests. Examples include a surf trip to Nicaragua, a helicopter snowboarding trip, a Mac laptop, and a motor scooter.


FITNESS BENEFITS
Fuse has a rec area within our offices. The space contains a skateboard halfpipe, basketball hoop, and room for other fitness activities. Fuse has stand-up paddleboards for staff to use during lunchtime on the Winooski River, which is located just outside the office. Fuse's office includes a shower, which allows staff to exercise on the way to work or during lunch. Fuse encourages staff to ride to work and offers a bike-repair stand and tools. In addition, there are loaner bikes to use to cruise for lunch or errands. Fuse offers full-time employees a season resort pass at their choice of several ski or snowboard areas in Vermont. A fitness reimbursement program provides an annual allowance that can be used for a number of fitness, recreational, and wellness products and services. Staff have used this benefit to purchase numerous mountain bikes, a kayak, a rowing machine, rock-climbing gear, Pilates and yoga classes, nutritional counseling, and personal fitness training.
Fuse organizes numerous team-building activities, including moonlit snowshoe hikes, canoe and whitewater-rafting trips, and a company ride day at a local resort each year.
In 2010, Fuse offered employees the opportunity to receive an ergonomic analysis of their workstation and a coaching session with a wellness professional.


FLEXTIME
From Memorial Day through Labor Day, Fuse has half-day Fridays. It is very common to see a group of employees go mountain biking or trail running together to make the most of their afternoon off. Fuse also has a winter snow policy that encourages staff to hit the mountain when it snows 12 or more inches in 24 hours. Staff can catch first runs in fresh powder in the morning and make up their hours at the end of the day. To be sure staff maintain a healthy work-life balance and to prevent burnout, there is a comp-day program that allows staff to earn a day off for each full day worked on a weekend.



COMMUNITY SERVICE
For many years, Fuse has provided discounted or free services to nonprofits. Examples include managing sports- and music-festival events for Boarding for Breast Cancer from 1995 to 2000 (the events raised over $500,000), assisting Do-Something.org with strategy and planning work, and developing a website for the Athlete Recovery Fund, a nonprofit that helped action-sports athletes deal with catastrophic injuries. 2010 marked the fourth year Fuse has implemented its annual Holiday Artist Collaboration, in which the agency makes a donation to a youth-focused national or local charity. The program has supported the Chill Foundation, Drums and Disabilities, Make-a-Wish Foundation of Vermont, and Stoked Mentoring and has featured such artists as Bigfoot, Mikey Welsh, Kenzo Minami, and Suiko. In addition, Fuse allows paid hours for employees to volunteer at a charity of their choice and regularly communicates volunteer opportunities in the area. In 2010, Fuse had a leadership role in mobilizing young adults to improve the local community. Working with the United Way of Chittenden County, a group of Fuse partners and employees lead an effort to engage peers within and outside the company to create an annual event called Mission Possible. It raised awareness of the cause among thousands of young people and engaged 20 local businesses, setting the stage for even more impact in 2011.

GREEN INITIATIVES
In 2010, Fuse implemented an annual green-office initiative. Members of the operations staff surveyed employees and investigated its green performance in a variety of areas (carbon footprint, purchasing practices, etc.). The agency ultimately implemented a number of changes and also changed buying practices to green cleaning products and postconsumer recycled paper. Finally, infrastructure changes were made, like switching from water bubblers that require bottle delivery to an in-house filtration system and replacing paper towels with hand driers.
25. Max Borges Agency
LOCATION: Miami, FL
NUMBER OF EMPLOYEES: 36
BEST PERKS: Alternative work environment, Fitness, Swag
HIRING? YES! maxborgesagency.com
Founded in 2002, Max Borges Agency (MBA) is the nation's only tech public-relations and social-media agency with a 100 percent focus on consumer electronics (CE) and personal technology. Representing more than 55 of the most innovative brands in the CE industry and generating unparalleled volumes of press coverage, we have spearheaded the launch of more than 700 products utilizing cutting-edge strategies and disciplined execution. MBA has strategic alliances with numerous industry affiliates, marketing service providers, and international PR agencies.  
COMPANY CULTURE
Above all else, the agency prides itself on being the best at what it does. Everyone working for the company feels a high level of pride knowing that they are part of an elite group of PR professionals. The agency also has a great working environment, which promotes fun while ensuring that the highest level of work is carried out for the company's clients. The promotion of new ideas encourages employees to bring them to the table and share them with the rest of the agency. Ideas are implemented on a consistent basis, empowering employees to take an active role in the betterment of the agency as a whole and to evolve as business professionals.

EMPLOYEE RECOGNITION AND AWARDS
Company cruises to holiday locations occur regularly, and the entire agency (+1) is invited. We also offer new-business submission incentives (great tech gifts valued at $300 to $700 dollars), quarterly company dinners, free Friday lunches, and Friday afternoon beer on the agency!
FITNESS BENEFITS
We reimburse entry fees for races and also sponsor the occasional stand-up paddleboarding excursion to Key Biscayne, Florida. The president is also an avid triathlete, and he encourages and inspires healthy living.

FLEXTIME
All employees are allowed to take non-PTO. After five years of service, employees are given a trip to China to visit the manufacturing facilities of our clients and do some sightseeing.

COMMUNITY SERVICE
We offer paid time off to participate in a cause that any individual employee feels passionate about. We also support the Miami Dade County chapter of MADD and participate in the Miami Corporate 5K walk every year.  

GREEN INITIATIVES
See the sustainability report from the Consumer Electronics Association.
24. Virgin Galactic
LOCATION: Mojave, CA
NUMBER OF EMPLOYEES: 50
BEST PERKS: Alternative work environment, Flex time, Fitness
HIRING? YES! virgingalactic.com
Virgin Galactic is the world's first spaceline, offering a suborbital tourism experience to private individuals. TSC (or the Spaceship Company) is the manufacturer of Galactic's spaceships and carrier aircraft that will take people into space.
We're working on something that has never been done before—commercial space travel. There is a passion of all involved for building a small company up as it moves toward commercial operations.
23. Chesapeake Energy Corporation
LOCATION: Oklahoma City, OK
NUMBER OF EMPLOYEES: 11,631
BEST PERKS: Fitness, Community & environmental support, Swag
HIRING? YES! chk.com
Chesapeake Energy is the second-largest producer of natural gas, a top 20 producer of oil and natural-gas liquids, and the most active driller of new wells in the U.S. Headquartered in Oklahoma City, the company focuses its operations on discovering and developing unconventional natural-gas and oil fields onshore in the U.S.
COMPANY CULTURE
CEO Aubrey McClendon has built a unique corporate culture in which employees have great trust in their leader and pride for their company, and they enjoy coming to work and feeling part of something special. He devotes half a day to get to know new employees during their onboarding period, in addition to personally calling employees on their birthdays. Employees love the accessibility to senior leadership and the empowerment that comes with being a Chesapeake employee. Every other Thursday during the summer months, we host summer concerts, which feature live bands with great music for all employees to enjoy! The company restaurants serve free margaritas, beer and appetizers. The fun starts at 4 p.m., and employees are encouraged to wrap up their day early to join the fun.
EMPLOYEE RECOGNITION AND AWARDS
Chesapeake awards employees' performance twice a year through our biannual performance review process. Employees receive very generous salary, bonus, and restricted stock awards to recognize their hard work and dedication to the company. Chesapeake also awards a special holiday bonus to all employees. Chesapeake holds semi-annual milestone-service-award ceremonies, hosted by CEO Aubrey McClendon. Chesapeake holds semi-annual milestone service award ceremonies, hosted by CEO Aubrey McClendon. At these ceremonies, individuals are honored with cash bonuses for each five years of service they have achieved with the company.  Employees reaching their 20-year anniversary are recognized with a $3500 cash bonus and trip valued at $5,000.
FITNESS BENEFITS
Chesapeake offers a 72,000 square-foot Fitness Center at our corporate headquarters that offers two complete cardio rooms, two strength-and-conditioning rooms, an Olympic-size swimming pool, a rock-climbing wall, basketball courts, an outdoor sand volleyball court, three large group exercise rooms, and more. The center offers more than 70 classes per week, recreation leagues and tournaments, trainers, and a corporate nutritionist. In addition, our Fitness Center offers hundreds of classes each year. Unique examples include: skydiving, flight certifications, scuba diving, martial arts, Pilates, sailing, golf, archery, and rowing. Through Chesapeake's Living Well program, employees can earn up to $1500 per year for exercising regularly, participating in wellness activities, and working towards a healthy body weight.
COMMUNITY SERVICE
Through Chesapeake's HELP Initiative (Helping Energize Local Progress), all employees are given four hours of paid company time to volunteer for the organization of their choice. In 2010, 4,934 employees contributed 30,870 hours to HELP 519 organizations in 96 communities across the country. Our annual United Way campaign is the company's biggest companywide fundraiser. Employees raise money for United Way through many activities, such as raffles, duck derbies, and cook-offs. Chesapeake matches each contribution dollar for dollar. In 2010, through our generous donations and the company match, we were able to donate a record $4.1 million dollars to the United Way of Central Oklahoma. In Oklahoma City, Chesapeake has been mentoring at Horace Mann Elementary School for 15 years and currently provides mentors for all its students. We also have mentors at Oklahoma City's Belle Isle Enterprise Middle School and Harding Charter Prep School. Each week, employees take an hour from their jobs to help students with their studies and to serve as positive role models to 345 students.
GREEN INITIATIVES
Our buildings are built to utilize as much natural lighting as possible, with large windows placed approximately every six feet on all floors in every building. We use solar energy at our completion sites as much as possible. Chesapeake offers an online Rideshare program that allows employees to create an account, enter driver/rider preferences, and find carpool matches with CHK employees. The service also offers bike and bus routing options. Chesapeake's Employee Garden offers classes on sustainable and organic gardening. We use restaurant scraps as compost for the garden. We also donate excess crops to the local food bank.
22. River Design Group
LOCATION: Whitefish, MT
NUMBER OF EMPLOYEES: 18
BEST PERKS: Flex time, Fitness, Community & environmental support
HIRING? No. riverdesigngroup.com
River Design Group (RDG) is a consulting engineering firm that specializes in river-, stream-, and wetland-restoration and renaturalization projects in the Pacific Northwest and Intermountain West. Our river-restoration projects include dam removals, fish-passage enhancements, river reconstruction, and large-scale recovery of endangered species through planning and assessment projects. We have an expert staff that includes hydrologists, biologists, engineers, geomorphologists, GIS specialists, and surveyors.
COMPANY CULTURE
Our employees enjoy working at River Design Group because of their strong desire to work in the natural river environment and impact nature in a positive way for generations to come. We create a fun and positive workplace for employees to excel in their desires to improve the environment.
We spend a significant amount of time in mentorship roles during design and field construction. We typically match senior staff with younger staff to ensure that knowledge and experience is passed down and younger staff can take on more responsibility while growing with confidence.
We routinely do our staff meetings at the local pub with the entire staff, and the company pays for drinks during business hours.
EMPLOYEE RECOGNITION AND AWARDS
Our primary recognition program is through additional time off for someone who works above typical hours. All of our employees are eligible for bonuses. We currently provide yearly bonuses based on longevity of employment, number of hours worked, and intangible benefits provided to the company.
FITNESS BENEFITS
Our company pays half the membership fees for health- and fitness-club dues and also pays entry fees into races and other events in which employees compete. We sponsor a team each year for the Glacier Challenge in Whitefish, Montana. We provide indoor space for bicycle parking to promote bike commuting. 
FLEXTIME
We provide powder days for skiing fresh powder and steelhead days for fishing ideal flow conditions. Employees also get to travel around the northwest to rivers for work and get to raft and fish at some of the greatest places in the U.S. We encourage employees to add an extra day or two onto out-of-town trips to enjoy the places they are traveling to for work or to visit family. Employees are also encouraged to leave and take time off if they are stressed beyond a normal level.
COMMUNITY SERVICE
We frequently donate time to local watershed councils to facilitate landowner outreach and education. We provide community education by volunteering on panels and forums for civic-sponsored events. We provide expert presentations for various community events and routinely give presentations at universities. Our staff includes an active city-council member who volunteers hundreds of hours a year.
GREEN INITIATIVES
Recycle containers are provided at all desks to encourage paper-waste recycling.
21. Geographic Expeditions
LOCATION: San Francisco, CA
NUMBER OF EMPLOYEES: 50
BEST PERKS: Travel, Flex time, Community & environmental support
HIRING? No. geoex.com
One of the pioneers of adventure travel, Geographic Expeditions offers a spectacularly varied roster of overland tours, treks, walks, and expeditionary voyages to the world's most beguiling places. We have operated all over the world for 30 years and specialize in getting our travelers to places that are difficult or impossible to reach on one's own. Our groups are small, our leaders expert, and our passion for out-of-the-way travel intense. Our office is situated in the Presidio of San Francisco, part of the Golden Gate National Recreation Area, within the Thoreau Center of Sustainability.
COMPANY CULTURE
We pride ourselves on having an enlightened and embracing culture, based on transparency and respect. We have a Culture Committee that organizes an ongoing series of events such as movie screenings, potluck cuisines-of-the-world parties, workday volunteer projects, and whitewater-rafting excursions that are enthusiastically attended by staffers. All new employees are taken to lunch by our CEO and our Chairman in order to immediately facilitate personal connection; other staff members are invited to join these luncheons as well. We have monthly staff meetings and regular retreats at which all staff members interact and share ideas with management. We always have a staff representative, chosen on a rotating basis, at our board-of-directors meetings. That staff representative reports to the Board on issues raised by staff and reports back to the staff on the board meeting.
EMPLOYEE RECOGNITION AND AWARDS
Though we are a small company, we offer a full range of big-company compensation and benefits. We have a peer-recognition "Staff Person of the Quarter" program that awards a free airline ticket each quarter to a chosen employee nominated by co-workers. We also regularly present gifts to staff in recognition of exceptional performance. Other perks have included a massage therapist brought in to give chair massages for all staff, parties to acknowledge staff members, and chocolates and other treats spontaneously brought to staff members at their desks by our senior vice-president. For members of our geographic teams, we also offer a margin profit-sharing program and a quarterly portfolio sales program. And we offer all employees an employee stock-ownership plan.
FITNESS BENEFITS
Our office in the Presidio offers access to world-class running trails, windsurfing, sea kayaking, and mountain biking, as well as one of the top climbing gyms in the country and a trampoline center. We have a locker room and showers as well as a secure bike-storage room so that employees can run, ride, or otherwise exercise during lunch or on their way to the office. We have employer-sponsored yoga classes in our office twice a week. We also provide regular ergonomic training for our staff and bring in ergonomic consultants to work with staff members personally.
FLEXTIME
We offer the option of working either 8 a.m. to 4 p.m. or 9 a.m. to 5 p.m. to maximize the opportunity for staffers to be outside during daylight hours. We have a long-service extended-leave program that supports staff who have been with us for at least ten years and who wish to pursue a personal project such as taking graduate-school classes, writing a book, or volunteering for a nonprofit. Participants continue to receive their salary during this time away from work. Recognizing the fundamental importance of travel to us personally and professionally, our company offers all of our staff members the opportunity to travel. We provide all staff with paid time off (in addition to vacation and personal days), and we fund their trips so they can join our tours or visit the rewarding destinations where we take our clients.
COMMUNITY SERVICE
We volunteer with the Presidio Trust to assist with various projects in our cherished home, the Golden Gate National Recreation Area.
GREEN INITIATIVES
Following the same sustainability principles at home as in the field, we use recycled paper in all our printers, have a companywide program to reduce paper waste, and compost and recycle throughout the office. We are in the process of obtaining our Green Business Certification from the City of San Francisco.
20. USANA Health Sciences
LOCATION: Salt Lake City, UT
NUMBER OF EMPLOYEES: 583
BEST PERKS: Alternative work environment, Flex time, Fitness
HIRING? YES! usana.com
USANA Health Sciences develops and provides the highest-quality science-based health products, distributed internationally through network marketing, creating a rewarding financial opportunity for our independent associates, shareholders, and employees. Founded in 1992, USANA is now one of America's leading companies in the field of health and nutrition and helps improve the lives of thousands of people around the world by helping them achieve true health and financial stability.
COMPANY CULTURE
USANA's core values are integrity, excellence, health, and community. USANA employees demonstrate these values every day in an effort to promote a positive working environment. USANA employees love the creative freedom that is promoted in so many different departments of the corporate office.
EMPLOYEE RECOGNITION AND AWARDS
Employees receive generous profit-sharing bonuses annually that are based on the sales and profitability of USANA. This program has allowed employees to earn an average of more than 13 percent of their base pay. All employees are eligible. With our manager "Good Employee" incentive program, if managers want to recognize an employee, they can have an allotted amount of money go onto the employee's paycheck, or provide tickets to sporting events, movies, or other forms of entertainment, or gift cards. Once a year, USANA holds an on-site lunch to thank employees for their hard work during the company's busiest time of the year (hosting our annual International Convention). The event is elegant and catered, and features highlights of employees at the convention. Each employee also receives a thank-you gift.
FITNESS BENEFITS
We have a locker room, showers, and a gym that includes stationary bikes, elliptical machines, treadmills, boxing bag, free weights, strength-training machines, floor mats, exercise balls, resistance bands, and ball weights. We also have a full-size basketball court. Group fitness classes include the boot-camp-style USANAFit, the principal strength-and-conditioning program for many police academies and tactical operations teams, plus elite and professional athletes worldwide. We also offer Zumba, which fuses hypnotic Latin rhythms and easy-to-follow moves, and yoga. Once a week, USANA has a massage therapist on-site to work on employees for a free 15-minute seated massage. USANA is equipped with an outside volleyball court for fun summer Fridays. USANA also offers many outdoor activities to employees, including a running club that meets weekly and quarterly 5K races that recognize runners and walkers (both experienced and new). Employees have also organized company intramural teams including soccer and softball. Departments regularly golf at the course located across the street from USANA headquarters.
19. Butler, Shine, Stern and Partners
LOCATION: Sausalito, CA
NUMBER OF EMPLOYEES: 170
BEST PERKS: Community & environmental support, Fitness, Swag
HIRING? YES! bssp.com
BSSP is a full-service marketing-communications agency based in Sausalito, California. We provide services in advertising, online marketing, and Web development; data analytics; brand identity and design; and strategic brand consulting.
BSSP is one of the largest independent agencies on the West Coast and is known for providing highly creative, fully accountable marketing solutions to a broad array of marketers, including Priceline, Mini Cooper, Columbia Sportswear, Sorel, AT&T Interactive, Isis Mobile payments, Greyhound, Mission Foods, Piperlime, and RadioShack. 
COMPANY CULTURE
Our employees love the agency for many different reasons. First, location and activities. We are a block from the Bay, where we kayak, and blocks from hiking with bay and ocean views. There is a bike path outside our door, a basketball court blocks away, and tennis courts around the corner. Second, we have an amazing culture: while we have doubled in size in the past few years, we maintain a small agency feel. We hire people who share our work ethic and values.
EMPLOYEE RECOGNITION AND AWARDS
We offer annual holiday bonuses based on agency revenue each year, as well as spot bonuses. We also have employee-referral bonuses: if an employee refers someone that we hire, they receive $500.
All promotions are announced and celebrated. All anniversaries from one year and up are announced and celebrated in staff meetings. Employees are continously recongized for efforts in company meetings, e-mail, and so forth.
We host a summer concert series. The last Thursday of every month, we close at 4 p.m. and a local band performs in our parking lot, where local food and local beer is also served. We invite all our neighbors and community to celebrate with us.
COMMUNITY SERVICE
Diversity in our industry and community is a priority for BSSP, and we participate in the Marcus Graham Project (marcusgrahamproject.org) and the 4A's MAIP intern program.
Each year, we participate in Adopt-a-Family (adoptafamily.org), and our employees help make these families' wishes come true. Each year, we take on more and more families.
We have also encouraged our employees' own generosity and provided matching funds to assist relief following the devastating earthquakes in Haiti and Japan.
FITNESS BENEFITS
We have bike storage, showers, and a locker room. We have a large bike-commuting population, and many ride daily over the Golden Gate Bridge. 
We reimburse employees for gym fees and offer sea-kayaking and paddleboarding a block from our office year-round at no cost. We have intramural activities such as softball, basketball, soccer, and boccie ball, all within blocks of our office. 
We have an extended program via our health insurance that provides weight management and nutrition counseling, tobacco cessation, and alternative therapies such as chiropractic, accupunture, and massage. 
GREEN INITIATIVES
We provide tax-free commuter checks to encourage use of public transit, and we help organize carpool groups from San Francisco to Sausalito. We have a living garden within the agency that grows herbs, fruits, and vegetables, and we help fertilize it with our recycled coffee grounds.
18. IslandWood
LOCATION: Bainbridge Island, WA
NUMBER OF EMPLOYEES: 71
BEST PERKS: Alternative work environment, Community & environmental support, Swag
HIRING? YES! islandwood.org
IslandWood is a nationally recognized outdoor education facility located on Bainbridge Island, Washington, across Puget Sound from downtown Seattle. IslandWood's mission is to provide exceptional learning experiences and to inspire lifelong environmental and community stewardship. Each year, more than 17,000 adults and children visit IslandWood's private 255-acre campus for a wide variety of programs. IslandWood was founded in 1999 on the belief that today's children need opportunities to explore the natural world if they are to develop a commitment to environmental stewardship. Through our flagship School Overnight Program, 4,000 elementary school students each year participate in learning adventures that integrate science, technology, and the arts while allowing them to discover connections between themselves and the natural environment. In addition to our school programs, IslandWood offers a graduate program in partnership with the University of Washington, spring and summer camps, conference programs for nonprofits and corporations, and community programs for families. Our wooded campus also is available for corporate and nonprofit retreats and weekend celebrations, including weddings, reunions, and bar mitzvahs. Our site features leading-edge green building design and meeting facilities equipped with state-of-the-art technology that can accommodate a small intimate group or a conference for 175 guests. Guests stay in lodges (with private rooms and baths), and our culinary team creates meals that feature seasonal, local produce and sustainably raised meats and seafood. All events and community donations help finance our outdoor programs for elementary school students, including a significant percentage who come from low-income communities.
COMPANY CULTURE
IslandWood's staff is a community of dedicated, hardworking, respectful, people who share a commitment to our mission. Our 2010 annual staff-survey results indicate that 95 percent of staff either agree or strongly agree to the statement "Given the opportunity, I tell others great things about working here."
EMPLOYEE RECOGNITION AND AWARDS
IslandWood recognizes and celebrates achievements in a number of ways. IslandWood has a "Sunshine Committee" that plans regular morale-boosting events and activities. The organization holds at least two parties per year to thank staff for their amazing work. During bimonthly Art Happy Hours, staff can meet in the Art Studio for weaving, printmaking, drumming, and other art activities and to connect with one another. IslandWood also provides time at all staff meetings for "shout-outs" and appreciations of one another. The organization also has a board where staff can post thank-yous to other staff members, and IslandWood regularly uses the announcement section of our intranet to post messages that recognize a job well done by an employee or a team.
FITNESS BENEFITS
IslandWood's most unique offering is our beautiful wooded campus, which allows employees to step out of the office into a second-growth forest highlighted by two tree houses, a canopy tower, suspension bridge, and a teams course. IslandWood encourages all staff to take time during the day to go outside for a walk on our six miles of trails. Many departments also use our teams course for team-building activities.
COMMUNITY SERVICE
We have made a commitment to ensure that children from underserved communities have opportunities to participate in our summer camps. Partnerships with several local community organizations have enabled hundreds of teens to attend weeklong camps at no cost to their families. In partnership with the Sierra Club, IslandWood employees participated in an inner-city environmental cleanup-and-restoration project on the Duwamish waterway. Our employees also contribute time and effort to an annual roadside cleanup not far from our campus. IslandWood regularly hosts events for other local community organizations, including Bainbridge Island Land Trust, Rotary Awards Banquet, Japanese-American Community Mochi Festival, Sustainable Bainbridge, One Call for All, the Chamber of Commerce, Land Trust, and many more. 
GREEN INITIATIVES
IslandWood's Learning Studios use solar energy for electricity and hot water. We have a robust recycling and composting practice that operates across all of our programs. Food waste and compostable material decomposes in bins for use in our organic garden. A composting bin handles up to 100 pounds of food waste per day. Our facilities include composting toilets and a "living machine" that processes 3,000 gallons a day of sewage, allowing IslandWood to reuse some of the resulting water for irrigation. IslandWood also uses cisterns to capture rainwater for reuse. The organization also practices local sourcing of food and teaches children about the food cycle in our Garden Classroom. IslandWood's Green Team takes time at all staff meetings to educate everyone on actions they can take to decrease their environmental impact. IslandWood has reduced paper consumption by switching to a Web-based system for payroll, using recycled paper, and defaulting to double-sided printing on copiers. Staff place a marker in a jar each time they walk, bike, or carpool to work. Once the markers reach a certain level, a celebration is planned for all participating staff.
17. Paradigm Group
LOCATION: Nashville, TN
NUMBER OF EMPLOYEES: 24
BEST PERKS: Flex time, Community & environmental support, Swag
HIRING? No. paradigmgroup.net
Our tagline tells the story: "Excellence in employee benefits, retirement services, and HR consulting."
COMPANY CULTURE
The president says, "We take our work seriously, but we don't take ourselves seriously." Our work environment is friendly and often full of levity. Employees have great senses of humor, and we enjoy each other's company. When employees responded to a question on this topic, their most often used words and phrases included (in no particular order): flexibility, fun, work/life balance, good people, casual attire, president honestly asks and considers our input, teamwork produces amazing results, success generously shared in the compensation structure.
EMPLOYEE RECOGNITION AND AWARDS
All full-time regular employees participate in profit sharing. A profit target is set each year; excess profits fund the profit-sharing pool. Prior to the beginning of the year, each employee is given a "pool share" determined by the president. Employees not in a sales role are given a percentage of first-year revenue for each new account they acquire. HR consultants receive a percentage of project revenues. Ad hoc bonuses may be given to individuals at the president's discretion for exceptional contributions. A cash bonus and gift (generally a logo item) is provided at the holidays. Annually, the company sponsors off-site planning/relaxation/fun outings. Most recently, the entire company flew to Las Vegas for three days and two nights, completely paid by the company. Several times a year, we take half-days to go hiking, bowling, play laser tag, etc. 
FITNESS BENEFITS
A non-affiliated professional training studio is located on our floor in the office building. We get a "tenant discount" and may pay studio dues via payroll deduction. In addition, employees may work out during business hours. Our BlueCross BlueShield health plan includes a "BluePerks" program that provides discounts for wellness products and services. The Chick-fil-A US City Challenge comes to Nashville this year. A longtime client invited us to participate with its employees. Starting August 26, many of us (on a voluntary basis) will take the Body Age assessment and participate in the eight-week challenge to improve our fitness. Paradigm Group is paying half the $40-per-person entry fee.
FLEXTIME
Our general practice is flexible hours for employees to pursue whatever they want/need to as long as the clients are served.
COMMUNITY SERVICE
We make a donation in our clients' honor to a charity (e.g., homeless shelter, Red Cross, etc.) each holiday season. Employees also sponsor one or more families for whom they provide clothing and holiday gifts. Nearly all employees participate in favorite charities by serving on boards or committees. We may work on these activities during work hours as long as the clients are served. During the 2010 catastrophic flooding in Nashville, employees were encouraged to schedule one day off with pay to participate in the flood-relief activity of their choice.
GREEN INITIATIVES
We recycle plastic bottles and soft-drink cans and provide ceramic coffee mugs. We contract with a vendor to pick up and recycle paper and shredded documents. We encourage turning off lights and computers when not in use. Recently, we purchased reusable water glasses and agreed to share clean-up responsibilities in order to eliminate use of plastic water bottles.
16. MercuryCSC
LOCATION: Bozeman, MT
NUMBER OF EMPLOYEES: 21
BEST PERKS: Alternative work environment, Community and environmental support, Swag
HIRING? YES! mercurycsc.com
MercuryCSC is a creative, strategic communications agency that credibly connects brands to people who value authentic places and products and immersive experiences. Founded in 1998, independently owned MercuryCSC is based in Bozeman, Montana, a town frequently named one of the premier outdoor-lifestyle towns in North America. Our 21 employees have lived or traveled extensively to every continent except Antarctica. The firm prides itself on having a thorough, hands-on understanding of the world's leading outdoor brands and travel destinations and the products and services that help consumers enjoy them.
EMPLOYEE RECOGNITION AND AWARDS
MercuryCSC provides all the things you expect from a great employer: a fair wage, health care, a 401(k) plan, profit sharing, ample vacation time. And Mercury provides all the things you don't expect but hope for from an employer: community involvement, pro bono work, work/life balance, continuing education, open, honest dialogue, collaboration, and fun. Mercury supports employees and their families, provides personal development opportunities, and makes room for each employee's voice.
FITNESS BENEFITS
MercuryCSC offers a private yoga class (open to employees and their families), group activities during lunch and after work (including cross-country skiing, hiking, biking, and workouts in the park), and annual company ski days and river trips. Mercury also provides ski-lift tickets to the entire office throughout the winter, along with an understanding that a powder day might mean a late start to the workday. Mercury has most recently sponsored a recreational-league kickball team and outfitted the entire team with uniforms (ones that intimidate the opponents).
FLEXTIME
MercuryCSC reduces company-wide meetings during the summer, and employee hours are always flexible. An employee only needs to develop and submit a plan for his/her work hours: some people work longer days, others work fewer days in the office, some people come in earlier, leave earlier—schedules are flexible for each individual. Additionally, Mercury provides ten holidays and ample PTO for employees, supporting travel around the state, the country, and the world.
COMMUNITY SERVICE
MercuryCSC matches any donation an employee makes (up to a budgeted amount) and pays the registration fees for several community events every year for employees (including Bowl for Kids Sake and the Bozeman Public Schools Spelling Bee). Additionally, Mercury takes on pro bono work for causes, services, and products we are passionate about. Pro bono clients have included the Conservation Alliance, the Special Olympics, the Theodore Roosevelt Conservation Partnership, and the Montana Outdoor Science School. Mercury also takes on an annual holiday event that benefits the community, such as the 24-hour sled-a-thon, which benefited Gallatin Valley Land Trust, and the Pledge from the Ledge, which benefited Family Promise.
GREEN INITIATIVES
MercuryCSC's principles include the integration of sustainability into the business itself. We have an in-house recycling center and are making a move toward becoming a paperless office (e-mail faxes, reduction in printing, mailing, etc.). Additionally, we have a worm compost in the office, helping us reduce our waste while also giving us a company mascot (or 1,000 company mascots). MercuryCSC also owns a cruiser bike that employees can check out and use as needed, and we provide a safe bike rack for employee bikes. Our office location is downtown, near services and housing, supporting bike and foot commuting.
15. Wilderness Adventure at Eagle Landing
LOCATION: New Castle, VA
NUMBER OF EMPLOYEES: 30
BEST PERKS: Alternative work environment, Fitness, Swag
HIRING? YES! wilderness-adventure.com
Wilderness Adventure at Eagle Landing is a full-service adventure and retreat center in the mountains of Virginia. We offer adventure outfitting and guide services for almost any outdoor activity or sport. Our rustic lodges sleep anywhere from nine to fifty people who have all the amenities of home in a beautiful wilderness setting. We specialize in custom-tailored experiences for any group of any size. Weddings, corporate retreats, or multiple-day self-sufficient wilderness experiences—we can do it all. We have a chef on staff and a full-service kitchen that can provide for groups large and small. Our 500-acre property includes a climbing wall, bike trails, and 900-foot zipline. We also host a summer camp for kids ages 8 to 17.
COMPANY CULTURE
At Wilderness Adventure, we are a big family—we eat, sleep, work, and, of course, play together. Every member of the staff has a place and responsibility in the family. Our staff has coined the phrase Teamwork Don't Seamwork, and that's how we live. Weather we are guiding a group down a river or working in the kitchen, we do it together.
EMPLOYEE RECOGNITION AND AWARDS
We try and show our staff how much we appreciate them with Staff Happiness Days, which can be anything from a simple ice cream party to a trip to the U.S. National White Water Center.
FITNESS BENEFITS
We provide equipment for any outdoor activity that our staff wishes to participate in. This includes, but is not limited to, bikes, kayaks, canoes, camping and hiking gear, rock-climbing gear, and zipline and high-ropes gear. We also have a small gym in the basement of our lodge building with weights and a punching bag.
We promote health and wellness by offering 30 minutes of personal exercise time at the end of every day.
GREEN INITIATIVES
We encourage employees to live on-site in one of our staff cabins or in our staff house, which are about a mile from our location, and encourage all staff there to run or bike to work. We also have composting and recycling programs.
14. Dealer.com
LOCATION: Burlington, VT
NUMBER OF EMPLOYEES: 527
BEST PERKS: Alternative work environment, Fitness, Swag
HIRING? YES! dealer.com
Dealer.com helps auto dealers and manufacturers market to customers through websites and online solutions integrated into the industry's most comprehensive and effective online platform. Dealer.com's product suite significantly lowers the cost of customer acquisition and enhances dealer and manufacturer efficiency and profitability. Dealer.com is the auto-retailing industry's technology and market-share leader, working with 80 percent of the top 125 dealer groups and recognized by Automotive News. 
COMPANY CULTURE
Working at Dealer.com is like finding the sweet spot of your career. It's the opportunity to do great work, combined with an environment centered on helping people thrive. It's the happy medium between working in a dynamic, growing company and living in Burlington, one of the most beautiful small cities in the country. It's highly rewarding, both personally and professionally. And it's quite unlike any job you've ever had.
EMPLOYEE RECOGNITION AND AWARDS
We offer discretionary bonuses and recognition awards for employee of the month and employee of the year. We give employee spot bonuses and other giveaways (e.g., iPods).
FITNESS BENEFITS
Dealer.com has its own comprehensive fitness facility that includes free weights, nautilus and cardio equipment with TVs, boxing equipment (including speed and Muy Thai heavy bags), a world-class indoor tennis court and a world-class Ping-Pong table, half-court basketball, locker rooms with showers, and more. We offer complimentary fitness and boot-camp classes, as well as free tennis clinics. Massage therapists on-site offer free chair massages.
We pay for 50 percent of ski passes to one of three area mountains, offer free membership to the Burlington Swim and Tennis Club for employees and their families (with access to pool, tennis courts, etc.), and discounted membership at Vermont National Country Club.
We have more than 20 sports teams and 15 clubs. Employees are given a wireless pedometer that tracks movement. This program encourages employees to walk or bike to work in order to get Ped Points they can turn into cash or Dealer.com prizes. We offer physical assessments on-site quarterly by our life coaches and monthly seminars on health and wellness. 
With so many farms nearby, it only makes sense that we'd create the Dot Calm Café, which offers locally raised and organic foods and coffee. Dealer.com also offers a subsidized CSA program, where food shares are delivered directly to the company from local farms.
COMMUNITY SERVICE
Groups we support include the Woman's Rape Crisis Center (Dealer.com has been their top giver for the past two years), Children's Toy Drive, Food Drive, Human Society, and Boys and Girls Clubs. 
GREEN INITIATIVES
Dealer.com's brand-new 135,000-square-foot headquarters is built to LEED-certified standards. The air is pure and clean and so is the water, thanks to our reverse-osmosis machine. All of our cleaning supplies are Green Seal certified. We have a Dealer.com composting program.
We participate in the weeklong Way to Go Commuter Challenge, which encourages alternative transportation to and from work, offer carpooling incentives, and partner with a local bike-rental business to have bikes on-site that employees can use for errands.
13. New Belgium Brewing
LOCATION: Fort Collins, CO
NUMBER OF EMPLOYEES: 400
BEST PERKS: Travel, Alternative work environment, Fitness
HIRING? YES! newbelgium.com
New Belgium Brewing, makers of Fat Tire Amber Ale and a host of Belgian-inspired beers, is considered a leader in sustainable business practices in the craft-beer industry. New Belgium became the first brewery in America to subscribe to wind energy for its electrical needs, in 1998. The brewery currently produces 15 percent of its electricity on-site by harvesting methane from its process water-treatment facility to fire a cogeneration engine. New Belgium installed a 200-kWh solar array in 2009, and it has one of the lowest water-to-beer production rates in the industry. The brewery has won multiple awards and accolades for its ever-expanding portfolio of beers. 
COMPANY CULTURE
New Belgium co-workers would say you come for the beer and stay for the culture. We are an employee-owned company, so that contributes to ownership thinking that truly allows us to function at a high level. In conjunction with ownership, we practice open-book management so every co-worker knows how money is being spent and how they can impact the bottom line. We engage all co-workers at a high level with an annual company-wide SWOT analysis that determines our strategic planning. We have a democratically elected ownership committee that helps educate employees as to the rights and responsibilities of ownership. Our philanthropy committee is made up of volunteer co-workers who allocate more than a half-million dollars a year.
EMPLOYEE RECOGNITION AND AWARDS
Inclusion in our Employee Stock Ownership Program at one year's employment; gifted a cruiser bike at the same time. There's an induction ceremony in which our founder and CEO presents a "mojo" award she makes by hand.
After five years with the company, employees are taken on a trip to Belgium with all our fifth-year colleagues to experience the liquid culture that inspired New Belgium's creation.
Our sabbatical program allows employees who've been with the company for ten years four weeks' paid leave, and they can add up to two more weeks.
FITNESS BENEFITS
We have an on-site gym (Nautilus and free weights) with lockers, showers, a cyclocross dirt-bike track, a climbing wall, and yoga classes. Our wellness committee communicates benefits and organizes programs like smoking cessation. New Belgium pays for gym memberships around town and offers sports scholarships (entry fees and support) for teams and individuals.
We take informal group bike rides nearly every afternoon when the weather allows. There's Thursday-evening volleyball on-site nearly year-round, coupled with a shift beer (can't forget the shift beer!).
FLEXTIME
Salaried employees track their own hours and are responsible for making up any work they might miss while out biking/hiking in the summer sun. Hourly employees have worked together in their respective departments to determine shift load—four ten-hour days, three twelves, etc. 
COMMUNITY SERVICE
Our local grants program raised $650,000 for 26 states in 2010. Tour de Fat, our philanthropic traveling bike festival, raised more than $330,000 for bike nonprofits in 13 cities in 2010.
The volunteer program at New Belgium allows for one hour of earned time off for every two hours volunteered. 
GREEN INITIATIVES
Bike commuting is encouraged through covered bike parking, lockers and shower facilities, and shared company vehicles (a Prius and a Passat), which allow some employees to live car-free. On-site recycling is free to co-workers and supplements the curbside program by allowing pickup of computers, electronics, car oil, bike tubes, and wood.
We offer sustainable living tips online and on a wall near our kitchen that highlights best practices as developed through our Sustainabillies team of volunteer co-workers.
12. TRX
LOCATION: San Francisco, CA
NUMBER OF EMPLOYEES: 146
BEST PERKS: Flex time, Fitness, Community & environmental support
HIRING? Yes! trxtraining.com
At TRX, our mission is to democratize world-class training. We are committed to helping our customers achieve peak physical condition by creating exceptional physical-training products and exercise programs that trainers, athletes, the military, fitness facilities, and exercise enthusiasts around the world can use anywhere. Our product line is changing the way athletes train for sports, the military trains for combat, and trainers and exercise instructors train their clients. TRX is most recognized for pioneering Suspension Training body-weight exercise that develops strength, balance, flexibility, and core stability simultaneously. The company recently added Rip Training products to its functional training arsenal for developing explosive power and rotational movements. To learn about our product offerings, visit trxtraining.com
COMPANY CULTURE
We are a work hard–play hard fitness and training company, so everyone loves being surrounded by colleagues that adhere to a healthy lifestyle. They love the employee-only group workouts at noon every day and the fact that it's normal to sit (on a stability ball) at their desks and conduct business dripping with sweat from the group workout. They love the fun, youthful, fitness-minded culture and enjoy working with their fellow employees—so much so that they commonly choose to spend time with them outside of work, doing sports or simply hanging out.
EMPLOYEE RECOGNITION AND AWARDS
We conduct an annual performance review of all regular full-time and part-time employees. Employees are evaluated on performance, contribution to company performance, and alignment with F.A.C.E.U.P. (our internal values). Annual bonuses are awarded based on the score of this assessment. We offer spot bonuses to employees who go above and beyond all expectations in their overall performance or on a specific project. Many employees have generous company stock-option grants as part of their compensation plan.
We give quarterly F.A.C.E.U.P. awards. F.A.C.E.U.P. is an acronym for our company values (Fun, Authentic, Competitive, Effective, United, Physical). These awards go to employees who live these values to the highest degree and are the model of how to incorporate our values into both professional and personal life.
We have an internal HR portal where we highlight employees who have gone above and beyond to live our values and exceed performance expectations. At our weekly all-hands meetings, we recognize staff members with a cool story or a worthy tale.
We have a monthly in-office celebration (on our office roof deck, with fabulous 360-degree views of San Francisco) where we relax (and sometimes compete), welcome new hires, celebrate birthdays, and acknowledge company accomplishments.
FITNESS BENEFITS
Our state-of-the-art employee-only New Training Center (NTC) is located on the top floor of our worldwide headquarters. There are sweeping views of the Bay Bridge, part of the downtown skyline, and the San Francisco Bay. This 1,000-square-foot spot is the single most coveted in the building. Employees are invited and encouraged to make working out a priority and schedule work time around exercise. The NTC is open to employees at any time of the day or night and also offers organized group functional-training classes using TRX Suspension Trainers, Rip Trainers, jump ropes, medicine balls, and kettle bells throughout the day. These classes are conducted by either our own highly trained programming staff, by our education staff, or by local TRX instructors. It's common to use employee workouts as a venue to verify programming concepts and new TRX moves.
The facility also features two Concept2 rowing machines, a Power Plate, bike trainers, and a fully stocked locker room.
The original TRX Training Center (TTC), located ten blocks away from our offices, features more than 50 classes a week to the general public, but employees are allowed to sign up for free. This is a 2,400-square-foot space dedicated to functional training with an emphasis on Suspension Training. The TTC is equipped with towels, showers, lockers, and highly trained instructors leading the classes.
We have free personal trainers on staff, and employees can also take advantage of free body-composition analysis and exercise tracking.
Each new hire is encouraged to learn the benefits of our product offerings and are given a TRX Suspension Trainer, Rip Trainer, and instructional DVDs for getting started. We encourage people to get outside and get on the TRX. We encourage group outings to take our product outside and work out together on trees, fences, and monkey bars to engage other fitness enthusiasts and break up the workday.
We provide an annual stipend for races, community events, and more. We have fresh fruit delivered every morning and a steady supply of raw almonds and energy bars, and we have a fully outfitted kitchen where employees can cook their own healthful meals.
FLEXTIME
We also allow flexible hours for competitive athletes to train in the morning or afternoon. We often have world-class athletes in the office and head out to train with them during the workday.
COMMUNITY SERVICE
TRX was founded by a U.S. Navy SEAL squadron commander. So as part of our community-service initiatives, we donate $5 from every online sale of the TRX FORCE Kit (our flagship product, geared specifically to military and first-responder segments) to the TRX Fund. The Fund provides equipment, training, and ongoing education to injured military service members and challenged athletes. Last year, in observance of Veterans Day, we doubled that donation for the month of November.
We work with a multitude of volunteer and nonprofit groups, including the AIDS Life Cycle, Avon Walk for Breast Cancer, and the Livestrong foundation, offering free training classes and discounts on product at our training facility in San Francisco.
We sponsor our employees who want to participate in races in their own communities supporting their preferred organizations.
GREEN INITIATIVES
Our TRX Training Center was built using recycled materials throughout the construction process. We have low-flow showerheads and high-pressure toilets that save about 86,000 gallons per year. We have recycling throughout the office, including blue bins by everyone's desk. We use recycled paper in our printers, and we compost. We have removed all PVC plastic from our product packaging, which is now made from 100 percent postconsumer waste and recyclable materials. Our training guides and collateral materials are printed on 100 percent recycled paper. With our current printing, we have saved more than 4.1 million BTU, and ten trees, and prevented 1,217 gallons of wastewater flow, 321 pounds of solid waste, and 632 pounds of greenhouse gases.
We have a large bike room and offer more bike racks than parking spots. Our office location is within walking distance of 20 percent of employees' homes.
11. Kashi
LOCATION: La Jolla, CA
NUMBER OF EMPLOYEES: 49
BEST PERKS: Alternative work environment, Fitness, Community and environmental support
HIRING? Yes! kashi.com
Founded in 1984, Kashi dreams of a world where everyone embraces natural health. As a natural-lifestyle pioneer, Kashi is passionate about and committed to improving the health of people and our planet. By providing great-tasting, healthy, and innovative foods, Kashi enables people to achieve optimal health and wellness while also leading them on a path toward embracing a natural lifestyle. Kashi encourages people to live their best lives through its interactive online community at Kashi.com and the Kashi REAL Tour, a lifestyle immersion program and national grassroots tour that visits 16 cities around the country, educating people about the importance of natural foods and healthy living.
COMPANY CULTURE
We dream of a world where everyone embraces natural health, but we don't just talk about it—we live it!  To us, Kashi is more than products in packages—it's a way of life.We are passionate about making good foods that inspire people to enjoy healthy eating. As the leading natural-foods company, we have a unique opportunity to take our mission beyond our foods to encourage people to live their best lives. Helping people eat and live naturally is the mission that inspired us 25 years ago and it's still why we come to work each day.
Kashi is truly a fun place to work. Our office is a lively place where music, scooters, and fitness balls, Ping-Pong and flip-flops are the norm, and the people are fun, too. With a culture that nurtures a passion for our mission, Kashi is very special place to work.
EMPLOYEE RECOGNITION AND AWARDS
Kashi offers an Annual Incentive Plan or bonus program to all salaried employees. Our quarterly social events are also recognition for all our hard work and help to inspire the team and build our knowledge and understanding of like-minded organizations. We've visited an artisan chocolatier café, learned about sustainable farming practices at an organic farm, and toured a local craft brewery.
FITNESS BENEFITS
Employees have access to a gym in the building with cardio and weight-training zones, locker rooms, and showers. They also have access to a large community center nearby, where employees can take advantage of the large gym, fitness and dance classes, and masters swim program. Yoga classes are also held on site in the office on a regular basis. We also have a ping pong table, scooters and a Wii Fit system which also get regularly used!
As part of our wellness program, employees are eligible for up to $1,100 of reductions in their insurance premiums for healthy living. Among the newer incentives offered are $50 for getting an annual physical and $50 for participating in a local sports or recreation league. Participants of the Go Fit challenge, where teams compete for ten weeks to log the most 'miles,' also receive a $50 reduction in their health premiums.
Employees also receive an annual stipend to support their own natural healthy lifestyle, like surfing or fitness classes.  It can also be used towards a CSA (Consumer Supported Agriculture), membership for fresh organic produce, and cooking classes.
Race entry fees are reimbursed by the company. We sponsor the San Diego Triathlon Club and a group of employees participates in the summer Aquathon series which involves an ocean swim and beach run. Employees participate in a number of events throughout the year, including the Camp Pendleton Mud Runs, the Susan G. Komen 60-Mile Walk for the Cure to support breast-cancer research, and the Carlsbad Half Marathon.
More than anything, Kashi employees love to eat healthy food, so we are fortunate to enjoy breakfast all day long. A large percentage of employees eat breakfast at the office, which encourages a sense of community. 
FLEXTIME
We promote an environment of empowerment and encourage people to manage their own time in order to deliver results.  We also implement "summer hours" which encourages individuals to finish their work at lunchtime on Friday and take advantage of starting the weekend early. Some employees surf in the mornings, so they come in a little later and stay a little later.  We also have a number of family friendly policies to help people juggling busy lives.
COMMUNITY SERVICE
At Kashi, we believe nutrition and healthy foods education is a powerful way to help more people enjoy wholesome, real food. We have supported a variety of organizations including Cooking Matters™, formerly Operation Frontline® to help kids and families to prepare healthy foods on a limited budget. Since 2007 Kashi has given more than $500,000 to support the work of Cooking Matters™ and has helped reach families across the country with positive nutrition.
We have supported the United Way for more than ten years by holding an annual fundraising pledge drive and auction. We do a week of special activities to raise money including a talent show and ping pong tournament. In 2010, Kashi raised more than $26, 000 for the San Diego United Way.  We enjoy rolling up our own sleeves to lend a hand in our back yard of San Diego too. As part of our 25th anniversary, Kashi partnered with the Surfrider Foundation to host a beach cleanup at La Jolla Shores beach. Kashi employees, friends, and volunteers pitched in for a morning of cleaning and removed more than 300 pounds of trash and debris. We also planted an orchard of fruit trees at a local elementary school in partnership with the Fruit Tree Planting Foundation. Most recently, we volunteered for an afternoon of planting fruit trees and pulling weeds at the Olivewood Gardens and Learning Center.
GREEN INITIATIVES
Through project SpArK (Sustaining the Planet and Retaining Kashiness), we have influenced our entire building to begin recycling and have also influenced them to purchase environmentally friendly cleaning and restroom supplies. We've also implemented environmental guidelines for marketing items like T-shirts and printed materials. In addition, we have made our kitchen more eco-friendly by maintaining an office compost, using only reusable dishware and replacing our water delivery with UV filtered water stations.
We adhere to Kashi's natural-food guidelines when ordering food for the office. We order lots of fresh fruits and veggies and, of course, whole grains. Supporting our local farms is very important to us, so we receive weekly deliveries of local produce through community-supported agriculture.
10. Collie+McVoy
LOCATION: Minneapolis, MN
NUMBER OF EMPLOYEES: 170
BEST PERKS: Alternative work environment, Fitness, Community and environmental support
HIRING? Yes! collemcvoy.com
Colle+McVoy is a digitally driven, fully integrated advertising agency that has the soul of a scrappy start-up despite having been around for more than 75 years. Since moving to the Warehouse District of downtown Minneapolis a few years ago, the agency has quickly developed a national and international reputation for its creativity and ingenuity. For the past five years, Colle+McVoy has experienced year-over-year growth and produced standout, award-winning work for clients including Cannondale, Caribou Coffee, General Mills, GT Bicycles, Land O'Lakes, Mongoose, Mammoth Mountain, Nestle Purina, Novartis, Recreational Boating and Fishing Foundation, Schwinn, Sugoi, and many others. The roster of clients, including many outdoor-oriented companies, is partly a result of Colle+McVoy employees' passion for the outdoors and their active lifestyles. A love for fresh air, a clean earth, and a healthy body is genetic at Colle+McVoy.
COMPANY CULTURE
The Colle+McVoy headquarters are located in a bright, open, loftlike space with few doors but many inviting spots to work or relax. All employees, from the CEO to interns, work in equally sized work spaces with no doors. This open layout is a metaphor for the agency's culture: there are no limits or barriers to the active mind and active body. Fresh thinking is embraced. Personal passions don't end at home. Employees bring their pets to work; ride, run, or walk to the office; and explore their personal passions with agency support. We're also fortunate to have a rooftop deck with stunning views of Minneapolis. The deck is used for yoga, employee-managed gardens, Friday breakfasts (with heart-healthy foods), and parties. It is open for all employees to use anytime, along with their friends and families, especially during special events like the downtown July 4th fireworks display. The Friday beer cart is a tradition at many ad agencies, but Colle+McVoy has a Friday Beer Bike. The agency's custom-made bike is pedaled around the office with a basket full of refreshing and icy cold brews. Some departments take the Friday fun a step further by celebrating a Friday Fiesta that adds margaritas and snacks to the mix. This is likely the appropriate place to mention the agency's deserved reputation for some of the best—and most frequent—parties in the industry. These parties are the product of perfect planning, flawless execution, colorful personalities, and extreme creativity. A game room allows employees to blow off some steam during the day by playing Ping-Pong, billiards, and video games on a gigantic screen. And it's all just steps away from the cafeteria. 
EMPLOYEE RECOGNITION AND AWARDS
Colle+McVoy offers annual bonuses for any employee who has been at the agency for more than six months. Managers have the power to offer instant bonuses for exemplary work or efforts at any time. These awards are often given to teams for putting in long hours, earning new business, or creating exceptional work. The company also has an annual discretionary profit-sharing plan that contributes money to employees' 401(k) plans. A program called McVE allows peers and supervisors to easily recognize (through a digital submission) a fellow employee for a job well done. The awarded employee then receives a note and McVE trophy for his or her desk and is entered in a quarterly drawing for prizes. Awarded employees also have their names displayed on a moving ticker on the internal website. The agency's quarterly meetings are part circus, part Oscars, and all party. The rambunctious meetings feature videos, music, costumes, food, drinks, and more—and somehow cover all the action items, including celebrating the best work of each quarter, announcing promotions, and expressing gratitude for all employees. The highlight of the meeting is the AdGyver award given to the team responsible for the most standout work of the quarter. After an inspiring video, the winner is announced and the team receives an all-expenses-paid party.
FITNESS BENEFITS
Colle+McVoy has two areas set aside for yoga, for which it provides a free weekly class. An outdoor area on the roof deck is surrounded by a garden and has views of the Minneapolis skyline. An indoor area allows employees to continue with yoga classes in cooler weather. Located in the most bike-friendly city in the country (according to Bicycling magazine), Colle+McVoy has shower and locker facilities for the many employees who bike, walk, and run to work. In addition, bikes are welcome anywhere in the agency. The agency is located one block away from a robust fitness facility, and the agency supports employee membership at this facility through discounts. Also, to reduce stress and encourage mental clarity, Colle+McVoy provides subsidized shiatsu massages in a private room. Employees can receive massages twice a week for 15 minutes, 30 minutes, or an entire hour. The agency has sponsored a Good Moves program to encourage employees to take a pledge for a healthier lifestyle by eating better and exercising more. Health experts speak at agency meetings to inspire and encourage employees to live healthier lives. The program includes annual flu shots for employees and their families and friends—at no cost. Colle+McVoy promotes healthy and fresh eating by supporting a community-farm program that delivers weekly fresh local produce to employees during the summer and fall. The agency will reimburse employee teams for fitness-related events, like bike or running races. Free passes are distributed for using Minneapolis's unique bike-share program. Midday workouts are strongly encouraged, with managers setting the example by taking exercise breaks to run along the nearby Mississippi River (showers are available at the agency). Each year agency teams compete in local races. Summer hours encourage the embracing of daylight and good weather. Colle+McVoy offers generous discounts on outdoor-related activities and products. Bikes are discounted up to 50 percent. Employees can buy running, bike, and triathlon gear for a 40 percent discount. Employees can buy hiking shoes and equipment for half off. Employees who regularly visit a gym receive a discount on their monthly membership fees.
COMMUNITY SERVICE
Colle+McVoy and its employees make an impact through national community-service efforts. The agency donated more than 4,000 hours of time and money to create a global bicycling movement and organization called People for Bikes. In just one year, the movement gained nearly 200,000 supporters and has a goal of uniting one million in support of making the world safer and better for biking. For more than 20 years, Colle+McVoy has strongly and generously supported United Way through a range of activities. Each year, the agency donates hundreds of hours to develop unique fundraising campaigns. This year, the agency created the Smile Exchange, a website that allows visitors to post their smiles for $1 in exchange for eliminating a sad fact about the need for charity. Colle+McVoy also makes significant efforts to help its neighbors. During the holiday season, Colle+McVoy produces a unique internal fundraising campaign for United Way by hosting both a regular and a silent auction for unique prizes such as a gourmet dinner cooked by the CEO at her house or an extra day of PTO. Another program allows employees to have the agency automatically deduct a fixed amount from each paycheck to donate to a local charity. In addition, the agency sponsors employees in fundraising efforts: Colle+McVoy matches dollar for dollar all money raised in its annual summer food drives. Investing both time and money, the agency supports pro bono accounts each year, including Cultural Jumbalaya, Boy Scouts of America, Free Arts Minnesota, and Bikes Belong. In 2010, pro bono accounts amounted to more than 5,500 hours, or the equivalent of $800,000. Agency teams make workday trips to support local charities such as Feed My Starving Children, Free Arts, and the Boy Scouts.
GREEN INITIATIVES
Colle+McVoy encourages environmentally-friendly commuting through a variety of initiatives. The agency strategically relocated downtown to allow the use of public transportation and make the office more centrally located. (The agency is less than one block away from a light-rail station.) As a result, employees are able to purchase discounted metro passes to ride local buses or trains. Colle+McVoy has also taken aggressive steps to make its workplace more environmentally conscious. Washable plates, cups, and mugs have replaced disposables. The agency encourages responsible electronic recycling by holding collection days and encouraging employees to bring in their outdated electronics to be delivered to a recycling facility. The agency's office is built to allow for efficient air movement and natural light. Meetings frequently occur without the need for artificial lighting. When Colle+McVoy offices relocated downtown, all desks were brought from the old location and new construction was kept to a minimum. During 2009, Colle+McVoy initiated an aggressive printing-reduction program that is producing great results, with a 21 percent drop in printouts from 2009 to 2010.
9. Parliament
LOCATION: Portland, OR
NUMBER OF EMPLOYEES: 17
BEST PERKS: Alternative work environment, Fitness, Swag
HIRING? Yes! parliamentdesign.com
Headquartered in Portland, Oregon, Parliament is a full-service multidisciplinary creative agency that specializes in creating powerful experiences for its clients, which range from global juggernauts to scrappy new enterprises. The company knows its greatest asset is its passionate crew of world-class talent—designers, writers, strategists, dreamers, and, of course, consumers who work in all media with complete integration in mind.
COMPANY CULTURE
A beautiful, internationally recognized space designed by the founder and creative director. Smart, funny, seriously talented people. Free lunch on Fridays. Special events the last Friday of every month reserved for having fun and nothing else: bowling, video games and pinball, cash-prize board-game competitions, renting out theaters for cult-movie screenings, bike rides, you name it. Need to reset your brain? Wander the office and you'll find a pool table and an Xbox and Kinect hooked up to a large-screen projector.
EMPLOYEE RECOGNITION AND AWARDS
All staff are awarded generous, equal year-end bonuses and annual raises. There are internal design competitions in which all are encouraged to participate, employees vote for the winners, and small cash bonuses are a typical reward. Every year staff enjoy a three-day weekend retreat to destinations like the Oregon coast and resorts in the Pacific Northwest. And after seven consecutive years of employment, staff are awarded a two-week all-expenses-paid trip to anywhere in the world. 
FITNESS BENEFITS
An on-site gym is available, and commuting by bike or alternative transportation is highly encouraged. Almost a third of the staff commutes via bicycle during the warmer months.
COMMUNITY SERVICE
Parliament donates generously to Mercy Corps and the Portland Rescue Mission and often provides pro bono creative work to local small businesses.
GREEN INITIATIVES
The office was built using reclaimed lumber from century-old barns exclusively, all of it finished with beeswax. Recycling is a priority. The company covers half the cost of a monthly alternative-transportation pass.
8. Skullcandy
LOCATION: Park City, UT
NUMBER OF EMPLOYEES: 216
BEST PERKS: Alternative work environment, Fitness, Travel
HIRING? Yes! skullcandy.com
Skullcandy is the number-two-selling headphone company in the U.S., with revenues topping $150 million. It creates audio products and technology to catalyze the collision of music, fashion, and sports. Rooted in youth culture and the rebel spirit of rock 'n' roll, Skullcandy celebrates independence, ambition, individuality, and creativity. Skullcandy embodies exclusive designs by some of today's most notorious artists, fused with team-inspired state-of-the-art technology in both function and form, remixed to a thumping beat. 
COMPANY CULTURE
Skullcandy employees are the top customers of the brand, and the spirit of the brand can be found in each employee. We work hard and play hard, and all agree that no great idea is born behind a desk. Skullcandy employees love the casual work environment with a dress code so laid back it hardly exists. The office is designed as a skate park—skateboards and scooters are used throughout the office during business hours. We have flexible scheduling, medical benefits, 401K matching, a powder-day policy, cheap-as-dirt ski passes subsidized by the company, gym memberships, tons of room for growth and advancement, and, most important, the feeling of family.
EMPLOYEE RECOGNITION AND AWARDS
Annual company surf trip: Skullcandy had a one week job-well-done-award surf trip to Costa Rica this year. In addition, employee of the month is the longest-running and most sought-after recognition award. The winner is announced monthly at a company-wide meeting. The announcement is always a surprise after a room-wide drum roll. Skullcandy also offers on-the-spot gift cards for a job well done and lunches and dinners for departments completing large projects or performing above and beyond. Additional recognition awards include jazz tickets (great seats), additional ski passes, concert tickets (think Lauren Hill and Snoop Dog), and product giveaways. Bonuses: full-time positions qualify for a year-end bonus based on hitting key performance and revenue metrics, the amount to be determined by the company and individual performance. Equity: new hires are granted a certain number of options to purchase common stock. The company has also been known to spring a surprise Friday-afternoon movie, bowling party, ski afternoon, BBQ on the mountain, or a hot dog vendor and skate session. Holidays are filled with tons of fun, including a Halloween party with full department costumes, Christmas Party with Eagles of Death Metal, etc.
FITNESS BENEFITS
There are a number of world-famous mountain trails minutes from the office, and employees are encouraged to get out and play. Skullcandy subsidizes a monthly health-club membership. There are two great gyms directly across the street, and employees are encouraged to work out during the day. Skullcandy is committed to employees living the culture of the brand they are selling. In order to appreciate the environment and culture, we provide additional benefits to employees, including subsidized season ski passes and subsidized gym membership, as well as the powder-day and halfpipe benefits. Skullcandy sponsors kickball, soccer, and basketball teams. 
FLEXTIME
Flextime is available to all employees. Employees are encouraged to get out and enjoy the activities they love—boarding, skiing, hiking, biking, running, etc. It is not rare to find bikes, skateboards, and snowboards leaned up on every wall in the building. Skullcandy also provides a locker room to shower and change after activities. Employees are encouraged to take advantage of the powder-day policy, allowing them to be late on powder days, and use the mountain during lunch breaks. The same goes for mountain biking in the summer.
COMMUNITY SERVICE
We work with the nonprofit Stoked, who's mission is to empower youth from underserved communities to achieve a more successful future by providing programs based in action-sports culture that result in personal development, academic achievement, positive relationships, and a healthy lifestyle. Stoked and Skullcandy's evolving partnership has already provided our youth with amazing new experiences and skills. Recently, Skullcandy opened its corporate headquarters to LA Stokers. After a tour of the headquarters, Skullcandy founder Rick Alden provided an enlightening crash-course on the action-sport industry and, pro skater Greg Luztka closed out the day with an epic skate session with our teens. The following Stoked-Skullcandy session was surfing in San Clemente with members of the Skullcandy design team and folks from Ocean Adventures. After surfing, Stokers received a design lesson by the Skullcandy team and were given supplies to start designing the Stoked Skullcandy headphones. Skullcandy also works with the United Way each Christmas. This year we adopted a family of nine and supported them financially as well as providing them with Christmas gifts and other essentials. In addition, Skullcandy works with the Salvation Army serving dinner once a month at a local shelter. Multiple organizations throughout the community are given Skullcandy product donations for raffles, runs, and fundraisers.
GREEN INITIATIVES
Skullcandy purchases postconsumer-waste-recycled paper products for the break room and lunches. Employees are also encouraged to use their own coffee cup, water bottle, or dishes. In our conference room, reusable water bottles are placed out for visitors. Skullcandy recycles all paper, cardboard, plastic, and aluminum. We also provide a fountain soda machine to limit the collection of cans and plastic bottles.
7. Groundspeak
LOCATION: Seattle, WA
NUMBER OF EMPLOYEES: 61
BEST PERKS: Flex time, Community and environmental support, Swag
HIRING? Yes! groundspeak.com
Groundspeak's mission is to inspire outdoor play using location-based devices. The goal of our products is to support, promote, and enhance activities that inspire people to get off the couch and explore the world around them. Groundspeak's product portfolio includes the websites Geocaching.com, Waymarking.com, and Wherigo.com, as well as geocaching applications for three mobile platforms. Geocaching is a real-world outdoor treasure-hunting game played with GPS units and GPS-enabled smartphones. Players try to find hidden containers, called geocaches, using GPS-enabled devices and then share their experiences online. Geocaching.com is the global headquarters for geocaching, with more than 1.4 million active geocaches currently listed on the site and over 5.5 million geocaching activity logs submitted per month. Groundspeak's mobile applications link directly to the Geocaching.com database of geocaches and allow people to go geocaching anytime, anywhere in the world. Additional mobile applications and new location-based entertainment concepts are currently in development, and we are looking forward to sharing them with the world. 
COMPANY CULTURE
Groundspeak employees are affectionately known within the global geocaching community as the Groundspeak Lackeys. We call ourselves lackeys because we are ready and willing to do almost anything to serve the growing community of more than five million outdoor enthusiasts and technophiles. It is a badge of honor that we wear with pride. We are a team of smart, funny, and hard-working individuals that enjoy working together and playing together. It is a culture of mutual respect with countless opportunities to get involved and make a difference both within the company and within the geocaching community. As Groundspeak Lackeys, we are treated very well, with a recognized best-of-class benefits program and tremendously positive working environment. We spend most of our time developing applications and features that make it easier and more enjoyable to search for geocaches, share location-based experiences online, and interact with other geocaching enthusiasts around the world.
EMPLOYEE RECOGNITION AND AWARDS
In addition to an incredible benefits package consisting of full health, dental, and vision care for employees and families, employees receive perks like daily catered lunch, a well-stocked kitchen, flextime, free parking, and unlimited reimbursement for skiing and snowboarding lift tickets. An open-door policy allows employees to feel comfortable talking to anyone when they have a question or an issue. A Lackey council within the company plans monthly events that bring the whole team together, and every few weeks there's a family lunch. Groundspeak has given annual bonuses to all employees in December during each of the past six years. Managers may also, at their discretion, award modest gift cards to employees for outstanding work or dedication. Groundspeak employees are allowed to check out GPS units at work and use them to go geocaching anytime. 
Groundspeak's founders plan a holiday party each winter for employees and significant others. What's unique about the holiday party is that the founders plan the entire party—none of the event-planning work is farmed out to employees. Employees feel appreciated because they see the founders rolling up their sleeves every year to do this. In addition to the holiday party, the founders plan a summer picnic each year. This is an opportunity for employees and their families to play together and celebrate some summer fun. Again, employees are not burdened with the planning of this event—the founders believe that this is an opportunity to recognize all of the hard work and dedication that employees bring to work every day.
Our Lackey Evolution Program awards employees throughout their time at Groundspeak by providing them with everything they need to get outside and go geocaching. Upon hire, employees are provided with a geocaching starter kit, including a GPS device. After one, two, and three years of service, Lackeys are provided with personalized Trackable items to encourage them to get outside and play. There are also opportunities for Lackeys to travel to geocaching events, both domestically and internationally, on behalf of the company. This enables them to engage with the geocaching community in a fun and unique way. 
FITNESS BENEFITS
Groundspeak believes that outdoor recreation is important for everyone. Aside from geocaching, a creative benefit that the founders developed involves the company paying for employee skiing and snowboarding lift tickets and passes. Groundspeak Lackeys can enjoy skiing or snowboarding anywhere, anytime, and the company will reimburse the lift tickets. In the winter, there are company weekend trips and transportation is organized to hit the local mountains. Groundspeak's offices are located on the Burke-Gilman Trail, a well-known running and biking trail in Seattle. Many employees take advantage of this for daily walk or runs. Groundspeak provides breakfast and snack food, as well as delivered lunches three days each week. There are many healthy options available to employees. Throughout the month of November last year, the Groundspeak Wellness Committee chose four healthy options to highlight, one each week. Family-style servings of each food were prepared, as well as information about how to include it in a weekly eating plan and its nutritional value. There was also a Take the Stairs challenge. As part of our fitness initiative, we posted a chart on which employees could mark each flight of stairs they climbed. There were milestones to achieve to keep motivation high—e.g., this many flights equals the height of this famous building. At the end of each month, flights were tallied and trophies awarded to the three employees who climbed the most stairs. This challenge was run over two subsequent months. The success has been seen in how many people adopted the practice of taking the stairs even after the challenge concluded. A goal was also set as a company to walk across the country virtually. Employees were given a pedometer and asked to record individual mileage and report it to a central team. That teamed mapped progress across the country daily. The program was marketed internally, and the company managed to reach its goal three days before the end of the month.
ENVIRONMENTAL INITIATIVES
Cache In Trash Out (CITO) is an ongoing environmental initiative supported by the worldwide geocaching community. Geocachers are encouraged to bring a trash bag while outside geocaching and to pick up trash along the trail. By helping to clean up the places where they play, employees can make a significant impact. CITO events are also featured on Geocaching.com and an annual Cache In Trash Out weekend promoted. At CITO events, a group of geocachers gather at a specific location at a specific time and work to clean up the area. They are fun events and help the geocaching community to help their local communities. The company also supports the nonprofit Donors Choose through financial contributions. Teachers, particularly those in low-income areas, post their classroom needs on DonorsChoose.org. Money is provided to classrooms looking for GPS devices or other materials that teach children location-based concepts. In addition, the company likes to support the local community. For the past two years, we have donated to the Family Fourth of July Celebration to make sure that Seattle would have fireworks. The company plans on continuing this tradition in the future. And finally, there is a Green Committee on our Lackey Council (like a student council but for employees) that organizes events such as the 2011 commuter challenge, to encourage employees walk, bike, and take the bus to work.
6. Superfeet Worldwide
LOCATION: Ferndale, WA
NUMBER OF EMPLOYEES: 94
BEST PERKS: Alternative work environment, Flex time, Community and environmental support
HIRING? No. superfeet.com
Superfeet Worldwide is the world's leading manufacturer of aftermarket insoles. Originally the sports division of Northwest Podiatric Laboratory, Superfeet was founded in 1977 with a mission to create affordable orthotics for the general public. Our product line now includes Trim-to-Fit, Easy-Fit, and Custom insoles for every type of shoe, and we recently added a new premium sandal. Our business practices are based on a set of employee-written core values focusing on ethics, honesty, responsibility, and sustainability.
COMPANY CULTURE
So many companies preach family first and doing what's right. But Superfeet strives to live up to these promises. Taking care of the employees and their families, focusing on doing what is right for our customers, vendors, the community and the environment, are things we consider in every decision Superfeet makes. It's also a ridiculously fun place to work. We want to eliminate the corporate environment, therefore we encourage horseplay, practical jokes, and the other occasional wastes of company time to make sure that everyone gets a good belly laugh before they go home. Our president is a very humorous man. To promote smiles and laughter, he takes the time to walk around and joke with people. Our product supervisor is very musically talented. She developed a personalized rap song played during the production team's stretching time. The CEO launches random rubber-band attacks on unsuspecting employees, our educational director loves to play practical jokes, and more than one employee has come to work to find their desk either closed-in, filled with balloons, or wrapped with gift paper. This very much sets the tone of "we can have fun" in the workplace.
EMPLOYEE RECOGNITION AND AWARDS
Our number one way to recognize our employees is through our monthly newsletter, developed by an employee in September 2008. Since then, the monthly issues have grown from just a few pages to 10 or 12. Each month we celebrate employees' actions, attitudes, and accomplishments through kudos submitted by employees, vendors, consumers, and retailers. They have even come from community members thanking us for our charitable work. Because each employee is a part-owner of Superfeet, everyone has an incentive to contribute to a better working environment for all. Superfeet also offers a year-end bonus based on the company reaching its sales and profit goals. All employees get a bonus of 5 percent of their yearly income for reaching a preset sales number and 5 percent of their yearly income for reaching the preset profit goal. After the first year of service, all employees begin earning stock in the company. Stock is purchased from the current owners with profit from the company. Therefore, the employees own this stock with zero out-of-pocket cost. Additionally, Superfeet looks for opportunities to bring the company together to have a good time. We have frequent informal gatherings: BBQs, pizza parties, picnics, Seahawks celebrations (booya!), tricycle races, hula-hoop contests, dance contests, super-soaker fights, dunk tanks, three-legged races, and much, much more. Superfeet has four Club Seat season tickets to the Seattle Seahawks and the Sounders. For each game during the season, these tickets are put into a drawing and given away as sets of two.
FITNESS BENEFITS
Recently, Superfeet moved into a new facility with an area and equipment for basketball, volleyball, Ping-Pong, Wii Fitness, and badminton. Our new facility also has showers for employees to use whenever they like. In addition, we provide a working bike-maintenance shop for employees to tune and repair their bikes. Superfeet has also created a Wellness Committee to help facilitate healthier lifestyles. Each month the committee puts together a wellness event for employees and their families. These include things like batting cages, bowling, land-restoration efforts, local runs or walks, etc. The Wellness Committee provides fresh fruit, free of charge, to employees in each of the three lunchrooms. The only request is that if you eat the fruit, you throw money into the buckets that are marked for specific charities. Examples of the charitable organizations are Habitat for Humanity, needy families, or NW Youth Services. During the year, the Wellness Committee puts together several programs to promote healthy lifestyles. One recent example is the Passport Program, which encourages employees to track nutritional intake, activity levels, preventative medical care, and community service. Points earned for each are tallied in an effort to win prizes such as sportswear, new bikes, or two grand prizes: a trip for two to Hawaii. In addition, Superfeet provides an annual health fair that includes free biometric screenings. Superfeet sponsors several recreational sports leagues for employees and their families. All employees are encouraged to participate regardless of skill level. Employees do not have to pay the membership fees, and equipment and uniforms are provided with no out-of-pocket cost. We have yet to win any games, but our hearts are in the right place. We are certainly out there having fun and being active.
FLEXTIME
Superfeet offers staff the ability to manipulate the 40-hour work week whenever possible to meet family needs, get to appointments, and enjoy the summer months. Although not every position can be as flexible as others, we try to accommodate the needs of our employees and their families. We currently have multiple employees working a compressed work week, enjoying an alternative schedule, or telecommuting. The employee-written core values are something we all take very seriously. Doing what is right and making sure family comes first is a priority to us. We do not punish those that need time away to meet family and personal obligations. We encourage our employees to work hard, play hard, and take care of what's important. We don't have policies. We have an expectation to always do what's right. It's not a choice, it's who we are.
COMMUNITY SERVICE
Each year Superfeet evaluates the needs of the community and donates accordingly. Because we give so much money to charity, we have established a nonprofit foundation and a committee to determine where the money should go. For example, last year Superfeet and the employees donated $10,000 to an organization focused on helping families with costs associated with transplant surgery for children in need of new organs. This donation immediately and dramatically affected the life of one special little girl in our community. Each year during the holidays, Superfeet employees raise money for families who need a helping hand. Superfeet also donates to Northwest Youth Services; for runaway, homeless, abused, neglected, and other at-risk youth and young adults, they are their lifeline. NWYS's mission is to keep youth safe, heal family relationships, reconnect youth to the community, and promote self-reliance. And there are many, many, many more charities Superfeet donates to.
GREEN INITIATIVES
From our core values: "As part of the local and global community we will be socially and environmentally responsible at work and at home." As such: 1) Superfeet produces almost no waste; between recycling programs and composting, we produce next to no environmental waste in our production and day-to-day functioning. 2) We participate in Puget Sound Energy's voluntary Green Power Program, which makes it easy for us to buy renewable energy equal to the amount of electricity we use. 3) We have environmentally friendly packaging that goes above and beyond what anyone can imagine. We have thoroughly researched all of the alternatives currently available. We have even researched some environmental alternatives that we determined, in the big picture, have a more negative affect on our environment than traditional packaging. This process includes evaluating the different fibers, how the fibers can be reused, and how hard they are to break down in the recycling process.
5. Clif Bar
LOCATION: Emeryville, CA
NUMBER OF EMPLOYEES: 272
BEST PERKS: Flex time, Fitness, Community & environmental support
HIRING? Yes! clifbar.com
Clif Bar and Company is a leading maker of nutritious and organic foods and drinks, including Clif Bar energy bar; Luna, the Whole Nutrition Bar for Women; Clif Kid; and Nourishing Kids in Motion.
COMPANY CULTURE
Focused on sports nutrition and healthy snacks, the employee- and family-owned company is committed to sustaining its business, brands, people, community and the planet. According to an informal survey recently conducted by e-mail, employees love the casual, quirky culture; working shoulder-to-shoulder; doing what needs to be done and doing it with excellence; representing a product of integrity; real food for real people from a real family; not feeling silly walking through the office in a cycling kit.
EMPLOYEE RECOGNITION AND AWARDS
In 2009, Clif Bar's owners, Gary Erickson and Kit Crawford, implemented an employee stock ownership plan (ESOP) to recognize employees' roles in helping build the business and because it is in line with their goal to lead a sustainable business for future generations. The company is now 20 percent employee owned, and the ESOP is funded entirely by contributions from the company with no employee contribution required. We also have an annual incentive plan based on company and individual performance; through this plan, all employees are eligible for annual bonuses targeted at a percentage of their base pay. Clif Bar and Company gives out several annual cash awards to employees based on the company's Five Aspirations. Each year, five employees are recognized for excellence in the following categories (one employee is honored per category): Sustaining Our Brands, Sustaining Our Business, Sustaining Our People, Sustaining Our Community, and Sustaining the Planet. A special All Aspirations Award is given to the employee who realizes excellence in all five categories. Additionally, two employees are selected for the Cliff Erickson Award and the Mary Erickson Award. The Cliff Erickson Award, named in honor of founder Gary Erickson's father, is awarded to an employee who displays the qualities of humility and graciousness. The Mary Erickson Award, named for Gary's mother, is presented to an employee each year who consistently demonstrates attributes associated with Mary herself, namely a passion for food, life, family, and friends. These awards include a cash component, and recipients of the Cliff Erickson and Mary Erickson Awards may also designate a nonprofit to receive a cash donation in their name.
Each year, all Clif Bar employees and their immediate families are invited to join an annual ski trip. Clif Bar covers lodging, lift tickets, and a gourmet dinner hosted by Clif Bar's co-owners, Gary and Kit. In addition to the ski trip, employees and families are invited to an annual whitewater-rafting trip or summer picnic, Epiphany (bicycle) Ride, holiday party, and a variety of other events featuring live music. 
FITNESS BENEFITS
Clif Bar and Company has an on-site gym with two yoga/dance studios and a main workout area, including a bouldering wall, stationary bikes, treadmills, free weights, resistance machines, a variety of stability and yoga supplies and props, and a private office for trainers. There are on-site showers and a towel service, so employees can shower after bike commuting to work or after working out in the gym on the clock. There are indoor bike racks and a fleet of in-house cruisers for employees to borrow for errands or to ride to a local lunch spot. Employees can work out for two and a half hours each week on company time. They can exercise with one of five on-site personal trainers, take one (or more) of 32 complimentary fitness classes offered each week, or work out on their own, all for free. Furthermore, employees have access to free nutritional counseling and life coaching (six visits of each per year), subsidized on-site massage and chiropractic services, an annual on-site health fair offering preventive health screening and information on holistic health options, and wellness seminars on topics such as healthy eating, stress, and holistic health. Clif also reimburses employees up to $350 per year for registrations or entry fees to defray the cost of participating in athletic competitions, including but not limited to marathons, triathlons, century bike rides, and 10K or 5K walk-run events.
FLEXTIME
Employees may opt to work a 9/80 schedule, in which employees work 80 hours in nine days and take every other Friday off. This schedule assumes nine hours worked Monday through Thursday and eight hours worked every other Friday. After seven years of service, employees enjoy a six-to-eight-week sabbatical.
COMMUNITY SERVICE
Employees are encouraged to volunteer as possible to the community through Project 2080. Employees volunteer at the organizations of their choice for as many hours as they like. In 2010, Clif Bar employees donated 5,519 hours, supported 180 organizations, and had a community-service goal of 6,240 hours. In 2008, Clif started In Good Company, which grew out of the company's long tradition of community service and the belief that collaboration among businesses is a powerful force for positive change. In Good Company creates an opportunity for companies and employees to come together and work side-by-side to improve people's lives through direct volunteer service and by raising awareness about people's needs while promoting healthy, sustainable communities locally and globally. In 2010, In Good Company sent 26 employee-volunteers from 11 companies to West Oakland, California, for seven days. Working with four local grassroots organizations, the team contributed more than 2,000 hours of volunteer efforts to the community—installing solar panels, building raised garden beds and chicken coops, and planting bamboo forests to filter particulate pollution. Another team of nine employees from three companies was sent to Hopi, Arizona, for seven days. This team addressed the critical lack of housing in American Indian communities by raising two dozen tresses and hauling nearly 300 straw bales to build a new, energy-efficient home.
Additionally, in 2010 Clif Bar and Company donated more than $3.8 million in food to food banks, youth-specific groups, homeless shelters, victims of natural disasters, organizations supporting soldiers deployed overseas, and more. And the Clif Bar Family Foundation also awarded more than 200 grants totaling $2 million to support innovative small and midsize groups working to strengthen the food system and communities, enhance public health, and safeguard the environment and natural resources. 
GREEN INITIATIVES
Sustainability Benefits Program Incentives includes a $6,500 (taxed) incentive to purchase a fuel-efficient or low-emission vehicle and a $500 incentive to purchase a commuter bike or to retrofit an existing bike to be more commuter friendly. Employees who commute by bike, on foot, or by public transportation can also earn points redeemable for up to $960 in rewards, including commuter checks, extra cash in their paycheck, Clif gear, and massages. Employees receive up to $1,000 annually to make eco-home improvements that will reduce waste and use of fossil fuels or increase the use of renewable energies.
Besides using 100 percent postconsumer recycled paper, Clif Bar provides numerous recycling and composting bins throughout its headquarters for paper, batteries, cell phones, energy-bar wrappers, and food scraps. Clif Bar's Cool Commute program is the nation's first employee commute-incentive program to include cash rewards for employees who purchase clean-burning biodiesel vehicles. The Cool Commute program also offers incentives to employees to buy hybrids and other low-emission vehicles, commuter bikes, and bike accessories. Employees who commute to work on foot, by bike, on public transportation, or in carpools can earn up to $960 a year in rewards for eliminating cars from their commutes. Tracked quarterly, employees earn points that can be redeemed for a variety of rewards, including commuter checks, extra cash in their paycheck, Clif gear, and massages. They can also use their points to purchase climate offsets, including NativeEnergy wind-energy credits and trees planted by American Forests, a nonprofit that protects and restores the environment by planting and caring for trees. Every Thursday morning during the company meeting, one or more employees share a quick, practical EcoMinute on ways employees can live a greener lifestyle. EcoMinute tips have included green beer-drinking options, eco-friendly holiday wrapping, and keeping warm in winter without wasting energy.
4. Boa Technology
LOCATION: Denver, CO
NUMBER OF EMPLOYEES: 50
BEST PERKS: Alternative work environment, Fitness, Swag
HIRING? Yes! boatechnology.com
Boa Technology designs a closure system that can be used on snowboard boots, trail-running shoes, light hikers, ski boots, arm braces (medical), hats, backpacks, and just about anything that needs to be closed or adjusted.
COMPANY CULTURE
When you walk into Boa Technology, you can't help but realize it's a really cool environment. A friendly dog may come up to greet you along with a Boa employee giving you a sincere welcome. Bikes are often scattered throughout the office, ready for a lunchtime ride. If things get a little stressful, a quick walk along the river that backs our building will usually do the trick.
EMPLOYEE RECOGNITION AND AWARDS
We have several yearly outings, all based on having fun and building team chemistry. We bowl, golf, attend baseball games, etc. We also have a yearly profit-sharing bonus. All full-time employees are eligible.
FITNESS BENEFITS
Probably the most unique thing that Boa does is have a weekly health and exercise check in. There is no pressure, just encouragement, to live a healthy life. We have a lunch-and-learn where an outside speaker comes in and helps us focus on new ideas for health and wellness. We also offer employees a health-and-wellness bonus, $500 per employee per year to be used for activities to keep them moving: ski passes, race fees, health-club memberships, etc. Bike-storage areas are set aside so employees can take a ride when they want or need to. There are also walking and riding paths along the river.
COMMUNITY SERVICE
We helped clean up the Butterfly Pavilion, a habitat for a new butterfly area, we purchase turkeys for Thanksgiving and donate them to the Denver Rescue Mission, and we collect toys for underprivileged kids at Christmas.
GREEN INITIATIVES
We recycle all of our paper products and anything else that is recyclable. We use low-volt bulbs and recycle old ones. Our desks are made out of recycled wood (and are really cool!).
3. Sterling-Rice Group
LOCATION: Boulder, CO
NUMBER OF EMPLOYEES:140
BEST PERKS: Alternative work environment, Community & environmental support, Swag
HIRING? Yes! srg.com
We believe in creating ideas with life. Ideas that are human. Ideas that create impact, live on, and thrive, that change the way consumers think, feel, and behave.
SRG is a brand-strategy, innovation, and creativity firm based in Boulder, Colorado. Our interconnected model and unique fusion of strategy and creativity provide a wide set of capabilities for growing brands and businesses. Our core competencies are insights, strategy, innovation, and communications. For the past 27 years, we've worked with the most sophisticated and innovative companies in the country, as well as with smaller entrepreneurial organizations. Our philosophy is simple: we do work that works. We've generated over $10 billion in incremental revenue for our clients in just the past five years. And over 90 percent of our clients rehire SRG.
COMPANY CULTURE
We have a culture that can't be duplicated, and it is at the heart of everything we do and every decision we make. We were founded with a set of beliefs—excellence, creativity, honesty, respect, responsibility, education, social value, and fun—and we measure ourselves against them every year. Some of these values recently became en vogue with companies, but we've been living them for almost three decades. We spend time together as one big family to have fun, celebrate our success, and honor each other's personal and professional success. In our 27 years, we have never not grown, and we've never had layoffs. We keep spirits high with company meetings in the mountains, spontaneous ski trips, and weekly after-work events. In addition, we host an average of 30 employee events each year, including morning espresso and smoothie carts, sporting events, end-of-day happy hours, beer and wine tastings, Halloween party, holiday party, St. Patrick's Day pancake breakfast, Cinco de Mayo celebration, summer picnic, Super Bowl dip-off, Kangoo Jump class, bake sales, etc. Our legendary First Friday lunches feed our culinary curiosity while letting us regularly celebrate our successes. And our commitment to giving back to the community is a source of great company pride. Here, collaboration is the new competition. So every time any one of us wins, we all do.
EMPLOYEE RECOGNITION AND AWARDS
By far our most substantial incentive program is SRG's profit sharing. This program provides an annual bonus based on the company reaching the planned goals for the year, and there are accelerators built into the profit sharing if the company exceeds the plan. All employees participate and share in the company's financial success. Even in spite of some economically challenging years, SRG has always paid a profit-sharing bonus. SRG contributes 3 percent of each employee's annual earnings to every employee's 401(k), regardless of employee contribution. Employees are immediately eligible, and matches are 100 percent vested. 
Our biggest award is the Alan Webb Inspired Thinking Award, established 2008 in honor of Alan Webb, the company's first creative director and a key leader at SRG. This is a very special award for the agency, given each year to one outstanding individual who best reflects the qualities and spirit that Alan so permanently implanted in this company.  
FITNESS BENEFITS
We have always been centrally located in downtown Boulder. Our location provides direct access to Boulder's extensive bike-path network, for jogging, walking, and, of course, biking. In the winter months, an ice-skating rink is located in the building's courtyard, and in the summer Boulder hosts their renowned farmer's market on the edge of the park adjacent to our building. The building's most prominent fitness facility is the One Boulder Fitness athletic club. The club hosts a variety of yoga, spinning, and aerobic classes, in addition to providing members with top-of-the-line fitness equipment and private coaching. Discounted membership plans are available to all SRG employees. We host health clinics throughout the year that include annual biometric screenings, health risk assessments, and flu shots. Every Friday, chair massages are available during the workday for employees.
One of the many reasons employees come to work at SRG is the opportunity to enjoy the fantastic outside lifestyle that living and working at the foot of the Rocky Mountains offers. So while our staff hardly needs to be encouraged to get outside, SRG sponsors employee participation in several outdoor athletic events each year. In the spring, SRG sponsors four company teams in the Bolder Boulder Memorial Day run. In the summer and fall, SRG covers the entry fees and paid time off for employees who participate in both the Wild West Relay and Courage Classic Bike Ride, for which employees also raise funds to support Children's Hospital. In the winter, SRG sponsors an all-company powder day at our local ski area, Eldora.
FLEXTIME
SRG has a generous vacation and paid-time-off policy that encourages a healthy work-life balance and that recognizes employees for their years of service. All employees are granted two days of paid personal time, two paid floating holidays, nine paid holidays, and unlimited sick time to be used at the best discretion of employees. In addition to the base paid time off, employees are given, and encouraged to use, their vacation time based on years of service. In the first year, employees receive up to two weeks of paid vacation time; during years two through five, employees are given three weeks of paid vacation time; after five years, employees are given four weeks; and after ten years, employees are allowed five weeks of paid vacation time.
COMMUNITY SERVICE
One of our founding beliefs is social value, and we take it pretty seriously. We are highly involved in the community and support a number of local organizations. Each year we contribute at least 10 percent of our operating profits to various nonprofits in the form of matching employee donations, direct cash donations, pro bono services, and as major event sponsorships for over a dozen organizations. The three organizations that we are most involved with are the Community Foundation, Family Learning Center, and Community Food Share. In addition to these charities, we support Children's Hospital, Meals on Wheels, Boulder Community Hospital, American Red Cross, and the Boulder Philharmonic.
We also rise to the occasion and rally around significant causes where there is a need. For example, SRG and its employees raised $50,000 for Haiti last year and an additional $35,000 for Japan earthquake relief. On their own, our employees are also incredibly generous. When asked, 93 percent volunteered their time last year, and 98 percent made one or more charitable contribution.  
GREEN INITIATIVES
SRG has a dedicated sustainability practice charged with maximizing the agency's sustainability efforts and curbing our consumption of natural resources. The program has fostered enthusiastic recycling and composting habits and limited the use of plastic water bottles with reusable drink ware. We save half a million pieces of paper annually by setting all printers to default double-sided printing. We've already reduced the amount of energy our servers use by one-third. The program leaders are developing a zero-waste policy for company events and also work with our property owner to dramatically enhance the energy profile of our building through motion-sensor lighting, auto-control heating, delamping of commons areas, etc. SRG also participates in a number of programs focused specifically on minimizing our carbon footprint. Since 2008, we have worked with and purchased carbon and clean-source offset credits through Renewable Choice Energy to offset the company's estimated carbon consumption by 100 percent.
2. EMPSi
LOCATION: Boulder, Co
NUMBER OF EMPLOYEES: 28
BEST PERKS: Flex time, Community & environmental support, Swag
HIRING: Yes! empsi.com
We are a national consulting firm committed to making the world a better place by solving complex environmental problems related to natural-resource management, renewable energy, and water resources. We are recognized experts in natural-resource and recreation planning, environmental-impact analysis, biological surveys, wetland delineations, stream and land restoration, permitting, visual simulations, economic analysis, geographic information systems, and public outreach and facilitation. Additionally, we provide training services and have published three books and smartphone applications focused on compliance with environmental law.
COMPANY CULTURE
We attract and retain the best people in the field by supporting a culture that balances work, life, and social responsibility. We loathe to speak for our staff, so here are their quotes: "Flexibility… Work here if you want to have a life." "Supports an individual's professional and personal goals." "Knowing my opinion is valued." "Hardworking, yet easygoing staff that work as a team." "EMPSi pays 100 percent of health-insurance premiums." "Company allows the staff to be as diverse as possible in the types of roles they play." "I like bike parking. I like having enough money. I like interesting, long-term projects." "Commitment to our communities." 
EMPSi makes incentive payments or bonus contributions to employees throughout the year, what we call our Wow Bonus. Typically, these are based on individual employees' "above and beyond" actions. All employees are eligible, and the bonuses range from gift cards to cash distributions. EMPSi may also make tax-free payments to eligible employees through the EMPSi profit-sharing plan, which rewards employees for their continued work to make EMPSi successful. These contributions are based on performance for the previous year. All employees are eligible. In addition to doing a match of up to 5 percent for retirement programs, we also do a discretionary pay out (tax free) that over the past three years has been, respectively, 8, 5, and 8.7 percent of employees' compensation (no employee contribution necessary); any employee who worked more than 500 hours receives this payout (note: this is in addition to our retirement-matching program). EMPSi sponsors an annual all-expense-paid off-site three-day workshop to discuss all aspects of the business and set the course for the next year. Topics include benefits, corporate finances for the fiscal year, target markets, project management, technical training, and client relations. Fun activities are integrated throughout the workshop to promote both formal and informal communication. Our 2010 workshop was held at Rocky Mountain National Park. 
FITNESS BENEFITS
EMPSi's staff have a wide range of fitness interests. EMPSi's policies support employees' participation in fitness and wellness programs they choose to meet their individual preferences and physical needs. Policies like flexible work hours allow staff to ski in the morning or ride horses in the afternoon. Offices are located near designated trails that employees can use for biking, walking, and running. Many of these trails also serve as alternative transportation for commuting. EMPSi provides on-site storage facilities for bikes and other equipment. EMPSi also participates in various events to promote employees to be active, such as bike-to-work days and alternative-commuting competitions. Our staff are an active group, as illustrated by the fact that EMPSi won the 2011 Bike to Work Business Challenge of Boulder County based on participation level.
COMMUNITY SERVICE
EMPSi donates a percentage of our net profit to charities focusing on children, adult literacy, health, environment, the arts, and animal welfare. In the past two years, EMPSi has contributed to 35 organizations. We encourage employees to be good corporate citizens and match 25 percent of their contributions to eligible charities up to an annual limit of $1,000 per employee. In addition, employees are paid two days per calendar year to volunteer with eligible charities. Lastly, EMPSi is proud to sponsor our employees and their families when they participate in outdoor fundraising events, such as the AIDS/LifeCycle ride and the Education and Learning for Kids golf tournament.
GREEN INITIATIVES
As part of our corporate policies, our Green Guidelines shape everything from what we buy (e.g., Energy Star equipment) to day-to-day operations, such as recycling and carbon-footprint-reduction strategies. We support policies to promote clean air, like providing a monthly stipend to employees who use public transportation. This commitment was proven by EMPSi's San Francisco office winning two of six awards in the Bay Area's 2010 Great Race for Clean Air. In each of our offices, we have invested in videoconferencing technology to reduce the need for travel via car and air to different locations.
1. Natural Habitat Adventures
LOCATION: Boulder, CO
NUMBER OF EMPLOYEES: 35
BEST PERKS: Travel, Fitness, Community & environmental support
HIRING?: No. nathab.com
Natural Habitat Adventures has been a leader in responsible nature travel and ecotourism for more than 25 years. From world-class polar-bear-watching adventures in Canada to life-enhancing Galapagos journeys and safaris in Africa's most remote locales, NHA's professional naturalist guides help travelers explore the planet's most revered natural places. Employees of Natural Habitat are generally thrilled to be working within the company for so many reasons—the primary being the product we offer. Creating, marketing, and selling the world's best nature-focused small-group safaris is an exciting field. We are all travelers to the core, and we vicariously enjoy our passion through the creation of exciting expeditions. 
COMPANY CULTURE
The Natural Habitat team is a collection of dog-friendly, fun-loving spirits who work hard but tend to play even harder. Management encourages this philosophy and grants fantastic travel perks to augment product knowledge while fulfilling very special trip experiences.
EMPLOYEE RECOGNITION AND AWARDS
We have a bonus structure in place for most departments, with bonuses based on such goals as assisting a certain number of travelers in a month to managing specific-size destinations in terms of numbers of travelers. Team leaders have year-end bonuses based on overall company health and revenue. We have numerous travel incentives for our employees, involving a two-week site inspection each year. We each have the chance to join one of our high-end wildlife safaris abroad annually, with a handsome travel budget that covers nearly all expenses. Summerfest, Winterfest, and the holiday party: company-organized events when we close the office entirely and take the entire staff on a lengthy outing. Winterfest is regularly a chartered bus to ski all day, with dinner and bar hops on the return drive home. Summerfest has been multi-day rafting trips, parties at the reservoir, etc. These are team-building and morale-boosting opportunities, as well as the chance to socialize with upper management.
FITNESS BENEFITS
Natural Habitat Adventures provides a state-of-the-art fitness center, which employees can use and access any time at no cost. The two-story structure supports aerobic machines on one level, with top-of-the-line weights, machines, and open mat space to support any type of indoor exercise need on the other level. We have a group workout space where we offer complimentary yoga and Pilates classes, and personalized small groups like P90X. A trainer has several group-workout sessions scheduled in which small groups of employees commit together to participate. Our office is located in a rural setting, with hiking and biking trails linked to our lot. We actively encourage everyone to spend time outside, eat well in our subsidized organic cafeteria, enjoy fitness classes, the gym, and the outdoor beauty of Colorado. We allow everyone the chance to take a longer lunch or leave early on Fridays from time to time to enjoy the great outdoors in summer. We also provide company ski passes, which we allow employees to sign up for and use at any time—even on heavy snow days during the week, if their work is covered.
FLEXTIME
Natural Habitat Adventures offers flexible work hours for parents and additional paid time off in the event of family emergencies. We recognize that many of our employees have family obligations that they must juggle along with their work lives, and we do our best to aid with that process while still allowing them to be effective members of our industry. We have also granted longtime employees a leave of absence for a three-month period to live and work in Africa, holding their job until their return. On top of their two weeks of site inspection (during which NHA pays for their adventure), employees start with three weeks of vacation and receive a fourth week after three years of service.
COMMUNITY SERVICE
We donate on average 25 Polar Bear trips annually (valued at $5,000 each) to a large number of worthy nonprofits, causes, and events. These organizations support terminally ill children, conservation initiatives, and education. We also donate to local charities such as the Louisville Food Bank, Bike to Work, Hope for the Child of War exhibit, Yoga Mats for Haiti, Team Ellie Bike Tour for Children with Cancer, Rock 'n' Roll Denver Marathon, Crayons to Calculators, and the Giving Tree.
GREEN INITIATIVES
We incentivize our employees to limit their contribution to the greenhouse effect by carpooling, taking alternative transportation, or riding a bicycle to work. This incentive is based on Patagonia Points, which are earned on a scale based on the number of miles alternative transportation was used each day and can be cashed in at the end of the year for equipment from Patagonia. We participate in Bike to Work Day (at nearly 100 percent participation) as part of our own commitment to rewarding employees for reducing the consumption of fossil fuels in transportation to work, and our building is run on solar energy. We also carbon-offset 100 percent of our operations, including printing, air travel, and fuel for vehicles.