The New Icons
The Great-Grandma Who Changed the AT Forever
In 1955, Emma Gatewood became the first woman to solo thru-hike the entire Appalachian Trail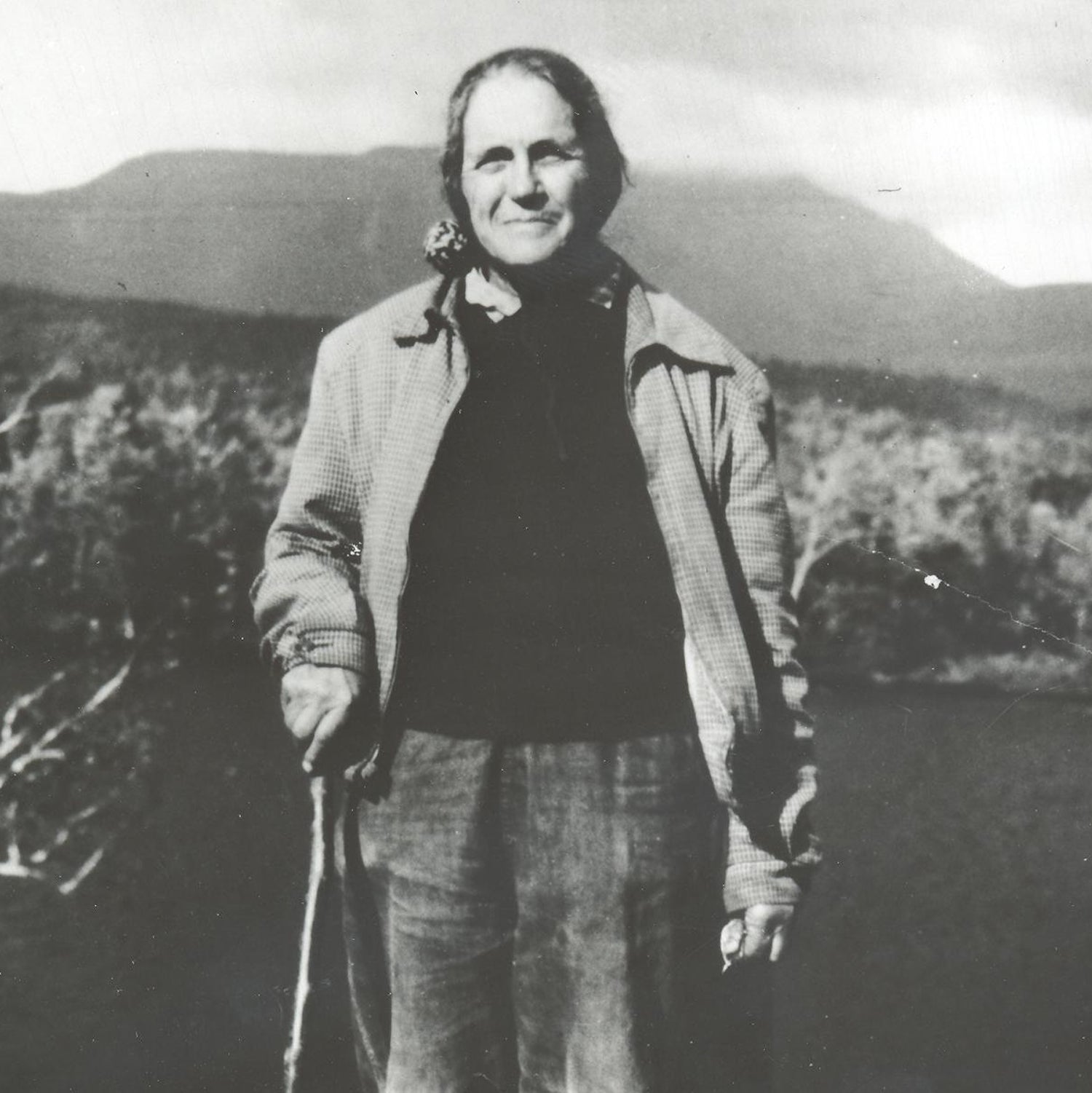 Heading out the door? Read this article on the new Outside+ app available now on iOS devices for members! Download the app.
In May 1955, when 67-year-old great-grandmother Emma Gatewood told her children that she was "going for a hike in the woods," she left out a few important details. Like the fact that she was heading 470 miles from her Ohio hometown to Mount Oglethorpe, Georgia, writes reporter Ben Montgomery in his 2016 book, Grandma Gatewood's Walk. And the fact that this "hike" was the 2,190-mile Appalachian Trail, and Gatewood's intention was to become the first woman to solo thru-hike the whole thing.
Born in 1887, in the 2,000-person community of Mercerville, Ohio, Gatewood lived a life tied to the outdoors. A childhood defined by physical labor on her family's farm gave way to an early marriage—at age 19—to Percy Gatewood, who allegedly physically abused her. As Montgomery writes, "They were married three months before he drew blood." A walk in the woods behind her home often served as her only respite during her most trying times. After 33 years together, in 1940, Gatewood managed to get a divorce—almost unheard of at the time—and raised the last three of her 11 children on her own.
In the years since Gatewood's achievements, thru-hiking is gradually becoming more accessible to and inclusive of women.
At some point in the 1950s, with all her children grown and out of the house, Gatewood was reading a 1949 National Geographic article about Earl Shaffer, the first man to thru-hike the AT. As Gatewood's daughter Rowena later told it, her mother finished the piece and thought to herself, "If those men can do it, I can do it."
A few women came before Gatewood on the AT, but she was the first to successfully hike the entire route alone. (In 1939, Mary Kilpatrick, along with her husband, completed the trail in sections. In 1952, Mildred Norman Ryder, also known as "Peace Pilgrim," became the first woman to thru-hike the AT with a companion.) By the time Gatewood set out on her trek, only two more hikers—both men—had been added to the list of successful solo thru-hikers: Gene Espy and Chester Dziengielewski.
Gatewood had attempted the AT once before, in 1953. It had been an utter failure. She began at the north end of the trail, where her troubles began right away, on Mount Katahdin in Maine. In his 1994 book, Walking the Appalachian Trail, Larry Luxenberg details the perpetual mishaps that dogged her first attempt:
"I got lost right off the bat," she said. Seeking water, she had taken a side trail down to a small lake. The water looked so nice, she decided to take a bath. When she came out, she stepped on and broke her glasses. She repaired her glasses with some tape, but by then she'd forgotten which way she'd come…She began following a trail that eventually petered out in thick brush and vines. Remembering an old rowboat back on the trail, she headed that way, figuring she could take refuge under it if it rained. She set signal fires to alert search planes, but finally decided she was going to have to walk out. She was out of food and the blackflies were torturing her…She started trying to find her way back…After three days and two nights, she came upon four rangers looking for her. They told her, "Go home, Grandma."
Two years later, Gatewood tried again. She started from the south to avoid the rangers who had found her on the trail before. In their book about Gatewood, Grandma Gatewood: Ohio's Legendary Hiker​, Kelly Boyer Sagert and Bette Lou Higgins write that she carried with her a homemade denim bag stuffed with "a blanket, a plastic shower sheet, a cup, a canteen and baby bottle for water, a small pot, a spoon, a Swiss Army knife, a first-aid kit, pins, flashlight, a piece of rope, a raincoat, a warm coat, a change of clothes and Keds sneakers." She relied on the kindness of strangers who lived in homes along the trail for food and shelter. She spent many nights on picnic benches. While on the trail, Gatewood subsisted on raisins, nuts, chicken bouillon cubes, and other foods that could be eaten cold.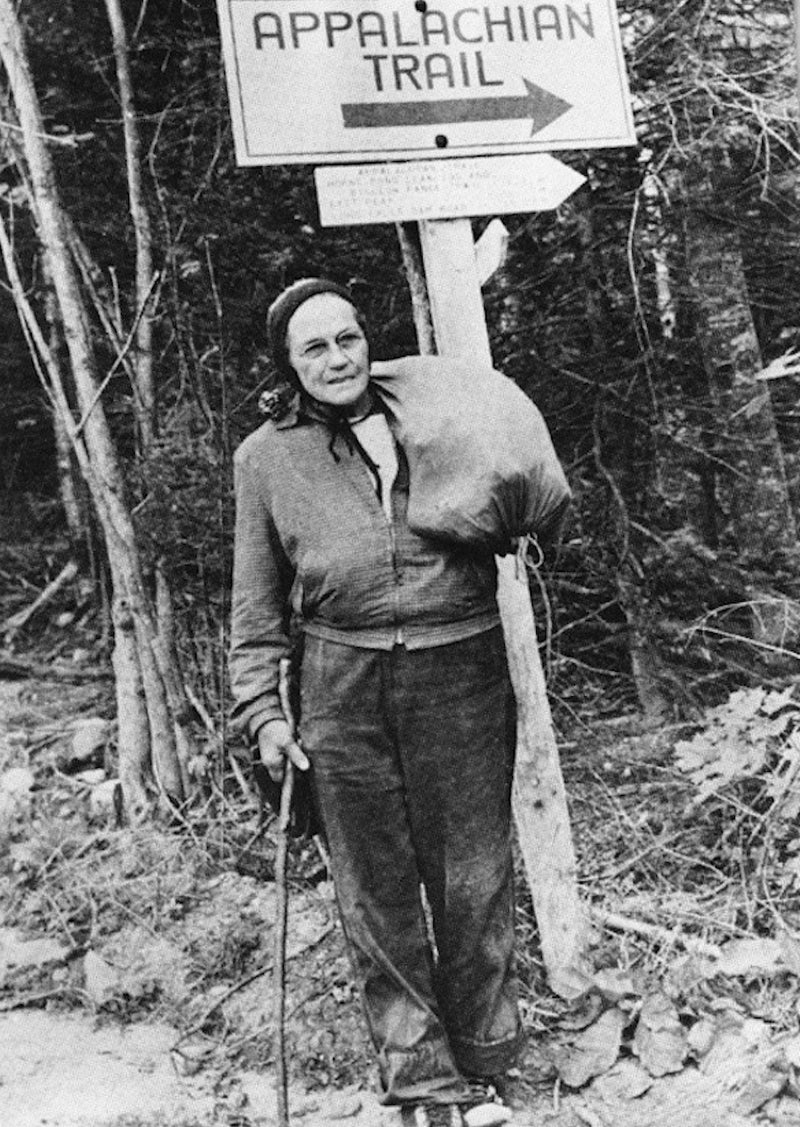 Word of a grandmother hiking the trail spread fast, and by the time Gatewood made it to Virginia, the press had already found out about her. Once she got to Maine, the rangers helped to row her across streams.
Luxenberg details the moving final hours of Emma's hike:
The day before climbing Mt. Katahdin to complete her 1955 hike, she fell and broke her glasses again, bruised her face, and sprained her ankle. She climbed Mt. Katahdin anyway on a cold and windy day. "It took me a long time to get to the top," she said. "When I signed my name in the register, I never felt so alone in my life." Atop Katahdin, she sang "America the Beautiful."
Gatewood's feet were swollen two sizes bigger than normal, and she had worn out several pairs of sneakers. But on September 25, 1955, after five months in the wilderness, Gatewood accomplished her goal. But she didn't just sit back and revel in her success: two years later, Gatewood returned to thru-hike the trail again—this time so she could "enjoy it"—making her the first person to hike the full Appalachian Trail twice. In 1964, she hiked the trail a third time, in sections.
Gatewood died at home on June 4, 1973, at age 85. Her achievements left an indelible mark on the trail, and in the years since, thru-hiking is gradually becoming more accessible to and inclusive of women. The ratio of men to women on the AT is still far from equal, but it's improving. In 2016, women made up 29 percent of thru-hikers on the AT, according to the Appalachian Trail Conservancy, compared with 15 percent in the trail's earlier decades. As Montgomery told me: "There's something incredibly relatable about Emma's story. You hear it and think, 'If she could, then I can, too.' I know for a fact that she has inspired hundreds to head outdoors and test themselves against the earth. What greater legacy could one leave behind?"
Cass Buggé recently collaborated with her wife, Molly Schiot, on her book, Game Changers: The Unsung Heroines of Sports History. 
Lead Photo: Courtesy of Appalachian Trail Co