Sponsor Content: Under Armour
How to Mentally Pull Through a Tough Moment
Whether training or racing, you're going to hit some challenges. Here's how to motor on.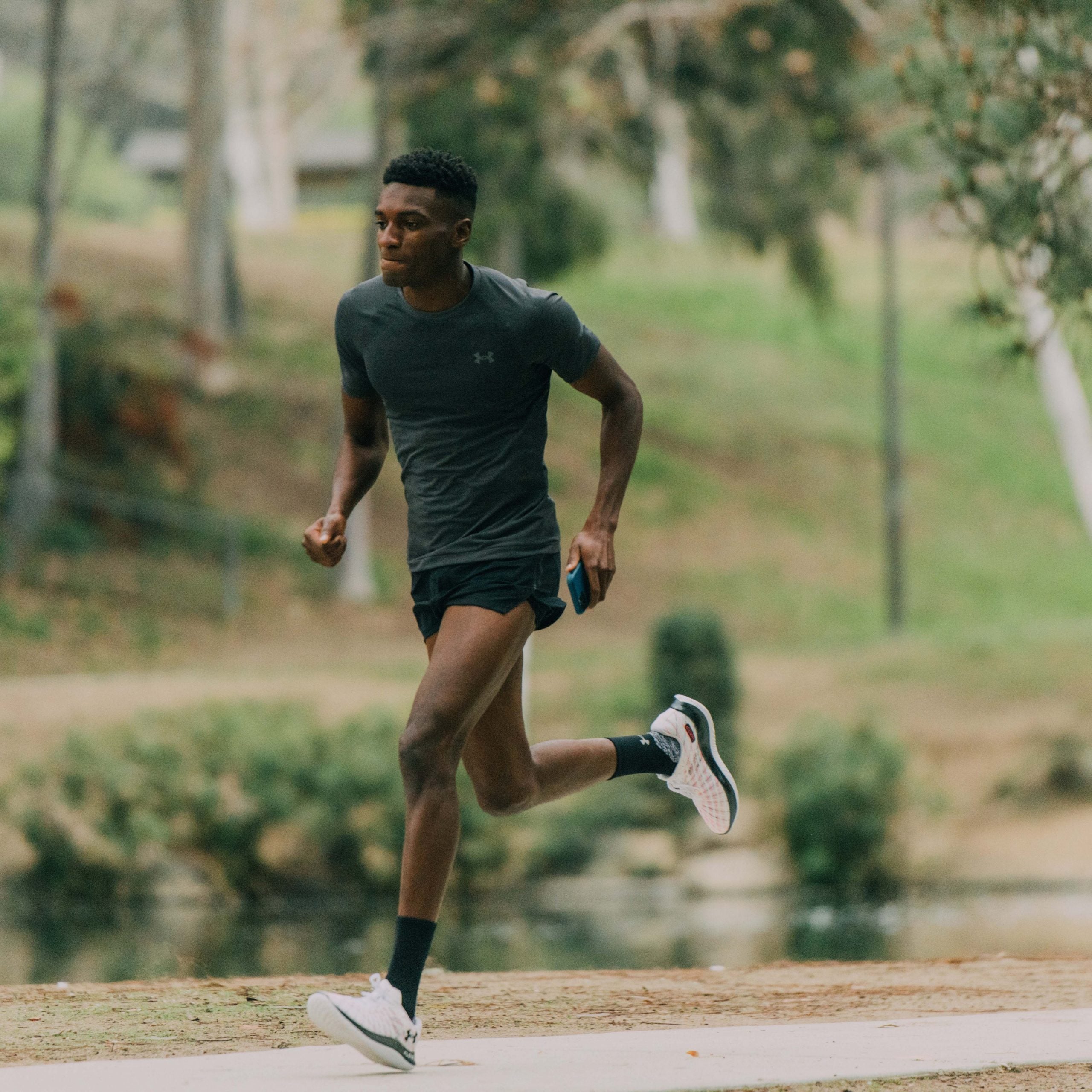 You may not be back to racing quite yet, but you're likely starting to train for a fall goal. Whether it's your first time prepping for a race or your first time back at hard practice after a break, it's time to train your mind as well as your body. As Under Armour coach Tom Brumlik will tell you, "The mind leads the body." That means putting in the work to get your brain tuned up along with your body. Here's how.
Tap into the Power of Affirmations
In order to set a baseline of positivity across all aspects of life, not just training, Brumlik recommends practicing positive self-talk. "I'm big on affirmations," he says, short complete sentences you can state anytime. "I tell my athletes to practice 'I am' statements throughout the day, even when they're not training or racing." For instance, if you're in the first stages of a giant project at work and feeling overwhelmed by how much of it lies ahead, tell yourself, "I am on my way." When your alarm goes off at 0-dark-30 for a run, say, "I am a morning person." Whatever the case may be, it's the practice of "I am" statements that leads to the gains. "You can't pull them out on race day alone," says Brumlik. "The practice has to be ingrained."
And Develop Some Mantras Too
In addition to finding some all-purpose affirmations that can apply to all facets of your life, you'll also want to have some shorter, more running-specific mantras in your mental toolkit. Any training session or race can feel like a roller coaster, with highs and lows, twists and turns. One minute you're feeling great, flying through the intervals, and the next you're facing the biggest, steepest climb of your life. Knowing and embracing that fact—and having an automatic response—will help you push through.
Research shows that when you repeat a mantra whenever you hit a challenge, it can give you a mental and physical boost. The wording can be anything that reliably lifts your spirits. Think along the lines of "I am strong" or "I've got this," for instance. Or repeat something that relates to the act of running, like "Swift and smooth," "Light and fast," or "I eat hills." Other options include "Light it up" or "Go for it." Whatever serves to motivate you, used on repeat, is what will get you through.
Focus on Your Breathing
You can put your breathing to use in a variety of racing and training scenarios. "I like to use breathing before a race or hard workout to calm my nerves," says Brumlik. "You can also use it to relax and smooth things out during a race." The quality of your breathing in the midst of a hard workout or race can also serve as a good indicator of your effort level. If you're in the first mile of a race and find yourself breathing hard, it's time to dial things back so you have something left for the end. "It's very common to go out too hard, so pay attention to your breathing rate and breathe slowly and deeply to slow yourself down if needed," Brumlik recommends. There are more than just physical upsides to using your breath as a barometer, as Brumlik suggests: in doing so, you're practicing mindfulness which can help you create focus, foster calmness, and, most importantly, reinforce that you are in control of your run.
Count Your Steps
If you find yourself in the pain cave during a workout, mentally settle into your cadence to take your mind away from the challenge. Have a look at the MapMyRun app to find your perfect cadence and then focus on the rhythm of your feet. Before long, you'll forget the pain and fall into an easier, more efficient stride. "Think about light, quick steps, which will help your mechanics," says Brumlik. "Think about driving your arms back and your foot straight down to get the most out of your stride." Building mental skills is all about developing a positive mindset, says Brumlik. "Running can be a challenging sport," he says. "Stay away from words like 'I can't' and instead focus on positive practices until they become habit."
---
Under Armour, Inc., headquartered in Baltimore, Maryland, is a leading inventor, marketer and distributor of branded athletic performance apparel, footwear and accessories. Designed to empower human performance, Under Armour's innovative products and experiences are engineered to make athletes better. For further information, please visit http://about.underarmour.com.
Trending on Outside Online