Your Future Office Will Be Outdoors
A new workplace grading system from the CDC puts a high premium on offices that embrace nature and encourage workers to be active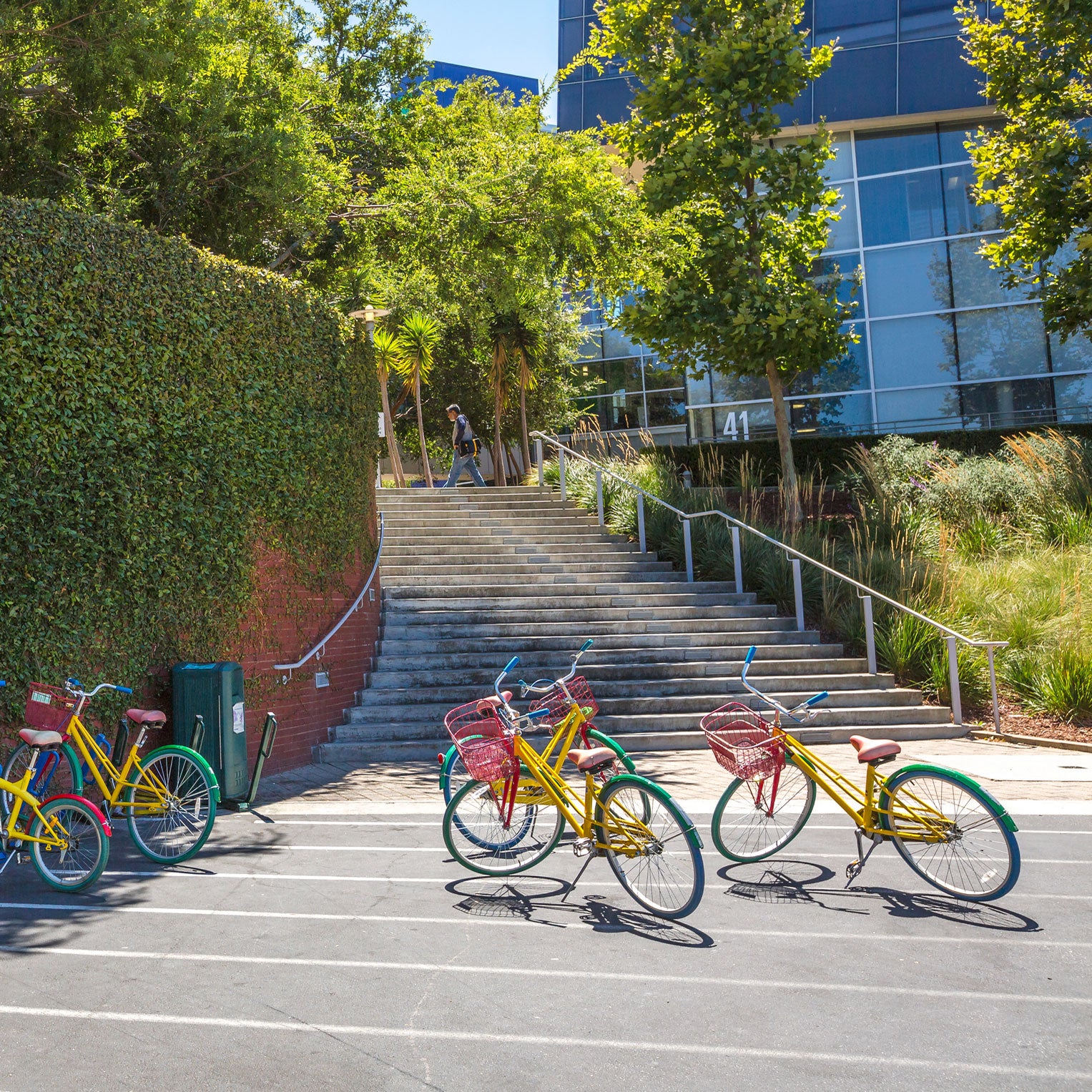 Heading out the door? Read this article on the new Outside+ app available now on iOS devices for members! Download the app.
The most successful U.S. companies may soon feature workers who favor running shoes over high heels, sunlit standing desks over cubicle labyrinths, and bicycle-only parking garages. Why would corporations adopt these types of progressive amenities? Simply put: it's good for business.
The best evidence is a new government-supported workplace certification program designed to make workers happier, healthier, and more productive. Unveiled this fall by the Centers for Disease Control and Prevention (CDC) and the General Services Administration (GSA), it's a scorecard that employers can voluntarily use to assess how their office space affects workers' collective well-being. The program is called Fitwel—a nod to the philosophy that fitter people make for fitter companies.
"Office design is often the silent partner" of successful businesses, says Leigh Stringer, a wellness design specialist and author of The Healthy Workplace. "It influences and nudges us in ways you can't predict. There are so many things that really impact not only how we interact and collaborate but also our performance."
"For millions of years, our workspace was outdoors. It's only for the last few centuries that we've worked indoors."
Fitwel, which the CDC tested in 89 public office buildings over the past five years, compiles and crunches 63 different beneficial variables, like the availability of healthy food options in a workplace cafeteria. Each factor is weighed for its potential impact on employee health and the company overall.
And—surprise!—some of the most beneficial things a company can do for its workers revolve around the outdoor experience. On-site gyms, bike storage, and locker rooms will improve a building's Fitwel score, but an office that encourages people to get outside between meetings or even take a walking meeting on a nearby trail is going to have healthier employees, Stringer says.
"For millions of years, that was our office. Our workspace was outdoors," Stringer says. "It's only for the last few centuries that we've worked indoors." Providing vegetable gardens or quiet, restorative outdoor spaces are a plus. "Things like that are really restorative psychologically for the constant stress that we feel," Stringer says.
Of course, not every office is next door to a beautiful vista or hiking trail, and there isn't always space for tomato plants. But even "fake nature," as Stringer calls it—forest scenes plastered across walls, water features, plant displays—creates a soothing, therapeutic effect on employees. A business can also ratchet up its score by facilitating a more nurturing environment within office walls. A designated lactation room for nursing mothers, for example, is proven to "increase productivity" and decrease "absenteeism to care for sick children," Frank says.
Lighting is also crucial. Studies have proven that quality lighting can improve employees' cognition and directly affect mood. Bad lighting, however, can disrupt a person's circadian rhythm. According to the National Institute of General Medical Sciences, interrupting that natural process can cause sleep disorders, depression, and obesity. "Lighting can shape the look and feel of a room and the behavior in a room," Stringer says.
Ultimately, Fitwel is a referendum on how we interact with our workspaces. There's a "strong tie between occupant health and productivity," says Joanna Frank, executive director of the Center for Active Design. In short, if you improve the health of employees, you improve business.
Recent studies have shown that not only is it smart for companies to invest in worker health, but it's also smart for investors to buy stock in companies that foster employees well-being. A 2016 study published by the American College of Occupational and Environmental Medicine found that companies with award-winning wellness programs likely found increased value on the S&P 500. "It is…heartening to discover that businesses that truly do well for their workers also do well for their investors," the study reads.
"People are looking for something new," Stringer says. "There must be another way to work."
Lead Photo: Getty Images