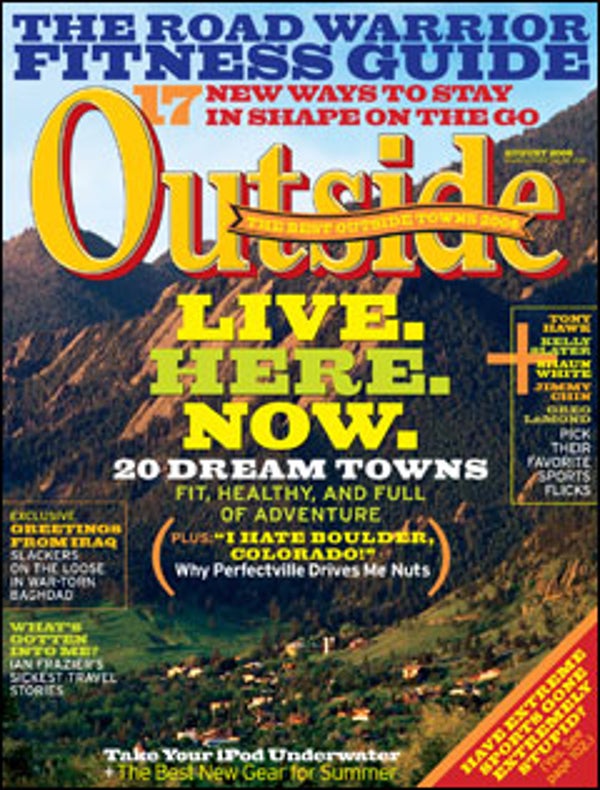 Outside Magazine, Aug 2006
Stories
In a (completely misguided) bid to make the 2008 Olympic team, ex-NCAA swimmer W. Hodding Carter is training like he did in college. And that means spring break. Only this time our party frogman is cruising the British Virgin Islands under his own power.
When we travel, we think we don't want to get sick, but maybe, less consciously, we're not so sure. If nothing of note happens on a journey, was it one?
Befuddled and heartbroken after watching the New York Yankees end their beloved Boston Red Sox's 2003 playoff run, Jeff Neumann and Ray LeMoine needed to get away. Far away. So, using the money they'd earned from selling "Yankees Suck" T-shirts in Boston, they hopped a plane to Jordan and bussed…
---
F E A T U R E S
BEST TOWNS 2006
LOCATION IS EVERYTHING
Where should you live if you live for adventure? We polled a slew of top skiers, bikers, climbers, and paddlers to bring you the ultimate guide to America's premier outdoor playgrounds. PLUS: Boulder smackdown! The good, the bad, and the, um, beautiful.
EVERYBODY MUST GET ZONED
Hit the sand running with two Red Sox fans who volunteer to distribute aid in Baghdad and end up in a coalition of steroidal grunts, sketchy foreigners, and circus clowns. Seriously.
BY RAY LEMOINE AND JEFF NEUMANN, WITH DONOVAN WEBSTER
THE 40-YEAR OLD VIRGIN SWIMMER
You call it a rum-drunk spring break spent in the party bars and shark-thronged waters of the Virgin Islands; he calls it training for the Olympics. We're just confused.
BY W. HODDING CARTER
CHEAP TRICKS
O but to don a fat suit and BASE-jump off a skyscraper! BRYAN CURTIS reveals how "extreme" went from rad to sad.
SLICK RICK
He's traveled the world, knows famous adventurers, and looks fabulous in a safari shirt. He's Richard Wiese, the new ex-president of the Explorers Club and just maybe TV's next action hero.
BY PATRICK SYMMES
A KIELBASA TOO FAR
When you go somewhere exotic, you're bound to spend some time paying the toilet gods. But in the crazy calculus of getting to know a place, an intimate relationship with the local bugs isn't always a terrible thing.
BY IAN FRAZIER
D E P A R T M E N T S
EXPOSURE
Click here to get a sneak preview of legendary photographer STEVE McCURRY's new book, Looking East.
DISPATCHES
» THE O ZONE: The SmokeJumper watch, a cruise to view global warming, and Oakley's new tint-shifting lenses.
» RISING STAR: P-Rod leads Nike's skate revolution. Can he keep his cred?
» MEDIA: Kelly Slater and others pick their favorite sports flicks of all time.
» NEW WORKS OF FICTION dip into the dark, deadly side of travel.
» The demise of the ELECTRIC CAR.
» TECHNOLOGY: Three novel gadgets give you flight, speed, and strength.
» TRAVEL: North Korea wants you and your U.S. dollars. PLUS: Tour parks like Yellowstone with a GPS TOUR GUIDE.
» STREAKS: A ski bum notches his thousandth day in a row on the snow.
» THE WILD FILE: What's the pole of inaccessibility? Why are flamingos pink?
BODYWORK
Stop skipping workouts when you're on the road. Fitness-savvy hotels put a gym right in your room. PLUS: THE PULSE on sunblock and jet lag.
REVIEW
The wetter the summer, the better you feel. Splash down with 16 beach, lake, and river toys, from snorkel gear to an all-in-one skim-bodyboard.
THE HARD WAY
A thousand feet up, MARK JENKINS discovers the sacred air of Wyoming's Devils Tower.