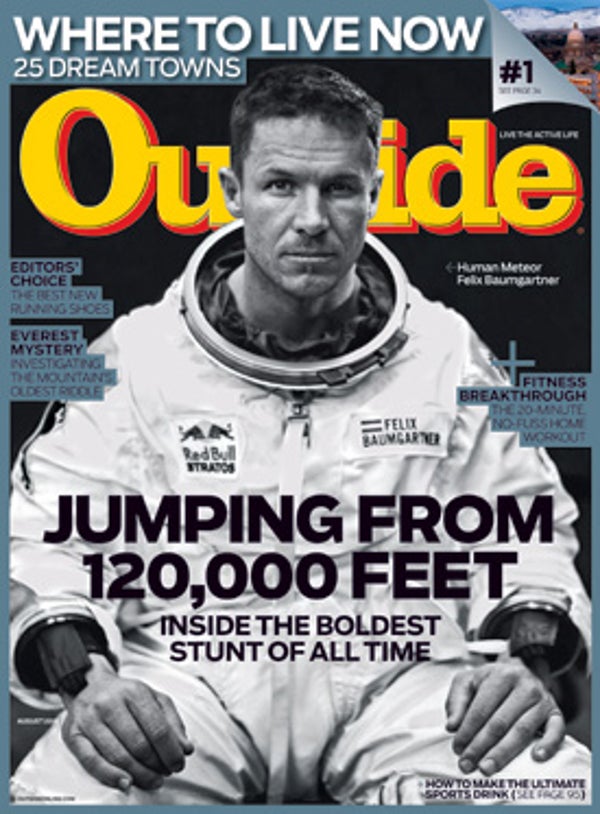 Outside Magazine, Aug 2010
Stories
Where do you end up when you want a community with incredible access to the outdoors, affordable homes, and solid jobs? Some very surprising places. Introducing the top 25 towns in America for cycling, paddling, running, surfing, skiing, and—because you might want everything—all of the above.
Three essentials for your first cold-water triathlon.
---
The full issue is now available on the iPhone and iPad.
The Supersonic Man
This summer, Felix Baumgartner plans to get in a balloon, float 23 miles into the stratosphere… and jump out. Mary Roach listens for the sonic boom in this excerpt from her book Packing for Mars.
Steamed
The lobster fisheries of coastal Maine are no happy hunting grounds. Territorial disputes can turn nasty fast—think property damage, savage beatings, and the occasional rifle shot. Eric Hansen jumps into the pot.
The Natural
The Nature Conservancy's lead scientist, M. Sanjayan, is a rare kind of wildlife champion: dynamic, optimistic, and good in front of the camera. But is he the next great environmental leader or the perfect mouthpiece for the Goldman Sachs of conservation? Abe Streep tracks him to Kenya to find out.
DISPATCHES
>First Look: In a new film attempting to solve Everest's old Mallory-Irvine mystery, Conrad Anker and Leo Houlding retrace the route in period gear and garb.
>News from the Field: How a rookie surfer rode a 66-foot wave; celebrity pets.
>XX Factor: The Lotto team's Liz Hatch.
>Books: A masterpiece about a killer tiger; the one K2 disaster account worth reading.
>Media: Stunt bikers, urban skiers, flying squirrels, and other self-made YouTubers.
DESTINATIONS
Our 2010 list of the best towns—from a Midwest mountain-biking mecca to a whitewater hot spot with casinos to an outpost in Vermont for serious skiers.
STYLE
>Watches: It's summer—you don't need to know what time it is. Unless you do. In which case, one of these performance timepieces will get the job done right.
THE ESSENTIALS
>Covet: An Airstream within reach.
>Running Shoes: Killer summer kicks for the road or trail.
>Outfitted: Car camping—it's not just for guys with 4,000-watt generators.
BODYWORK
>In the Lead: The new warm-weather performance booster? A slushie!
>Moves: Supercharging your core.
>Fuel: Cyclist Dave Wiens's go-to meal.
>Tools: Sunscreen for every summer sport.
THE BIG IDEA
Golf is an outside sport, sure, but is it an Outside sport? Larry Olmsted defends the knit-polo contingent.
NATURAL INTELLIGENCE
Up and down the West, a tiny pine beetle is turning once mighty forests into pulp, threatening a potential ecosystem breakdown. But what can scientists—and a chainsaw-equipped writer—do about it?
By Fred Haefele
PLUS
EXPOSURE
BETWEEN THE LINES
LETTERS
PARTING SHOT