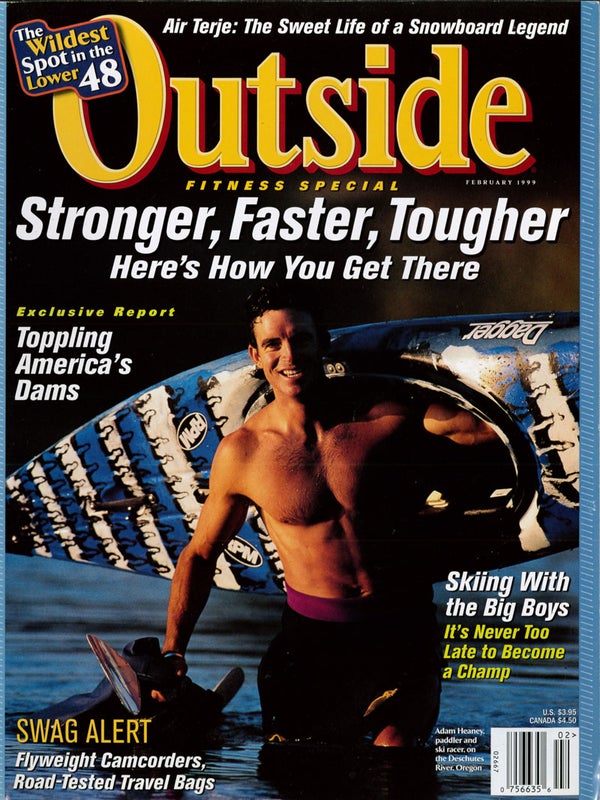 Outside Magazine, Feb 1999
---
Adjustment in Midflight
Ever since he blasted onto the scene at age 15 with his bigger-than-yours moves, Terje Haakonsen has been the undisputed best. Best at flying in the half-pipe and carving up the backcountry; best at throwing serious rude-boy attitude; and best at roiling the world of professional snowboarding, simply because he can.
By Karl Taro Greenfeld

Blow-Up
Can you picture it? The nation's great dams blasted to smithereens, ripped up or gouged out, the crippled rivers behind the concrete plugs suddenly vital again. On Idaho's Snake River they can see the future all too clearly, because there—to much joy and even more worry—the controversial movement known as dam breaching is soon to arrive.
By Bruce Barcott

Cross-Country Ski Your Way to Shining Health, Renewed Vigor, and Everlasting Happiness!
Take a somewhat musty, granola-sprinkled sport. Add an occasionally wimpy, athletically challenged writer. Cook for 12 months. Voilà! Presenting an elite ski racer, fresh from the oven.
By Bill McKibben

1999 Fitness Special
All good things must come to an end, and so too the five-month Outside Fitness Plan. But in this case, the grand finale is just the beginning: Day One of a new program specifically tailored to your chosen sport — and designed to last a lifetime.

Finishing Strong
You're leaner, harder, wiser. Now comes the fun part: putting it to use. The grand finale of the Outside Fitness Plan shows you how to clean the competition's clock, no matter whether you're going against the very best, or just your previous best.

Skiing
Can you say human shock absorber? Good. Here's how to be one.

Running
You do it with your legs, but the power comes from someplace else.

Cycling
It's not the size of the quads, it's the strength of their supporting cast.

Swimming
What'll you have? How about a shot of muscle fatigue with a plyometric chaser.

Climbing
Lat pulldowns. Prone shoulder raises. Seated cable rows. Etc. Etc. Etc. Get the idea?

Paddling
If you think you know how to push and pull, you better think again.