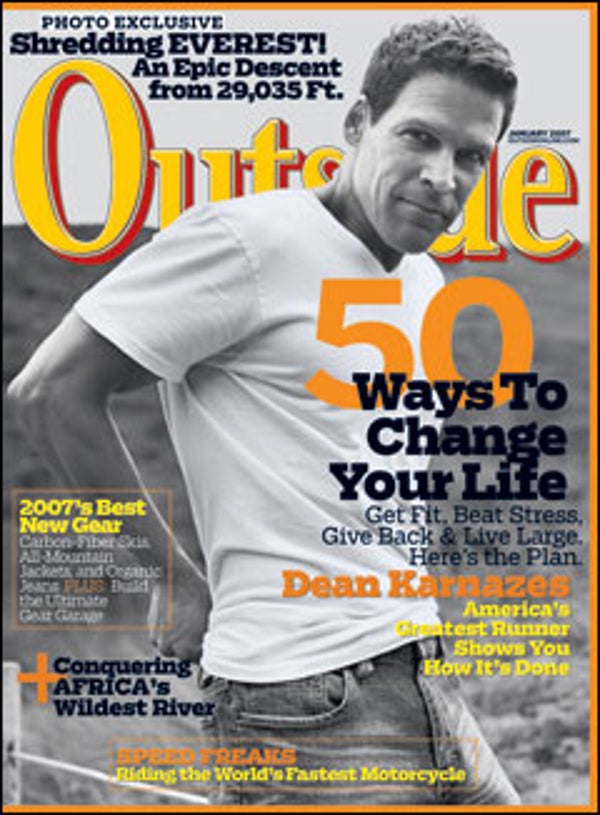 Outside Magazine, Jan 2007
---
F E A T U R E S
THIS LIFE GOES TO 11
Happy New Year! We're here to light a fire under your ass. Join ultrarunner Dean Karnazes and kick 2007 off by going Thoreau, snuffing stress, playing more, giving back, eating right, and keeping fit enough to nail any adventure.
EXPOSURE SPECIAL
THE NO-FALL ZONE
In October, Jackson, Wyoming's Kit DesLauriers became the first woman to ski from the top of Everest and the first person to carve the Seven Summits. In an Outside exclusive, superguide DAVE HAHN and fearless photographer JIMMY CHIN went along for the seminal schussing.
EXCUSE MY THRUST
On Utah's vast salt pan, obsessed men glued to overengineered motorcycles have quested after a new top speed for 16 years. But an uppity frosh named Mike Akatiff thinks he has the stuff to smoke the record.
BY ANDREW TILIN
DESTINATIONS SPECIAL
AFRICA NOW
It's not just about unparalleled cultural diversity and 12 million square miles of spectacular country anymore; the fabled continent'sgetting all progressive, too. Think smarter approaches to wildlife management, sustainability, and tourism. Oh, yeah, and more thrill-a-minute travel than you can shake a passport at. Here's everything you need to plan your very own epic.
PARADISE PRETTY SOON
When the prosperous West African nation of Gabon up and declared the creation of no less than 6.5 million acres' worth of new national parks in 2002, giddy conservationists the world over busted out the bubbly. But as ROB BUCHANAN finds on a deep-wilderness descent of the virgin Djidji River, all that jubilation may have been a tad premature.
D E P A R T M E N T S
THE O ZONE
FIRST LOOK: Blood Diamond star Djimon Hounsou on the gem wars.
DISPATCHES
» QUICK HITS: The Greatest takes a swing at snacks; retro ski socks.
» THE OUTSIDE INTERVIEW: Hot-shot host Josh Bernstein gives the History Channel a shot of adrenaline.
» THE BIG IDEA: Coups are for kids. Suddenly it takes more than a little gunplay to keep Americans at home.

(PODCAST LINK CURRENTLY UNAVAILABLE)
» PLUS: Chris Sharma in deep; the Wild File; Ask Dave on whiskey a-go-go.
MEDIA
» BOOKS: Patrick Symmes on the newest crop of intrepid travel writers.
» PLUS: Blind climber Erik Weihenmayer's new book; Worldchanging; Hampton Sides's Blood and Thunder heads for Hollywood.
DESTINATIONS
» SPOT ON: Adventures in Dominica.
» ALBERTA: No longer the other Rocky Mountain province for winter sports.
» THE GO LIST: Cruise ships call on Antarctica; new stress-free digs in Tulum; " So there I was…"
REVIEW
» COVET: The carbon-fiber ski cometh.
» ALL-MOUNTAIN JACKETS Bomber shells to keep you in the comfort zone.
» PLUS: Upgrade your gear room; eco-friendly blue jeans; and freestyle skier Jon Olsson on the best tool for making your own jumps.
BODYWORK
» THE MOVE: Drive icy roads safely.
» SKATE SKIING: The skinny-ski revolution short planks, higher speeds, and a better workout is in full swing.
» LAB RAT: Putting Nike's new iPod training system through its paces.

(PODCAST LINK CURRENTLY UNAVAILABLE)
OUT OF BOUNDS

(PODCAST LINK CURRENTLY UNAVAILABLE)
"You listen here, young man." ERIC HANSEN 's 94-year-old grandma teaches him a thing or two about road trips.