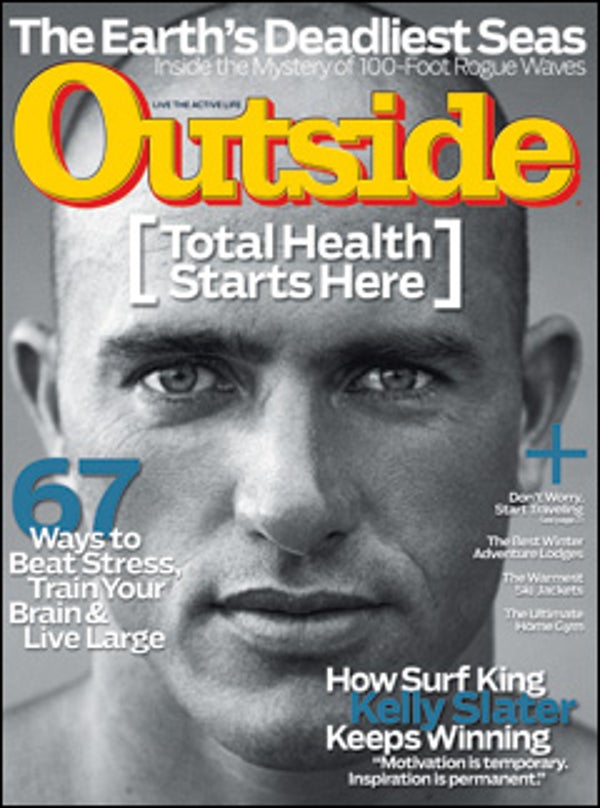 Outside Magazine, Jan 2009
Stories
Every hour of every day, behemoth container ships cruise the highways of ocean commerce, loaded with stereos and lobster and plastic air fresheners. And during the winter storm season, massive waves from out of nowhere can wreck these arks of global trade.
This simple formula is seemingly impossible to master. So how does Kelly Slater do it year after year? And how can you?
---
THE GUIDE
MIND + BODY = TOTAL LIFE FITNESS
Eat right, lower stress, get smarter, and run your way to a natural high! Nine-time surf champ Kelly Slater will be your coach for this session.
FEATURES
NEW KID ON THE ROCK
Climbing enfant terrible Colin Haley is all about insanely risky feats approached with a very pragmatic sense of one's limits. Whether it's trying heroin or a team traverse of Patagonia's infamous Torre spires, he ain't scared.
By Justin Nyberg
MONSTERWELLEN

The shipping industry depends upon colossal effort and luck, pitting massive vessels against a far more massive, and highly volatile, sea. Donovan Hohn risks a watery grave.
THE BROTHERHOOD OF THE VERY EXPENSIVE PANTS

Jeaneologist Brit Eaton scavenges vintage denim throughout the West, sticking his head in any ol' rattler-ridden nook or cranny. Why? Payoffs in the tens of thousands.
By Steven Rinella
THE APPRENTICE
(LINK CURRENTLY UNAVAILABLE)

Exclusive? France's Compagnie des Guides de Chamonix doesn't want you or anybody else born outside their fabled valley. But one American expat, ski and climbing guide Michael Silitch, just might break the code.
By Tim Neville
DEPARTMENTS
DISPATCHES
» First Look: Freestyle skier Jon Olsson takes a gamble on World Cup racing
» News from the Field: Che Guevara as countercultural icon (again); from Paris to Moscow on five euros a day; a brief history of energy drinks
» The Drawing Board: A flying car
» The XX Factor: Sport climber Katie Brown makes big-wall news on Yosemite's Half Dome

» Books: Colin Angus survives a 27,000-mile journey; Hannah Holmes dissects the human species; Rob Dunn on the quest to catalog everything
» Media: Why doomsday movies make you feel all warm and fuzzy inside; getting the Man on Wire on the phone
DESTINATIONS
» Spot On: After last year's political unrest, Kenya is back as a tourist destination
» Get Lost: Play all day and chillax all night at America's coolest winter adventure lodges, from Maine to Montana to the Sierra Nevada
» The Lookout: On this year's wildest exploratory trips, you may pay a little more, but you'll also get to play guide; ski Vermont the flat way
STYLE
Cords, khakis, and kicks
THE ESSENTIALS
» Covet: A ski boot that goes both ways
» Jackets: The best new ski-specific and insulated winter coats
(LINK CURRENTLY UNAVAILABLE)
» Outfitted: A perfect home gym
COLUMNS
THE BIG IDEA
Why this recession is the perfect time to travel
By Jason Daley
CODE GREEN
Making solar power is easy. Storing it, not so much. MIT professor Daniel Nocera may have found the answer.
By Elizabeth Hightower
OUT THERE
As the race to claim the the Arctic heats up, Bob Reiss boards the Coast Guard icebreaker Healy for a mission to the front lines.