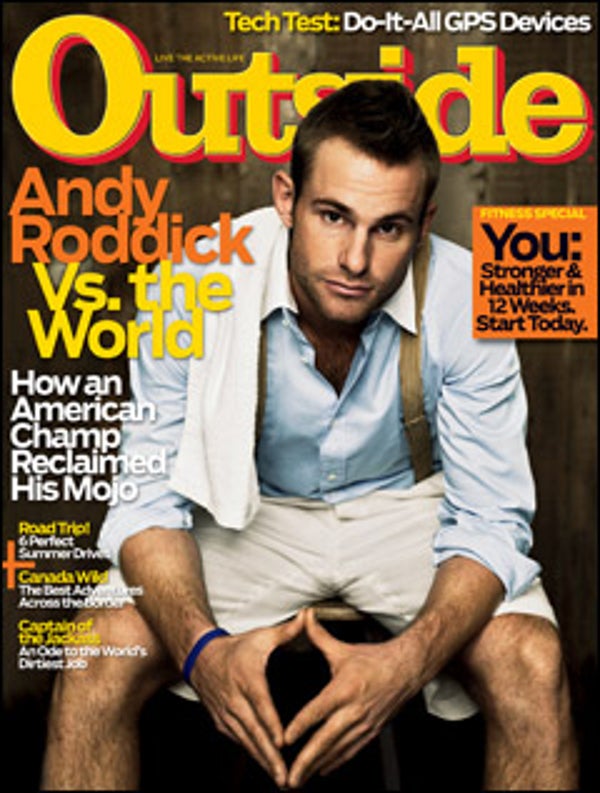 Outside Magazine, Jul 2008
---
F E A T U R E S
MOOD SWING

Andy Roddick has to learn to keep his head before he can really upset Federer's crown. Josh Dean dissects tennis's fittest, fastest man.
Fitness Special
TWELVE WEEKS

(VIDEO LINK CURRENTLY UNAVAILABLE)
…Goes by pretty quick, so why not block out 84 days and take your athleticism to a higher plane with our no-nonsense, fad-free strategy?
WHERE THE WALKING SHARK LIVES
You can still find God's aquarium over in Indonesia. The world's most spectacular reef lies virgin and teeming off Raja Ampat for now. Take a dive with Bucky McMahon and cross your fingers.
THERE WILL BE BLOOD. CLEAN BLOOD.
Look, Ma, no needles! Could Team Slipstream's penitents be the saviors of pro cycling? Michael Hall chaperones.
THEY CALL ME GROOVER BOY

Talk about a shit job. Grand Canyon guide in training Kevin Fedarko invites you to stand way back and gawk as he wrangles human excrement tons of it all the way down the river.
The Guide
WANNA RIDE?
Pack up your bad habits and join the Red-Headed Stranger on six great American road trips, complete with detours du jour. Plus: who's riding shotgun, what to munch on, and how to get off track.
D E P A R T M E N T S
DISPATCHES
» FIRST LOOK: Meet singer Mason Jennings, the next mainstay on your summer playlist
» NEWS FROM THE FIELD
» THE OUTSKIRTS: High-design shelters hit a backyard near you
» MEDIA: Can a televised eco-makeover save a tornado-ravaged Kansas town? Plus: Learn a new language, minus the studies.
» BOOKS: Our summer reading list includes a noir surf thriller, a Saharan road trip gone bad, and a little Rick Bass
» FILM: Noteworthy Olympics movies some of them medalists, some disqualified
DESTINATIONS
» SPOT ON: A South African wilderness resort fit for a king
» GET LOST: From Vancouver to Labrador, Canada's best new summer adventures. Plus: Why heading north with a weak dollar isn't as costly as you might think.
» THE WEEKEND PLAN: This season will see the craziest western whitewater in decades. Here's where to get you some.
STYLE
The right look for all those summer cookouts
THE ESSENTIALS
» COVET: See-forever binoculars
» NAVIGATION: Find your way with GPS units built for road and trail
» OUTFITTED: It's time to take your surfwear beyond boardshorts and flip-flops
» UPGRADE: George Washington fixes a torn tire; a good tent for bad weather
Columns
THE BIG IDEA
When did Surf Nation take over America and how can we send it back to the beach?
By Marc Peruzzi
IN THE FIELD
How to (intentionally) lose your way abroad
By Ben Harper
OUT THERE

(VIDEO LINK CURRENTLY UNAVAILABLE)
Adventure filmmaking sounds like lots of fun until you find yourself sucking wind and missing shots on Kilimanjaro
By Thayer Walker