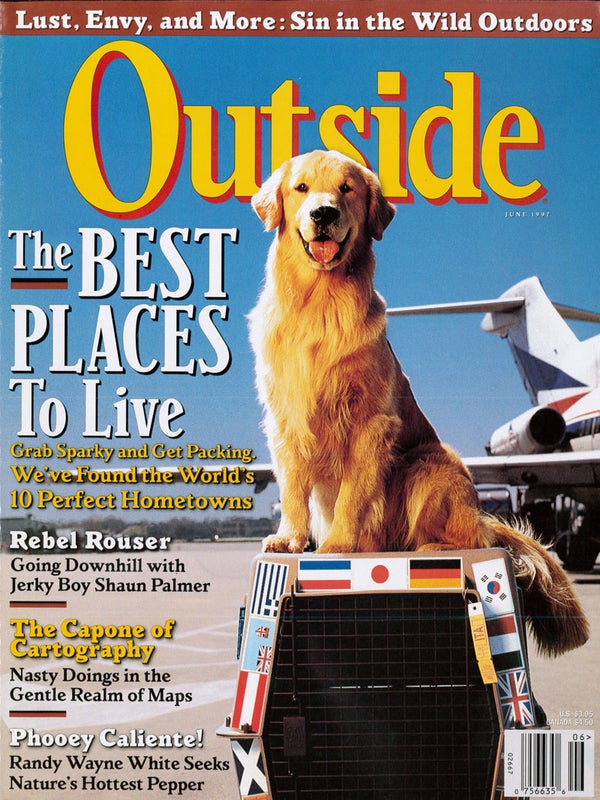 Outside Magazine, Jun 1997
Stories
Week of May 29-June 4, 1997 Hiking expeditions in Eastern Europe New home for a nordic skier, bike racer Sea kayaking along the Eastern Seaboard Wicked trails in the Blue Ridge Mountains Canoeing down the remote Snake River Question: I'm…
In the dusty realm of big-league map collecting, one man cut a darker figure than his milquetoasty colleagues. Armed with an X-Acto knife and an arsenal of fake identities, he systematically ransacked the nation's libraries, hoping in his own peculiar way to dominate the globe.
Toughen your midsection, and hardy arms and legs are sure to follow
---
Features


Poser
Why does Shaun Palmer, king-snowboard-punk-cum-
mountain-bike-megastar, have to be in your face? Because obnoxiousness is a hard habit to break — especially when it's what made you rich and famous in the first place.
By Rob Buchanan

The World's Great Towns
Grab Sparky and get packing. We've found the world's ten perfect hometowns.
By the Editors

Mr. Bland's Evil Plot to Control the World
He didn't much look like a ruthless felon — or like much of anything, really — yet using a sharp blade and nearly a dozen aliases, America's wiliest map thief was able to carry out his nefarious scheme, taking possession of the entire planet one dusty, faded piece at a time.
By Miles Harvey

Lust, Envy, and More: Sin in the Wild Outdoors
Even among the good clean pleasures of nature, temptation lurks. Meet thine enemy.

Departments
Dispatches
Seeking adventure and a cycling world record, a pair of high-school buddies finds both — and a bit more travail than they bargained for. Sacred monolith or commercial crag: A renegade climber asks the courts to decide the future of Devils Tower. Why nobody's ever heard of America's best distance runner. Here comes the bride, all dressed in … bark? A Web surfer's guide to tying the knot alfresco. The year: 2030. The place: the federal Office of Duplication. The burning issue: de-cloning, of course.
Plus: A timely preview of track's real race of the century (hint: no Johnson, no Bailey), the Endangered Species Act takes another hit, Italy's fat-tire diva shows her gold was no fluke, the venerable wooden clog tries to prove its mettle, and more.

Destinations
Great Smoky Mountains, sans great smoky Winnebagos: five hidden ways to find deep wilderness in the East Coast's most popular park. Worthy North Carolinaûside detours for kayakers, canoeists, and mountain bikers. The best in Down Under schussing, for those with a summertime jones. Hiking, cycling, diving, and sailing on Jamaica's rugged south coast.
Plus: Cultural exchange meets adventure travel for Africa-bound teens; racing through the sunny wee hours of Fairbanks, Alaska; and more.

Field Notes
In northern Botswana, the locals unabashedly hunt, poison, and trap it, spinning elaborate tales about a predator so cruel, so malevolent, that it eats its prey alive. What, you ask, is this incarnation of evil? Let's just say we call it Fido.
By Elizabeth Royte

Out There
Carrying the flag for chiliheads everywhere, our man has spent a decade seeking out the world's most perfect pepper. Much to his chagrin, it seems he may have found it.
By Randy Wayne White

The Wild File
How do you remove a leech? Is the sky truly bigger in Montana? What's a blue moon, and is it really blue?
By Elizabeth Royte

Bodywork
Strength for summer, from the inside out: Toning your torso is about more than vanity — it provides a stable base from which your limbs can work and thus affects almost everything you do. Twelve performance-enhancing exercises to help you get the most from your midsection. The unconventional trunk regimen for those who can't bear another crunch. An Eastern workout that taxes both mind and muscle, but without the droning sitars. The case for an old classic: the jumping jack. A nutritional supplement that works — if you know how to use it.

Review
Bike couture's not-so-nerdy alternatives: Once limited to variations on a black-spandex theme, today's dapper cyclist can choose from a wide range of patterns and even natural fibers — without sacrificing performance. The latest in shorts, jerseys, and outerwear from Patagonia, Specialized, Nike, Pearl Izumi, Nautica, Cannondale, and others. Accessories to round out your comfort-minded ensemble. Six sophisticated lumbar packs to help you travel more nimbly. Amphibious footwear that drains like a sandal but supports like a shoe.
Plus: The new GPS unit that works where you need it most; titanium tent stakes that — hallelujah! — are all but indestructible; Mason & Dixon, by Thomas Pynchon; Endangered Mexico: An Environment on the Edge, by Joel Simon; and more.