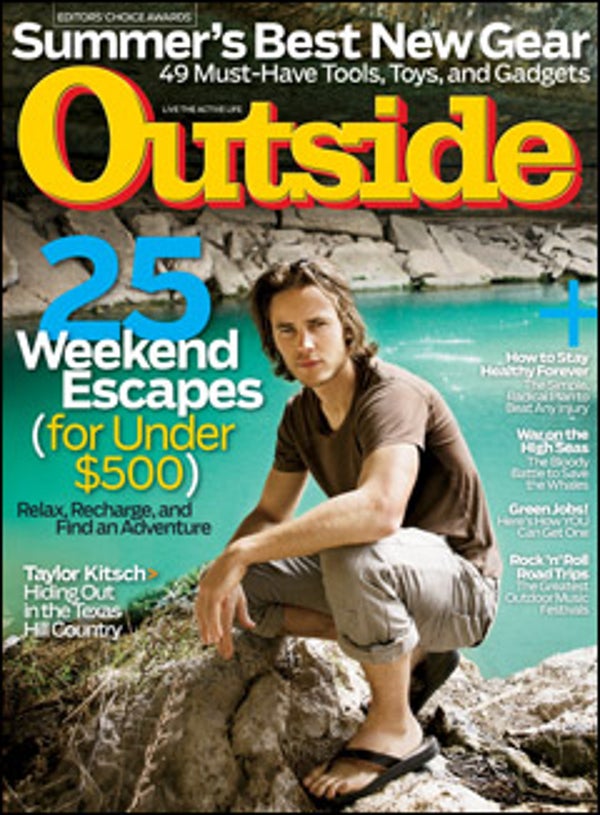 Outside Magazine, Jun 2009
Stories
In one corner of Alaska's Bristol Bay, the sockeye salmon, a $300 million resource that's sustained fishermen like 29-year-old captain Lindsey Bloom for more than 100 years. In the other, the Pebble Mine, with its projected hundreds of billions in copper and gold. Get ready for the fiercest wilderness rumble since ANWR.
Turns out your old PE coach was right. Yes, it hurts, but the new thinking about athletic pain is clear: Keep moving.
---
The Guide
TEAR THE ROOF OFF
Summertime is the absolute best time to hear live music. So in honor of Woodstock's 40th anniversary, our resident headphonauts scoured North America's outdoor festivals to bring you the best lineups in the best locales, with some sound advice thrown in.
GOLD FISH


Bristol Bay, Alaska, sees the world's largest sockeye run, when 40 million salmon make the long journey home to spawn each year. But if an international mineral conglomerate gets its way, a multi-billion-dollar gold mine will be dug into the heart of the creature's birthplace. What's worth more some shiny stuff now or the fish forever?
By Tim Sohn
MARK BURNETT GETS REAL
The new show from the producer of Survivor and The Apprentice is an adventure-doc re-creation of Stanley's 1871 quest to find Dr. Livingstone. Reality schlock, you presume? Not so fast.
Interview by Christopher Keyes
SPLOOSH
Alaska native Chuck Thompson is no stranger to precipitation, but drizzle just wasn't cutting it. He wanted to experience a real krak-a-boom! opening of the heavens. So we dumped him in one of the wettest places on earth: Kerala, India, at the height of the summer monsoon. Bring your galoshes.
GIRO DI SALAME
Deep in the rolling Chianti hill country, the grapes, vistas, and pork products are sublime. Much like the suffering Bucky McMahon endured in Italy's 12th annual Eroica, a 127-mile cycling "tour" on vintage bikes, over ancient gravel roads designed to bring back the past and separate the heroes from the herd.
Departments
DISPATCHES
» First Look: Animal Planet's Whale Wars (Forum) (LINK CURRENTLY UNAVAILABLE) has brought skipper Paul Watson's crusade to the masses. But will it save any whales?
» News from the Field: Olly Hicks checks in from his long, lonely row around Antarctica; a brief history of messenger bags; etiquette in the economic downturn
» The Drawing Board: Why slab waves are surfing's next frontier
» The XX Factor: Mountain biker Willow Koerber gets back on the horse

» Outskirts: Urban wastelands reborn as play-friendly green spaces
» Books: Two new plane-crash survival memoirs beat the odds; and tales from a black box.
DESTINATIONS
» Weekend Escapes: Who has the time, or money, to get away these days? You do, and you don't need a bailout to do it. We found 15 weekend getaways under $500. PLUS: Friday Night Lights star Taylor Kitsch goes fishing.
STYLE
Short-sleeved shirts and boardshorts for the beach, the barbecue, and the boardroom. OK, maybe not that last part. PLUS: New sunglasses.
THE ESSENTIALS
» Hot Summer Gear: Five Outside editors whose obsessions range from surfing to cycling to paddling to grilling offer up their favorite picks for the coolest summer swag.
BODYWORK
New research suggests that working through chronic pain might be just what the doctor ordered. Time to man up.
Columns
THE BIG IDEA
Have you noticed that grumpy bike-shop mechanics—the ones that look astonished and annoyed when you ask them pretty much anything —have gotten … friendly? I miss the abuse.
By Jason Gay
CODE GREEN
Yes, there is growth in the green-job market, but how do you get one? Elizabeth Hightower signs up to become a windmill mechanic and discovers that it won't be a breeze.
OUT THERE
Think playing golf is hard? Try caddying. Glutton for punishment? Try it at age 57 in Scotland, where the wind will knock you to your knees.
By Don Snyder
THE LAB RAT
We're going streaking! Nick Heil explores the new trend of naked (-footed) running.