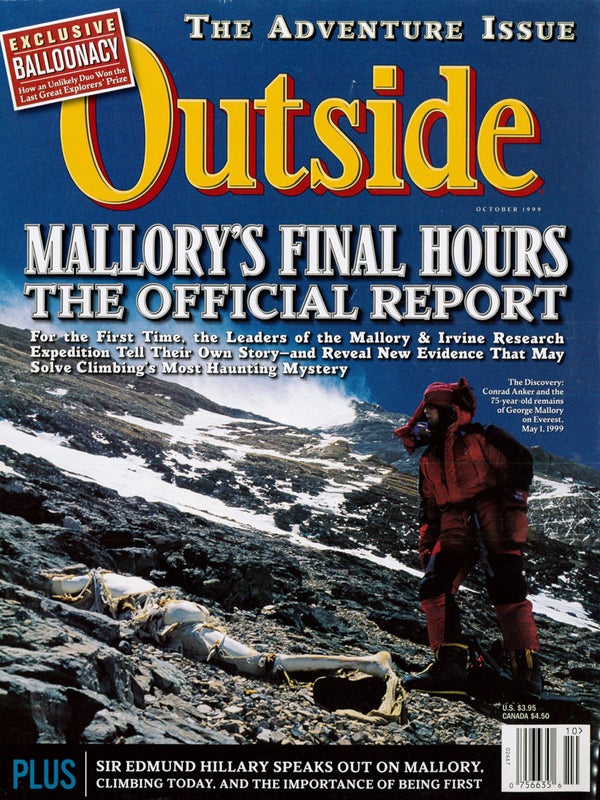 Outside Magazine, Oct 1999
---
F E A T U R E S
Adventure at the End of the Century
The sight of George Leigh Mallory's well-preserved body on Everest confirms that adventure, like life, is not always pretty. It means risking all on a mountain—as Mallory did, with tragic results, and as Edmund Hillary did, triumphantly—or putting yourself at the mercy of the wind, as Bertand Piccard and Brian Jones did when they circled the world in a balloon. As we near the close of a remarkable year in a remarkable century of adventure, this is our tribute—to the mystery, the gallantry, and the lure of the overwhelming world outside.
Ghosts of Everest
It took 75 years for Everest to loose its frozen grip on George Mallory, and an instant for the news to rocket around the globe. In the months since the 1999 Mallory and Irvine Research Expedition returned to sea level, the team leaders haven't told the full story of their mission on the brutal North Face, nor have they revealed the provocative key evidence they found enshrouded there. Until now.
By Jochen Hemmleb, Larry Johnson, and Eric Simonson

The Man Who Knocked the Bastard Off
On a sunny day in 1953, a tall young New Zealander named Edmund Hillary became the first human to stand atop the world's highest mountain—and, thereafter, a paragon of grace and bonhomie for explorers who would follow.

Big Air
The first humans to circumnavigate the globe by hot-air balloon had to be diplomats, meteorological seers, engineering savants, and very, very, very lucky guys. From takeoff in Switzerland to landing in the Egyptian desert, come fly with the duo who made it up, up, and the all the way around.

Letter to My Future Brother-in-Law
Suppose your sister falls for a feckless, thrash-loving, rock-and-snow-worshipping bon vivant (i.e., a guy not unlike lots of people who read this magazine). And then she has his baby. And then, even though he's still sowing his wild oats, she announces she's going to marry this dude. What do you do?
By Steve Friedman
The Hunting of the Poacher King
Deep in Oregon's Umpqua River territory, houndsman Ray Hillsman was bad news for bears, hunting them with dogs, killing hundreds, and selling their gallbladders on the balck market. Then one day Ray opened his big mouth in front of the wrong man—and that was the beginning of the end of the poacher king.
By Bruce Barcott
D E P A R T M E N T S
Dispatches: News from the Field
Short, stiff, wide, and turned up at both ends, Salomon's Teneighty skis are transforming skiers into knuckle-draggers and forcing snowboarders to rethink the definition of sick.

The Wild File
Do scarecrows really work? How far does space go? Is it true that bees are attracted by fear?
By Hampton Sides

Out There
The mining town of Castle, Montana, once had 14 saloons, seven brothels, and other tokens of fast money. But sudden death can come to towns as well as townsfolk. For Castle, the end took just 72 hours.
By Tim Cahill

The Hard Way
They say getting there is half the fun, but in this case—a cockamamie trek to the top of Burma's highest peak via a forbidden route across eastern Tibet—it's a wise adventurer who knows that actually arriving is not a good idea.
By Mark Jenkins

Destinations
Having a Big Bend Blast: In need of some surreal desert solitude? Try biking singletrack trails through a volcanic maze, rafting the Rio Grande with a survivalist named Doctor Fun, or riding all the pretty horses just south of the border in the Big Bend region. Plus: A MacGyveresque desert survival course teaches you to find water, signal planes, and cook chickens underground.

Bodywork
Winter Rev-Up: If you don't prep your muscles now, you'll regret it—soon. Four potent workouts to awaken your wintry soul and help you nail the moves you'll need for hockey, telemarking, alpine skiing, and snowboarding.

| | | |
| --- | --- | --- |
| | | Ride the halfpipe at home! Bang up techniques for mastering the Bongo Board, the snowboarder's best friend. |

Review
The outdoor athlete's home workshop: You maxed out the card building a cache of skis, bikes, and boards worthy of James Bond; now it's time to step up to the workbench. Notes on bench grinders, arc joints, biosolvents, plus advice on how to use them withough losing essential appendages.
Cover: The Discovery: Conrad Anker and the 75-year-old remains of George Mallory on Everest, May 1, 1999. Courtesy of Mallory and Irvine Research Expedition
©1999, Outside magazine